From Zainab's murder to Aasia Bibi's landmark acquittal, Dawn.com looks at the biggest events of the year at home.
That 2018 was a year of political upheaval and economic turbulence for Pakistan is perhaps no surprise: it was, after all, an election year.
Starting with the Senate elections, and a landmark 11th General Election in July and subsequent by-polls, the outgoing year was a roller-coaster ride that saw the two houses of Parliament and provincial legislatures elect new members.
But even as political loyalties shifted, allegations of foul play were traded and scores lost their lives in pre-election violence, the democratic systems of Pakistan witnessed progress. A new government took office and commenced its five-year tenure with what turned out to be a whirlwind start.
But elections were not all that defined the departing year.
Far from the corridors of power, the Pakistani nation was living stories of its own, shaping developments that could alter the country's course for years to come.
In this respect, social media played a greater role than ever before. It gave voice to the concerns of the public, with many taking to citizen journalism to highlight social, ethical, environmental, and political ills, arguably shifting the balance of power from the hands of a few to the masses. Many a tragedy saw swift recourse on the part of authorities due to an outcry on various online platforms.
Dawn.com looks at the top events that dominated the national and political discourse this year.
Imran Khan: the kaptaan turns prime minister
Despite clashes, security threats and complaints of mismanagement, millions of Pakistanis defied the odds to go out and cast their ballots in the historic 2018 General Election on July 25.
After polling ended at 6pm, the nation watched in anticipation as results started to creep in. While the initial vote count was underway, several political parties cried foul, saying their polling agents were thrown out of polling stations and not issued Form-45 copies.
What made matters murkier was the sudden suspension in the flow of results, with the ECP announcing before midnight that its newly developed Results Transmission System (RTS), which was set up for swift electronic transmission of results, had "collapsed". This was followed by the PML-N — the main contender to the PTI — outright rejecting the election and almost all other major parties alleging rigging and blaming the ECP for failing to conduct transparent polls.
As the painfully slow vote count continued, it became clear that the PTI would be able to form government at the centre. After a 22-year-long political struggle, Imran Khan knew his moment had arrived.
In an afternoon TV address 22 hours after polling ended, the PTI chairman declared victory, saying he would be open to investigating the opposition's claims of rigging. Khan, in a 25-minute speech, promised wide-ranging reforms, and was hailed by critics as "statesmanly" and "impressive".
Examine: RTS controversy likely to haunt ECP, Nadra for a long time
After securing some much-needed support from smaller parties and independents, Imran Khan defeated PML-N's Shahbaz Sharif to be elected the 22nd prime minister of Pakistan on August 17. He took oath the next day at a simple ceremony which concluded an acrimonious election season.
Nawaz Sharif: ousted prime minister jailed again
The outgoing year saw former prime minister Nawaz Sharif and his family members face trials in three corruption references filed against them by the National Accountability Bureau (NAB) on the Supreme Court's orders.
In what became a near-daily ritual, the Sharifs' appearances at the accountability court in Islamabad were accompanied by media talks in which they lashed out at their political opponents and, at times, railed against the judiciary and 'khalai makhlooq' ─ a new addition to the political lexicon this year.
Read more: Nawaz Sharif's ET politics
Over 100 such appearances later, on July 6, Accountability Judge Mohammad Bashir sentenced Nawaz to 10 years in prison, handing his daughter Maryam and son-in-law retired Captain Mohammad Safdar seven and one years in jail respectively in the Avenfield properties reference.
A week later, the defiant Sharifs returned to Pakistan from London where they had been tending to Begum Kulsoom as she underwent treatment for cancer.
Also read: The sombre father and smiling daughter
After landing at Lahore airport, the father-daughter duo was swiftly whisked onto a plane and flown to Islamabad. They were later shifted to Rawalpindi's Adiala Jail ─ where Safdar awaited them ─ to serve their jail terms.
About two months later, they were released on parole for five days after Kulsoom passed away. Two days after they were shifted back to Adiala Jail at the end of their parole period, the Islamabad High Court suspended the sentences given to Nawaz, Maryam and Safdar, releasing them on bail.
NAB challenged the IHC verdict in the Supreme Court, which accepted the bureau's appeal and ordered the constitution of a larger bench for regular hearings.
Then, in another upset for the Sharifs in December, Nawaz was found guilty once more by an accountability court and sentenced to seven years in prison, and fined Rs1.5 billion and US $25 million in the Al-Azizia Steel Mills corruption reference. The court, however ruled that there was no case against him in the Flagship Investments reference.
Aasia Bibi: a free citizen — at least on paper
In a landmark judgement, the Supreme Court on October 31 overturned the death sentence of Aasia Bibi, a Christian woman convicted on a blasphemy charge, and ordered her immediate release from jail after around eight years.
The judgement sparked almost immediate countrywide protests by religiopolitical groups led by the Tehreek-i-Labbaik Pakistan (TLP). As the agitators blocked roads and used incendiary language against the judiciary and military, Prime Minister Imran Khan appeared on TV to issue a stern warning to them: "Do not clash with the state."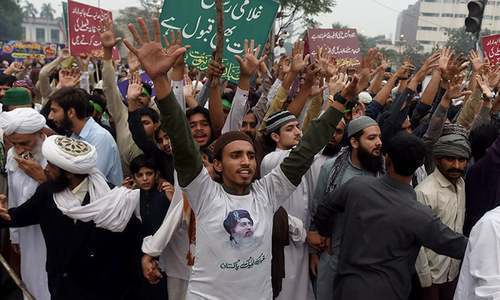 Barely two days after what some had termed a "bold" and "no-nonsense" message, however, the PTI government entered into a deal with the TLP, agreeing to "initiate the legal process" to put Aasia Bibi on the no-fly list.
With a review petition against the SC judgement pending, Bibi and her family are reportedly staying at a safe house in Pakistan despite offers of asylum from various countries.
Editorial: Another surrender
Weeks after the verdict, as the TLP prepared to agitate the masses once again, law enforcement personnel arrested the party's chief, Khadim Hussain Rizvi, and booked him under sedition and terrorism charges.
Thousands of other protesters were also arrested as police launched a massive crackdown against TLP and Tehreek-i-Labbaik Ya Rasool Allah.
Another blasphemy case that saw a major development this year concerned the 2017 lynching of Mardan university student Mashal Khan. The prime accused in the murder case of the 23-year-old student, Imran Ali, was sentenced to death by a trial court and 30 others were awarded jail terms.
Zainab Ansari: A nation's conscience shaken
The horrific rape and murder of a six-year-old girl in Kasur ─ a city already notorious for being the home of a child pornography ring ─ was a sickening reminder of how rampant sexual violence against children is in the country.
Explore: Is something wrong with Kasur?
Zainab Ansari was found dead on January 9 after going missing five days earlier. She had endured rape and captivity before being strangled to death and dumped in a garbage heap. The discovery of her corpse seemed to be the last nail in the coffin for the weary residents of Kasur, where Zainab's was the 12th such case to occur within a two-kilometre radius over the last year.
As a photograph of the child and the news went viral, the nation was united in its outrage. The outcry caught the Supreme Court's attention, which put the police under pressure to arrest the perpetrator.
Also read: 'How long will it take before you all forget about my sister?'
While the issue was white hot, the spectre of another child's rape and murder reared its ugly head in Mardan: four-year-old Asma's body was found dumped in a sugarcane field a day after she had gone missing. Forensics and an autopsy confirmed she had been raped and strangled. This case too drew the attention of the chief justice.
Examine: Justice for Zainab: 6-year-old's rape, murder highlights all that is broken in our political system
Later that month, then-Punjab chief minister Shahbaz Sharif announced the arrest of Imran Ali, the serial rapist-murderer responsible for killing Zainab and at least seven others. Shahbaz said a DNA match had been used to determine the suspect's culpability.
DNA testing also enabled police to nab Asma's 15-year-old cousin, Mohammad Nabi, who was found responsible for her rape and murder.
Read more: Pakistan's flawed forensic investigation in rape cases is the weak link in the justice system
Less than a week later, an anti-terrorism court sentenced three perpetrators of the infamous Kasur child sex abuse ring to life imprisonment. Zainab's murderer, meanwhile, was sentenced to death on multiple counts in mid-February, while Asma's was jailed for life in July.
There were calls for Zainab's killer to be hanged in public but Imran Ali was eventually hanged in Kot Lakhpat jail in October.
Naqeebullah: the Waziristan native killed in a 'fake encounter'
Although reports of police encounters don't garner much attention among readers ─ perhaps due to their frequency ─ news of the killing of Waziristan native Naqeebullah Mehsud and three others in an encounter with a police team headed by then SSP Malir Rao Anwar on Karachi's outskirts in January spread like wildfire on social media.
Read more: Anger on social media after Waziristan man killed in Karachi 'encounter'
The police claim that the 27-year-old aspiring model was a militant appeared incredulous when photos of a man with long, flowing tresses and a fashionably trimmed beard started making the rounds online.
Examine: Naqeebullah murder: The 'encounter' that ended Pakistan's passivity over extra-judicial killings
Amid public outrage, the SC took notice of the extra-judicial killing and a police inquiry found the 'encounter' to be fake. Meanwhile, Anwar went into hiding, but surrendered two months later after the SC ordered action against him. He is currently out on bail as the trial against him and a number of other policemen continues.
Naqeeb's murder led to a 10-day-long protest in Islamabad pressing for the arrest of suspended SSP Anwar. The protests coincided with the rise of a broader movement for the rights of Pashtuns native to the tribal areas most affected by terrorism and anti-militancy operations, coined the Pashtun Tahaffuz Movement.
The movement to seek justice for Naqeeb continues to this day.
Explore: On the streets for justice
Atif Mian asked to quit PM Khan's advisory council over religious beliefs
In what was seen as its first major 'U-turn', the PTI government in September asked Princeton University economist Atif R Mian to step down from the Prime Minister Imran Khan-led Economic Advisory Council (EAC) after religiopolitical parties threatened to agitate if Mian, an Ahmadi, was not removed.
Editorial: Atif Mian's removal has dealt another blow to Jinnah's vision of a tolerant & inclusive Pakistan
The news of his removal from the body came as a rude shock for many, since the PTI government had only days earlier defended the academic's nomination, saying in categorical terms that it would "not bow to extremists".
As the government reeled from the backlash over the polarising move, more embarrassment followed with the resignation of the two other international economists on the council, who stepped down from their appointments in protest against Mian's removal from the EAC.
Read more: A guide to growing up Ahmadi in Pakistan
The Supreme Court's crusade for the fundamental rights of the people
While the Supreme Court has historically taken up issues that concern the public at large, never has there been an effort as vigorous and untiring as the one initiated by Chief Justice Mian Saqib Nisar.
The biggest issue the chief justice made his personal mission was that of combating water scarcity. To this end, he announced the creation of a fund on July 4 for donations contributing to the construction of Diamer-Bhasha and Mohmand dams.
Justice Nisar was the first to announce a donation. To date, at least Rs8.7 billion have been collected through domestic and foreign donations.
Bottled water companies also came into the crosshairs of the top court for alleged exploitation of water resources and consumers. The chief justice ordered an audit of all mineral water companies and ordered them to pay Rs1 per litre for use of groundwater. He also forbade them from passing the charges on to consumers.
The chief justice also took interest in the state of public hospitals and the availability of quality healthcare only to those who could afford to pay a premium.
In a welcome move, the Punjab Healthcare Commission recently confronted the 'doctor-hospital cartels' in Lahore upon the court's directives after it raised concerns over the alleged fleecing of patients and negligence demonstrated by private hospitals.
Justice Saqib Nisar's most recent mission is to tackle the problem of an exponential growth in population as the country's resources continue to dwindle.
Pakistan continues to grapple with terror
This year was a reminder that Pakistan's war against extremism is still not over. Terror attacks spiked in the pre-election period, and continued even after the Pakistan Tehreek-i-Insaf entered the corridors of power.
In February, 11 security officials were martyred and 13 others wounded in a TTP-claimed suicide attack on an Army camp in Swat.
On July 10, a TTP suicide attacker targeted an Awami National Party (ANP) corner meeting in Peshawar, claiming the lives of party leader Haroon Bilour and 21 others.
While the nation was still reeling, four people were killed and 32 injured in a TTP-claimed remote-controlled blast targeting Jamiat Ulema-i-Islam (JUI-F) candidate Akram Khan Durrani ─ who himself survived the attempt on his life.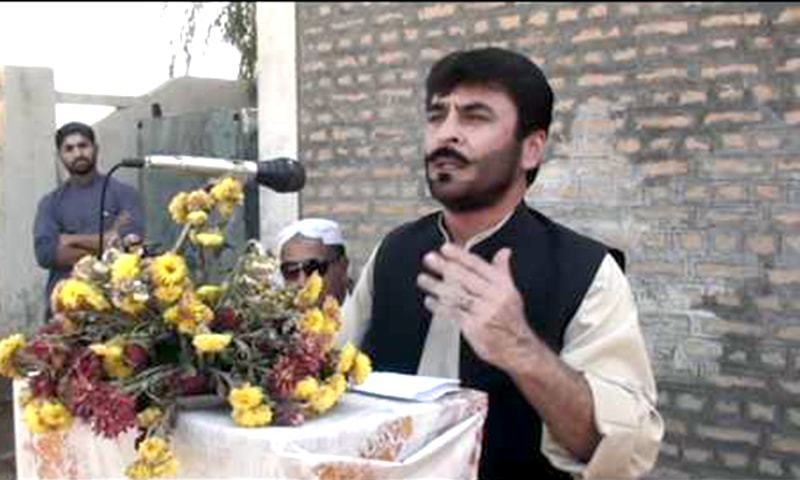 The same day, an IS-engineered suicide attack targeting a political gathering in Balochistan's Mastung district claimed 149 lives. Among the fallen was Balochistan Awami Party (BAP) election candidate Nawabzada Siraj Raisani. Over 200 people were injured.
The quick succession of deadly terror attacks renewed calls for the implementation of the National Action Plan.
Just three months after Imran Khan assumed prime ministership, two attacks on a single day shook the government: The morning of November 23 saw a foiled gun-and-grenade attack ─ claimed by the Baloch Liberation Army ─ on the Chinese consulate in Karachi, followed hours later by an explosion in lower Orakzai, which left 34 people dead and 36 injured. There was no claim of responsibility for the senseless act of violence.
The prime minister vowed that the terrorists would be crushed, "whatever it takes". Five days after the Chinese consulate attack Dawn learnt that the Interior Ministry plans to unveil a new version of NAP and restructure the National Counter Terrorism Authori­ty (Nacta).
Nawaz creates firestorm with Mumbai attacks trial remarks
Nawaz Sharif was slapped with a treason case after his remarks about the Mumbai attacks trial created a firestorm ─ both at home and in India.
In an exclusive interview with Dawn in May, the PML-N supremo criticised the delay in the conclusion of the Mumbai attacks trial in Pakistan. "Militant organisations are active. Call them non-state actors, should we allow them to cross the border and kill 150 people in Mumbai? Explain it to me. Why can't we complete the trial?" Sharif had asked in the interview.
Although it was just one of the many subjects the three-time premier had touched upon, Indian media had spun the statement as a tacit admission of Pakistan's involvement in the 2008 attacks which left 166 people dead. Despite widespread criticism, Sharif defended his remarks.
The criticism was not limited to words, however. A petition was filed in the Lahore High Court accusing Sharif of treason for allegedly trying to defame state institutions through his interview. The case is currently adjourned in the high court.
'Father of the Taliban' assassinated
JUI-S chief Maulana Samiul Haq was murdered in his home in Rawalpindi in November. The Darul Uloom Haqqania seminary head, also known as the 'father of the Taliban', was found "stabbed to death and lying in a pool of blood" in his bedroom by his son.
A month before the killing, a high-level delegation from Afghanistan had called on him to help resolve the Afghan issue. He had been aligned with the ruling Pakistan Tehreek-i-Insaf for the July 25 election.
While the police are still piecing together clues to solve the crime, an important development took place on December 13, when Sami's personal secretary was arrested after having "disappeared mysteriously" after the funeral. He is now a person of interest and "an important figure" in the murder investigation.
Senate wheeling and dealing
Horse-trading allegations were rampant following the results of the March 3 Senate election in which PML-N came out on top with 15 seats, as expected, but PPP pulled off a startling victory with 12 seats to their name.
Eyebrows were raised over the fact that MQM-P, despite having 37 seats in the Sindh Assembly, only came away with one seat from the province, while the PPP managed to scrape together two seats from KP with only 7 MPAs in the province, a point raised by PTI chief Imran Khan.
There were cries of foul play as PTI snatched a seat away from PML-N in Punjab with 44 first priority votes while having only 39 votes as part of a PTI-PML(Q) alliance. The numbers did not add up. This suggested PTI candidate Chaudhry Sarwar was voted for by PML-N and maybe PPP members as well.
Explore: Untangling the mystery: All you need to know about Senate elections
The appointment of the Senate chairman and deputy chairman, however, turned the tables on the PML-N. Their candidate, Raja Zafarul Haq, was defeated by Balochistan Senator Sadiq Sanjrani in the run for Senate chairman. Sanjrani made history by being the first senator from Balochistan elected to the post.
The Senate hall erupted with cheers for Asif Ali Zardari who was credited with orchestrating Sanjrani's victory. The PPP, it was alleged, had colluded with the PTI ─ both determined to not let PML-N win come what may.
In turn, PPP Senator Saleem Mandviwalla emerged victorious in the election for deputy chairman, defeating PML-N-backed Usman Khan Kakar.
Malala's homecoming
Nearly six years after having escaped the clutches of death, Malala Yousafzai set foot on Pakistani soil again.
"I still can't believe that this is actually happening," the teary-eyed 20-year-old Oxford student ─ who was shot in the head by the Taliban in Mingora in 2012 on her way home from school ─ said in her homecoming speech.
Malala, a teenage peace campaigner, had been targeted by the militants for speaking against their ban on girls going to school. She had been flown to the UK from Pakistan in an unconscious state, where she woke up from a coma far from her family and friends.
On her return home, Malala found Pakistan a changed place. There is "definitely a difference between the Pakistan of today and in 2012…Things are becoming better, people are uniting and a campaign for better Pakistan is ongoing, people are active which is very good."
Diamer: a town haunted by attacks on girls' schools
Residents of Gilgit-Baltistan's Diamer area woke up on August 2 to find that 13 schools in the region ─ mostly girls-only institutes ─ had been set on fire and vandalised in what appeared to be a coordinated and well-planned assault.
See: The relentless spread of religious violence in Diamer district
An operation was launched in the area to arrest the culprits. At least 40 people have been arrested so far in connection with the torching of schools in GB, while 15 suspects are still being hunted down.
But what haunts the locals the most about the arson spree is quite literally the writing on the wall left by the attackers: "We will not rest until we've burned down all the girls schools."
Anti-encroachment drives draw ire
As the year drew to a close, the Supreme Court ordered massive anti-encroachment drives in various cities.
The drives targeting Karachi's state-owned housing quarters, the Karachi Circular Railway and Saddar have particularly drawn the ire of the public.
Know more: Why the government is evicting people from its housing facilities
What began in Saddar in October, soon extended to other parts of the city with city administration deciding to do away with all concrete structures and other encroachments on city drains, footpaths, parks and roundabouts. The drive to clear encroachments from along and around the KCR track is currently under way.
Read more: Preliminary plans finalised to restore Empress Market
Though the action stems from a resolve to weed out land-grabbers and encroachment mafia, thousands of shop owners, cart vendors and citizens have been left jobless and homeless, and the drive has altered the socioeconomic and cultural landscape of the city.
Also read: What are the consequences of the anti-encroachment drive?
The prime minister, the Sindh chief minister, and the mayor have all promised alternative arrangements and compensation to the affectees.
Also in October, the Lahore Development Authority repossessed 80 kanals of land in Johar Town illegally grabbed by the notorious Mansha 'Bamm'.
Hundreds of kanals of state land were also recovered in other operations in the city of gardens. Similar drives followed in Faisalabad, Multan, Gujranwala, Sheikhupura, Chiniot, Nankana Sahib and Kasur.
Ahsan Iqbal's brush with death
An attempt was made on then interior minister Ahsan Iqbal's life in May at a corner meeting in Narowal.
Iqbal received a bullet in his right shoulder from a 30 bore pistol fired from 20 yards away. The shooter was overpowered by bystanders and handed over to the police. He was handed 30 years and two months in prison and fined Rs280,000.
The shooter confessed to having links with Tehreek-i-Labbaik Pakistan (TLP) and having made the attempt over the Khatm-i-Nabuwwat (finality of prophethood) issue.
The TLP condemned the attack and branded it as pre-election conspiracy, with party chief Khadim Hussain Rizvi and Pir Afzal Qadri urging the government to initiate a judicial probe.
---
Compiled by Adeel Ahmed and Sameen Daud Khan
Header illustration by AS Abbasi