As the world tries to create a life in the Metaverse, Pakistan struggles to ensure reliable digital access to all citizens.
In the face of an existential economic crisis marked by soaring inflation, mounting unemployment, and crippling debt, Pakistan requires radical approaches that can help productively develop and engage its labour force that is largely characterised by young people.
Political and economic instability over the last few decades has created uncertainty and disappointment for citizens, leading to a mass departure of people to lands with greater promise. Against this backdrop, digital empowerment presents a unique proposition to not only augment our frail economy but to also structurally boost Pakistan and its people's potential, resilience and participation. The economic potential of digital technologies stands at an annual estimated value of $60 billion that can be realised by 2030.
The potential of digital dividends in improving human development indicators, boosting innovation and entrepreneurship, and increasing efficiency in government services cannot be overstated. Pakistan must seize this opportunity to embrace a digital future — one that promises safety, productivity, and happiness for its citizens. Such an endeavour requires unwavering collaboration between the government, citizens, businesses and start-ups.
This can catalyse the path to achieving a 'Digital Pakistan' that is equitable, inclusive and independent; one that can finally give its people a life they can be proud of, and a future they can look forward to.
Tabadlab's "Digital Now: A guide to Pakistan's digital transformation" dives deep into the challenges of Pakistan's digitalisation journey. It establishes targets against defined indicators and outlines actions that need to be taken to achieve the intended impact. The guide can help key stakeholders and decision makers make better decisions for Pakistan's digital-driven growth.
Here, we present our findings to you.
Deciphering Pakistan's digital space
Today, digital technology is not only restricted to the conventionally understood IT and telecom sector. Instead, digital is the new normal, transforming all sectors of the economy and all actors within society.
A digital economy is characterised by online services, transactions, and engagement — a virtual, paperless, and cashless world that doesn't just replicate the physical but creates new opportunities and avenues of growth. Digital transformation refers to facilitating movement towards an interlinked digital economy and a society that is driven by innovation and development.
To better understand the components that can power Pakistan's digital transformation, Tabadlab developed a framework that identifies foundational enabling pillars that need to be in place, key areas that need to be prioritised for growth and future-proofing, and the ethos which should drive the transformation journey. The framework below identifies elements across these layers in Pakistan's context. All actors that use and are responsible for digital inputs are part of a digital economy and society and stand to benefit from it.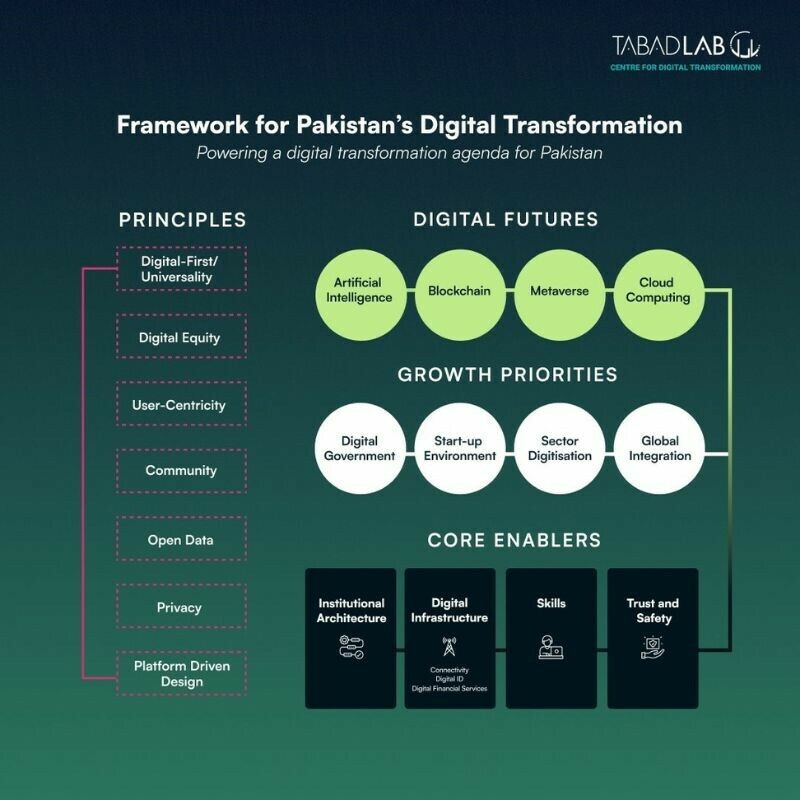 Why go digital?
The benefits of digital transformation are multidimensional, spanning across players and sectors of the society. Adopting digital at large promises to improve economic opportunities, physical and mental wellbeing, sustainability and adaptability.
Digital technologies can create new economic opportunities by facilitating online commerce and enabling small-scale sellers, particularly women, to engage with customers and conduct transactions from the comfort of their homes. The acquisition of digital skills and literacies can enable individuals to create new economic opportunities in ways that did not exist before.
The quality of life of the average citizen can be drastically improved through expansive access to a range of services such as virtual health consultations, e-learning, and digital transactions. Digital technologies contribute to greater citizen well-being by enabling convenience, efficiency and affordability.
Read more: How AI can improve service delivery in Pakistan's healthcare sector
Safety and longevity of life can also be protected through investments in technology solutions that enable timely preventative and resilience measures to mitigate risks and reduce damage caused by crisis situations such as climate change-induced disasters and health endemics like the Covid-19 pandemic. For example, early warning systems based on technology can send out alerts to potentially affected individuals to help them prepare and respond better, or to enable timely evacuations.
Pakistan's current digital ecosystem
While digital technologies surely hold the potential to unlock a whole array of possibilities as discussed above, the ability to offer and realise these digital opportunities in a meaningful way is dependent on the country's digital readiness, or in other words, the state of its digital ecosystem.
A look at prominent global indices that use key indicators to measure digital progress across countries reveals a state of digital emergency in Pakistan. As the graph below shows, Pakistan consistently ranks in the bottom third of countries in these indices, lagging behind regional counterparts like India, Bangladesh and Indonesia.
Over the last two decades, Pakistan's rankings have shown no or minimal improvement, resulting in a widening gulf between us and the rest of the world that has smartly and innovatively leveraged digital technologies to power their socio-economic development. Even today, Pakistan is stuck at the very nascent stages of digital transformation enabling limited and mostly basic use cases of digital technology. While the world tries to create a life in the Metaverse, we struggle to ensure reliable digital access to all citizens.
It is no coincidence that digitally mature countries are also the ones with high human development index ratings, demonstrating the undeniable correlation between a country's digital readiness and the quality of life experienced by its citizens. Pakistan's current digital ecosystem, however, is too weak to not only enable advanced use cases of digital, but also to realise the socio-economic dividends that digital can offer, especially to a country that boasts a high youth population. Such a worrying state of the country's digital ecosystem is symptomatic of the deep rooted issues that characterise the digital space in Pakistan.
The (little) good, the bad and the ugly
Employing the above framework to analyse the state of interlinked components contributing towards digital transformation allows us to assess the overall position of Pakistan's digital readiness.
Pakistan's digital readiness is hindered by various factors, limiting its ability to adequately utilise technology for growth and development. The country's digital infrastructure remains chronically underdeveloped, with low optic fibre coverage and poor cell tower density. This results in limited access to digital services, slow connectivity and a significant digital divide between urban and rural areas and provinces.
Despite Pakistan being a mobile-first economy, less than half of the population owns a smartphone, depriving them of access to essential digital services. Additionally, there is a lack of basic digital literacy, with only 24 per cent of adults capable of browsing the internet. The digital divide is further exacerbated by gendered access to and adoption of technology; for example, women are 38pc less likely to own a phone compared to men.
Challenges to digital progress due to a weak connectivity and core technology infrastructure are aggravated by the country's economic and political instability. The unstable environment discourages investment, particularly foreign investment, resulting in a scarcity of capital and skills needed for businesses to enter and support the digital economy. Fragmented institutional architecture and unfavourable government policies create uncertainty and regulatory pressures, amplifying financial strains. Moreover, the absence of robust legal frameworks, particularly concerning data protection and privacy, poses additional challenges to digital growth.
Although deficiencies in Pakistan's digital ecosystem are glaring, they do not take away from some of the positive developments over the last few years. The National Database and Registration Authority (NADRA) has been the frontrunner in Pakistan's digital transformation journey with its efforts around the digitalisation of ID being lauded globally. There has also been consistent progress on the digital skills development front, with the government introducing programmes such as DigiSkills. With an expanding freelancer community, Pakistan's digital exports rapidly increased — we outperform most other emerging economies on IT service exports, growing by 2.7 times since 2014. The vibrant startup economy has also witnessed sizeable growth since 2020 riding the Covid-era boom.
However, while there have been some isolated positive developments, efforts to improve Pakistan's digital ecosystem have undoubtedly remained vastly inadequate, sparse and sporadic.
Lacklustre policies
Our analysis of the current state of digital in Pakistan and the policies, initiatives and processes that have led to this state of affairs reveal one critical underlying strategic gap: lack of understanding around the opportunity that Pakistan's digital transformation holds. This lack of clarity has led to ineffective and lacklustre policies, processes and initiatives for digital.
In the last few years, while there has been a segmented focus on IT exports and freelancing, the connected policies and programmes, and the country's overall digital agenda do not place due focus on a holistic, coherent, and well-defined roadmap of digital-driven growth in Pakistan.
Such a parochial and sporadic approach is symptomatic of a preference for short-term competing priorities, limited institutional maturity and lack of sustained focus on realising digital dividends for the population. The current agenda fails to take an intersectional long-term view of digital development, lacking a nuanced, contextualised understanding of its ability to unlock possibilities for individuals, businesses and government.
Lessons from Pakistan's regional counterparts
Digital technologies have become an increasingly important tool in the economic and social development of emerging markets. Regional counterparts, Bangladesh and India, stand as important examples for successfully utilising technologies that have led to economic transformation and boosted progress.
Bangladesh, for instance, has made impressive strides in its digital transformation journey. The country launched its 'Digital Bangladesh' agenda in 2009, which aimed to provide digital services to the country's citizens. The government established digital centres at the local level, connected schools and colleges with the internet, and introduced online public services. The initiative has successfully provided internet to over 90pc of the country's population and transformed the agricultural sector by providing farmers with access to real-time market information, increasing their bargaining power and ensuring fair prices for their produce.
In 2015, Bangladesh successfully transitioned to becoming a lower-middle-income country and envisions becoming a high-income country by 2041. In tandem with this goal, the country has updated its digital aspirations following its new plan to become 'Innovative Bangladesh'.
Similarly, India's digital revolution has been remarkable in terms of scale and scope. The Indian government launched the 'Digital India' programme in 2015, which aimed to transform India into a digitally empowered society and a knowledge economy. The programme has seen the launch of several initiatives such as the Bharat Net Project, which aims to connect all villages in India with high-speed internet. The government has also launched several mobile applications to enable citizens' access to public services, such as the DigiLocker platform for storing important documents in the cloud. These initiatives have significantly improved access to public services and facilitated digital transactions, making India a leader in the digital space.
There are key lessons that Pakistan can learn from its neighbours, in particular, the importance of strategising a clear roadmap for digital transformation which envisions short and long-term goals for the country to reach. Pakistan must reorient focus on digital fundamentals in its early stages of this journey, for example, by digitising through direct investment in public digital infrastructure and implementation of key regulatory frameworks. The country must adopt a principle-based approach to digitisation that is both inclusive and iterative. It must create trust and transparency in the digital ecosystem through digitising public service delivery.
The need for a long-term and inclusive approach
Realising benefits of digital across the spectrum requires developing a North Star — a clear, inclusive and forward-looking digital vision that guides and grounds the digital development agenda. For it to be truly effective, the vision needs to be underpinned by an approach that is holistic, long-term, and aggressive. It should focus on strengthening the ecosystem through directed and sustained investment, a nuanced understanding of contextual factors, and an astute view of the future, and how to best position Pakistan for success in the global economy.
Several critical factors can enable this leap for Pakistan. There is a pressing need for an ecosystem-wide engagement to facilitate and include all stakeholders and actors — public and private, local and global, to drive collective action for reaping greater rewards. We need ownership and accountability to align short-term decisions to longer-term gains and a conducive pro-growth environment that encourages innovation and global integration. Lastly, but perhaps most importantly, we must engage all segments of the population, focusing on user-centric digital experiences.
Why we need digital now
As the country fights to survive another day amidst economic turmoil and deteriorating quality of life indicators, digital transformation offers an accelerated path to addressing and even overcoming economic challenges.
However, at this stage, where Pakistan is trailing behind most countries in terms of digital maturity, simply trying to catch up is not enough. We need to recognise the current state of digital emergency in the country and escalate digital progress as a national priority. This should practically translate to establishing an understanding of opportunities afforded by digital and developing a comprehensive roadmap that clearly delineates the path forward for each stakeholder. With all the necessary ingredients already in place, it is time for the country to fine-tune its recipe for success.
---
Header illustration: Radia Durrani/Dawn