Increasing vaccination uptake is important as there is every possibility of another wave.
Two years ago, it would have been unfathomable that the three great plagues which swept over nations and continents, overturning socio-economic foundations of society, could ever occur in this era of modern medicine.
The victims of the Black Death could only dream of being blessed with what we have today — a vaccine. A way to not only help contain the virus and limit its spread but also protect those who are immunocompromised. Vaccines have for centuries protected populations against fatal diseases such as smallpox, measles, mumps, rubella, typhoid, and polio. These vaccinations have always been mandatory for a reason, so our children grow up healthy and live their best lives.
As of November 22, 2021, 42% of the world population is fully vaccinated. However, the divide in vaccination numbers between the developed and developing world is still huge, with 57% and 54% of the population fully vaccinated in Europe and North America, respectively, compared to the 7% of African and around 25% in the low middle-income countries. Amongst other reasons, including economic vulnerability, the massive difference in vaccination numbers is also down to the international community falling short of its target of donating two billion doses by the end of 2021 to the developing countries under the Covax agreement.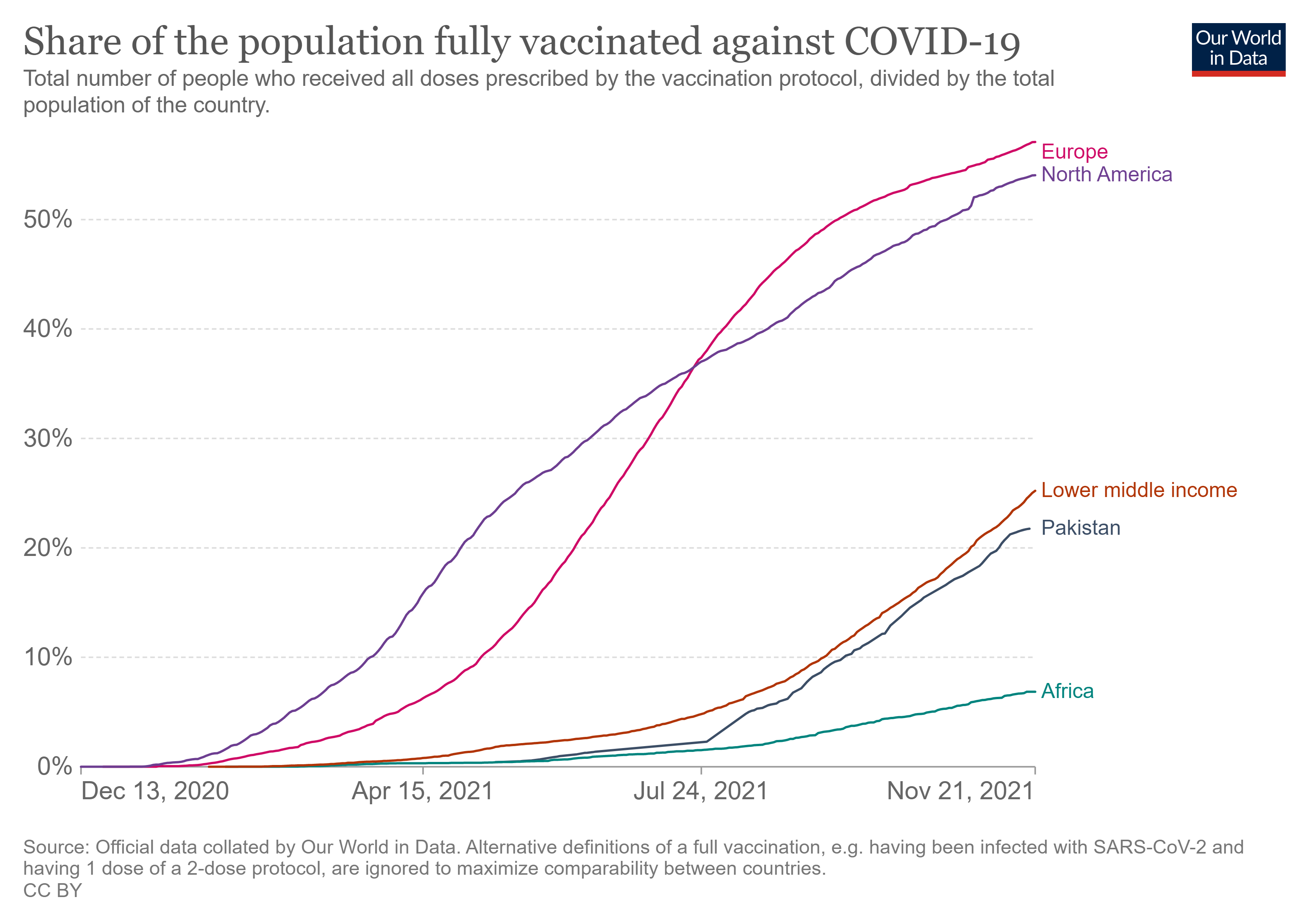 Implementing vaccination plans has come with additional challenges, including spreading misinformation and hesitancy to get vaccinated. Institutes such as the Food and Drug Administration (FDA) and the World Health Organisation (WHO) have thoroughly carried out clinical trials to approve vaccines while ensuring their safety and efficacy.
Just like other vaccines before, Covid-19 vaccines have moderate side effects. Mild side effects are expected, and they actually prove that the vaccine is working as your body is preparing itself for protection. The chances of the vaccine being fatal are extremely low. So far, around 53% of world people have received at least one dose of vaccine, and only five deaths have been reported due to thrombosis with thrombocytopenia syndrome (TTS), a complication that developed as a result of Janssen Covid-19 vaccination.
Apart from vaccination being safe, its effects are already evident. The most striking effect is in terms of hospitalisation rates that are much lower in the case of vaccinated people compared to unvaccinated people.
In the case of Pakistan, around 49 million people have been fully vaccinated against the virus. However, the country still has a long way to go since this only makes up 22% of the total population. This is way below the government's target of vaccinating 70% of the population by December 2021. The data indicate that the mortality rates had fallen over time in the older citizens who got immunised when vaccines first got available. Moreover, unvaccinated patients occupy more hospital beds than vaccinated patients. Amid the fourth wave of Covid-19, at one point, there were around 85% of Covid-19 patients in ICUs in Karachi that were unvaccinated.
Despite the apparent effects of vaccination, a challenge exists when trying to increase its uptake. According to a survey administered in Lahore, Pakistan by the Scale Consortium in collaboration with the Punjab Health Department, around 60% of unvaccinated respondents believe that the Covid-19 vaccination has harmful side effects or is fatal. Thus, the biggest impediment in this fight against Covid-19 seems to be misinformation.
The government has resorted to strict measures to counter vaccination hesitancy, including mandating all government employees to be vaccinated to continue being paid. Upon the government's instructions, these mandates have also been imposed by restaurants, fuel stations, workplaces, and educational institutes to allow citizens full liberties in these areas.
The Government of Pakistan and others across the globe are doing their utmost to immunise their populations since this seems to be the only pathway that can bring some normality to our lives. One action that can amplify this effort is to offer incentives. Research has proven that incentives can lead to higher vaccination uptake. The Scale survey in Lahore also revealed that about 70% of unvaccinated people were willing to get vaccinated if offered a free health check-up. This can be done in the ongoing door-to-door vaccination drives where qualified doctors accompany vaccinators. These doctors could also provide essential medical check-ups to all household members regardless of them getting vaccinated. About 64% of people also mentioned that they would have gotten vaccinated if a mobile van or vaccination camp were set up in their area. This is especially crucial for remote villages and areas where people face many logistical issues while visiting vaccination centers that are far off. Incentives such as these will make vaccines accessible to a larger percent of the population and help citizens see the government's efforts of investing in their physical well-being. Over time, this will eventually build a more positive attitude towards the state.
One can easily note that vaccines are our main way back to a semblance of the lives we led. That said, it is extremely important to observe that while governments and health organisations double up on their strategies and efforts to increase vaccination rates, they cannot discount the impacts of schemes that promote a win-win outcome. Showing citizens that their elected bodies not only care about a global healthcare strategy but also in fact, keenly wish to address other issues will surely help promote cooperation. And the most effective way to do that right now seems to be incentivised programmes. We must also keep in mind that these incentive programmes will never be one-size-fits-all. Since demographics and psychographics will vary from one region to another, so will the problems faced by different communities. Organisations and governments should be careful to cater to personal issues so that they can work together with their citizens to ease the effects of Covid-19. Even though reported positivity in Pakistan has declined over the past couple of months, its population and government should still be vigilant in terms of following protocols and increasing vaccination uptake as there is every possibility of another wave.
---
The Analytical Angle is a monthly column where top researchers bring rigorous evidence to policy debates in Pakistan. The series is a collaboration between the Centre for Economic Research in Pakistan and Dawn.com. The views expressed are the authors' alone.