Student activists are challenging a mindset that has flourished on Pakistani campuses for decades.
Rabia*, a young Karachiite, is applying to be admitted to a prestigious medical school in the city. And among the usual information that constitutes part of her admission paperwork, it turns out that she also has to submit an affidavit to the university administration, declaring that she will not partake in any political activity on the campus.
This affidavit, also known among students as the 'non-political' affidavit, has the student swearing on oath that he or she would not take part in any political activity on campus and will only use the premises to study.
The undertaking doesn't end here.
Rabia's father is required to also sign the same affidavit, turning it into a joint declaration that in case Rabia gets involved in any political activity as a student in the varsity, she may be "immediately expelled".
However, the university that Rabia is applying for isn't the only one. Across Pakistan, students entering into public and private sector educational institutions have to render such an undertaking.
What is the 'non-political' undertaking?
This undertaking is usually in the form of an affidavit though in some cases it constitutes a small section of the admission form itself. So while some institutes of higher learning require the undertaking after the student secures admission, others ask for it beforehand by making the declaration part of the form and as a result turning it a requirement for securing admission.
Typically, the student makes two undertakings. One that he/she will not indulge in politics or in any unlawful activity and that he/she will maintain discipline and strictly adhere to the said university's rules and regulations.
Additionally, students are also required to state that in case they violate the undertaking, they "may be expelled from the university".
In some cases, the student is required to sign the affidavit in the presence of witnesses. For example, some universities require students to sign the declaration with two government officers of Grade-17 or above as witnesses. These witnesses are also then required to verify the declaration with their signature and official stamp.
Aside from the student's declaration and signature, the affidavit has a second part that contains an undertaking signed by one of the parents or guardians who swear himself/herself responsible for ensuring that the student will not violate the contents of the affidavit.
What happens if the undertaking is 'violated'?
Officials in some of the country's largest public and private sector universities who spoke to Dawn.com said that the violation of such an undertaking can expose the student to a number of adverse disciplinary actions.
These range from temporary suspension of the student for a week during which he or she is not allowed to attend classes, to rustication during which the student may not be allowed to enter campus premises temporarily, to permanent expulsion from the educational institute.
"The nature of the action is subject to the severity of the act of the student," public relations representatives of four major public universities told Dawn.com.
Once this undertaking is signed and submitted, the student's and his/her parent or guardian's hands are tied as in some ways they give up their right to challenge the action taken by the university's administration against the student in light of or on the pretext of this affidavit.
A history of the 'non-political undertaking'
The practice of swearing to remain apolitical dates back to the era of General Zia ul Haq's military regime. It was January 30, 1984, when the dictator imposed a ban on student unions across the country.
At first, the ban was imposed in Islamabad due to the regime's apparent fear that students in the federal capital may gear up against military rule.
By February, this ban was extended to the Punjab and then to Khyber Pakhtunkhwa (the area then known as the North Western Frontier Province as well as the Federally Administered Tribal Areas).
However, in Sindh, a ban was placed on student unions much earlier in 1979.
This was the time when automatic weapons first surfaced in the Pakistan, unfortunately also on university campuses in Karachi and Lahore.
Islami Jamiat-i-Talaba, a student wing of the right-wing Jamaat-i-Islami, gets the bulk of the blame for introducing automatic weapons on campuses of the University of Karachi and University of the Punjab, thus showing what was then a new, violent face of student bodies. Student wings of other political parties caught on and clashes between them led to casualties.
Therefore, the impression needs correcting is that the culture of violence that entered campuses was not on account of student unions, whose activities and elections were largely peaceful. Most of the violence took place in the post-ban period and those involved were members of student wings of political parties.
Veteran journalist Sohail Sangi says the Zia regime deliberately introduced the element of violence in student unions in order to create the impression that these bodies were involved in activities detrimental to state and society.
"It was also an attempt to counter the rising Pakistan Peoples Party of Zulfiqar Ali Bhutto since its Peoples Students Federation had almost swept clean student union elections in Sindh's major educational institutes," says Sanghi.
"Student unions were nurseries of politics in the country. Had they not been banned, these nurseries would have played an important role in the movement against the dictatorship of the time and would have also produced a cadre of strong politicians."
Once the unions were banned, the Zia regime proposed that student councils and societies could be set up in higher education institutions. However, direct polling to elect student leaders of these councils and societies was not favoured and it was further proposed that Vice-Chancellors and Principals would head these bodies.
The practice of swearing to remain apolitical dates back to the era of General Zia ul Haq's military regime. It was January 30, 1984, when the dictator imposed a ban on student unions across the country.
Later on, with Benazir Bhutto coming to power, the ban on student unions was briefly lifted in 1989. The lifting of the ban was challenged in 1990 through a petition filed by M. Ismail Qureshi and others versus Awais Qasim, then Secretary General of the IJT, and three others. The petition sought a ban on the activities of student organisations in educational institutions for allegedly resorting to violence on campuses.
The Supreme Court, which was hearing the petition, re-imposed the ban on student unions on July 1, 1992 through an interim order.
After lengthy proceedings, the apex court's three-member bench headed by then chief justice Muhammad Afzal Zullah allowed the restoration of legitimate student groups and union activities on March 10, 1993, but with a condition.
The apex court ordered the government to make arrangements as soon as possible, and not later than a month, "to take steps for developing, restoring and re-organising a healthy students' discussion and other activity in any form suitable to the individual institutions which might be called by any description".
It added that in case of any difficulty in implementing the order, the matter may be brought before the Advocate General concerned, who will then bring it before the apex court as soon as possible for further orders.
"Ever since, several successive governments came to power in the last 26 years, but the top court's directives are yet to be implemented," says veteran student leader and author Dr Tauseef Ahmed Khan who is currently teaching as adjunct professor in KU's Mass Communication department.
Prior to Zia's ban on student unions
Dr Mehdi Hasan, Chairperson of the Human Rights Commission of Pakistan, says the first ban on student unions in the Indian subcontinent was imposed in 1929 following the Hindu-Muslim riots, but these bodies were later restored in 1958.
Then, in 1962, Pakistan saw a ban on direct elections of trade and student unions during the Ayub era.
Later on, the ban was reluctantly lifted by Yahya Khan as one of the oppositions demands he accepted in order to give his regime a lifeline.
Hasan, who has an association of 50 years with PU – both as a student and now as a teacher – holds the current crisis of leadership in mainstream politics as a direct outcome of the absence of student unions.
"In Karachi, students leaders — including Meraj Muhammad Khan, Fatehyab Ali Khan, Shehanshah Hussain and others — offered staunch opposition to General Ayub's martial law in 1958," Hasan says, adding that nine of them were forced to leave Karachi.
"I hosted the exiled students in Sahiwal for a period of two weeks," he says proudly.
Current status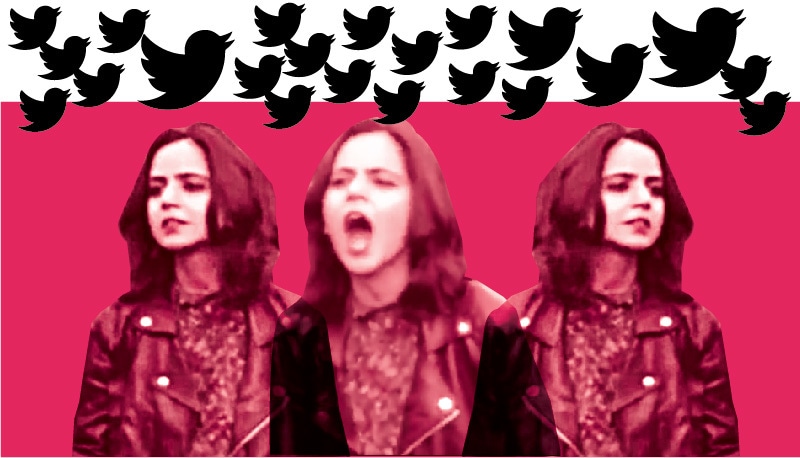 Recent interviews with public relations officials from the country's four major public sector universities — PU, KU, University of Peshawar, and University of Balochistan — reveal that students are still not allowed to form unions and take part in political activities.
The situation is not so different in the case of private institutes, including some of the very prestigious ones.
Requesting anonymity, although there is nothing hidden about the process, officials from several private higher educational institutions reveal that applicants are still required to sign an undertaking when applying for admission, declaring that they will not take part in politics or form any union.
As for the student societies and councils that were formed in PU, KU, University of Peshawar and BU in compliance with the Zia regime's recommendations following the ban on student unions, these bodies do exist but are headed by varsity officials as opposed to students chosen by other students through direct elections.
Is banning students' political activity legal?
"No," legal experts tell Dawn.com.
"This is an unconstitutional act that violates Article 17 of the Constitution," says Barrister Salahuddin Ahmed.
Article 17(i) states: "Every citizen shall have the right to form associations or unions, subject to any reasonable restrictions imposed by law in the interest of sovereignty or integrity of Pakistan, public order or morality."
Ahmed says student unions have never posed any threat to the sovereignty or integrity of the state, or to the public, or to morality.
Given that the Supreme Court had given a month's deadline to the government of the time to chalk out a code of conduct to restore student bodies with effective regulatory and monitoring systems, the lawyer says: "If the government failed to draw up a code of conduct in given amount of time, it does not mean that my constitutional right as a Pakistani citizen to join any union or association can be violated."
Senior lawyer Rasheed A Razvi, who specialises in trade union litigation, says the practice of requiring students to file such an affidavit is a form of coercion against their right to choose in case they wish to form a union or partake in one's activities.
"Every Pakistani, who is an adult, has a right to vote his or her vote. Similarly, a citizen cannot only join a political party but also participate in political activities," he argues.
"How can you stop them from taking part in politics," questions Razvi, adding that "it is beyond the authority of university administrations to take away the students' fundamental rights".
What is stopping the revival of student unions?
Ending an eight-year-old era of dictatorship, the country's political leadership – Benazir Bhutto and Nawaz Sharif – returned to Pakistan from a self-imposed exile in 2007. Shortly after her return, Benazir was assassinated in a pre-election rally in Rawalpindi's Liaquat Bagh in December 2007.
In the election that was eventually held on Feb 18, 2008, the Pakistan Peoples Party formed a coalition government with Yousuf Raza Gilani as prime minister. In his first speech on the floor of the assembly, Gilani announced that student unions will be restored all across Pakistan. Yet, it took lawmakers another nine years to realise that as a matter of fact there was no longer a ban in place on forming student unions.
In 2017, the Senate's Committee of the Whole examined the matter at length and compiled a report stating "it was of the considered opinion that the judgment of the Supreme Court does not prevent the committee from proceeding further in the matter by way of legislation, resolution, guidelines, or any other means it deems fit but this does not close the doors for intra-institutional dialogue as well".
Speaking to Dawn.com, former chairman of the Senate Raza Rabbani says: "During the proceedings [of the committee] the bureaucracy took the first line of defence by trying to create an impression that there was a ban on student unions imposed by the Supreme Court of Pakistan which was an obstacle in the way of reviving these bodies."
"However, after thoroughly examining the apex court's judgment it turned out that the Supreme Court had not imposed any ban," adds Rabbani, who presided over the meetings of the committee.
"When a group wins or loses the election, it gets trained in how to behave with those who have lost and how to navigate around the winners. Due to the absence of unions, Pakistan has been deprived of some very fine political leadership."
Therefore, the committee directed the Senate secretariat to prepare a working draft of a resolution and proposed guidelines within two weeks and requested the Senators to give their recommendations, if any, to the secretariat within 10 days so they could be incorporated into the working draft, the report stated.
Upon failing in its first attempt, Rabbani says the bureaucracy then took the second line of defence and argued that the revival of student unions would create law and order issues on campuses.
"The moment the draft of the resolution and proposed guidelines is ready whether the House is in session or not, Committee of the Whole will meet again to finalise that," the 79-page long report concludes.
Rabbani says the Senate committee asked the then prime minister to ensure revival of student unions in the federal capital, and all the four chief ministers to follow suit in the provinces, but regrettably they did nothing.
Dr Tauseef, who spearheaded this campaign after the Senate cleared the way for reviving student unions, said meetings of the vice-chancellors of the country's major universities were convened and lengthy discussions were held for months.
He deplored that most of the vice-chancellors showed their reluctance towards reviving student unions, arguing that the environment was not conducive for forming such bodies after a long gap of no university sanctioned political activity.
Dr Tauseef says "some of the stakeholders do not want to have student unions revived — including the Vice-Chancellors, the establishment, the local administration, the police, etc. — because the unions play the role of a 'watchdog' within and outside the varsities".
"Today, student unions are needed more than ever. When a group wins or loses the election, it gets trained in how to behave with those who have lost and how to navigate around the winners. Due to the absence of unions, Pakistan has been deprived of some very fine political leadership," he laments.
Dr Tauseef says a negative impression about student unions was deliberately created with allegations of involvement in violence and other negative activities that adversely impacted studies. He says this was done to dissuade students from joining the unions and now it is being used to block their restoration.
Why are student unions necessary & should be restored
Incidents such the alleged blackmail of students at BU, the lynching of Mashal Khan, a student of the Bacha Khan University in Mardan, on campus premises over false blasphemy allegations, the detention and manhandling of now prime minister Imran Khan by IJT activists at the PU campus in the days of Musharraf's 2007 emergency are some of the incidents that offer a glaring reminder that unions which empower students and inculcate in them a sense of tackling difference of opinion peacefully are imperative.
"Such troubling incidents expose a lack of political training that has left our youth clueless on how to navigate difference of opinion," says HRCP's Hasan.
"In my opinion, such incidents are the outcome of the absence of student unions...the culture of holding debates and discussions has ended and so has the culture of political training and democratic norms, these were what promoted the idea of tolerance among students," he says.
Furthermore, student unions play a pivotal role in training the country's youth not only in politics but also in understanding what their rights and responsibilities are as conscientious members of a society, he adds.
"Gilani promised the revival of student unions in his first speech on the assembly floor on my request, since he was once my pupil, but it continues to remain a promise," the veteran activist and academic says regrettingly.
"This is the reason why we have a crisis of good politicians," Hasan laments, calling to attention that some of the top leaders our universities have produced, such as Raza Rabbani, Javed Hashmi, Munawar Hasan, and several others, had their first brush with politics in the country's higher educational institutions and from the time when they were students.
Students' voice in varsity affairs
Veteran student activists reminisce how KU used to have a famous session called Ru-ba-ru (face to face), where the Vice-Chancellor used to come and respond to students' questions — a classic example of checks and balances that helped maintain a more refreshing and democratic atmosphere.
This is no longer the case and much has changed.
Dr Syed Asim Ali, Advisor for the Students Affairs at the University of Karachi, says currently there is no student union but a student society exists in every department of the university so students can conduct healthy activities, such as debates, seminars, etc.
He adds that earlier there used to be a seat of a students' representative in the university's Syndicate — the highest platform to discuss and address administrative affairs related to the university and students — but in 2012 the Sindh government amended the universities act and through it ended the representation of students on this platform as well.
As a result, students no longer have that space and cannot put forward some very real issues that they may be facing and that the university can address.
For example, KU students currently face a challenge when it comes to commuting to and from the campus and while the university had provided buses, they are not enough to accommodate everyone comfortably. Students say sometimes the buses are so overcrowded that it is impossible to use them without exposing oneself to the risk of accident.
With hundreds of thousands of Pakistani youth passing out from universities and their affiliated colleges each year, lack of exposure to a healthy political culture leaves them unprepared to embrace the world in all its complexity.
This youth also constitutes the majority of Pakistan's internet users and is exposed to information coming from all sides. Not being able to engage with a healthy political culture is a great disservice to this group, since they are in that time of their age where they need to be politically sensitised and trained. Some of them may even choose to take up politics later in life, and may one day become fine politicians, but this can only be facilitated if students are given the space to cultivate themselves.
It is important to note that while unions have not been restored, all public sector universities and colleges have student wings of the country's major political parties — Pakistan Peoples Party, Pakistan Muslim League-Nawaz, Pakistan Tehrik-i-Insaf, Jamaat-i-Islami and several others. Thus, it is ironic that none of the major political parties gave the issue of reviving student unions in educational institutes much prominence on their agenda in the July 2018 general elections.
As a result of this negligence, millions remain deprived of the opportunity to partake in and learn from political activity and do not get to participate in what is their fundamental right.
The one impression that needs correcting is that the culture of violence that entered campuses was not on account of student unions, whose activities and elections were largely peaceful. In fact, most of the violence took place after the ban came into effect and during the absence of the unions; those involved being members of political parties' student wings.
Restoring unions will lead to training our youth into how political activity is conducted, turning them into a major intellectual and political force for the country.
With no legal impediments in the place, there remains no logical hurdle in restoring student unions. The state is also morally obligated to ensure that Pakistani students have the liberty to partake in political activity.
This is important as at a time when students the world over continue to play their role in different socially and politically motivated movements, young Pakistanis do not have that freedom.
---
*Name changed to protect identity