With my triple crown complete, I realised it's amazing how travel connects us with people that we had never met before.
Read Part I of this travelogue here.
***
In the first part of this travelogue, I had documented our trek up Kangchenjunga North Base Camp (Pang Pema). We started in Tapethok, trekked all the way to North Kangchenjunga (Pang Pema) at approximately 5,200 metres and returned to Ghunsa, covering almost 96km by foot in seven days with no rest.
It was at Ghunsa that we came to know that Sele La, a pass that connects North and South Kangchenjunga, was closed due to heavy snow, so Dilli Bhattarai (my mountain guide), Neema Sherpa (our porter) and I spent that evening in Ghunsa to ponder over other options that would lead us to the South Kangchenjunga trek.
The simplest option was to drive back to Taplejung and take another ride into Mamangkhe and start the Southern trek from its starting point, but that was a very long option and we did not have so many days.
I had bought a map of Kangchenjunga from Kathmandu and the three of us stayed glued to the map that evening, finding and then discarding several options.
The route to South Kangchenjunga
We finally found one option that was possible, a minor trail that started in Sekathum (our first stop for the North trip) and followed Simbuwa River to Tortong in the south.
The Simbuwa River is melt from Yalung Glacier lying south of Mount Kanchenjunga and Tortong is a camp south of Tseram, the site that Sele La would have connected us from Ghunsa.
This new plan had two disadvantages. One: It added two more days to reach Tseram, and two: no one that we spoke to had used this route before. We had two unused rest days on the trip and we decided, in the worst case scenario, we would return back to Sekathum and call an end to the expedition.
That evening was very special in Ghunsa. The family we were living with had invited other Sherpa villagers to join them. They were singing songs and sipping on salt butter tea (made with yak butter) and Tumba, a local alcoholic drink.
Journey to Yassang
From Amjilasa, we had to trek down to Sekathum and decide where and how we would head to the route that would connect us to Tortong. We arrived in Sekathum at 10am after completing 10km from Amjilasa.
We had tea in Sekathum with the Dai (Nepali for brother) and Didi (sister) who helped us find the route to Tortong. It was here at Sekathum we discovered that the route from Sekathum to Tortong has a good trail used by the villagers, but it was long and could not be completed in a day. It passes through several farming communities which end halfway between Sekathum and Tortong.
We decided to push from Sekathum to Yassang, one of the last villages on our way to Tortong, following the Simbuwa River. It turned out to be a very long day; we first descended from 2400m (Amjilasa) to 1600m (Sekathum) in 10km and then ascended again to 2150m (Yassang) in another 15km.
In Yassang, there were no lodges or teahouses, so a local family lent us a room in their house.
The next day, we left Yassang around 8am, less anxious now as we knew that there was a route to Tortong.
The trail after Yassang was well-built with solid rocks for around 3.5km, after which it was a thin but maintained trail.
There are several basic but beautiful bridges to cross along the way until the trail meets the bank of the river. Here, we had tea with a bridge construction worker before arriving in Tortong.
Just before Tortong, the route goes back into the forest, green and blooming with flowers. We covered 12km in six hours and climbed from 2,150m in Yassang to 3,000m in Tortong.
The hike from Tortong to Tseram was gentle and enjoyable. It took us through the forests before it disappeared and we got clear views of the far-lying Himalayan giants.
The forest out of Tortong is incredibly beautiful. Along the way, Dilli showed me a bridge and the trek route to Sikkim. There are no check posts along the border, just a trek into the state of Sikkim.
On several occasions, unprepared parties have wandered into India from Nepal, only getting into trouble with authorities over there when caught. After a photo or two, we continued on our trek to Tseram.
There was only one lodge open in Tseram, run by a young Nepali lady named Kanchi Sherpa. I was awestruck by her courage; living alone and running a lodge all by yourself in the middle of the Himalayas is no easy task.
Not only did she help us with our stay, she also guided us in planning for our trek to the South Base Camp.
It was at Tseram that we came to know that Ramche, the last camp before base camp, was still closed due to heavy snowfall. Sherpas returning from South Base Camp warned us of the knee-deep snow near Ramche.
So far, only one team had made it to South Base Camp and it was a group of climbers that was staying at the base camp for the season and attempting to climb Kanchenjunga.
For us, there was only one option: start early in the day and make it to Ramche and South Base Camp before returning back the same day. This would combine an effort of two days into one single day.
Wake up at 4am, breakfast at 4:30am and we were on our feet for South Base Camp at 5am — it was a busy morning in Tseram. But here's what worked in our favour, at least going up to the base camp: at night, the temperature had fallen below freezing (-10 to -15 degrees Celsius), turning the snow into ice.
We trekked up through the rock-hard ice, making progress in record time. Wind was still blowing from the South, pushing us from the back and helping us move faster.
We reached Ramche at 8:30am, completing 7km in two hours and 30 minutes, which is quite fast at 4,800m elevation. A short break in Ramche and we were moving again.
The Kabru peak that lies adjacent to Kangchenjunga and forms the border between Nepal and India was now much closer, and it was here that we noticed that even though the southern sky was clear, there was a spot of clouds over Kabru.
Mountains have their own weather systems, often unrelated to the regional weather. What if the weather changed and the clouds once again beat us to the view point? I pushed both Dilli and Neema to cut the breaks and move faster.
There was a steep climb to reach Oktang and here was the knee-deep snow. Dilli even slipped through the snow a few feet and took a break, where he shot a spectacular photo of me and Neema making the push.
After a tough climb at the climax, we finally reached Oktang at 10:45am, 4km in an hour and 45 minutes from Ramche.
At the top was a prayer site for those attempting to climb Kangchenjunga and other peaks in the vicinity. But here's what broke our hearts. Though Kabru seemed stunning with the clouds over it, Kangchenjunga's south face was covered in the clouds.

An early arrival allowed us to stay longer, so we decided to wait a couple of hours and hoped that by then Her Majesty Kanchenjunga would reveal herself.
An early arrival allowed us to stay longer, so we decided to wait a couple of hours and hoped that by then Her Majesty Kanchenjunga would reveal herself.
We had hot tea and biscuits for lunch, went around taking pictures of the cloud-covered Kanchenjunga and its adjacent mountain, the peaks of Kabru (7,412m, 7,339m, 7,338m and 7,318m).
11am turned into 12pm. 12pm turned in to 1pm, but the weather only got worse and there was less of Kangchenjunga visible now than before.
After so many hours, the cold was taking a toll on our bodies. With that we called it the end of our expedition. It would have been perfect to see the south face of Kanchenjunga. but such is the world of the mountains.
We started our descent to Tseram around 1pm and it took us five hours to reach Tseram. It was physically harder going back: heat from the sun had now melted the nice, solid ice we had walked on earlier, turning it into a soup up to knee-height.
Twice, we had to cross through a glacial water stream that filled our shoes with freezing water. We finally reached Tseram at 5pm, much to Kanchi's surprise who thought we wouldn't be back before 7 or 8pm for such a long day.
We had finally completed the entire Kanchenjunga circuit, replacing the Sele La with a new southern route without a single rest day. It was now time to descend to Tortong, Yamphudin and Mamangkhe, from where we could catch a local ride to Taplejung.
At breakfast the next morning in Tseram, Kanchi pointed out that it was snowing up at Kabru and Kangchenjunga. Soon after we reached Tortong, it started snowing there as well. The entire green Himalayas turned white in minutes.
Here, sitting with Neema and Dilli, I thought that had we taken a rest day, we would have arrived at Ortong or the South Base Camp in snowfall, so we were very lucky.
The snowfall forced us to change our route once again; instead of returning via Yamphudin, we decided to return via our newly-discovered trail to Sekathum.
The route to Yamphudin climbs up to 3,600m from Tortong and there was a lot of snow up there that we avoided now that we knew of another way out.
We trekked to Sekathum via Yassang, spent a night at Sekathum and then descended to Tapethok the next morning, from where a local ride took us the Taplejung the next day and another one to Bhadrapur the day after.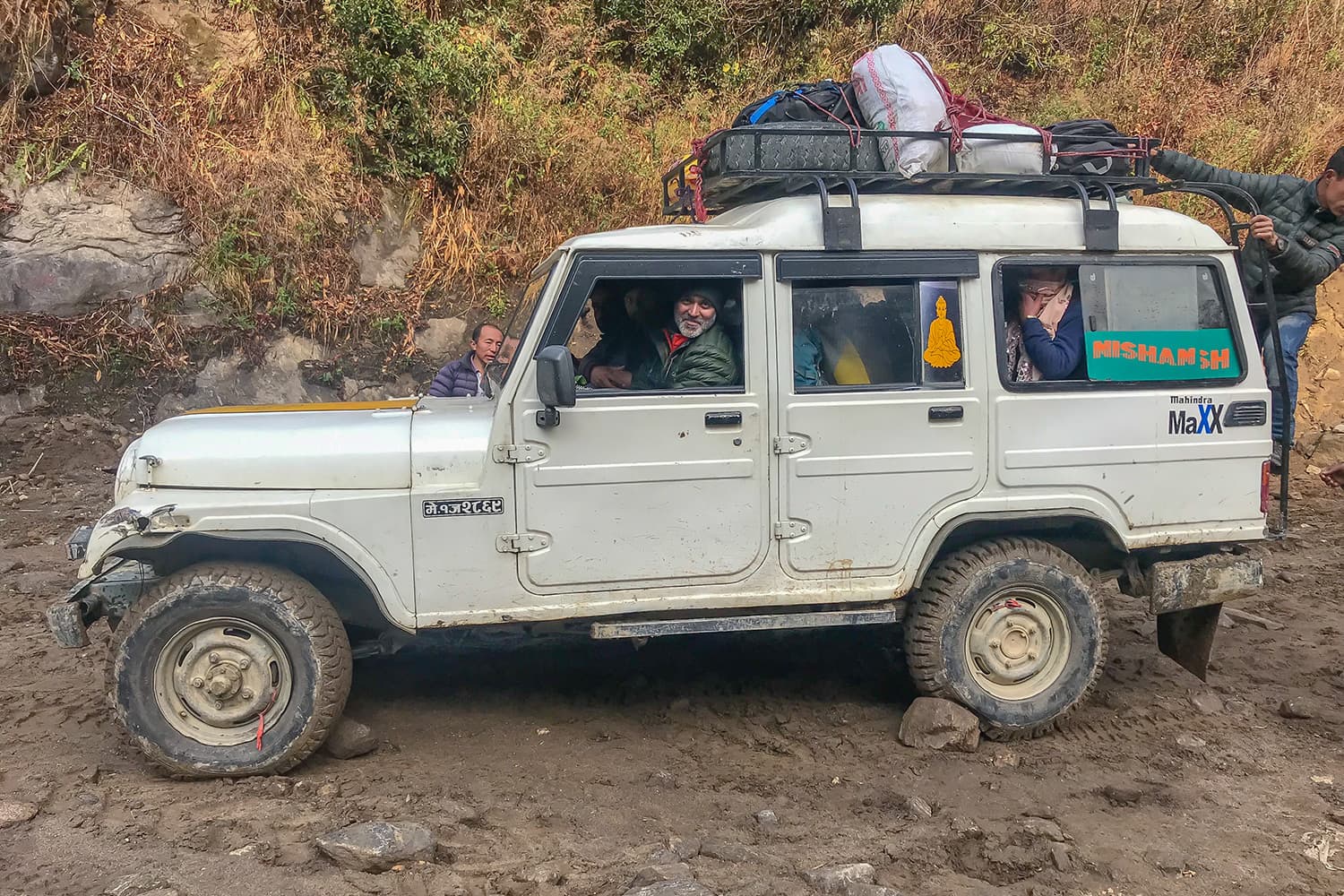 With the trip now behind me, I really enjoyed the ride from Taplejung to Bhadrapur. It passes through so many valleys, going down to as low as 600m and then up again to 2,200m several times. One can feel the weather getting hot at lower elevations and cold again at the higher elevations.
We passed through several small bazaars and beautiful mountain communities. Approximately 90km from Taplejung was the colourful little city of Phidim and 75km from Phidim lies Ilam, Nepal's tea capital.
We stopped at Ilam bazaar to explore the place and buy some fresh, local tea before resuming our journey once again, passing through the tea fields where I could literally smell fresh tea in the air.
From Ilam, the route finally descends down to 200m, to the plains of Bhadrapur. What's fascinating is that from Bhadrapur, the massive mountains aren't even visible anymore, just plain fields.
Dilli joked how Sherpas who live in colder weather at higher elevations have a difficult time coping with the hot weather in Bhadrapur.
It was Holi that day and on our way, we passed through several groups celebrating the festival of colours on the streets of Bhadrapur.
On the long eight-hour drive back to Bhadrapur, there were periods of silence where moments of the trek, people I met and the new friendships kept flashing across my mind. It's amazing how travel connects us with people that we had never met before.
Had I not made this trip, I would not have met Dilli and Neema, the two people without whom this trip could not have happened. We spent 15 days together, passing through forests and broken trails under the grandeur of one of the highest mountain ranges on the planet, counting on each other for motivation and survival.
And then the Dai and Didi in Sekathum who helped us find the route to Yassang, the baby and grandfather in Thangyam, the boy working at his father's tea stall, the child in Phale who was sad to see us leave, the bridge construction worker we had tea with near Tortong, the brave Kanchi Sherpa at Tseram.
So many lives, and each one of them have their own stories.
Before flying out of Kathmandu, I promised Dilli that I would mail him photographs of all the people we met on the trek, which he can gift them on his next trip to Kangchenjunga.
I may never return to Kangchenjunga but I will always have their memory in my photographs. I hope these photographs will remind them of me — a Pakistani trekker who once visited Kangchenjunga.
---
Are you exploring remote regions of the world? Share your experiences with us at prism@dawn.com