For too long torture has been tolerated as an acceptable mode of policing and investigation. It is time to eradicate it.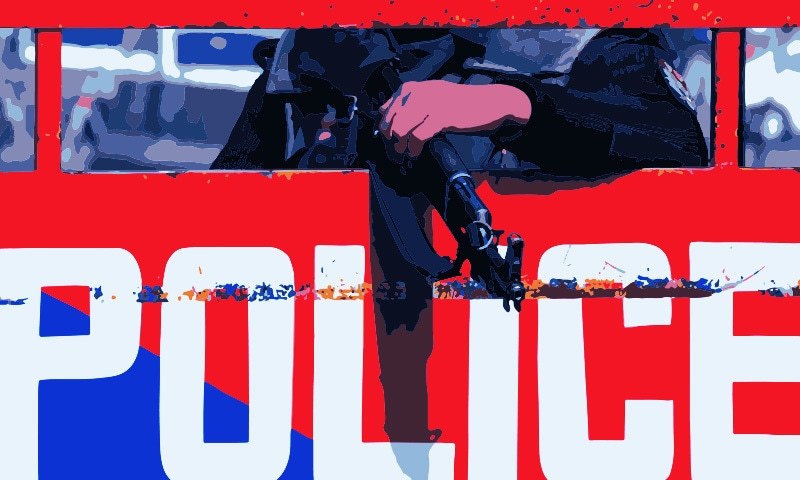 The words 'torture' and 'police' are inexorably linked in the Pakistani imagination. Not only is torture the primary interrogative technique of the police, whereby they brutalise their victims into confessing whatever they are seeking to prove, it is also openly wielded as a tactic of intimidation and punishment.
Yet, there is no comprehensive anti-torture legislation that defines and criminalises the act, despite a nominal constitutional prohibition.
Though police torture often makes its way to the public as a news item, human rights reports, viral videos or as a punchline of jokes, its fundamental quality is its secrecy. At once, the police's propensity for torture exists as an amorphous social fact, yet remains inscrutable and unacknowledged in the judicial process.
While activists and journalists try their best to lift the veil on torture, the state has hitherto been reluctant to openly accept its existence and take concrete action. For instance, in its reports regarding the country's compliance with the human rights treaties it has ratified, the state obfuscates the reality of torture and makes it seem like torture is effectively prohibited and prevented.
Any official inquiry on torture, with findings made public, historically has remained elusive. This dubious distinction, fortunately, has now ended with the National Commission for Human Rights (NCHR) publishing a landmark report on its year-long inquiry on systematic torture by police in Faisalabad from 2006 to 2012.
The NCHR's groundbreaking inquiry was made on the back of a complaint filed by Justice Project Pakistan (JPP), based on the data the organisation gathered from Faisalabad in the form of over 1,800 medico-legal certificates (MLC) of victims of torture compiled by the District Standing Medical Board (DSMB).
The DSMB had carried out these examinations on court orders and had found conclusive proof of torture in at least 1,424 cases.
The NCHR's position allowed it to call in police officials, victims and independent experts to give their testimonies on some selected cases and ask for follow-up proceedings. Based on this, the NCHR concluded that the Faisalabad police had indeed systematically committed torture.
Unsurprisingly, in the 19 cases that the NCHR chose to follow up on, it was found that no police officer involved was prosecuted because, as obliquely written in official replies, the cases were dropped due to either 'compromise' or nonpursual by victims.
As the chairman of the NCHR, Justice (retd) Ali Nawaz Chowhan, notes in the report, these 'compromises' are unacceptable as they underline how the police uses their oppressive capacity to force an early closure, belaying the cases' status as gross human rights violation requiring redressal.
The lack of any follow-up action in cases where the DSMB found sufficient evidence indicating torture is a devastating indictment of the impunity with which the police continue to torture.
To have an MLC made is itself a herculean task for the victims of torture, as, in a cruel twist, the victim has to file a complaint of torture with the same police it is accusing of torture and then pursue a case in the courts and win an order to have a medical exam conducted.
At every step, the victim of torture is discouraged from coming forward and thus it is safe to assume that most torture cases remain unexamined.
But then, as the NCHR inquiry shows, even if a victim is successful in proving torture, the perpetrators go unpunished and unquestioned.
The primacy afforded to MLCs should also be questioned as this is the result of judicial evidentiary protocols that disregard the victim's testimony of suffering and overemphasise the supposed scientific objectiveness of the laid out medical procedure.
By making the body of the victim the only reliable witness in the case against the torturers, police have been encouraged to develop techniques of torture that ensure the body of the victim is unable to provide definitive judicial proof.
Despite the overall insufficiency of MLCs to truly depict the extent of torture's ghastliness, the findings read like a twisted work of the horror genre.
The victims, who range from as young as 12 to as old as 90 and represent all genders, were subjected to sadistic practices like being tied to two separate beds and being stretched until breaking point or being suspended while being weighed down or to being sexually and psychologically assaulted in various barbaric ways.
The details are simply mind numbing.
Lest anyone claim otherwise, this situation is of course not unique to Faisalabad but a systemic crisis that has existed in Pakistan across time. To show that torture by police follows an organisational logic and is its modus operandi, JPP has compared the Faisalabad data set of 1,867 cases from 2006-12 to a similar data set of MLCs from Lahore of 1,820 cases from 1998 to 2002.
The comparison reveals remarkable consistency in how the Punjab police carries out torture and what kinds of people it routinely victimises.
In addition to the kinds and frequency of injuries being quite similar, in both instances the victims were almost exclusively from underprivileged backgrounds, working as daily wage labourers, farmers, household help or drivers.
While a majority of victims were men, the eight per cent of women in both samples were primarily targeted with sexual forms of torture and their trauma and humiliation was used as a means to psychologically torture their male family members. This level of assault on women's bodies reveals a deep and sickening cultural malaise in the police force.
Furthermore, one can pick up any anecdotal report from any time in Pakistan's history, like for example an Amnesty International report from the 1993 and read about the exact same horrific practices and methods of police torture as those uncovered in the NCHR inquiry in 2018.
It should morally offend every Pakistani official that such heinous acts happen regularly in the name of law. The NCHR must be lauded for its efforts to investigate torture and for promising to not let this issue slide. The Pakistan Tehreek-i-Insaf government would be well advised to look to this report and follow the judicious and comprehensive recommendations made by the NCHR.
These recommendations include formulating and enacting a comprehensive anti-torture law that defines torture in line with the Convention Against Torture and underline punishments in no uncertain terms, including jail time and removal from status as a government official for any culprit.
Secondly, it is imperative to have an independent body in charge of investigating allegations of torture as law enforcement agencies are not impartial actors in these incidences.
More broadly, it is highly necessary to recognise the factors that have contributed to the police developing an organisational culture of torture and address them.
These factors include structural constraints like improper training and lack of investigative resources as well as being an ongoing legacy of the police's colonial origins as a repressive force.
The practice of torture is so universally condemned that the prohibition on it is considered a fundamental international norm. It is important to keep in mind that international norms are our shared human values and the state of Pakistan owes it to its citizens to protect them.
The inability or unwillingness to combat the malaise of torture is a permanent stain on the capacity of the state to provide its citizens a fair and just society.
For too long, torture has been conceived and tolerated as an acceptable and inevitable mode of policing and investigation in Pakistan. It is time to eradicate it once and for all.
Representatives of the government have already promised to reform the police with a mind to combat torture. Thus, their first goal should be to expedite the passage of the comprehensive anti-torture legislation pending in parliament for over five years.
To view the entire report, click here.
---
Are you advocating for human rights? Share your insights with us at prism@dawn.com