Dawn.com rounds up key events that had sports fans on their feet — or at times, holding their heads in despair.
One distinct thing about the global sports industry is that it almost never has a dull year. The insatiable need for competition, athleticism and entertainment means that there is something always happening in sports.
Like the years before, 2017 also had its share of notable sporting events. Football, cricket, tennis, boxing, mixed martial arts (MMA) — every major sport had its moment in the outgoing calendar year.
For Pakistani fans, this year was tinged with emotions as international cricket 'returned home' eights years after the 2009 terror attack.
This was also the year that Pakistan broke its eight-year dry spell against India in the one-day format by bringing home the Champions Trophy.
As the year draws to an end, Dawn.com rounds up key events that had sports fans cheering on their feet — and at times, holding their heads in despair.
Pakistan defeats India to lift the Champions Trophy
In an unexpected turn of events, Pakistan thrashed favourites India to claim the 2017 ICC Champions Trophy on June 18.
The Green Shirts lost their first match in the tournament to India, after which most fans had little hope from their side. But the unpredictable Pakistani team — no stranger to taking the world of cricket by surprise — dealt a knockout blow to its arch-nemesis.
In the finale, Pakistan amassed a daunting 339-run target for the Men in Blue, whose batting line-up suffered an uncharacteristic collapse, thanks to a calculated bowling attack, with the Indian unit mustering up just 158 runs and losing all their wickets by the 31st over.
The score was Pakistan's second-highest against India. The last time Pakistan beat India in a one-day international showdown was in 2009 ─ also during a Champions Trophy match.
First-ever PSL match held in Pakistan
On March 5, the country's flagship Pakistan Super League (PSL) finally held its first match in Pakistan.
The entire maiden edition of PSL was held in the UAE in 2016 because of "security concerns". All the matches of the second edition also took place in the UAE — but the final was promised to Pakistan.
This was the first step taken by PSL Chairman Najam Sethi in "bringing cricket back to Pakistan".
A terror attack in Lahore only days before the anticipated match raised concerns among some international players who eventually bowed out of the final.
Read: PSL 2017 – a unique, 'Made in Pakistan' product
Sethi, however, made it clear that the game would be held in Punjab's capital if the country wants ─ even if it meant using substitute players in place of the international players.
At the finale, which was held amid tight security, Sethi sent out a clear message to the world: "Today, there are people here from Khyber Pakhtunkhwa, Gilgit-Baltistan, Karachi, Quetta ─ from every part of Pakistan. This is a show of solidarity. The whole world should see we are together. We will not bow our heads before anyone. We can do anything."
Peshawar Zalmi thrashed Quetta Gladiators by 58 runs in the match played at Lahore's Gaddafi Stadium, as what was to be an intensely competitive final battle turned into a one-sided game, with the Gladiators buckling under the pressure of a 149-run target set by the Zalmi.
The return of international cricket to Pakistan
Dubbed the return of international cricket to Pakistan, the 2017 Independence Cup saw the national team take on a specially drafted World XI side for a three-match T20I series in Lahore in September.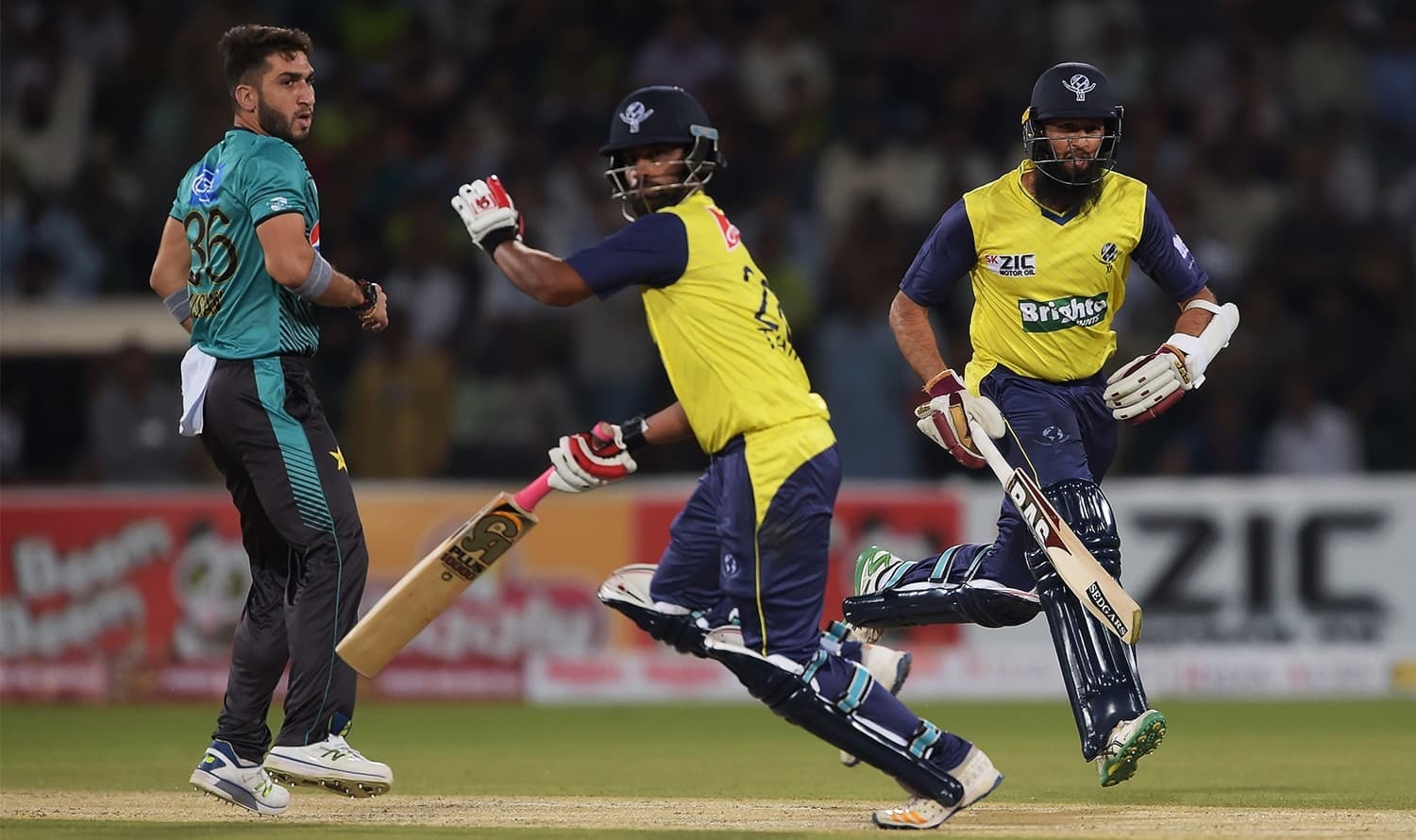 For the better part of the past decade, the Men in Green were forced to play their home series in the UAE due to foreign teams refusing to visit Pakistan citing security concerns.
Read more: World XI cricket tournaments: a history
Those fears, however, subsided a great deal following the visit of World XI, which included several bona fide international stars, including Faf du Plessis, Hashim Amla, Tamim Iqbal, Thisara Perera and others.
The series, which Pakistan won 2-1, was seen as a watershed moment for Pakistan cricket as the confidence it created facilitated Sri Lanka's visit to Lahore for the last of their three-match T20 series with Pakistan.
Also read: West Indies likely to confirm Pakistan tour in few days, hopes PCB chief
Cricket greats Misbah, Younis and Afridi bid farewell
After making history and clasping what was Pakistan's first-ever Test win in the Caribbean in May this year, Younis Khan and Misbahul Haq bid farewell to international cricket.
The two legends, who basically reshaped Pakistan's cricketing history, left behind a void that is yet to be filled, despite Chief Selector Inzamamul Haq's repeated reassurances.
Read: Misbah: A great player. A leader of cricketers. A maker of men.
If Misbah was the man behind Pakistan cricket's image rebuilding after the dark days of 2010 spot-fixing saga, Younis' focus was more on the playing field where he often became a man possessed, scoring runs after runs and centuries after centuries.
While Misbah became the most-capped Pakistan Test skipper, Younis had accomplishments of his own as he became the first and only individual from the country to join the 10,000-run club in Test cricket.
Former captain Shahid Afridi also said goodbye to all formats of international cricket this year. The flamboyant batsman took his fans down memory lane as he hit a quickfire 101 runs off 42 balls for Hampshire in a NatWest T20 Blast match in August.
Ronaldinho and Friends make football big on visit to Pakistan
It's no secret that Pakistanis eat, sleep and breathe cricket, leaving little room for any other sport in the country's sporting ecosystem. But for a few days in July, the unthinkable happened.
The bat-ball sport took a backseat in the country as the global leader stepped up, all thanks to Ronaldinho and Friends' visit to Karachi and Lahore for two football matches.
Explore: Kickoff with Ronaldinho and friends
The chance to see the likes of Dinho, Ryan Giggs, Nicolas Anelka and Robert Pires in the flesh created a footballing frenzy in Pakistan never seen before.
Punishments handed out in PSL spot-fixing scandal
In August this year, a tribunal commissioned by the PCB's Anti Corruption Unit (ACU) imposed a five-year ban on Sharjeel Khan as a result of the spot-fixing scandal that made headlines during PSL 2017.
Khan will not be able to play any form of cricket for at least 30 months following the ban, after which he may be allowed to play domestic cricket until the completion of the ban — subject to the terms and conditions set by PCB.
In September, the ACU handed batsman Khalid Latif a five-year ban and Rs1 million fine for his involvement in the spot-fixing case.
Later, the tribunal also handed opener Nasir Jamshed, believed to be the prime suspect in the case, a one-year ban for obstruction of investigation and non-cooperation.
Earlier in March, Muhammad Irfan and the PCB reached an agreement regarding his suspension in the aftermath of the scandal.
The board decided to suspend Irfan's PCB contract for a year, with the possibility of a review in six months after the pacer admitted his failure to report an approach from two bookies during the PSL.
Heartbroken Italians demand answers after World Cup 'apocalypse'
In what could arguably be the biggest upset in the history of international football, four-time world champions Italy in November failed to secure World Cup qualification for the first time since 1958.
After the initial shock and disbelief, heartbroken Italians demanded answers as to why their beloved team had missed the World Cup finals for the first time in 60 years.
Following their 1-0 aggregate defeat to Sweden in the play-offs, a tearful Gianluigi Buffon quit international football and coach Gian Piero Ventura said he would consider his future.
There was disbelief among the 75,000 fans at Milan's San Siro Stadium, with 14.8 million stunned Italians watching their national team's fall from grace on television.
Boxing bounces back with a trio of blockbuster bouts
Boxing had been in a steady decline for at least the past decade or so, but 2017 was the year of its renaissance.
The combat sport affectionately known as the Sweet Science had three prominent bouts, all different in styles but all equally exciting.
The powerful Anthony Joshua's TKO of the great Wladimir Klitschko in April revitalised a dead heavyweight division before Floyd Mayweather Jr and Conor McGregor's braggadocio captured fight fans' imagination world over.
When the display of power and arrogance was over, came September's super technical encounter between Gennady Golovkin and Canelo Alvarez, much to the delight of the purists.
Bolt's forgettable farewell, Van Niekerk's emergence
Sprint king Usain Bolt ended his illustrious career in 2017 albeit in a manner very few had envisaged.
Bolt, the world's fastest man and pre-race favourite at August's World Athletics Championships, finished a disappointing third in the final individual race of his career before pulling a hamstring in the 4x100-metre relay for Jamaica, ending his career with a grimace rather than a grin on his face.
While track and field will probably never see another Bolt, South Africa's Wayde van Niekerk did stake his claim as the Jamaican's heir apparent by breaking Michael Johnson's 17-year-old world record in the 300m category.
Federer, Nadal's Indian summer
Before 2017 began, Roger Federer and Rafael Nadal — two all-time greats — hadn't won a grand slam in five and three years, respectively.
Fatigue, injuries and the emergence of new talent meant the two arch-rivals were considered spent forces by many. But both turned back the clock this year, clean sweeping the four slams, with Federer winning the Australian Open and Wimbledon, and Nadal adding a French and US Opens to his tally.
Also see: Federer, Nadal cruise at Rogers Cup
Who says Father Time is undefeated?