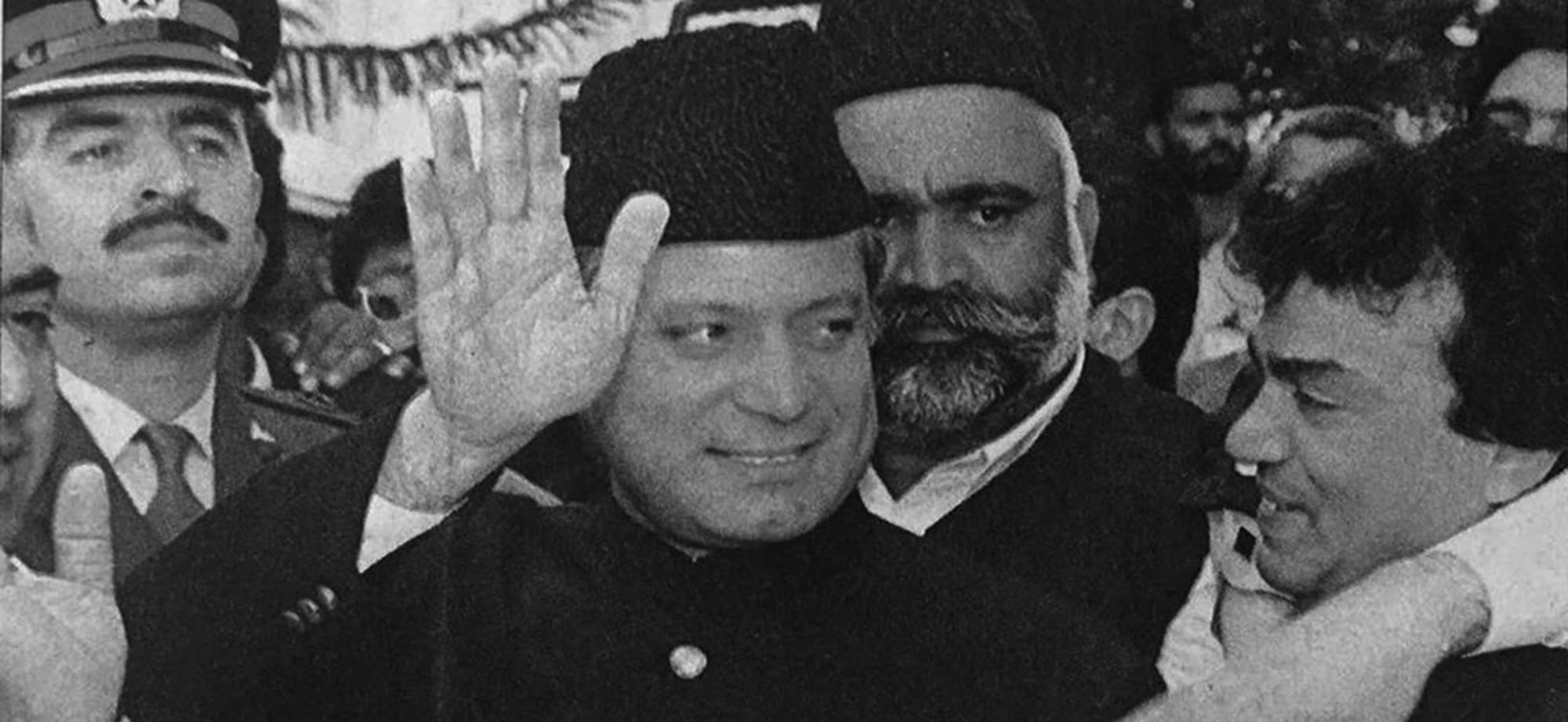 How Nawaz went from being a young man with little interest in politics to becoming one of the most prominent leaders.
Early years
Born on December 25, 1949 in Lahore, Nawaz Sharif is the eldest son to Mr and Mrs Muhammad Sharif. His father was a wealthy industrialist and had founded the Ittefaq and Sharif Group.
"The Sharif family is a patriarchal and conservative family. They came to industry in the 1930s, at a time when hardly a few Muslim families had a name in the industry," says senior analyst Nusrat Javed.
"They became futuristic because they came into the steel business. There was one other group, Batala Engineering Company (BECO), and then them [the Sharifs]. Their story is pretty much one of rags to riches… six or seven brothers who came from Jati Umra to Lahore rose because of sheer hard work."
"By the time 1947 happened, they became prominent. As far as old Lahore is concerned, even in 1947, they were a recognised rich family who were considered industrialists."
Nawaz attended Saint Anthony's High School for his early schooling before enrolling in Government College Lahore and subsequently obtaining his Law Degree from the Punjab University.
"He doesn't have great friendships from school days. They are from a mohalla called Ram Galla in the Circular Road area," says Javed.
"Close to Partition, the family moved to Model Town. He mostly mingled with the neighbourhood boys rather than the boys from his school. His hobbies were cricket, watching films and then driving. In Government College Lahore, he was friends with Khawaja Asif but not many of his good friendships are from school."
"This ties into the patriarchal family set up, as you become friends with people living close to you and your family. Being friends with school boys, skipping class and these riots would not be possible in the presence of Mian Sharif."
Later, Nawaz joined his family's influential House of Ittefaq (Ittefaq Group), an industrial conglomerate with interests in sugar, steel, and textiles.
He married Kulsoom Nawaz in April of 1971.
Venturing into politics
Nawaz began his political career during a period where many industries, including the Sharif's steel business, was nationalised by Prime Minister Zulfiqar Ali Bhutto. In 1976, he joined the Pakistan Muslim League, which had a strong footing in Punjab.
"When their industry was nationalised by Bhutto, the family took it very seriously," Javed continues. "They began to think of having a spot in politics. They held a grudge against Bhutto. It may sound cynical, but Nawaz's father pushed him to politics because he didn't think he would do business."
Nawaz was first a part of the Punjab cabinet as finance minister during General Ziaul Haq's regime and in 1981, he joined the Punjab Advisory Board.
According to Javed: "Nawaz had a distant maternal uncle by the name of Hasan who is largely responsible for his grooming in politics. Ghulam Jilani Khan sb made Nawaz Finance Minister in the Punjab government, but he tasked one of his lackeys, Brigadier Qayum, to take Nawaz under his wing."
Nawaz was then elected as Chief Minister Punjab in 1985 and was re-elected after the end of martial law in 1988. After the death of Ziaul Haq in August 1988, the Pakistan Muslim League split into two factions, with Sharif taking charge of PML, which later came to be known as PML-N.
"Nawaz Sharif was the product of the military establishment," author and journalist Zahid Hussain tells Dawn.com. "He was brought into the Punjab provincial government in 1984 from nowhere."
"The main objective of Zia's military government was to prop up an alternative leadership to compete with Benazir Bhutto. He was later made the chief minister of Pakistan's most powerful province. He represented the trading and business classes of Punjab and owed his political rise with the backing of the Punjabi civil establishment that includes members of the bureaucracy as well as the judiciary."
Tumultuous years as prime minister
Through 1990, Nawaz campaigned for the general election as chief of the Islami Jamhoori Ittehad (IJI). This photo shows Nawaz Sharif, Khaqan Abbasi and Sheikh Rashid responding to IJI supporters' slogans at a big public meeting in Murree.
Hussain says: "Sharif became the prime minister for the first time in 1991 as leader of a right wing alliance known as Islami Jamhoori Ittehad (IJI) put together by the military."
"But he soon fell foul with President Ghulam Ishaq Khan as he wanted to accumulate total power. The power struggle led to his fall. A soft coup forced both the president and the prime minister to resign."
Hussain says, "Sharif could not complete both his terms because of his confrontation with other pillars of the state in the first term with the president and in the second with the military. Ironically, it was the same military which was responsible for his political rise."
Nawaz was first elected as Pakistan's prime minister on November 1, 1990. Hussain says, "Shari's victory in the 1991 election against the PPP is owed largely to support from the civil and military leadership."
"IJI was created and financed by the ISI — that was confirmed by a Supreme Court ruling in the Asghar Khan case ruling. The military was not prepared to allow the PPP back in the power after the ouster of her first government."
During his tenure, Nawaz announced his nuclear policy, which aimed at continuing the development of nuclear technology to meet the country's energy needs. He also initiated plans for Pakistan's first mass road network, the Motorway.
The Prime Minister's first term came to an abrupt halt, when President Ghulam Ishaq Khan dissolved the National Assembly in April 1993.
A month later, in May 1993, Sharif returned to power when the Supreme Court ruled the presidential order to dissolve the National Assembly as unconstitutional.
After calling for fresh elections in 1993, Nawaz lost power to PPP's Benazir Bhutto and took on the role of the opposition.
Hussain says, "Benazir Bhutto's return to power in 1993 elections owed it to the military abandoning support to Sharif. Another factor was the disintegration of the IJI."
Nawaz Sharif's second term as Prime Minister
Nawaz's second term as prime minister came in 1997 when the PML-N won by a landslide in the general elections. During his second term, he continued to be at loggerheads with the judiciary and in November 1997, during a hearing, a large number of his supporters stormed the Supreme Court building to disrupt proceedings.
In this period of turmoil, Prime Minister Nawaz Sharif forced President Farooq Leghari to resign and Chief Justice Sajjad Ali Shah was ousted.
"The game of musical chairs continued after the ouster of Benazir Bhutto's second government as a result of her confrontation with the president and the chief justice. Sharif appeared to have won back the support of the military that contributed to his sweeping the 1997 elections with a record three fourth majority. But that alliance was short lived."
In December 1997, PM Sharif announced that Pakistan would sign the Comprehensive Nuclear Test Ban Treaty (CTBT) only if India would sign as well. Pakistan successfully carried out its first nuclear test on May 28 1998, followed by a second on May 30.
In 1999, as the situation in Kargil escalated, Nawaz's relationship with the military turned sour. PM Sharif maintained that he had not been informed of the planned attacks in Kargil and that Chief of Army Staff General Pervez Musharraf acted alone. Two months on, PM Sharif had deteriorating relationships with the Army, Navy and Air Force, over his handling of the Kargil issue.
The situation worsened, when in October 1999 PM Sharif attempted to remove the Chairman of the Joint Chiefs and Chief of Army Staff, General Pervez Musharraf.
General Musharraf's plane was denied landing rights at Karachi airport after PM Sharif ordered it shut, fearing a coup.
However, the plane carrying General Musharraf ultimately landed in Karachi once the Army, upon earlier instructions, had seized power.
"His wayward economic policy and his disregard of the institutional decision process got him into the conflict with the military. Later his attempt to improve relations with India and the Kargil misadventure also intensified the conflict with the Generals that ultimately led to the military take over in 1999."
After the coup, Nawaz was tried in an Anti Terrorism Court for "kidnapping, attempted murder, hijacking, terrorism and corruption" and was handed a life sentence.
Under an agreement facilitated by Saudi Arabia, Sharif was exiled from the country for the next 10 years.
The Sharifs' return
In August 2007, after years in exile, the Supreme Court of Pakistan ruled that both Nawaz and his brother Shahbaz were free to return to Pakistan. The following month, Nawaz returned from exile to Islamabad, but was prevented from leaving the plane and subsequently deported to Jeddah, returning instead in November to mark his return to politics.
Between 2008 and 2013, Nawaz Sharif's PML-N party had formed a coalition government led by the PPP.
In August 2008, the coalition government agreed to impeach Musharraf, leading to his resignation. Later that year the coalition between PPP and PML-N collapsed over the former's refusal to reinstate sacked judges.
The Supreme Court of Pakistan disqualified Nawaz Sharif and Shahbaz Sharif from holding public office in February 2009. After Zardari's attempts to place him under house arrest, Nawaz Sharif began a "Long March" with the aim to reinstate the dismissed judges the following month.
In April 2010, the 18th Amendment Bill was passed, removing the limit on former prime ministers to hold office for only two terms, allowing Nawaz to run for office a third time.
Third and last time
In May 2013, Nawaz Sharif was elected as prime minister of Pakistan for a third time, among claims of widespread rigging and election fraud.
The Sharif government backed a Pakistan Rangers led operation in Karachi, aimed at rooting out crime and terrorism from the metropolitan city.
After a visit by Chinese Premiere Li Keqiang in July, it was announced that China would invest $31.5 billion in Pakistan.
In November 2013, PM Sharif ceremonially broke ground on a $9.59 billion nuclear power complex to be built in Karachi.
In late 2014, Nawaz faced mounting pressure from opposition parties regarding claims of rigging in the 2013 general elections.
On April 4 2016, after the leak of the Panama Papers, Nawaz's daughter, Maryam Nawaz, was identified as the beneficial owner of two offshore companies.
In October of that year the Panama Papers case was taken up by the Supreme Court of Pakistan to investigate claims of money laundering and tax evasion by the Sharif family.
After announcing their verdict, the Supreme Court ordered the formation of a Joint Investigation Team, which found PM Sharif to be the chairman of Capital FZE, a Dubai-based company.
SC disqualifies Nawaz from holding public office
Following the findings of the JIT, the apex court bench analysed its report and reserved its ruling on the Panama Papers case. On July 28, 2017, the bench disqualified Nawaz Sharif from holding public office.
The court ordered the Election Commission of Pakistan to de-notify the prime minister from his National Assembly seat to fulfill the technicalities of implementing the order.
The Supreme Court said the ECP should de-seat the PM for not disclosing his role in the Dubai-based Capital FZE company in his nomination papers, saying that this meant he was not 'honest' and 'truthful'.
The decision brought to an unceremonious end Sharif's third term in power, roughly one year before scheduled general elections which would have seen him become the first Pakistani prime minister to complete a full five-year term.
Kulsoom elected on Nawaz's seat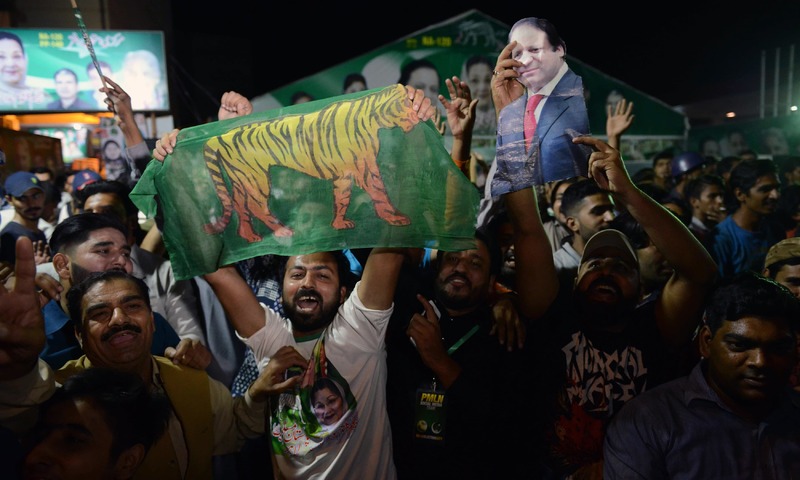 In September 2017, Begum Kulsoom won the by-election for NA-120 Lahore, the seat vacated after the ouster of her husband following the Panamagate judgement.
Weeks before the by-poll in which she narrowly defeated Pakistan Tehreek-i-Insaf's candidate, Kulsoom was diagnosed with lymphoma, a type of cancer that starts in the lymph nodes. She then went to London for treatment.
Party dubs Nawaz 'Quaid for life'
Nawaz was removed as PML-N head in February 2018 after the SC struck off a controversial amendment to the Elections Act, 2017 which had paved the way for him to resume leadership of the party following the Panama judgement.
The court said that it is mandatory for a party head to fulfil the requirements of Articles 62 and 63, as a party head is powerful and political parties control the government.
Soon after, Shahbaz Sharif was elected unopposed as the acting president of PML-N while Nawaz Sharif was elected as "[the party's] Quaid (leader) for life".
Disqualification is for life, rules SC
In a landmark verdict on April 13, the SC ruled that disqualification handed down under Article 62 (1)(f) of the Constitution — the same provision under which Nawaz Sharif was disqualified on July 28, 2017, in the Panama Papers case — was for life.
Following the verdict, Sharif became ineligible to ever hold public office.
The decision stated that the disqualification of any member of parliament or a public servant under Article 62 (1)(f) in the future will be permanent. Such a person cannot contest elections or become a member of parliament.
Nawaz Sharif, daughter sentenced to prison
On July 6, 2018, the accountability court in Islamabad convicted Nawaz and his daughter in the Avenfield reference.
Nawaz was handed 10 years in jail for owning assets beyond income and one year for not cooperating with NAB. The former prime minister was in London, tending to his ailing wife, when the verdict was announced.
His daughter Maryam was handed seven years for abetment and one year for non-cooperation.
Nawaz's son-in-law Captain Safdar was given one-year jail time for not cooperating with NAB.
Nawaz returns home to be jailed
Hours after the Avenfield case judgement was announced, a defiant Nawaz announced in London that he would return to Pakistan to "face prison". Exactly a week later ─ and just days short of a year after he was ousted from the prime ministerial office ─ Nawaz and his daughter returned to Pakistan from the UK, where they had been tending to Begum Kulsoom as she underwent treatment for cancer.
After landing at Lahore airport, the father-daughter duo was swiftly whisked onto a plane and flown to Islamabad; they were later shifted to Rawalpindi's Adiala Jail ─ where Safdar awaited them ─ to serve their jail terms
More disappointment followed for Nawaz, as his PML-N party not only lost its majority in the National Assembly in the 2018 general elections, but it also failed to form government in its stronghold of Punjab.
About two months after being jailed, Nawaz and his family members were released on parole for five days after Kulsoom passed away.
Two days after they were shifted back to Adiala Jail when their parole ended, the Islamabad High Court suspended the sentences given to Nawaz, Maryam and Safdar, releasing them on bail.
NAB challenged the IHC verdict in the Supreme Court, which accepted the bureau's appeal and ordered the constitution of a larger bench for regular hearings.
Nawaz handed 7 years in Al-Azizia, acquitted in Flagship reference
On December 19, 2018, an accountability court in Islamabad reserved its verdict in the Al-Azizia and Flagship Investment references against Nawaz.
The two references against Nawaz and his sons, Hussain and Hasan, concern the setting up of the Al-Azizia and Hill Metal Establishment in Saudi Arabia, and Flagship Investment in the UK. However, Hussain and Hassan were declared absconders by the court after they did not join NAB's investigation. The court subsequently charged Nawaz in both references under Section 9(a)(v) of the National Accountability Ordinance, 1999.
Judge Mohammad Arshad Malik announced the judgement in the two cases on December 24, handing Nawaz seven years in jail in the Al-Azizia Steel Mills corruption reference, and acquitting him in the Flagship Investments reference. The court ordered that his properties be seized.
Nawaz's health deteriorates
While serving his seven-year imprisonment in the Al-Azizia corruption case, Nawaz was shifted to hospital several times for treatment of various ailments.
On October 11, he was arrested by NAB in the Chaudhry Sugar Mills case and shifted from Kot Lakhpat jail to the anti-corruption watchdog's Lahore building. While in NAB custody, the former premier was rushed to the Services Institute of Medical Sciences (SIMS) late on Oct 21 after his personal physician raised an alarm about his deteriorating health.
Medical tests showed that Nawaz's platelet count had dropped from 16,000 to a critical level of 2,000 when he was brought to the hospital, prompting doctors to go for immediate transfusion of three mega units of platelets. A six-member medical board diagnosed him with acute immune thrombocytopenic purpura (ITP), a bleeding disorder in which the immune system destroys platelets.
Nawaz, who also experienced a "minor heart attack" at the hospital, was granted bail by the Lahore High Court on medical grounds in the Chaudhry Sugar Mills case on October 25, on a petition filed by his brother Shahbaz.
Days later, the Islamabad High Court granted bail to the former prime minister for eight weeks, suspending his seven-year sentence in the Al-Azizia case, also on medical grounds.
Recent reports indicate Nawaz's platelet count remains unstable, with doctors terming his condition "critical".