California Pizza Publishing Partner
Part magical mystery, part con job ─ is reverse swing a dark art that you need to cheat to produce?
Pakistan invented reverse swing in the 1960s. That was a long time ago. It was, unlike the wrong'un, not mastered for a long time, and took a decade to go from the Lahore Gymkhana to the Melbourne Cricket Ground (MCG) in 1978-79. But when it did, it changed cricket.
Thirty seven years ago...
Thirty two Tests into his career, Sarfraz Nawaz had only two five wicket hauls and, much like his nation, he had yet to make much of an impact on world cricket.
When he came back on, Australia were 305/5, cruising towards the monstrous 382 fourth innings chase. The second new ball was old, and Sarfraz started swinging this old ball violently.
He bowled Allan Border, Graeme Wood caught behind next ball, Peter Sleep was clean bowled, Kim Hughes was out soon.
Next over, Wayne Clark was bowled playing back to a ball he couldn't understand.
Then, a no ball, one run, and Rodney Hogg was LBW.
When Alan Hurst wasn't out first ball, the crowd cheered. Next ball, Hurst was caught behind.
Australia were now 310/10. Sarfraz had 2/85 but now he had 9/86. This number currently adorns one of the walls of the MCG as part of an art installment.
Most of the Australian batsmen had helmets. They were prepared for Imran Khan's scary pace. They would survive that.
At the other end, a man who bowled as if his hip needed to be replaced shuffled in with a sideways action and bowled just above medium pace.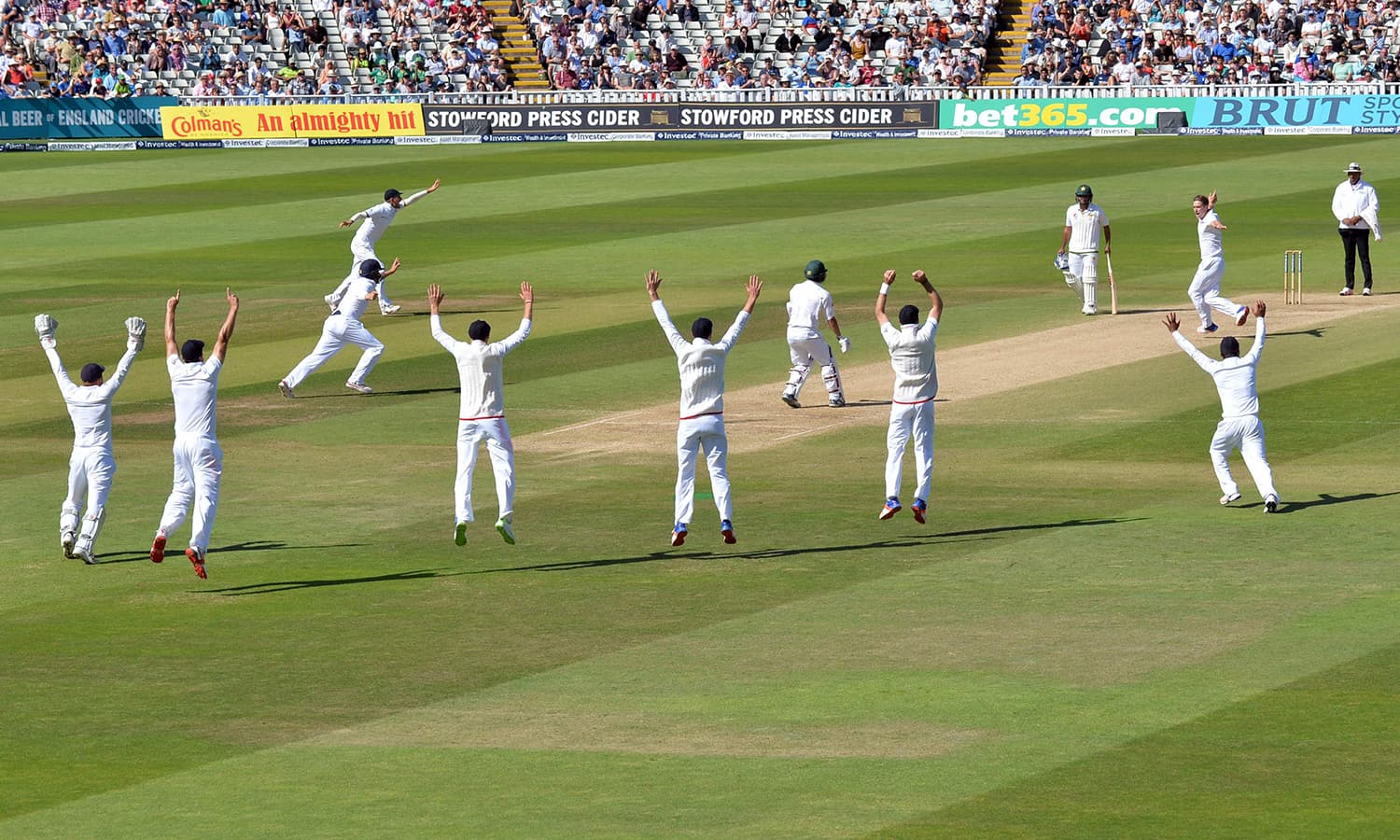 The old ball veered in dramatically at the stumps and, when he wanted it to, also went away.
The swing was late. And combined with a low bouncing Melbourne pitch, it became impossible.
'The dark art'
It was unmistakable to modern eyes, reverse swing.
Even now, Sarfraz, the man who invented reverse swing, says it was not reverse.
Considering it seems likely he or his old First-class bowling partner, Saleem Mir, pioneered reverse swing, you would think he would want to bask in that glory. Instead, he deflects.
Reverse swing is a complicated matter. It is seen as dark art that you need to cheat to produce. Which, oddly, the wrong'un was also accused of when South African bowlers tortured English batsmen with it.
England's reverse swing at Edgbaston was pretty minor.
The ball moved a fair bit for a few Anderson balls, but for Broad, Woakes and Finn, most of their best work was the ball barely moving at all.
Sohail Khan reverse swung a ball far more on the last day than Broad, Woakes and Finn combined, when he dismissed Jonny Bairstow but that was forgotten.
The country that invented reverse swing, which perfected it as well, which has spent almost 50 years with it as part of their cricket, played it terribly.
And then some in that country suggested foul play. It was like cricket eating itself.
Forget that the Pakistan batsmen would have known that they only needed to play it well for an hour or so and they would have probably drawn the game.
Forget that it didn't actually reverse that much.
Forget that Azhar Ali went out playing a one-handed drive to a non-spinning ball from Moeen Ali allowing new batsmen to face the reverse.
Forget all that ─ this was cheating.
Part magical mystery, part con job
So far in this series, the reverse spell where the ball has swung the most was by Wahab Riaz, and it was also done at the highest pace, and probably with the best skill.
That was at Lord's, to Jonny Bairstow and Chris Woakes.
And it was a wicketless spell. Had he bowled to his batsmen he probably would have taken a five-wicket haul.
But, that is still beside the point. England cheated.
How do you get the ball to reverse swing?
It isn't mints, as the England team of '05 claimed, and it isn't always legal.
There are legal ways, keeping the ball dry and shining it like a mad man.
There are grey areas, throwing the ball into the square to rough up one side.
And then there is the illegal way of scratching it with whatever you have.
Being a player who can get the ball to reverse swing, in any of these three ways, is such an important skill that players have had selections swayed on their reverse making ways.
The South Africa team had a system in place for their reverse swing. When one player was caught fiddling with the ball, he was fined, and then another would take up that job until he was fined.
The most blatant recent case was in last year's Sheffield Shield final when Victorian bowling coach Mick Lewis took a ball at the boundary and rubbed it on concrete before throwing it back.
What Joe Root and Jimmy Anderson were shown doing on Pakistani TV was not what South Africa's fined players did, or what Lewis did.
It is possible that Joe Root had his thumb under the ball as he shined it, which is a modern way of hiding the scratching from cameras, or he was just shining it, but from the footage shown, it just doesn't look like that.
Anderson was cleaning the seam, and from the angle of his fingers, he wasn't lifting it.
The umpire should have been doing it, and since cameras became omnipotent, players usually give it to the umpires.
But as it stands, both are legal; hence why neither player has been fined or suspended.
Cricket is better for reverse swing bowling. Pakistan had invented something quite amazing. Batsmen had evolved to protect themselves from bouncers.
But as they did, Sarfraz Nawaz showed the world reverse swing.
Their heads were safer; their leg stumps were not.
The International Cricket Council has just sat still for the last few years and done almost nothing.
Sometimes umpires will pretend the ball is out of shape, but what they are doing is putting the ball through the size hoops so the cameras can pick up the irregular wear and tear it has on one side.
Even when they do change the ball because of reverse, they rarely make a formal complaint as it is such a touchy issue.
At the moment we all have to accept reverse swing is part magical mystery and part con job. And it makes cricket better.