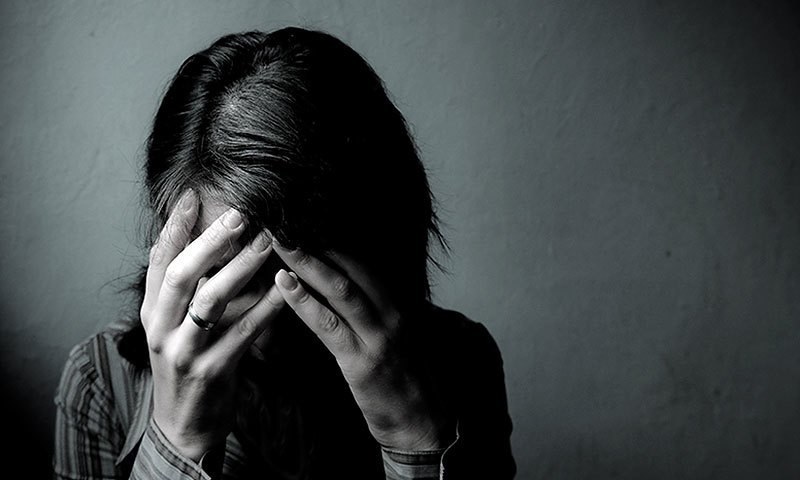 The first step towards destigmatising suicide is to make it a human rights issue, not a criminal offence.
As World Suicide Prevention Day approaches on September 10, it is high time for Pakistan to repeal Section 325 of the Pakistan Penal Code, a legacy of the British Raj.
According to WHO estimates, there are around 130,000 to 270,000 cases of attempted suicide in Pakistan each year. Suicide is a criminal offence under the Pakistan Penal Code (PPC) 325 which states "Whoever attempts to commit suicide and does any act towards the commission of such offence, shall be punished with simple imprisonment for a term which may extend to one year, (or with fine, or with both)". Ironically, Pakistan continues to follow this law which is a legacy of the British Raj, even though Britain itself decriminalised suicide way back in 1961.
Factors behind suicide
Between 2016 to 2020, 767 suicides were recorded in Sindh, as per a five-year research conducted by the Sindh Mental Health Authority (SMHA). The highest number of cases occurred in Tharparkar (79). An alarming 60 per cent of the victims were teenagers. In June 2021, the SMHA carried out what it called a "psychiatric autopsy" of the Thar region to determine the "reasons behind suicides", according to a statement by the authority's chairman, Dr Karim Khawaja. The findings suggest that the majority of cases involved lower income groups and people suffering from untreated mental illness and poverty.
On May 9, 2021, three people killed themselves in Chitral within a period of 24 hours. Two girls, who were cousins, ended their lives by jumping in the Chitral River. Meanwhile, in a separate incident, a man took his life by stabbing himself with a knife repeatedly in the Sno Ghar village. The notoriously high rates of suicide in Chitral have been linked to poverty, lack of job opportunities and forced marriages. These findings also raise the ethical dilemma that if someone attempts suicide due to socioeconomic reasons, should the state be held responsible?
While suicide is generally attributed to mental health issues, in lower income countries like Pakistan, suicide rates also reflect broader economic and sociocultural realities. Public health interventions to reduce suicide should incorporate these components in addition to mental illness as a potential target for intervention.
Victims, not criminals
In May 2021, the Punjab Police tweeted a warning that anyone who survived suicide would be liable to one year imprisonment. This tone-deaf post was met with massive backlash on social media over the insensitivity in dealing with what essentially is a public health issue.
Suicide remains illegal in at least 25 countries worldwide and attempted suicide is punishable under religious law in a further 10. The World Health Organisation's Comprehensive Mental Health Action Plan (2021-2030) has decriminalising suicide as an important target, seeking to end criminalisation, reduce stigma and ensure that there are sufficient services available for those that need them.
Criminalisation of suicide also deters sufferers from seeking adequate help.
"Suicide is an indicator of mental distress, not criminal behaviour. In many cases, the act signifies the extremity of depression. The role of the state should be to help treat such people, not punish them," said former Senator Dr Karim Ahmed Khawaja.
In 2017, Senator Khawaja moved an amendment bill seeking to replace the colonial penal law by decriminalising attempted suicide. But despite its unanimous adoption by the Senate and the Council of Islamic Ideology, the bill was not passed by the National Assembly, and eventually lapsed at the end of the last government's tenure.
In recent years, suicide legislation has been successfully repealed or superseded by new legislation in the Cayman Islands, Cyprus, Lebanon, Sri Lanka and India. In most cases, this has taken a combination of of civil society pressure, government and legislative changes, and in some cases support from the countries' religious leadership.
I spoke to Dr Murad Moosa Khan, Professor Emeritus of Psychiatry, Aga Khan University, and former President of the International Association for Suicide Prevention (IASP).
"An important reason to destigmatise suicide is that people are already hesitant to seek help when it comes to mental health; criminalising suicide adds another layer of stigma, that they have done something wrong," Moosa said.
According to the existing law, every suicide case should be received by the city's government hospitals that are officially designated as 'medico-legal centers' (MLCs). "In Karachi, there are at least three designated MLCs — the Jinnah Postgraduate Medical Centre (JPMC), Civil Hospital Karachi (CHK) and Abbasi Shaheed Hospital (ASH)," he explained. However, people are reluctant to go there for fear of legal repercussions.
He reported that since it is very rare for people to be prosecuted under this law, the practical risk is minimal, but the greater risk is of exploitation by medico-legal authorities and officers who may blackmail victims and their families in order to extort money from them.
Currently, people who attempt suicide end up either in a public sector, private sector or a charitable health facility. "If the attempt is a serious one, for instance use of a firearm or ingestion of a toxic poison, those cases are sent to an MLC hospital, as other hospitals do not want to get involved in police investigations in case of death of the individual."
Cases that are less severe are not reported and treated at non-MLC hospitals. They are usually written off as food poisoning, another medical condition or accidental poisoning.
Dr Moosa further stated that almost all private and charitable hospitals are carrying out this practice in Pakistan. "Due to these practices, we do not know the true extent of attempted suicides in the country."
What steps can be taken to repeal the law?
"To advocate for decriminalisation, many sectors have to come together, including mental health and public health professionals, human rights organisations, legal professionals, educational institutions and the civil society. International organisations such as the WHO, United for Global Mental Health (UGMH) and IASP have been actively involved in raising awareness about the need for suicide decriminalisation," Dr Murad shared.
Dr Uroosa Talib, Consultant Psychiatrist and Chief Medical Officer at Karwan-i-Hayat, one of Pakistan's largest psychiatric rehabilitation centres, said that a lot of people do not report suicide cases and since most of such cases need medical attention first so they are taken to tertiary-care setups.
"People hide facts about suicide to avoid legal implications. Additionally, patients and families go through the traumatising experience of dealing with our police. So they opt to stay quiet or conceal facts. Ironically, this way they deprive the person who attempted suicide of proper care. They are not given a chance at be seen by a psychiatrist to rule out any underlying mental health condition," says Dr Talib.
Decriminalise suicide to destigmatise seeking mental health services
Decriminalising suicide is the first step towards eradicating the stigma associated with seeking mental health services. The second would be to develop the mental health services sector to cater to the needs of the population. This would entail psychoeducational training of personnel — police, medico-legal officers, emergency room doctors and staff, lawyers and religious leaders.
Detractors of this campaign are of the opinion that decriminalising suicide will result in a spike in suicide rates. Empirical evidence suggests otherwise. The WHO 2014 report reveals that suicide rates tend to decline following decriminalisation.
In fact, decriminalisation can actually lead to suicide prevention. This is because once the act is no longer considered criminal behaviour, there are less obstacles in reporting cases of attempted suicides. As a result, the data moves towards accuracy and correction and can thus facilitate in helping those who may be at risk.
When decriminalised, suicide will be considered a public health issue rather than a criminal act. The reduced stigma will also encourage psychologically vulnerable people to seek help and vulnerable at-risk individuals will be better able to obtain the care they need.
To help those who are campaigning for the decriminalisation of suicide in their countries, the UGMH, working with the Thomson Reuters Foundation and IASP, is working on a report that looks at suicide laws in various countries to produce accurate information on what legislative changes are needed. The report also looks at trends across countries, examples of where laws have successfully changed, and the role the international community can play in helping encourage reform. Local organisations such as the Pakistan Mental Health Coalition, Karwan-i-Hayat, House of Pebbles and PILL are also engaged in organising events to advocate for suicide prevention.
It is important to remember that decriminalisation does not imply legalising suicide. The aim is not to encourage suicide but to discourage prosecution of those who have attempted it. They may or may not have a psychiatric illness but they are certainly undergoing severe distress. The threat of prosecution only exacerbates their suffering. Decriminalisation will be a major stepping stone in the prevention of suicide and providing access to mental health services to those who are in need.