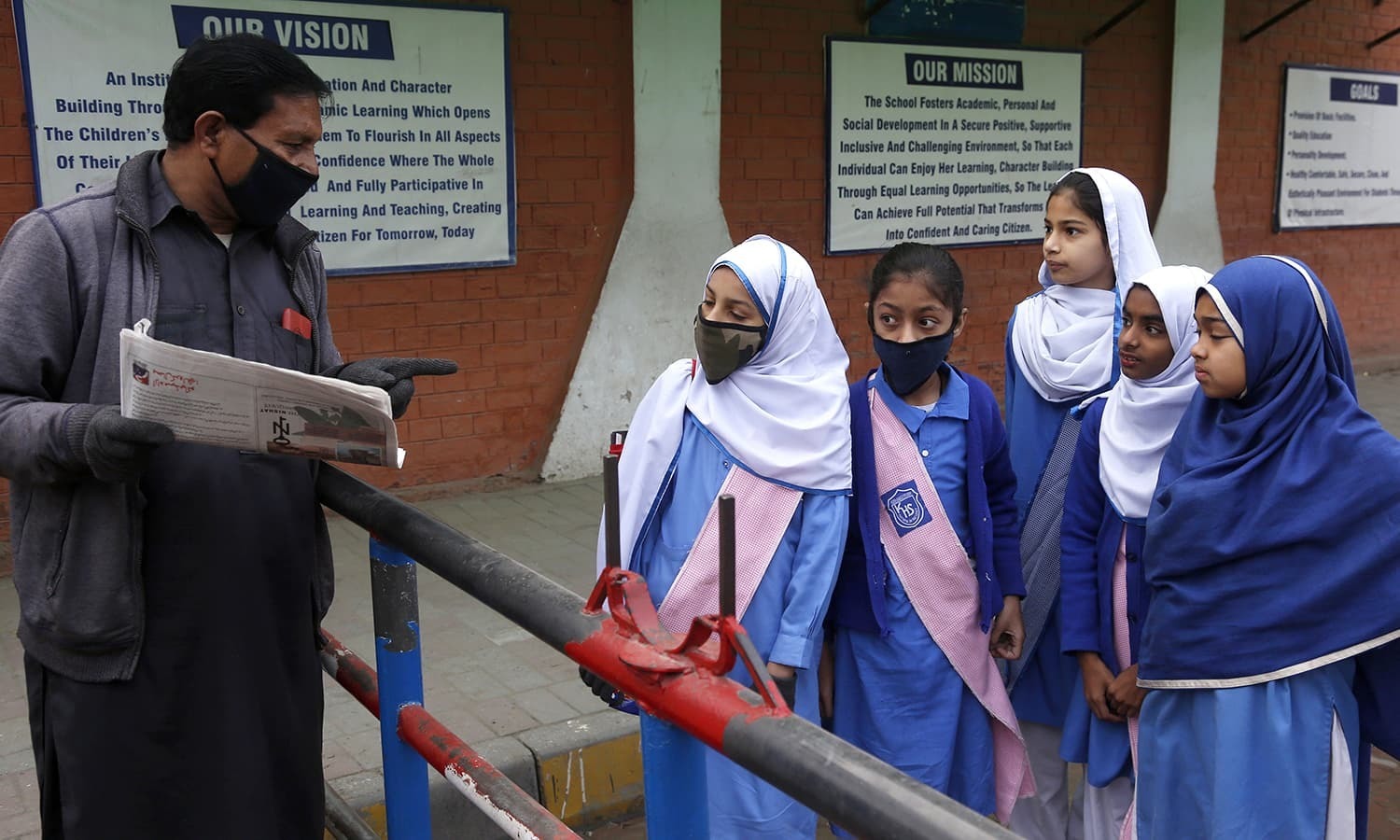 Longer term strategies for schools to implement will become the need of the hour.
In Pakistan, at the time of writing this article, the number of Corona positive cases has crossed 43,000. Our response to this pandemic has been a combination of a traditional and partial lockdown. One of the earliest responses by the government was to declare the closure of schools, a measure which is officially scheduled to last until July 15.
The closure has resulted in the disruption and displacement of education for over 1.5 billion children worldwide. In Pakistan's case, we face additional risks when it comes to preserving recent gains made in education-related opportunities, especially for students who come from vulnerable families.
However, around the globe schools are now slowly gearing up to re-open and resume activities. This article will explore the facets which can promote the well-being of children keeping in context Covid-19 and schools' closure.
Also read | The Analytical Angle: Covid-19 and the looming education crisis
The first part of our national challenge is to not only prepare our schools for re-opening to the best of our abilities but to also comprehend why schools resuming education is important for a country like ours. The reasons why education should not be disrupted, but rather enhanced in the wake of these times is because Pakistan already has a high primary and secondary school dropout rate, and surveys indicate that if education is disrupted, it may become five times more likely that children will not go back to school. This in itself is problematic, as young adults and children contribute largely to our demographic and lie in the pyramid of productivity.
Pakistan has also seen a surge of reports in child abuse cases in recent months, and schools offer not just education but a safe haven for emotional, mental, and cognitive development. Children that are enrolled in schools which cater to these needs can receive healthcare, counselling and support from their institutions. If the gap becomes too wide for children to receive these essential services, the complications arising from that could get too big and too difficult to address in an efficient manner. The most important factor however still remains that not all children in Pakistan can reap the benefits of alternative methods of education such as distance learning, since 63% of our population resides in the rural setting and only 28% have access to the internet for such facilities. Statistics such as these cannot significantly improve in such testing times, however we can still attempt to improve and amend existing facilities.
More on this: Decision-making on education around Covid-19 should ensure equity, fairness and continuity
The Ministry of Federal Education and Professional Training has issued its Pakistan National Education Response and Resilience Plan (K-12) for Covid-19 which is a guidance for schools on how to mitigate and prepare for re-opening. However, as doctors and professionals we have taken this framework and devised a guide to help educational institutes implement changes practically and prepare for re-opening.
In order to make a policy which is universal in the context of our schools, our work here must start with three processes: Prior to reopening (this is the planning and preparedness phase), part in reopening (which constitutes getting to school and its daily operations), and lastly in parallel with school operations, which should entail implementation of health programmes including a portion of mental health policies.
The policy becomes easier to implement once it is divided into a number of practical steps that schools can employ by planning and preparing before re-opening.
Read further: Covid-19 — A wakeup call for higher education
The first step in preparation involves sanitation, hygiene, and physical distancing measures, which can be taken by schools. The summary of these steps are included below.
Install sanitisers, wash basins, and closed dustbins
Disinfect school before the return of students
Make arrangements for classes to maintain physical distance of at least one meter between students
Equip school with infrared thermometers and employing school nurses or trained faculty members to use it for daily temperature checks of persons entering school premises
Consider phased return of students to school
The most critical area in all of this is effective but safe management of daily operations. On a school day, the most important step is how to enable children to enter the school without affecting distancing protocols.
Decrease huddling of parents and students outside school at drop off and pick up
Temperature checks, hand and shoe sanitising should be practiced before entering the school
Encourage hand-washing at multiple times during the day
Limit group gatherings such as assembly and recess
Maintain physical distancing and respiratory hygiene amongst students and staff
Staff and students should wear face masks as recommended
Implement a plastic coupon based system for canteen food purchases
Encourage healthy eating and exercise routines but avoid contact sports
Risk stratify and address mental health issues in staff and students returning to school
Pay attention to health and well-being of teachers
Following the protocols for community transmission is also essential.
Send any student or school staff developing symptoms of Covid-19 home and inform the government at helpline number 1166
Exposed or symptomatic students should be dismissed for at least five days; and students who test positive and their class group should be dismissed for at least 14 days. The School Nurse or assigned faculty member should liaise with the government's health authorities
Establish a no-tolerance policy for parents/students who do not follow recommendations of cloth masks, hand-washing, sanitising and physical distancing
Longer term strategies for schools to implement will become the need of the hour as the situation changes and the recommended global strategy is to consider a school health programme which would include regular health screenings for students and extended medical support for students, parents and faculty through an on-campus school nurse.
A solution to such a novel problem can never exist without its challenges. Yet, these steps if taken by schools will ensure a relative measure of safety towards the final outcome of this pandemic.
---
To get a copy of the practical guide "Preparedness and Response for School Reopening Amidst Covid-19 in Pakistan", you can contact the writer on talaiha.chughtai@fivehealth.org