Here's a day-by-day itinerary of a Pakistani football fan who followed the action in Russia.
Days 0-2:
An inspector at the immigration counter peered at me with intensity, back at the document in front of him, then back at me. He held the rectangular ID in front of him and gazed at it with wonder.
"What is a Fan ID?" he asked.
Not the first time he was asking that question, I was certain. I was one of arguably a significant number of Pakistanis boarding a flight to Russia for the FIFA World Cup 2018 – taking advantage of lax visa restrictions, encouragement from our otherwise apparently 'hostile' hosts and most importantly, a chance to watch football's most popular spectacle live. I had planned this trip eight months in advance with a few friends.
After some interrogation, we were let through the gates – the Fan ID would serve as our visa. Very soon we were on the way to Dubai, where a short pitstop awaited us
A five-ish hour flight from Dubai and we landed at Moscow's Vnukovo airport, one of four massive airports serving the Russian capital.
Soon after landing, we were figuring our way past immigration counters, exit gates and inter-city train schedules.
FIFA volunteers were spread out sporadically, offering help when they could.
The most obvious challenge was clear instantly: the language barrier was immense.
---
Pro tip: Keep Google Translate on hand. Download the Russian package for offline use in advance.
---
After a multitude of gestures and Google translations, we realised that we had to take the Aeroexpress train to the city centre. Google Maps and mobile internet would certainly prove handy at this point.
---
Pro tip: Internet data is super cheap in Russia. Exchange a small sum of dollars for rubles at the airport counter and buy a sim card, available close to the exits.
---
The train was clean and right on time. A closer perusal of the metro and train maps made it clear why Moscow's inter-city transport infrastructure is right up there with the best. More on that later.
Planning ahead proved favourable; we had managed to bag a hostel in a very busy area of town for a reasonable price, right opposite the Novokuznetskaya metro station.
---
Pro tip: Always look for accommodation in close proximity to metro stations. It's the cheapest and most convenient method of transportation around the city (although accommodation in prime locations is likely to cost more).
---
We spent the next two days getting settled in; for a trip that was supposed to be 13 days long, you could say that was an awfully long time.
But a gigantic city like Moscow takes some getting used to — and so do the plethora of restaurants with illegible signboards and perplexing metro routes.
To be fair, the government had done its fair share to facilitate World Cup-bound tourists by encouraging English menus, making guide maps and travel brochures.
I managed to squeeze in a couple of tours in my first two days in Moscow. One of them was a spectacular (and free) walking tour, hosted by a volunteer group that took us around historical and significant sights near the Red Square.
---
Pro tip: Look for walking tours online. They're informative and a great way to explore the city and meet like-minded people. Don't forget to tip the tour guides at the end.
---
We explored Moscow's famed nightlife, which was even more vibrant than usual with the induction of football fans. The bars in the city centre provided food throughout the night and the streets were filled with rapturous supporters singing and dancing till dawn.
We finished our second day in Moscow by watching our first World Cup match. While France vs Denmark did not turn out to be the spectacle we expected, the atmosphere inside Luzhniki Stadium, with its 80,000-strong attendance, was an experience in itself.
Late into the night, we boarded our train to Nizhny Novgorod.
Days 3-5:
Russian trains were a breath of fresh air from their Pakistani counterparts. Punctuality was a core characteristic and travel was relatively comfortable. Train tickets for World Cup guests were free.
Six hours later we were in Nizhny, a small city with just over a million inhabitants. It is famous for the confluence of the Oka and Volga rivers, the latter being the longest river in Europe.
Nizhny is removed from the bustling Russian capital. I found it a quaint little city, rich with beauty and fascinating architecture that dates back to the Soviet era.
The city was bombed heavily during World War II and the apartment blocks still maintain a sickly aura that is unnerving.
We made a mistake in getting an apartment far away from the city centre — property was expensive here and, to our dismay, the metro train network was not extensive. We spent a significant portion of our budget on taxis.
---
Pro tip: Most of Nizhny's attractions lie near the city centre. Make sure you book a room nearby.
---
We had a little less than 24 hours to spend in Nizhny, so we spent the afternoon exploring our neighbourhood and then moved towards the city centre to watch our second game of the tournament, Switzerland vs Costa Rica. I was awed by the structure of the Nizhny Novgorod Stadium.
After a scintillating 2-2 draw, the Swiss and the Costa Ricans flooded the streets in high spirits and we danced with them through the night.
We then caught a magnificent sunrise at the Volga River on the Nizhnevolzkaya embankment, a major highlight of the day.
---
Pro-tip: Most of the entertainment is located on the embankment or near the Nizhny Novgorod Kremlin. Weekdays are quite uninteresting here.
---
We had heard plenty about the cable car ride over the two rivers, Nizhny's own famous walking tours and must-visit sites such as the Kremlin. We could not partake in these excursions, but we did manage to walk the entire length of the magnificent Kremlin at 4am.
Six hours later, we were on yet another train, this time to Saransk.
By this time, the constant travelling was wearing us down. Rest in the train was plentiful but not ideal. Saransk was nine hours away from Nizhny and when the train came to a halt, it felt like we had barely slept.
In order to cut costs, we had decided not to book a room here. After all, we were here for no more than 14 hours.
---
Pro-tip: Book rooms in advance in smaller cities. A lack of listings drives up the prices.
---
Saransk was described as a boring old 'town' by my brief internet searches. While the facts were not too different, I took a liking to this place.
The city is tiny, nearly one-eighth the size of of Karachi, but it is well-built and exudes an affable, homely feel.
I found the people to be much more receptive and extremely enthusiastic about the sudden influx of visitors. This made for a much more fun interaction.
The food was significantly cheaper too and we managed to find a place that served sheesha and some vaguely Arabic food — all in all, it was a good meal.
After a drab Panama vs Tunisia game at the brilliantly orange-coloured Mordovia Arena, we sought dinner — and we weren't completely surprised to find most shops shut by 10pm. All we could get then were some not-so-tasty doners near a residential area.
I spent some time walking around the city. Theoretically, you can travel from one end of Saransk to the other in just 45 minutes. I decided to tune in to some music and explore for the next two hours. I also met some very interesting people along the way.
Some beautiful sights to look out for include the Cathedral of St. Theodore Ushakov, the town square adjacent to Ploshchad Tysyacheletiya, Mordovia Arena and the State University.
The town was in doldrums when we caught our 6am train back to Moscow. After a quick night's stay in the buzzing city, where we partook in musical festivities at the Red Square and some street football near Tverskaya, we were on our bullet train to St. Petersburg.
Days 6-9:
We sped off to St. Petersburg, literally. My first experience of a Russian bullet train was a very positive one.
The Sapsan, as it's called, was a comfortable seating experience for a very affordable $65 — we covered 700 kilometres of Russian land mass in a little over three hours, all the while lounging with ample leg space and streaming France vs Argentina on the free Wi-Fi (which was a little patchy, in all honesty).
The tone in St. Petersburg was set by the gloomy cloud cover overhead — western Russia was under a stormy spell and us Pakistanis weren't prepared.
It was raining hard by the time we stepped out of our train; luckily, I had my rain jacket handy. As for the cold, I decided that I had to suffer through it.
Our apartment was located not too far from Nevsky Prospect, the city's most popular shopping and entertainment locality. Luckily, the metro station wasn't too far away either.
Temperatures here dropped; averages of 15 degrees Celsius did well to remind me why it's important to take heed of weather forecasts.
---
Pro-tip: Always — always! — pack warm clothes and a rain jacket when travelling to Russia.
---
St. Petersburg is called the Venice of Russia — it was not hard to see why. The city is a cluster of 45 islands connected by a myriad of beautiful bridges.
The European influence is apparent in St. Petersburg which boasts a plethora of exquisite, historical monuments and eye-catching architecture. Unlike Moscow, this city has resisted multiple invasions to retain its beautiful buildings.
The people are super-friendly and the roadside cafes are a must-visit.
---
Pro-tip: Take a guided tour in St. Petersburg. The history is fascinating and worth paying for.
---
A free walking tour with a few friends took us through some of the main attractions, such as the green and white Winter Palace, the massive Hermitage Museum and the Church of the Savior on Spilled Blood.
That night, we also explored the famous underground music scene of the city, visiting the Blank club located in the now "run-down" building of the historical arsenal factory. It is frequented by DJs from all over the world.
---
Pro-tip: Clubs like Blank require a formal/semi-formal dress code, though they might make exceptions for tourists.
---
One day later, Russia beat Spain in an epic nailbiter and the streets came to a standstill as people got out of their cars to hug each other and join in the festivities. It was a sight to behold.
On another day, we took a boat tour through the Gulf of Finland that gave us a quick overview of some interesting sights such as the Peter and Paul Fortress.
The rain battered us from above and the clouds on the horizon didn't make for the best viewing, but we made light of it and had some piping hot desi food at Tandoori near Admiralteyskaya Avenue.
---
Pro-tip: Make sure the boat tour you embark is in English. If you have more time, take a boat tour to the island of Peterhof, famous for its fountain shows and the Peterhof Palace. You can also visit the island via bus or cab (though that's not as fun!)
---
At night, we rushed to Admiralteyskaya around 1am to see the drawing of the bridges.
In what is a daily tradition, multiple bridges on the Neva River are drawn to military music in the span of two hours — this is to let the cargo ships pass through to and from the ports but is also now an occasion of fanfare, particularly for tourists.
The beautiful sight is easy to miss if you're not punctual, so it's better to arrive early.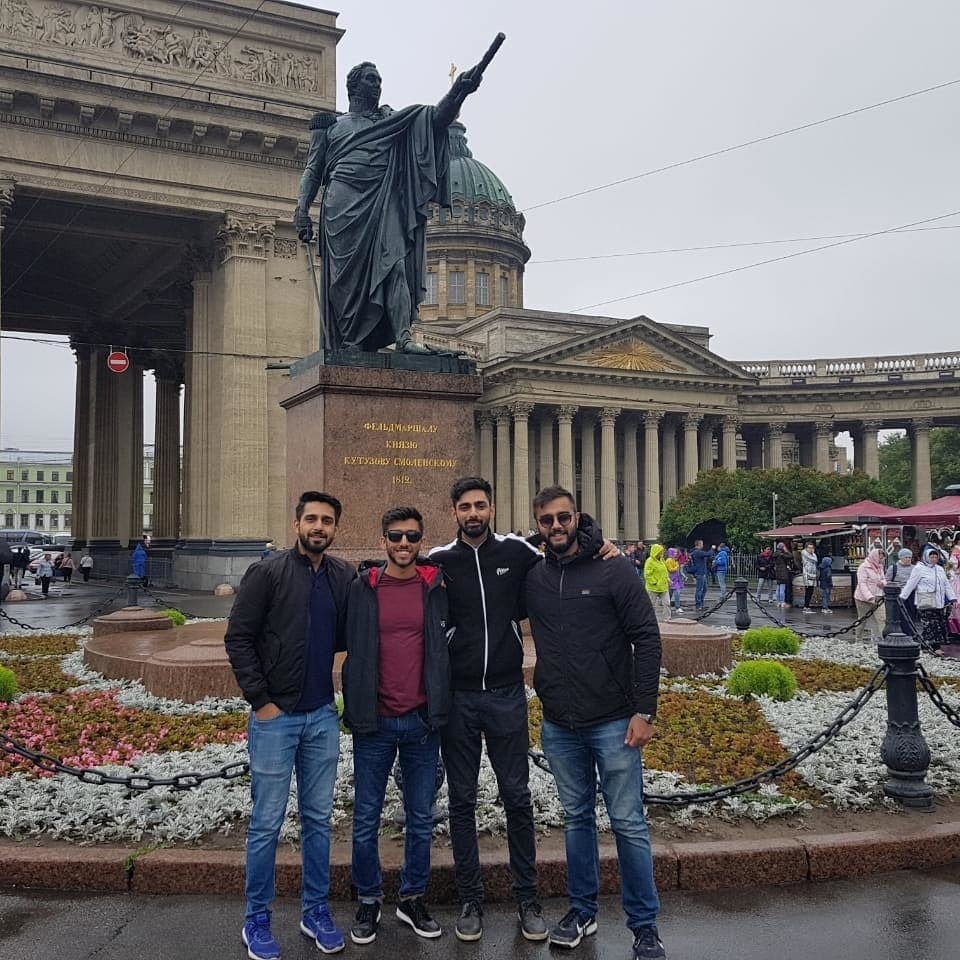 Before we left, an amazing Russian friend, Kirill, who is an avid snowboarder and a fan of the Karakoram range in Pakistan, gave us a personalised tour of the city, showing us some wonderful sights such as the Singer House, Kazan Cathedral and the Summer Garden.
Perhaps it was because I was here for a continuous stretch or that we met some wonderful people in this city, this part of my trip was the most memorable.
This, despite the fact that the incessant rain and cold winds threatened to cast a sense of gloom over our soaring spirits and that I boarded the train to Moscow with an aching throat and a runny nose.
---
Pro-tip: Carry a generic medicine mix with you.
---
Days 10-13:
The tail end of our journey was not the classic mix of euphoria and nostalgia that one might expect from watching the movies.
In fact, it was a continuation of more rain pecking with an increasingly peevish frenzy. It took us nine hours to get back to Moscow.
To match the mood, we decided to take it slow and spend some time at the Shake Shack at Arbat Street.
Our plane to Nizhny was that evening. By the time we left for our flight, an uncomfortable, creeping realisation hit us – we might not make it on time. One hour left until take-off and we hit panic mode; the highway leading to the airport was clogged, the traffic inching along at snail's pace.
We were made to pay for our lethargy, rushing into the airport like madmen only to find the counter closed. An alternate flight was too costly, so we booked a hostel in an emergency that traded comfort and privacy for low cost.
---
Pro-tip: Do not underestimate the traffic in Moscow. Plan ahead and leave early. Activate your debit/credit cards for international transactions. Keep an emergency fund (just don't splurge it unnecessarily!)
---
We paid for an expensive ride back into rainy Moscow. The night was spent on some much-needed rest, as well as finding alternate transport to Nizhny and back.
We exploited a break in the rain early next day to visit the fascinating Cathedral of Christ the Savior, the Kremlin Museum and the wonderful Gorky Park.
---
Pro-tip: The Kremlin is closed on Thursdays. Ensure that you are updated with the timetables of other attractions to avoid disappointment. Do visit Gorky Park; it's great for an evening out and offers a multitude of enjoyable activities and sights.
---
The very next morning our minivan arrived to pick us up at 7am. We travelled slowly, largely due to traffic but got to Nizhny two hours ahead of the much-anticipated quarter final between France and Uruguay.
Ninety minutes in a highly charged atmosphere alleviated our tiredness and when France won, we found reason to celebrate, having sided with our French counterparts since the match against Denmark.
We opted to watch the second quarter final on our phones and left Nizhny soon after, in order to not miss our flight some 16 hours later.
It turned out to be a wise decision. Our car broke down 150km from Moscow, bang in the middle of the highway at 3am. While the driver tried his best to call backup, it seemed there might not be much help forthcoming.
Enter six angels, clad in Egyptian football jerseys, also on their way to Moscow from Nizhny in a minivan similar to ours.
Although overloading a car is against the law, they graciously accepted to take us to Moscow and the 11 of us crammed into a space which could, at most, seat seven.
---
Pro-tip: I cannot emphasise enough on keeping buffer time for important events (aka flights).
---
Ten hours later, we were at the Vnukovo airport, about to board our flight to Dubai. The sinking feeling had perhaps not set in then, but it hit me when we reached Dubai.
What was an amazing and largely pocket-friendly trip (thanks to some forward-thinking and government concessions) could have perhaps been better had it been better planned. Nevertheless, there is no taking away from the immense beauty and cultural significance of Russia.
This was a journey I am thankful I made.
---
Pro-tip: Go to Russia! It's amazing!
---
Have you ever attended a global sporting event? Share your insights with us at blog@dawn.com