HEALTH, the birthright of every Pakistani citizen to be protected by the state, has been held hostage to an...
Health, the birthright of every Pakistani citizen to be protected by the state, has been held hostage to an ever-halting democratic process.
Even in times of democracy, political parties have demoted health to the periphery rather than maintaining it and scaling it up.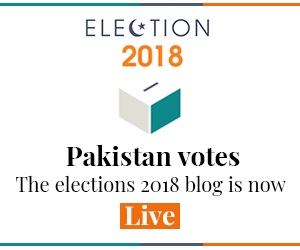 Instead of taking a holistic view, the focus has been on expensive and unnecessary specialist curative care provision, fragmented programmes, projects and institutes in the public, private and philanthropic sectors — all competing — and a duplication of efforts and commercialisation of the necessities in a poorly regulated private sector.
A comparison of the salient health features of the 2013 party manifestos shows that the PML-N demonstrated the most realistically planned health goals linked with outcomes, whilst in power.
Although its centralised approach was useful prior to devolution, building provincial-level capacity was required, with regulatory agencies to manage reforms and encourage local solutions.
Conversely, the PPP focused on principles rather than tangible outcomes — apparent in its subsequent performance in Sindh.
A lack of governance, poor referral-based health financing and questionable service delivery led to basic health needs largely remaining unmet.
In part, although the PTI health objectives echoed those of the PPP and PML-N, in practice rapid change was implemented, aligning social services to highlight gaps in health needs and potentially laying the ground for a 'better' health system by attracting motivated professionals.
Going forward, the 2018 manifestos should be a road map for new and previously enunciated health goals; they should describe what different types of healthcare services are in use and how usage will be measured.
In preparing their manifestos, the parties will have to keep the facts before them and address several concerns.
For instance, keeping in mind that private and philanthropic healthcare sectors also exist, what changes are being effected in the lives of beneficiaries using health services? Are these leading to an improved health status? When carrying out reforms in the public sector, it should be asked how much of a particular health service is being utilised and for what purpose.
Whether or not provision of services is giving the expected results should be regularly evaluated in a manner which seeks to find solutions for professionals rather than penalising their livelihoods.
When planning a new service it might a good idea for the government to consider what others (private and philanthropic entities) in the same area are doing and if they can be made complementary rather than competitive. This can only be achieved if regulatory measures are synchronised at the federal level.
There is also the question of what specific aspect of health in the community we are covering. Is a public-sector referral network available and being utilised to ensure that beneficiaries are also being referred for supplementary care provision? Are we utilising different professionals to cover all health aspects? What can we do to enable professionals to provide awareness within their communities? What is the basis of diagnostic tests, management and treatment in a community? Finally, are we doing disease surveillance? If so, what's the disease occurrence, burden, distribution and severity? How does one take action when new threatening cases go beyond the capacity of the service available?
Parties must pledge a coherent framework that utilises all the sectors to discuss the evolution of Pakistan's health systems in an inclusive manner ie broadening the scope to a systems-wide approach to develop a comprehensive health policy.
Published in Dawn, June 9th, 2018