Live streaming application, Tamasha, expands cricket affinity on mobile in Pakistan.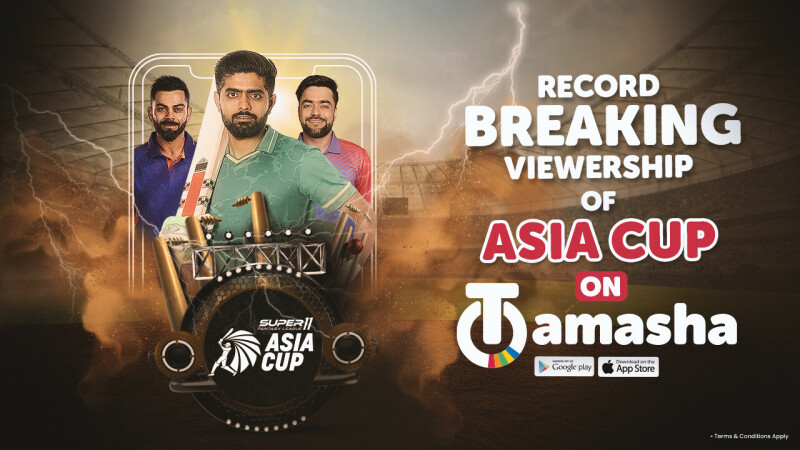 The love for cricket runs deep within the hearts of Pakistanis. As this year's highly anticipated Asia Cup draws to a close, the popular streaming platform "Tamasha," powered by Jazz, has achieved record-breaking viewership.
The regional cricket tournament commenced with great excitement on August 30th and reached a thrilling climax with the nail-biting semi-final clash between Pakistan and India, followed by the intense final match between India and Sri Lanka. Throughout this suspense-filled month, fans have been glued to their screens. Thanks to "Tamasha" securing the exclusive free-to-air digital broadcasting rights for the tournament, fans could conveniently stay updated with all the action.
"Tamasha," renowned for its live streaming of major sporting events, has become the preferred choice for fans seeking to witness the excitement on the cricket field. With successful streaming experiences from notable events like the T20 World Cup 2022, FIFA World Cup 2022, and HBL PSL 2023, "Tamasha" has earned widespread acclaim among devoted sports enthusiasts.
The app offers cricket fans a seamless streaming experience with HD live streaming of the Asia Cup 2023 through its user-friendly Android and iOS apps, as well as its website. Additionally, the platform supports casting features, enabling enthusiasts to enjoy the live action on their smart TVs. This particularly came in handy considering the number of rescheduling that took place during the tournament due to uncertain weather.
With matches beginning in the afternoons, those on the go were able to tune into the match no matter where they were. People from all walks of life were glued to their mobile screen to watch the live streaming on "Tamasha" in their homes, tandoor shops, restaurants, malls and on the roads while stuck in traffic.
As a result, an astonishing 4.8 million viewers tuned in to watch the Asia Cup 2023 on the "Tamasha" app, with a record-breaking 72 million viewers tuning in for the Pak vs. India match alone. The Asia Cup played a significant role in attracting over 14 million new users to the "Tamasha" app.
The Asia Cup's presence on "Tamasha" also presented a golden marketing opportunity for brands. Several companies partnered with "Tamasha" during the Asia Cup 2023 to promote their products and services, demonstrating its value as a lucrative platform for both viewers and corporations.
With the conclusion of the 2023 season, cricket enthusiasts are already gearing up for the next season, eagerly anticipating more thrilling moments on the field!
For more information and to access the "Tamasha" app, visit the links below:
---
This content is produced in paid partnership with Tamasha and is not associated with or necessarily reflective of the views of Dawn.com or its editorial staff.