Unchecked sand mining and excessive extraction of groundwater will have devastating long-term consequences.
Qadir Baloch went into hiding on the night of Dec 3, 2021. That, he alleges, was after the henchmen of a powerful feudal lord tried to break into his home in a village in district Jamshoro, adjoining Karachi's district Malir. He only just managed to flee under the cover of darkness. Knowing what the men had come for, he took his land ownership papers with him. They are evidence of his right on the 11 acres of survey land that belonged to his great-grandfather, upon which he grows tomatoes, gourd and marrow. The documents clearly bear the stamp of the Sindh revenue department, and also the names of his grandfather Soofan and great-grandfather Taaru.
"First the sardar's men tried to offer me Rs70,000 per acre, but I refused outright," he says. "The land is like my mother and I won't sell it." It is now over two years since he has been resisting the pressure to sell; first, he says he was paid a visit by people from Bahria Town, the real estate giant whose sprawling project, Bahria Town Karachi (BTK), is coming up nearby. "They wanted to build a road through my land. I told them to get lost and they went away. But now the wadera's own people are attacking me."
Read: Bahria Town and others — greed unbound
This, say locals, is the modus operandi now being employed by the land mafia to acquire real estate for building housing projects in an area that falls within what is colloquially known as Kohistan, comprising Jamshoro and Hyderabad districts along with portions of Karachi's Malir and West districts. Qadir Baloch is one of the few that have dared to speak up so openly; defiance of the waderas is rare in these parts. As chief of the Burfat tribe, the biggest of the four tribes in Kohistan with around 100 sub-tribes, Malik Asad Sikander is known as the 'king of Kohistan'. But this 'sardar of sardars' — and PPP MPA from Jamshoro — rules over a diminishing kingdom. Indigenous communities are being forced to give up land where they have lived for generations and engaged in barani (rain-fed) agriculture or poultry/livestock farming, to make way for the housing aspirations of the middle and upper classes.
But there is another disaster with long-term consequences brewing in these suburbs of Karachi. Given that today is World Water Day, whose theme is 'Groundwater: making the invisible visible', it is an apt occasion to highlight the issue. The devastation is on two levels. Firstly, unchecked mining of sand, or reti bajri, is taking place here to meet the insatiable demands of the construction industry. This is hampering the recharging of groundwater (water stores under the land surface replenished mainly by rainwater and snow melt), degrading the land and wreaking havoc on the area's ecology and environment. Secondly, overexploitation of groundwater is depleting the aquifer to dangerous levels. Both phenomena together are a 'perfect storm' that will hasten the impact of climate change and increase desertification in what is known as Karachi's green belt, and imperil the quality of life for millions.
Not a blade of grass
A visit by Dawn to an area north of BTK revealed a scene of utter destruction: one could see massive sand mining sites, known as dhakkas, where excavator machines had removed the top layer of soil, tossed it to the side where it lay in huge mounds and gouged out tons of earth from beneath. Swathes of Malir have already been ravaged; now Jamshoro is being similarly plundered. Crossing into Jamshoro district, excavators could be seen busy at work in the river bed, removing the earth and depositing it into dumper trucks, which would then carry it away. Within the span of an hour, at least six dumpers on average would drive off bearing their load.
Read: In Malir's Taiser town, sweet dreams are made of dust
Large-scale mining is also taking place outside the river bed, reducing vast areas to what resembles a moonscape of sorts without a blade of grass in sight. Hills have also been ground down, and carted off to 'crush' factories nearby to make gravel used in road construction. Talk in the area is that one of these factories, which has no signboard outside, is owned by a senior-level federal government official. An employee at the local district commissioner's office, in a chance meeting with Dawn, claimed this was indeed the case.
Using GPS and satellite mapping, Dawn has determined that at least 4,000 acres falling in parts of both Malir and Jamshoro districts in the vicinity of BTK have been mined or are currently being mined for sand. And this is only the tip of the iceberg. Sand mining is taking place on a huge scale further afield in Jamshoro, including in Lonikot and Nooriabad, as well as deeper inside Sindh. Although sand mining began in Malir many decades ago, it intensified in the '60s and '70s with the development of Karachi — Bolari sand, named after one of the dehs in Malir, is considered a benchmark for world-class sand. The mining later spread to Jamshoro and, say environmentalists, has reached unsustainable levels. Most of the dhakkas close to BTK that have been mapped by Dawn did not exist before 2017.
According to Section 3 of the Sindh (Prohibition of Taking Minerals Including Reti (Sand) and Bajri From Any Land) Act 2003: "Except with the prior sanctions of Government, no person shall take minerals including reti (sand) and bajri from any land by excavation or otherwise. Provided that no sanction shall be accorded if it adversely affects the topography, archaeology, ecology and environment of that area."
The Mines & Mineral Development Department (MMDD), Sindh, is the regulatory authority for all mining in the province. Upon being contacted by Dawn, the office of the DG MMDD Umar Farooq refused to share copies of the sand mining grants that are currently in effect, claiming that the identities of those granted the mining concessions were confidential. Nor did they share the survey maps based on which the grants had ostensibly been given, and which could help determine whether the mining is being carried out as per the terms of the lease. They did not even provide information as to how much area in Jamshoro was being mined. The Dawn correspondent was informed by Deputy Director Nida Shoaib: "We cannot share any lists with you… You have to visit the office of chief inspector of mines. Then he will decide [whether] he can share the information or not."
For his part, Inspector Mines Sarmad Habib told Dawn that the information sought did not fall under his purview. "DG mines and mineral is [the] lease granting authority. They have the lease documents with the terms and conditions of mining and maps of leased areas… ." DG Umar Farooq himself did not respond to the questions put to him by Dawn despite repeated requests.
In the end, the only information the MMDD shared was a notification regarding application fees, concessions, royalties, etc and a list of TORs. Interestingly, the latter includes the following: "That you shall take measures for environmental protection and be comply [sic]all the terms and conditions of the Sindh Environmental Protection Agency Act 2014… ."
The fact is, the public is entitled to the information sought by Dawn. According to Section 6 (k) of the Sindh Transparency and Right to Information Act 2016: "A public body shall proactively disclose and publish …Full particulars of the recipients of concessions, permits or authorisations granted by it." So why is the MMDD so cagey about the details of mining being done on public land?
Multiple sources claimed that much of the sand mining in Jamshoro happens without any checks. In the words of a Sindh government official: "Before mining starts, mapping must be done. You just can't start digging anywhere, but that's what's happening here." Another said: "There aren't really proper contracts for sand mining in Jamshoro because the entire area is controlled by powerful feudals, and they manage it. You can't mine anywhere in Kohistan without their permission."
"Where mining protocols and standards — what we call mining concession rules — are concerned, we're far behind even developing countries," says Dr Fahad Irfan Siddiqui, associate professor at Mehran University's mining engineering department. "The rules also have very limited scope. The lease holder submits a development scheme to the lease granting committee — how will you run the mine, and at end of the day how will you reclaim it? How will you restore the excavated land to some extent? Will it become another dumping ground or will you plant vegetation/trees there? This should all be part of it."
Instead, the activity is so unregulated that contrary to the claims of the MMDD, sand is also being lifted in large quantities from private land. Recently when some owners of agricultural land along Mole nadi tried to put up resistance against the mining on their land, local influentials threatened them with reprisals, and they backed off.
Illicit profits
The illicit profits are said to be divided up as follows: the contents of each dumper sell for Rs27,000 inside BTK, for Rs30,000 at Sohrab Goth and more if sold further afield depending on the distance. Sometimes, if sand is being lifted from private land, the contractor pays the owner between Rs2,000-2,500. The owner of the loader ('shawal') that fills the dumper pockets Rs6,000; local waderas, known as kumdar, in the goth closest to the boundary between deh Mole in Jamshoro district and deh Bolari in Malir district charge Rs1,300 as 'zilla bandi tax' to allow vehicles to cross over while Bahria charges a 'road tax' of Rs500-700 per dumper going through BTK. The rest — minus fuel and maintenance expenses — goes to influential stakeholders up the hierarchy, including the police and allegedly the tribal chiefs. A dumper driver told Dawn that some 65 dumpers make three round trips every day, 24 hours a day.
An investigation by Dawn in 2018 found that despite there being Section 144 in force on sand mining in Malir, it went on without check under the cover of night and the area police — under SSP Rao Anwar at the time — made a killing on it. Each contractor paid the cops up to Rs20,000 per night per dumper, no matter how many trips it made. There could be 100 dumpers removing earth from each dhakka per night. Currently, however, the ban in Malir is being enforced, perhaps as a result of the media exposure.
Sand mining is a hugely lucrative business and the gains far outstrip the slap on the wrist that the law stipulates: for the first conviction up to three months' imprisonment and fine not exceeding Rs10,000; and for any subsequent conviction, imprisonment up to one year and fine not exceeding Rs20,000.
Even the PPP-led government's own legislators find no traction when they speak up against the plunder caused by reckless mining. In a letter dated July 23, 2019 and addressed to Minister Mines and Minerals Mir Shabbir Bijarani, MNA Nafisa Shah pointed to the "indiscriminate, excessive, illegal mining in the area of Kot Diji which has magnificent ancient and scenic geological hills … . More than 200 sites have been leased out by the MMDD for more than 99 years… . I have written letters earlier to the Chief Minister, and to the Secretary Wildlife and Forests to declare this area as a national park. However so far, no action has been taken to preserve the natural and biological heritage of the area. …" While the letter refers to limestone quarrying, which is outside the scope of this investigation, it indicates the apathy of the government and the prioritising of profit over long-term benefits.
During the visit, locals took the Dawn team to a scenic spot alongside Mole nadi, a seasonal stream that falls into Malir River about 30 miles from Karachi. The rocky bed lies completely exposed in several places. "You couldn't see any of these rocks before," recalls Rakhman Gul Palari, professor at Karachi University's Sindhi department and a lifelong Malir resident. "There used to be so many fish in Mole nadi. We would hold an ajrak just under the surface of the water and two or three fish would get trapped in it."
Those are bygone times. In Malir and Jamshoro, average yearly precipitation has varied wildly during the years between 2000 and 2021. But ruthless sand mining has exacerbated the impact. Sand acts like a sponge, soaking up precious rainwater and helping it percolate towards the aquifer. When it rains over the Kirthar range, which runs along the boundary between Sindh and Balochistan, hill torrents fill the Mole and Malir rivers. However, when sand is removed from the river bed, the porosity needed to absorb the water is diminished. One farmer told Dawn: "In some places, they've excavated down to 40 feet. Can you imagine the absorption capacity of 40 feet of sand?"
Excessive mining in the river bed disrupts the water's natural flow and increases its velocity to such a destructive extent that it erodes any structures it encounters, which includes foundation piles of highway bridges as well as rainwater check dams. "The degradation of the natural pathways along which rainfall passes causes the flow pattern to be disturbed," says Dr Siddiqui of Mehran University's mining engineering department. "Land degradation plays a big role in the kind of flooding we're seeing in areas like Gulshan-e-Maymar and Saadi Town."
The Kathore bridge on Malir Link Road has also been rendered unsafe since several years because sand mining in the vicinity has changed the flow pattern of the water and damaged the structure, leading it to be abandoned. A causeway has had to be created through the Malir river for traffic. The damage to the Malir dam is on account of the same reason. Satellite images show that in 2004 the river bed and surrounding vegetation was in its natural state. In 2021, one can see that sand mining has severely degraded the river bed. That was bound to have an impact on the flow of the hill torrent, ultimately affecting the dam structure.
Moreover, the damage to the area's biodiversity is enormous and irreversible. The top layer of soil is exposed to the environment. There is atmospheric pressure on it; plant seeds transported on air currents from elsewhere are deposited on it, and rainfall sparks biological activity in that top layer. "So the top one to two feet, which take centuries to form, are very fertile," says an expert on the subject. "When people start sand mining, the top layer is removed first, where there's all the organic material in which plants grow, in which insects, as well as small animals like rats live. This changes the local biodiversity and ecology as the nutritional value chain for microbial activity inside soil becomes disturbed."
Shockingly enough, sand mining is even taking place close to the officially notified boundary of the Kirthar National Park, with the closest site less than five kilometres away. Kirthar is the third largest national park in the country, and qualifies for the strict criteria fixed by IUCN for a Category II protected area, designated mainly for ecosystem preservation. "This is the park's buffer zone which is as important as the park itself and there should not be any activity here," says environmentalist Nasir Panhwar. "In the early 90s, plans to build a highway from Karachi to Sehwan through Kohistan were shelved after civil society activists made a ruckus. Local political figures also supported them because they didn't want a road going through the area which would have exposed the local communities to the outside world and weakened their writ. So they also cited reasons pertaining to the area's biodiversity although their reasons were purely political. Why aren't they kicking up a fuss now?"
There are at least 14 small dams and check dams in the area. The oldest of them is Thaddo dam, constructed in 2004 across the seasonal Thaddo river. Eight are comparatively recent, having been built from 2014 onwards when construction on BTK first began. One came up as late as 2021. Given that the indigenous communities in the area were up in arms since at least 2015 over being made to surrender their land for BTK, one wonders whom the check dams were intended to benefit — considering they were installed by the Sindh government whose functionaries were complicit in the land grab.
Read: Bahria Town Karachi built without any NOCs, says SBCA
Check dams interrupt the flow of water, flatten the gradient of the channel (the 'prism') in which it flows and thus reduce its velocity. This reduction in velocity allows the water to seep through the sand and recharge the groundwater, which is one of the many uses of check dams.
Recharging the groundwater is precisely what is needed. However, according to an expert in the field: "I don't think the seepage is that much. In developed countries where they do this, they make deep bore holes upstream right down to the aquifer and fill it with crush because when water meets an obstruction it seeps down more quickly. We're only working the surface. What also amazes me is that there are no piezometers installed to take any readings, to see how much water has risen during the rains, how much recharging of ground water is actually happening."
26m gallons of water in 24 hrs
As a result of the excessive sand mining, one would expect the green cover to have reduced over the years, and the area becoming more arid. On the contrary, Normalised Difference Vegetation Index (or NDVI) maps, which are based on remote sensing technology, show a surprising trend. While most types of vegetation cover declined between 2013 and 2017, moderate, dense and highly dense vegetation increased between 2017 and 2021. But this is not evidence of any encouraging news. It can be explained, say experts, by the fact that ground water is being overexploited. According to remote sensing technology specialist Mohammed Toheed: "Another factor behind the increased vegetation is the plentiful rainfall Karachi and its surroundings received in 2020."
Tofiq Pasha Mooraj has had a farm in Malir since 1974 and understands the water dynamics of the area like the back of his hand. "Initially they were pulling water out with buckets, then with diesel engines and then with electric motors. The quantity of water we could extract per well expanded and we started extracting more and more water."
He remembers a farmer in the area who said that his forefathers cultivated only a couple of acres. "As the family grew, they cultivated more and more land for their own consumption and for sending produce into the city. By the time I spoke to him, they were cultivating 80 acres. Initially they had one well, by the end maybe three or four wells."
Another expert partly credits retired army chief Gen Pervez Musharraf for the 'greening' of Malir. In the mid-2000s, he gifted senior bureaucrats with large plots of land in Malir's Memon Goth. "They put in lots of tube wells and that gave a fillip to agriculture. You can see the difference in the greenery on satellite images after 2010," he says.
Construction also requires water, and a humongous project like BTK in the vicinity needs millions and millions of gallons of it. During the hearings of the bench set up by the Supreme Court to implement its May 4, 2018 judgement in the Bahria Town case, NAB submitted several confidential progress reports to the court. The Third Progress Report noted that "Bahria Town was extracting sub-soil water to the tune of approximately 1.77 million gallon per day from 59 bores without any legal cover or payment of fees to government."
Read: SC asks NAB to file references against Bahria Town
Gul Hassan Kalmati, central committee member of the Indigenous Rights Alliance Sindh and a well-known historian, anthropologist and writer, says there are over 200 submersible pumps in Malir, and they can draw 26,000,000 gallons of water in 24 hours. Hydrant owners sell the water to various housing schemes in the area.
The massive extraction of groundwater inevitably gives rise to another insidious development: seawater intrusion. Seawater is 2.5 per cent heavier than groundwater, so groundwater depletion will allow seawater to intrude into the empty space that used to store groundwater, rendering millions of acres in Karachi and the deltaic area barren. Overexploitation of groundwater also causes portions of the land to sink. This land subsidence can already be seen in Quetta and Lahore.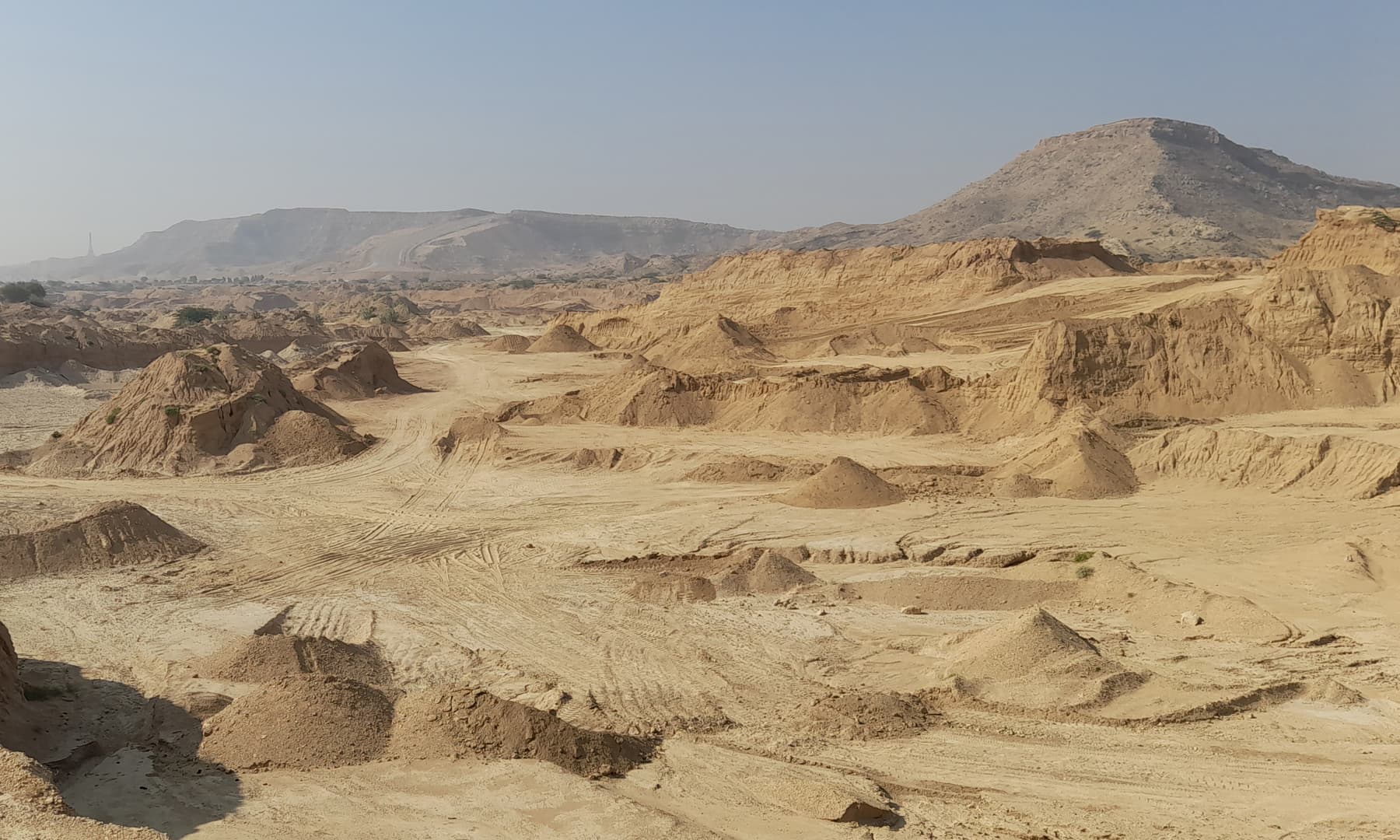 A 2018 study by the US-Pakistan Centre for Advanced Studies in Water at the Mehran University in Jamshoro cited a government report from 2001 that estimated that nearly 12pc of the total cultivable land in Sindh was degraded due to seawater intrusion. By some estimates, the province loses nearly 80 acres of land per day for the same reason.
Interestingly, some farmers in Malir found the water in their wells rising in the mid to late '90s because, due to population pressure, sewage water was being diverted into storm water drains. It too flowed towards the sea but some was absorbed by the river bed and started recharging the aquifers. But this was contaminated sweet water which is not only residential sewage but commercial and industrial sewage as well, and it cannot hold back the seawater.
According to Mr Mooraj, the farmer in Malir: "The water in my well has gone up by 100 feet from the '90s onwards. But its TDS is 4,800. The maximum TDS you can do agriculture in is 1,200. We can't grow papaya and guavas any more, no sharifas or grapefruit. Before, we had 30 varieties of fruit here that we would grow with our well water."
Nature is stealthy. It is a process, whereby it gives people many opportunities to set things right. But it seems we are unwilling to see what lies ahead, choosing short-term pecuniary gains instead of a viable future. Dispossessed farmers like Qadir Baloch are not the only ones facing impending doom.
---
Header image: A photo showing sand mining in Mole nadi. — White Star