Women in India's financial hub hold demonstration against hijab ban in Karnataka schools.
Updated 14 Feb, 2022
A move by schools and colleges in the southern Indian state of Karnataka to bar Muslim students wearing hijab from attending classes has given risen to a row that has made its way to the court and the streets.
The issue grabbed headlines last month after a government-run school in Karnataka's Udupi district barred students wearing hijabs from entering classrooms, triggering protests outside the school gate. More schools in the state followed with similar bans, forcing the state's top court to intervene.
It further escalated when a video of a hijab-clad student being heckled and jeered at by a mob of Hindutva supporters in Karnataka surfaced on social media.
Over the past week, as a high court in India told students not to wear any religious clothing until it delivered a verdict on petitions seeking to overturn a ban on hijab, the issue has garnered reactions from inside and outside India.
Many, including Indian politicians and celebrities, Nobel Peace Prize laureate and education activist Malala Yousafzai and Pakistani politicians have voiced opposition to the hijab ban at educational institutions.
The dispute in Karnataka has also set off protests in the southern state and elsewhere in the country, with demonstrations held in Delhi, Kolkata, Hyderabad and other cities.
On Sunday, women in Mumbai, India's financial hub, took to the streets against the hijab ban.
Photographs from yesterday showed that the protesters were pre-dominantly women wearing hijab, niqab and burqa. They held placards emblazoned with slogans such as "Hijab is our right, hijab is our pride" and "We cover our heads, not our brain."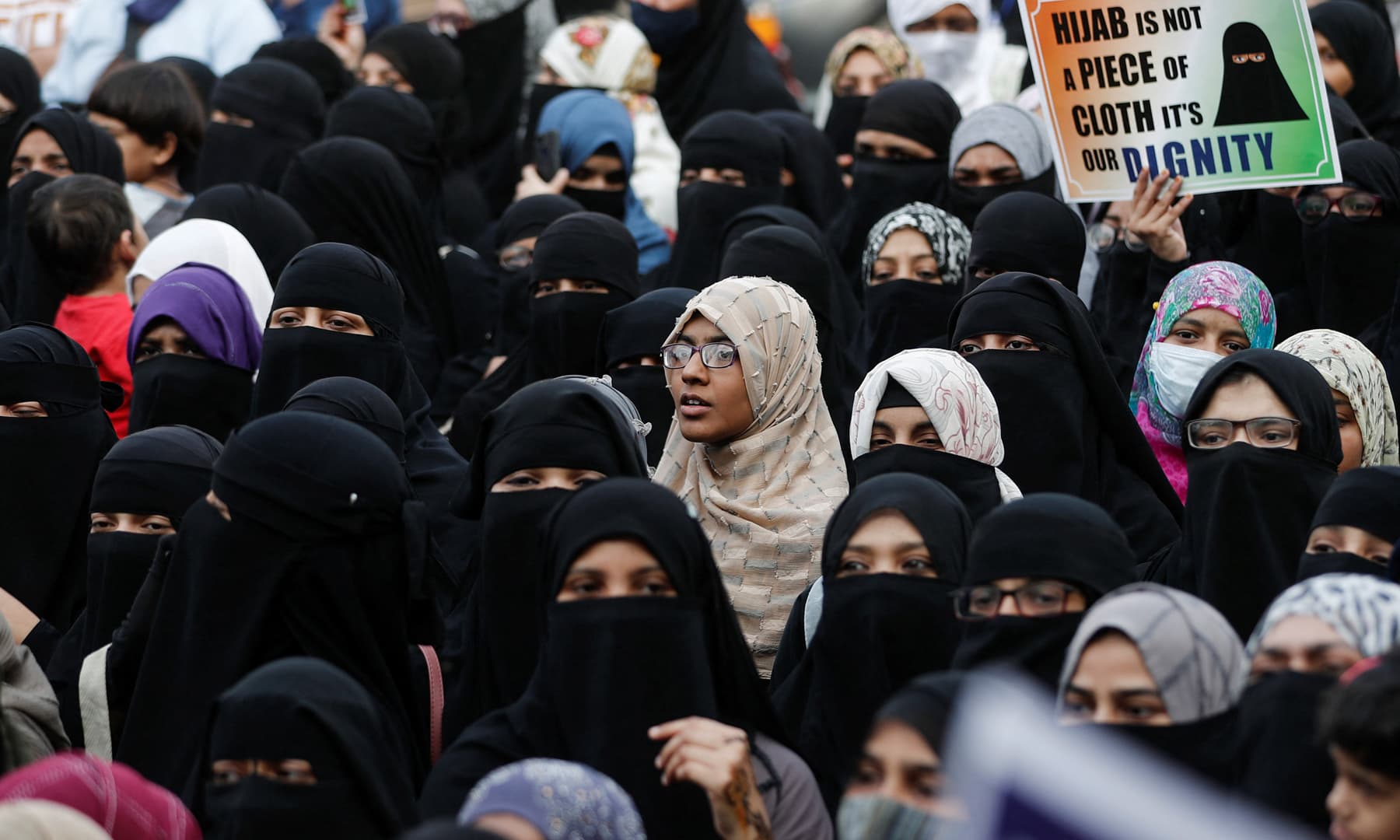 ---
Header image: A woman waves the Indian flag as others hold placards during a protest against the recent hijab ban in few colleges of Karnataka state, on the outskirts of Mumbai, India on Sunday. — Reuters