The new AC boasts of lean design, latest technology, superior performance and efficient power consumption.
Renowned electric appliance brand, GREE, has just introduced a new addition to its air conditioning product range.
Complete with a lean design, superior technology and efficient performance, the latest GREE Pular series AC is a welcome addition to its existing range of inverter air conditioners.
These air conditioners are the first European-compliant heat and cool AC, complemented by an elegant, matt white finish and seamless design with double air-deflector.
Distinct features
Here are 9 unique features that make GREE's latest air conditioners all rounders in their own league.
1. The latest technology allows for low energy consumption
Infused with latest G10 technology, GREE Pular series inverters have enhanced system performance with ultra-low frequency and torque control, ultra-high frequency and weakening control, ultra-wideband and fine control, and high-speed processing technology of DSP chip.
GREE's Pular series ACs combine all these features to achieve set temperature in half the time (or less) compared to normal fixed speed ACs, thus ensuring low energy consumption.
2. Increased airflow with less noise
GREE Pular series inverter ACs have been tested through CFD (fluid simulation) software, as a result of which its airway is parametrically designed, allowing for an increased airflow along with low windshield noise, warranting more peaceful sleep.
3. The AC is wifi-enabled
Want to control your AC from a distance?
The new GREE Pular AC comes with built-in WiFi technology that lets you operate it from anywhere through the GREE app.
Simply download the app, register your account and add the device to enjoy long-distance control of your GREE Pular inverter AC.
4. The iFeel function and 3D air flow keep each corner cool
With fully-closed appearance and two independently-controlled air deflectors, the new GREE AC provides efficient air conditioning of the entire room with 3D air flow, even in 90 degrees direction.
Also, with its new iFeel function, Gree Pular inverter AC ensures consistent temperature through the remote control every 10 mins. It does so by sending a command to the AC that adjusts itself accordingly.
5. Filters harmful bacteria in the air
In the post-pandemic world where everyone is becoming increasingly health conscious, GREE Pular inverter AC helps filter out bacteria and other harmful particles in the air around you, ensuring we breathe clean.
Also, GREE's new AC comes equipped with highly efficient 12V cold plasma, mounted at the air outlet to help increase sterilisation rate by 3.9 times, consequently cleansing the air.
6. Easy filter and self-cleaning function
While periodically changing AC filters can be an tedious task, with the risk of breakage or bending, GREE's Pular inverter AC comes with its own integrated external filter.
With such a filter, there is no need to open the front panel and pull the filters out. You just need to reach the AC and clean the easily removable filters, placed just above the unit.
The AC also comes equipped with evaporator self-cleaning technology, which uses condensation-frosting and sterilisation-defrosting-dry stage, so the internal evaporator is always clean and the air cleaner.
7. Choice of seven different speeds
Unlike other ACs, new Gree Pular inverter AC allows one to select from seven different speeds.
This also helps improve the operational efficiency of Gree Pular series inverter AC by reducing the noise levels to 3dB so you can enjoy more peaceful nights.
8. Controller wide voltage design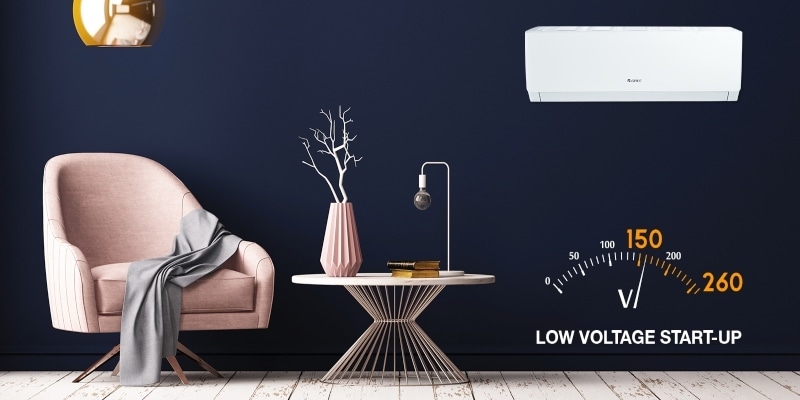 Living in an area with lots of electricity fluctuations or unstable power grids?
The high voltage protection function in the new AC automatically interrupts the switch when the input voltage exceeds the threshold to prevent damage to the power supply under severe overvoltage conditions.
9. Automatic mode for temperature control
With the inclusion of automatic mode, the cooling, heating and air supply modes are switched automatically in the new AC, according to the user-set temperature.
Other features include:
Watch this video for details:
Check out their website for more features and products.
---
This content is a paid advertisement by GREE Pakistan and is not associated with or necessarily reflective of the views of Dawn.com or its editorial staff.