Meth or ice ─ imported from Iran, sold in KSA, and mixed and sold in local markets ─ is becoming a growing problem.
In recent times, crystal meth addiction has consumed many young Pakistanis. A recent police investigation reveals, however, that Pakistan is just a transit point; the real sales are elsewhere...
Tip of the iceberg
By: Iftikhar Firdous
It was a cold January night but Mardan police was on high alert: an intelligence tip-off had been received that some kind of contraband was being transported under the cover of darkness. But when they stopped a car in Shergarh, a small town located 12 kilometres from the Takht-i-Bahai Buddhist Sanctuary, the police had little idea about the enormity of what they had stumbled upon.
What the police recovered from the car was two tins of edible oil. An ordinary eye would have just seen two containers but one officer discovered there was residual white powder on the bottom of the tins. And that's when the sirens were sounded. The police had their man.
Take a look: Beware of the 'ice age'
"We had some idea at the time of what that was," says District Police Officer (DPO) Sajjad Khan, "but later lab reports proved it was crystal meth, populary known as 'ice' — 300 grams."
It wasn't the quantity that was of interest. It was the scale of the entire operation that became crucial for law enforcement.
The man driving the car, Qari Inayatullah, was immediately nabbed. The challenge now was to investigate how he had gotten his hands on this powder and whether he was acting alone.
In recent times, crystal meth addiction has consumed many young Pakistanis. A recent police investigation reveals, however, that Pakistan is just a transit point; the real sales are elsewhere ...
During interrogation, Inayatullah told the police that he ran a network of travel agents who dealt in Hajj and Umrah trips. Due to this business, he said, he had linkages established in Saudi Arabia. This piece of information seemed trivial until the police raided Inayatullah's office.
There they found a passport with a stamped visa for Saudi Arabia along with a ticket and some travel bags for pilgrims. These items would later become key pieces of evidence.
"While there was nobody in the office to be apprehended we discovered more of the white powder," says the DPO. "It was sewn into travel bags that pilgrims usually carry with them."
The travel bags were stitched by Inayatullah in a way that a one-inch deep space existed at the bottom of the bag. This space was meant to store around a gram of ice. The ploy was clever since this portion of the bag is usually concealed by the ahram and other accessories worn by a pilgrim. These bags were provided to the people who registered with the travel company for Hajj and Umrah.
The police seized the passport and began searching for the person whom it belonged to. What followed in the next few weeks tuned from a manhunt into an investigation uncovering an international drug nexus that spans three countries — Pakistan, Saudi Arabia and Iran.
TRUST AND TORMENT
Hajj and Umrah operators in Mardan are men that command trust.
Mardan is the second-most urbanised district in the province after Peshawar. But people here mostly rely on agriculture. For a majority of the people in the district, travelling abroad only means travelling for Hajj or Umrah.
Like many others across the country, travelling for pilgrimage often also means spending a lifetime of savings on the journey. And in Mardan, travelling for Hajj or Umrah can only be facilitated by travel agents and guides. In this situation, people are often forced to place their trust in strangers.
Qari Inayatullah presented himself as a pious man. In truth, he exploited the faith people reposed in him. Reliance on travel agents and guides, in this context, meant that unsuspecting pilgrims were actually channeling drugs to another country. In other words, the cover of a holy journey was used to transport ice.
In a sense, Inayatullah's office was just a front for a very sophisticated operation that involves smuggling, storage and onward transportation. This case has three protagonists: Inayatullah, Sherzaman and Taj Mohammad.
While the narcotics trade of the last millennium originated from the Pak-Afghan border area, the new drug trade now includes local handlers with international links to the supply chain. This is a necessity because, unlike hashish that needs to be grown in a locality, ice requires the transport of chemicals across borders without being detected. The raw material is then handed to experts who prepare these drugs; these men's identity and location tend to remain fluid.
Reliance on travel agents and guides, in this context, meant that unsuspecting pilgrims were actually channeling drugs to another country.
This smuggling operation, too, is set up on the same principles.
Sherzaman, for example, hails from the Khyber tribal district. He is described by law enforcement officials as the "kingpin of smuggling ice from Iran". But he operates his business from Khyber tribal district — away from the gaze of the state.
"While there is no direct link between Iran and Saudi Arabia, we now believe that the drugs that are imported from Iran are channelled through Afghanistan and Pakistan," says Senior Superintendent of Police (SSP) Sajjad Khan who led the investigation into busting one of thee several rings involved in smuggling ice. "Smuggled ice is then transported onwards to Qatar, Dubai and Saudi Arabia."
Sherzaman has evaded arrest till now as the police's jurisdiction has not yet been extended to the tribal heartlands. Although an official communique has been sent to the tribal administration, there is little progress in the case.
From the Khyber tribal division, ice makes its way to Khyber Pakhtunkhwa's urban centres, including Peshawar and Mardan. In Mardan, ice was handed over to Inayatullah and other travel agents to have it transferred to Saudi Arabia.
In turn, travel agents typically search for "carriers" — men who can accompany pilgrims and hand over the goods to the contact in Saudi Arabia. Travel agents usually target lesser privileged and mostly middle-aged men who are struggling to make a living.
The person accompanying the travellers to the Holy Land is responsible for the pilgrims' luggage. He retrieves the drugs at an opportune time and hands them over to a local handler in Saudi Arabia. In this case, it was Taj Mohammad.
Mohammad has been residing in the Kingdom of Saudi Arabia for more than a decade. His whereabouts remain unknown as for now, but he has been charged in Pakistan.
It is no wonder that this operation is layered. Investigators believe that it is impossible for it to continue smoothly without the involvement of insiders in the airport staff of both the country of origin and where it lands. However, they refrain from giving more information because the investigation now involves the Interpol which has been provided names.
"We still have to learn about the processes involved in the smuggling of ice," says SSP Khan, "but, for now, a major portion of the smuggling route and racket from Iran to Pakistan remains uncovered."
What the police are confident about is that the number of people duped by Inayatullah runs into thousands. FIRs have been registered in Rawalpindi against him, on charges of smuggling and selling ice.
Till now, Pakistani authorities have been unable to ascertain if any of its citizens apprehended or punished in Saudi Arabia on charges of transporting drugs were accused of transporting ice.
LIFE AND LUCRE
In times when the economy is dwindling, it is the economics of the trade that has made it more attractive.
"A kilo of ice costs around 500,000 rupees when imported from Iran," Inayatullah told the investigators.
When it reaches Pakistan, the price is almost tripled. By the time it reaches Saudi Arabia, a kilo of ice is sold for 5.5 million rupees. Even with the cost of the visa and the payments made to the carrier accompanying the travellers as well as other officials, this amounts to at least a 300 percent profit margin.
"The margin for profit is enormous," concurs SSP Khan.
Background interviews and laboratory documents made available to Eos show that when ice is smuggled from Iran to Pakistan via Afghanistan, the most immediate action is to separate the export quality from the one for local sale.
A kilo of ice costs around 500,000 rupees when imported from Iran," says Inayatullah. When it reaches Pakistan, the price is almost tripled. By the time it reaches Saudi Arabia, a kilo of ice is sold for 5.5 million rupees ... This amounts to at least a 300 percent profit margin.
Officials explain that when the meth leaves Iran, it usually weighs about a kilo. But by the time it reaches Peshawar, the weight has swelled to 12 kilos. This is because manufacturers tend to add chemicals from life-saving and psychiatric medication to enhance the quantity of the drug. Typically Arinac, Ativan and morphine are mixed in large quantities with pure crystal meth — one police official claims that these medicines are stored by the sackfuls. The final product is packed in two-gram plastic packets.
Till recently, the government and law enforcement officials both believed that crystal meth is way too expensive for the common man to afford and it would be unlikely for ice to make its way to the streets. But this theory was thrown out the window after SSP Javed Iqbal Wazir started investigations into the manufacture and sale of ice in Peshawar.
"The solution to affordability is cheap local derivatives," explains Wazir. He pulls out packs of tablets and powder in hues of orange, pink, red and yellow. "These cheap derivatives of ice are sold in college campuses and streets across the province."
Even though 'ice' addiction among the youth is nowhere near the fantastical figures thrown out by the state minister Sheheryar Afridi, there is consensus that it is indeed a growing problem.
Statistically speaking, the police seized 20.703 kilos of ice in 2017 but, last year, the figure jumped to 26.168 kilos. While the government considers its recovery as its success, what it glosses over is the 26 percent increase in the quantity. If the data from the FIRs are taken into account, 56 percent of the 117,000 registered complaints are related to drugs.
SSP Wazir's probe came as part of the 'Ice Free Peshawar' campaign. A ring of 44 ice dealers was identified and busted in Peshawar — providing law enforcement officials with key insight into the domestic and international dynamics of trading ice.
"We discovered that the sale of ice in Peshawar and other districts was consumer-based," says Wazir. "The majority of the dealers were sellers as well and they mostly dealt in grammes not kilos. The bigger fish were hiding elsewhere."
In a majority of cases, ice-abusers sell the drug for a low profit so they can smoke the drug for free. The less sanitised reality is that the demand for ice is real and is considered "to cure a malaise deeply rooted in this society," as one drug abuser put it.
There have been several walks and seminars arranged on a government level to sensitise people against the detrimental effects of consuming ice. On its part, law enforcement has tried to shut down the massive drug industry but these efforts come to naught because legislation at the policy level still falls short.
All cases registered against the sale of ice are governed by the Control of Narcotic Substances Act of 1997. This law stipulates a punishment of imprisonment of up to two years, or fine, or both, if a person is carrying 100 grams of drugs or below. (The punishment increases with the weight of drugs being carried around.) But since ice is sold in packets that usually weigh less than four grams, the law cannot implicate offenders.
"How can four grams of ice be equal to four grams of hashish?" questions a senior police officer who served in Khyber Pakhtunkhwa and wishes not to be named. "The former is destructive beyond belief, there can be no comparison."
The senior official argues that the department had pushed for legislation but in the province, narcotics is not the exclusive domain of the police but is shared with the excise department and the anti-narcotics force.
"While the lawmakers don't realise the importance of legislation, shared responsibility does not allow any department to completely concentrate on the issue," says the former officer. "There needs to be a rigorous policy restructuring to battle this curse."
The officer adds that if the scope of investigation is expanded it would reveal that a number of government officials are also involved in drug abuse — ice in this case.
KHYBER'S KINGPIN
"After six months of tracking the real culprits behind the sale of crystal meth," narrates the investigating officer, "all fingers pointed towards the tribal districts bordering Peshawar."
There were, in fact, six investigation officials working different cases pertaining to ice manufacture and sale. All six pointed towards the Khyber tribal district and Sherzaman.
Although the police were tracking down Sherzaman, they discovered that at least 22 points that were previously processing heroine had now converted into ice factories. And even though some of the culprits were arrested, they were released because of the absence of rigorous legislation for meth. A crackdown against the ice dealers in Peshawar also resulted in those who were arrested going scot-free in three months' time.
The fact remains that most of the international handlers from one single investigation still remain at large. Even though the Kingdom of Saudi Arabia severed all diplomatic ties with Iran since 2016, recent discoveries of how Pakistan has been used as a transit point to smuggle crystal meth to the Middle East from Iran shows that, apart from the geopolitics and oscillating diplomatic relationships between the three, there is also an (un)common denominator binding the three together: ice.
What we know till now about the ice trade is only the tip of the iceberg. All arrests made so far and material seized has provided an insight on how a little known drug such as ice has become almost epidemic in a short span of time. But equally, and perhaps more dangerously, investigators have been astounded with the large sums of investment being made into the new-age drug business.
A new generation of youth is going towards its destruction and there is seemingly nothing we can do about it.
The writer is an investigative journalist based in Peshawar.
He tweets @IftikharFirdous
Young lives on ice
By: Shazia Mehboob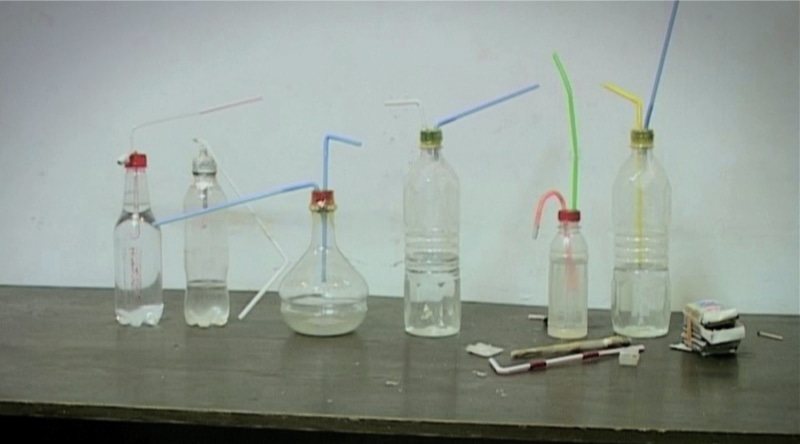 It started with a single puff of hashish but young Muhammad Adnan* didn't stop there. The occasion was his elder sister's wedding in Parachinar, part of the erstwhile Khyber Agency. Amidst the wedding festivities, one night Adnan and his friends decided to smoke up.
"I was in class seven back then," relates Adnan, now a 16-year-old young man. "Not only adults and elders but children of primary and secondary classes also use drugs in our area, particularly hashish, to relax themselves."
Young Adnan lost his mother in his tender years and his siblings brought him up. Although they kept his secret for many months, Adnan's father soon came to know about his drug usage. The father decided to shift him to a school in Peshawar to protect him from drugs. Little did the father realise that he was taking his son out of the frying pan and pushing him into the fire.
"[Back home] I was only smoking cannabis," says Adnan, "but once I moved to Peshawar, I started using other drugs, including crystal myth. Till now, I have used opium, hashish, heroin and ice."
Such exposure to drugs at such a young age is not uncommon in the country.
But while the other drugs have been around for a while, ice is a relatively new phenomenon that seems to have taken off among young people. Ice comes as small clear chunky crystals; variants include a brownish crystal-like power with a stronger smell and bitter taste.
The effects of the drug, when smoked, hit a person immediately. When injected, it takes 15 to 30 seconds for the body to register the impact. Snorting ice takes around three to five minutes for the euphoria to kick in while swallowing takes 15 to 20 minutes.
The drug results in powerful euphoric episodes with increased energy, feelings of invulnerability and pleasure, confidence, and an increased sex drive. These can last for up to 12 hours. But the immediate 'high' from the drug fades quickly. And many users often take repeated doses in a "binge and crash" pattern.
Once the euphoria wears off, the user is hit by symptoms including enlarged pupils and a dry mouth, excessive sweating, irregular heartbeat, increased blood pressure and body temperature, nausea and vomiting, shortness of breath and reduced appetite. Psychologically, a person experiences paranoia, irritability, anxiety, fatigue, depression and impulsive behaviour.
The abuse of the recreational drug leads to long-term effects that shape a person's personality and behaviour. Individuals who have abused methamphetamine for significant periods of time may suffer a number of permanent neurological and cognitive effects.
But in the exuberance of youth, young people such as Adnan have taken to ice as a method of putting their minds at ease.
"Students who don't have enough money use hashish," says the teenager, "while others prefer ice."
In a twist of sorts, Adnan and his friends would head back to Khyber tribal district to score their drugs. They would use different strategies to deceive security personal at the Khyber tribal district boundary. Sometimes they would tear their jackets and conceal their drugs there. But when security checks would be stringent, they would tie their drug packets to a stone and throw them to the other side of the security picket. Once they cleared security checks, they'd simply pick the stones and return to school.
Adnan is currently under treatment at a private rehabilitation centre in Islamabad as he attempts to rediscover part of his childhood that went to waste with ice.
Similar is the tale of Abbottabad-based Taimoor Khan*, now 18. He was studying in class 10 when he fell victim to drug abuse. Khan doesn't belong to an underprivileged background; he is the son of an educated and conscientious man. But for the past one-and-a-half years, he has dabbled in ice.
"Becoming happy in life was a driving factor behind my use of drugs," says Khan.
The teenager revealed that he'd often wonder why his classmates always seemed happy despite sharing the same workload at school as he did. When he asked one of his fellow students the secret to his contentment, he was told that narcotics heal pain and stress. Khan soon started smoking and later on, fell prey to ice.
"The managements in top-level institutions play an important role in spreading the menace of drugs," argues Khan. "Teachers often have a discriminatory attitude. They pay more attention to brilliant students and ignore the others."
In the teenager's experience, such attitudes create insecurity and undue pressure on students.
"Dull students are more vulnerable to drugs," argues Khan. For him, studies-related stress was a main contributing factor.
He says he was told that students tend to study better when they are on drugs but his experience was quite bitter — instead of improving his grades, his performance nosedived.
Now in rehab, Khan fears that returning to college would again turn his mind towards drugs. "I don't know if I'll be able to stop friends from this abuse. But while I cannot change the system, at the very least I can secure myself from drug abuse."
Recent times have seen an alarming rise in the number of cases of ice drug abuse on campuses. Last year a young woman studying at a private college was reported unconscious to the police. She was rushed to the hospital because of the excessive bleeding from her nasal cavity. To the family's astonishment, what they considered to be a medical condition was caused because of an overdose of crystal meth in the college lavatory.
Perhaps most saddening are cases where young people feel that ice can alleviate depression and help them score better on examinations.
"I began smoking ice without realising I would get addicted," says Danyal,* an engineering student at the Peshawar University. "It was easily available and everyone knew about it so I thought it was kosher."
Danyal proceeds to defend his addiction: "It has helped me in preparing for my examinations because I can stay awake for longer." Asked if he wants to quit, he replies bluntly: "Once I have my degree in hand."
The writer is an Islamabad-based journalist. Additional reporting by Iftikhar Firdous
Published in Dawn, EOS, March 3rd, 2019