Halal food business is booming in Manhattan, but many people don't even know what the word means.
The days when Muslim immigrants had to worry about Halal food in New York are long gone.
Today, the Halal food business in the city is booming; Halal carts have become so popular that many people getting food there don't even know what the word means.
"I want to do Halal for lunch today," an American friend tells me.
To him Halal is just another kind of cuisine.
---
If you're buying a hot dog in the Big Apple, chances are you're buying it from a Halal cart.
On any given day, parked amongst a handful of other options is 'Sammy's Halal Cart'.
The change hasn't happened overnight. In 2007, a New York Times article observed that New Yorkers were ditching hot dogs for more filling Halal food options popping up around the city.
A little over a decade later, the hot dog stands the article talked about are practically dead. And Halal is now considered a staple food in the city.
"What would you like?" asks Muhammad Adnan Arif, with a smile.
Adnan, an immigrant from Pakistan is in his early thirties, and one of two men who work at the cart during the day. He moved to the United States in 1995.
In his time here he has seen New York change, and yet stay the same.
He stays in his cart all day, only stepping out to use the restroom and say his prayers.
At sunset, he can be seen praying Maghrib right outside his cart, using a flat cardboard box as a prayer mat.
Adnan's line of work allows him to have a unique view of the city.
He interacts with all sorts of people; from devout Muslims who come to the cart because they are particular about how the meat is slaughtered, to drunk college students who just need a quick, affordable bite to eat after a long night of partying.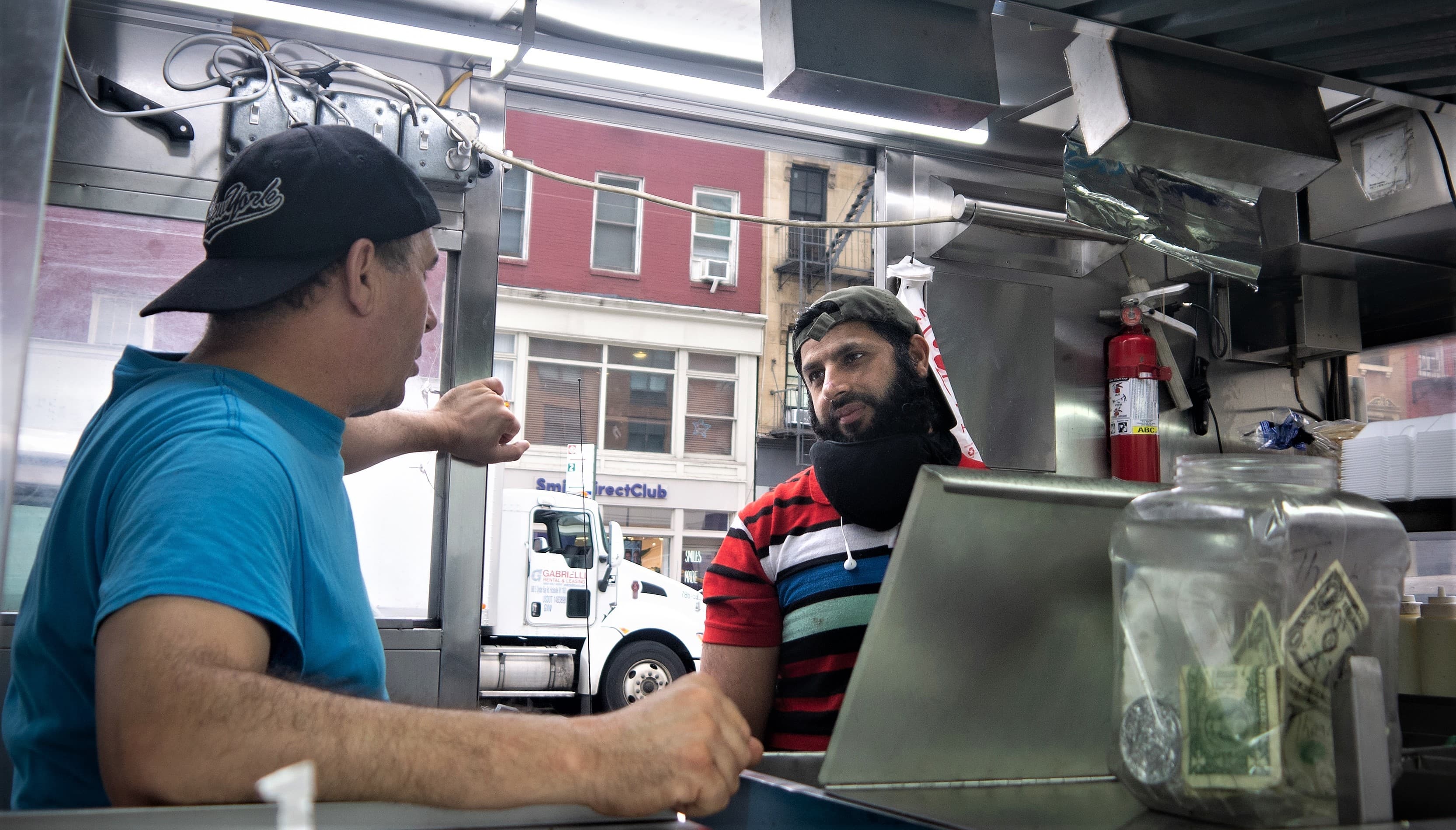 Like Adnan, the owners of Sammy's Halal Cart are also Pakistani.
Adnan says that he likes working for people who understand his cultural and religious background and needs.
When Adnan isn't grilling chicken or managing the books, he is making calls to Pakistan, catching up with his wife and children.
---
These photos were originally photographed for a group show called 'Photographing New York,' currently on display at the New York University Arthur L. Carter Journalism Institute.