A look back at key moments in 'Kaaptan' Khan's life.
Pakistan Tehreek-i-Insaf (PTI) Chairman ─ now the 22nd Prime Minister of Pakistan ─ Imran Ahmed Khan Niazi was born on Oct 5, 1952 to a well-off Pashtun family in Mianwali, Punjab. His family later settled in Lahore, which is where he spent most of his youth.
Being the only son of his parents ─ and a brother to four sisters ─ he was often called arrogant ─ an accusation Khan has always denied.
In his early teens, he was considered a quiet and shy boy who often kept to himself. Even in school, he had a passion for cricket.
He hailed from a great cricketing family ─ his maternal cousins; Javed Burki and Majid Khan both preceded him in going to Oxford and captaining Pakistan.
Khan attended Aitchison College and the Cathedral School in Lahore. He then obtained admission at the Royal Grammar School, Worcester, before completing his education with an undergraduate degree in Economics from Keble College, Oxford University.
While there, he was also the captain of the Oxford University cricket team in 1974.
Following in the footsteps of his cousins, Khan started playing cricket at the age of 13.
Initially playing for his college and later representing English county Worcester, he made his debut for Pakistan at the age of 18 during the 1971 English series at Birmingham.
Soon, he had acquired a permanent place in the team for himself.
As a genuine all-rounder, Khan consistently made useful contributions in all forms of cricket with tremendous hard-hitting and swing abilities.
Khan achieved the all-rounder's triple in 75 Tests and was known to make the second-fastest record after Ian Botham of the England cricket team.
He left cricket at the pinnacle of his sports career ─ after he captained the Pakistani team to its first and only ODI World Cup victory in 1992, with a record of 3,807 runs and 362 wickets in Test cricket.
Aside from his cricketing ability, Khan was also known for his popularity among women and his frequenting of night clubs.
Christopher Sandford in his book, Imran Khan: The Cricketer, The Celebrity, The Politician, wrote that Khan knew of and visited all the famous nightclubs in the United Kingdom and Australia, and would love to meet and court women. He would not drink alcohol, but wouldn't have a problem with his teammates going out and enjoying themselves.
British author Ivo Tennant in his book quotes artist Emma Sergeant — daughter of millionaire finance journalist Patrick Sergeant who alleged she had a four-year relationship with Khan from 1982-1986 — describing the cricketer as a 'perfect fusion of east and west'.
In 1987, after he had led Pakistan to its first ever Test series win in India, Khan was offered a position in the Pakistan Muslim League (PML) formed by then military dictator, General Ziaul Haq. He had politely declined the offer.
Although Khan had announced his retirement during the 1987 World Cup, he returned to cricket despite Zia's requests to the contrary.
Following his actual retirement from cricket after the '92 World Cup, Khan became an active philanthropist.
He campaigned to build the first of its kind cancer hospital in Pakistan that offers free treatment to needy patients.
It was named Shaukat Khanum Memorial Cancer Hospital and Research Centre after his mother who had died of cancer.
It was around this time that Nawaz Sharif's first government sent out feelers that it was interested in bagging him as a member of the ruling party (PML).
A 1992 60 Minutes segment shows [play video at 9:20] Nawaz saying he had made an offer to Khan to join politics many years ago "but he declined. I don't know why. The offer is still valid," he had said.
Khan, who was now 41, had begun to tone down his 'playboy' image. He had found a spiritual mentor in Mian Bashir, who by his own account — Pakistan: A Personal History — helped disarm a sceptical Jemima Goldsmith by accurately guessing her three secret wishes.
Jemima, the daughter of tycoon James Goldsmith, married Khan in Paris in 1995, at the age of 21.
The couple had two children, Sulaiman and Qasim, and divorced nine years later. "The six months leading up to our divorce and the six months after, made up the hardest year of my life," Khan had said in his book.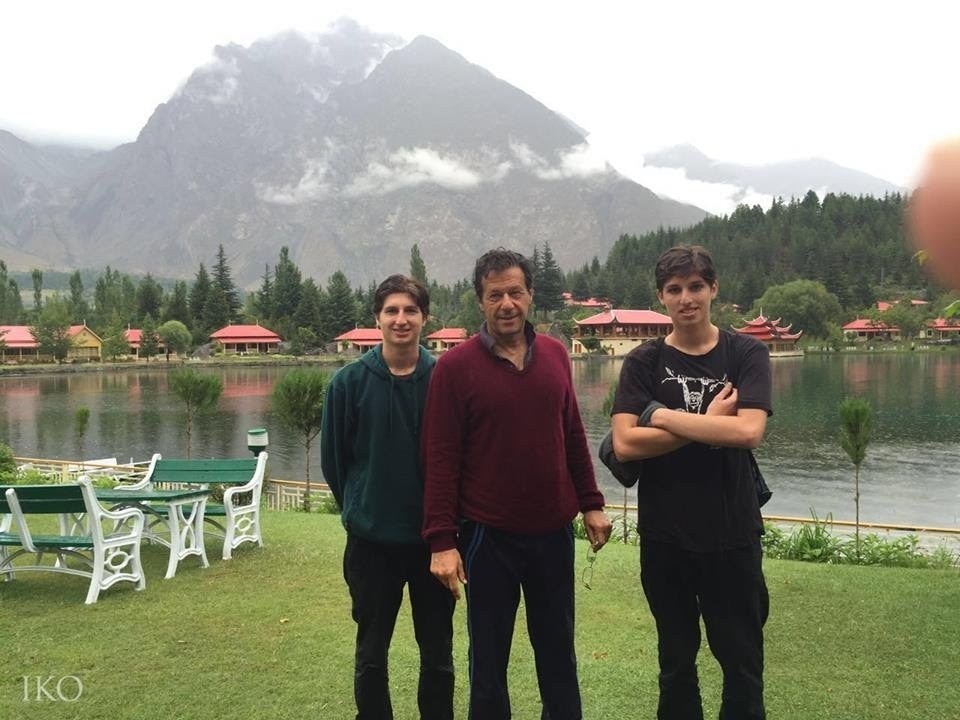 In a statement at the time of their divorce, he had said: "Whilst Jemima tried her best to settle here, my political life made it difficult for her to adapt to life in Pakistan."
In 1993, under the caretaker government of Moeen Qureshi, Khan was appointed ambassador of tourism ─ a post carrying the same weight as minister. He quit the post after the Qureshi government was dissolved after three months and new elections were held.
In late 1994, he joined hands with former Inter-Services Intelligence (ISI) chief Hamid Gul and Muhammad Ali Durrani — the latter, at the time, was heading Pasban, a breakaway youth wing of JI.
They planned to launch what they called a 'pressure group'. Short of being a political party, it was meant to work as a civil society watchdog for the government of the day.
In the February 1995 edition of Herald, the three spoke about how the group was to be a social movement rather than a political entity. They also saw it becoming a "third force" and "the first middle-class movement in the land".
The pressure group never materialised. Imran Khan quickly became uncomfortable with the idea of being seen as a puppet in the hands of Gul, according to Zaigham Khan, the Herald staffer who reported on the trio's plans.
Later the same year (1994), his friends, including a retired Lt. Gen, managed to persuade him to pursue a political career.
On April 25, 1996, Khan formed his own political party, the Pakistan Tehreek-i-Insaf. It did not win a single seat in the 1997 elections, which were the PTI's first.
A few years later, the retired army man left the party, saying that Imran listens to none. Another few years passed and another seasoned politician left the party, sharing the same sentiments.
In 1999, Khan came out in support of Gen Pervez Musharraf, and in the 2002 polls under the former military dictator, the party won one seat ─ Khan's own.
However, Khan's party urged him to resign from his National Assembly seat in 2007 after the Karachi carnage, and subsequently boycotted the 2008 polls, holding the position that an elected parliament had little to no meaning under a president in military uniform.
Khan himself had briefly been detained under the lawyers' movement crackdown against critics of Musharraf in 2007 after trying to lead a protest at Punjab University. He also joined a host of voices demanding a probe into the murder of Benazir Bhutto in 2008.
It was 2011 when people once again saw Imran Khan active in politics. His jalsas in Karachi and Lahore drew massive crowds ─ comparable perhaps only to those witnessed last in the '80s at Benazir's homecoming rally.
Despite a strong campaign in the lead-up to the 2013 polls, the party failed to win a majority at the centre and sat on the opposition benches with 32 seats. It did, however, form government in Khyber Pakhtunkhwa after an alliance with the Jamaat-i-Islami.
Khan and the PTI spent the next four years protesting against rigging and corruption in the government, calling for accountability of politicians.
In 2014, Khan took out a long march to the capital and held the longest ever sit-in against alleged rigging in the 2013 polls, which he held the Nawaz Sharif-led PML-N responsible for.
He joined hands with Pakistan Awami Tehreek leader Tahirul Qadri for the dharna, who was agitating for justice for victims of the Model Town tragedy.
The sit-in against continued for 126 days, but was called off after a Taliban attack on Peshawar's Army Public School in December 2014.
Veteran politician Javed Hashmi, who held a position as PTI president before resigning from the party, accused Khan of working with "non-political forces" and "script-writers" who, he claimed, were conspiring against the government.
The former PTI leader even alleged that senior party members had not been convinced that there had been rigging on a large scale in Punjab during the 2014 election, despite the PTI's public stance during their historic sit-in the same year that large-scale election rigging had resulted in the party's loss.
The allegations have never been substantiated with evidence.
Days after the sit-in, Khan married journalist Reham Khan at his Banigala residence on January 8, 2015, in a simple ceremony.
Although the wedding received a great deal of public attention, it was also criticised for its proximity to the Army Public School terrorist attack in which more than 140 people — majority of them students — were killed.
The relationship lasted just nine months, and Khan later called it one of the "biggest mistakes" of his life. Reham wrote a risque 'tell-all' which included details about her time married to Khan, which she released in the days leading up to the 2018 polls.
However, just as it seemed the PTI was running out of steam, the Panama Papers were released in April 2016. Khan, who described the leaks as 'God sent' began pressing the then prime minister Nawaz Sharif to come clean about his wealth.
In the months following the leaks, the government and opposition tussled over the Terms of Reference (ToRs) for the commission that was to investigate the allegations against the Sharif family.
The PTI in June 2016 filed a petition with the Election Commission of Pakistan seeking disqualification of Sharif for allegedly concealing his assets. This was to be the beginning of the end for Sharif.
Subsequently, a number of petitions were filed against the Sharif family in the Supreme Court ─ most notably by the PTI, JI, PAT and Awami Muslim League.
Khan encouraged his followers to continue protesting against corruption and then conceived the idea of a second long sit-in against corruption dubbed the 'Islamabad lockdown'.
Read more: Imran Khan: His botched sit-in, turnabouts and push-ups
The protest, however, never came to fruition as the SC ─ a day before the Nov 2 protest ─ held a hearing of the Panamagate petitions and asked for ToRs to probe the allegations.
The Panama saga finally concluded on July 6, 2018, when the Supreme Court sentenced Nawaz Sharif, his daughter Maryam Nawaz and son-in-law Captain Safdar to jail for corruption.
Read more: How Pakistan's Panama Papers probe unfolded
But the two years in between the leaks and the final judgement were beset by divisive politics and court cases upon court cases filed against various political leaders for various reasons. During that time, on a petition moved by PML-N's Hanif Abbasi, the PTI chief faced a disqualification case in the Supreme Court. The court, however, dismissed the case against Khan in December 2017 after lengthy hearings; his close aide, Jahangir Tareen was disqualified.
Khan himself, to date, is facing a number of cases himself.
Among them are two cases ─ before the Islamabad and Peshawar High Courts ─ seeking his disqualification from public office on multiple grounds, including his failure to mention his alleged daughter, Tyrian White, in the nomination papers filed for the 2018 General Elections; a case before the KP National Accountability Bureau for alleged misuse of the provincial government's helicopter during his party's 2013-2018 rule in the province; and a 2014 case before an Anti-Terrorism Court in Islamabad for an attack on the PTV headquarters in the capital during the Islamabad dharna.
Khan married a third time in 2018 ─ to Bushra Bibi, his spiritual leader from Pakpattan who he had frequented for about two years ─ in a simple ceremony in Lahore.
Read more: What brings PTI chief to a remote town?
The mystique and rumours around his third wife ─ who observes a full veil ─ suggest that she is the one responsible for his turn towards spirituality and his ascent to prime ministership. But all this is just speculation.
A month before the July 25 polls, Khan and Bushra were filmed offering prayers at the shrine of Baba Fariduddin Ganjshakar in Pakpattan.
In the July 25 general elections, the PTI bagged an unprecedented 116 National Assembly seats in the election amid other political parties crying foul. Imran Khan won all five seats that he contested on.
The PTI's complete tally in the NA, after recruiting independents and appointing candidates to its reserved seats ─ and subtracting the multiple seats won by Khan and two other MNAs, went up to 152. But the party's spokesperson claimed that the party, with the help of its allies, has garnered the support of 180+ MNAs.
Soon after results started trickling in and PTI emerged in the lead, Imran Khan was referred to as the 'PM-in-waiting', with the party head also delivering a victory speech the day after the elections.
"I want to clarify why I entered politics," said Khan in his speech. "Politics could not have given me anything. I wanted Pakistan to become the country that my leader Quaid-i-Azam Muhammad Ali Jinnah had dreamed of."