All parties must pledge to uphold net neutrality, ensure accessibility and protect personal data privacy.
SINCE independence, successive rulers have had a chequered relationship with the fourth estate, at various times resorting to mass incarcerations of journalists, even publicly flogging them, while several newspapers were banned outright by government decree.
Even civilian governments with democratic credentials, such as the PPP, that suffered brutal persecution under Gen Zia, were once responsible for curbing the press.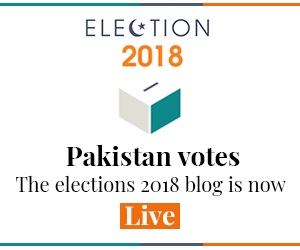 Though the Muslim League itself was born in tandem with the journalistic endeavour to report on the concerns and aspirations of Muslims under colonial rule, the PML-N too had to contend with political decimation under Gen Pervez Musharraf's regime to acknowledge this fact.
It was through decades of struggle, through conflicts and crackdowns, that we now have a relatively independent media and its ancillaries: the freedoms of speech, expression and information.
These are the cornerstones of any true democracy, for it is through open reporting and spirited dialogue that an informed and equal citizenry can participate in vital decision-making processes.
An essential signifier of political parties' commitment to strengthening democratic norms, therefore, is how they intend to regulate, protect and cultivate these media freedoms in their 2018 manifestos — without compromise, whether in office or opposition — for these rights are far from immune to erosion.
Over the years, run-of-the-mill exploitation of regulating bodies to gag the press has disturbingly given way to official (and unofficial) broadcast blackouts.
Amendments made to the Pemra Ordinance on Thursday, which limits federal powers and reconstitutes the body, may mitigate this to an extent, but parties must still pledge to legislate on the matter to ensure that the authority, often politicised or toothless, is made impartial, autonomous and empowered to regulate our TV airwaves without interference.
Illicit interventions also extend to print media, where a proliferation of abstruse 'red lines' and disruptions of newspaper distribution are fast becoming the new normal.
What guarantees can they make so that the press can disseminate news without intimidation or coercion by the government and other state institutions?
How do they plan to ensure that journalists (even those they might disagree with) are able to perform their duties without fear of reprisal?
Though media workers are familiar with adversity, including threats from militants, the impunity that still persists when they are attacked is perhaps most troubling.
In its 2013 manifesto, the PML-N pledged to enact a journalists' protection law. The status of such legislation remained in limbo throughout its term; instead, its information ministry abruptly proposed then disavowed a controversial press ordinance last year.
Under such conditions, accessing information is paramount to disrupting a culture of secrecy.
Although right to information laws exists at the federal and provincial levels, some are more robust than others and implementation is still saddled by obstructionism.
The PTI made no direct reference to press freedom in its 2013 manifesto, but did focus heavily on RTI for accountability of public bodies.
While delivering on this promise in KP, its own government has twice sought to amend the RTI law to restrict its scope.
All citizens are entitled to access public records, and every party must pledge transparency (especially when in office) by committing to extend RTI to all territories in Pakistan, remove unreasonable exemptions in the laws and ensure that RTI commissions are functional and responsive.
Perhaps nowhere are these freedoms more vulnerable than in our nascent digital sector, which lacks a rights-based governance framework.
A political class that continues to ignore this issue in 2018 risks irrelevance — as Pakistan's internet user base continues to grow, politicians, journalists and citizens alike rely increasingly on information communications technologies, including social media platforms.
This has had a transformative effect in the country, where we now see more diversity and inclusion in public opinion and challenges to the status quo.
While issues of online hate material, disinformation and harassment need to be addressed, parties must also realise the importance of framing judicious digital policies grounded on the precept of a free and open internet.
All must pledge to uphold net neutrality, ensure accessibility (particularly for marginalised groups) and protect personal data privacy.
Furthermore, the country's murky cybercrime law must be amended to draw precise parameters on content regulation, limit the PTA's powers to impose restrictions and allow for public scrutiny, and curtail open-ended cyber surveillance.
Now and in the years ahead, a free press and an empowered citizenry will be the strongest bulwark against anti-democratic forces.
Let us hope, then, for a government with the foresight and fortitude to cultivate the people's greatest power — their voices.
Published in Dawn, June 10th, 2018