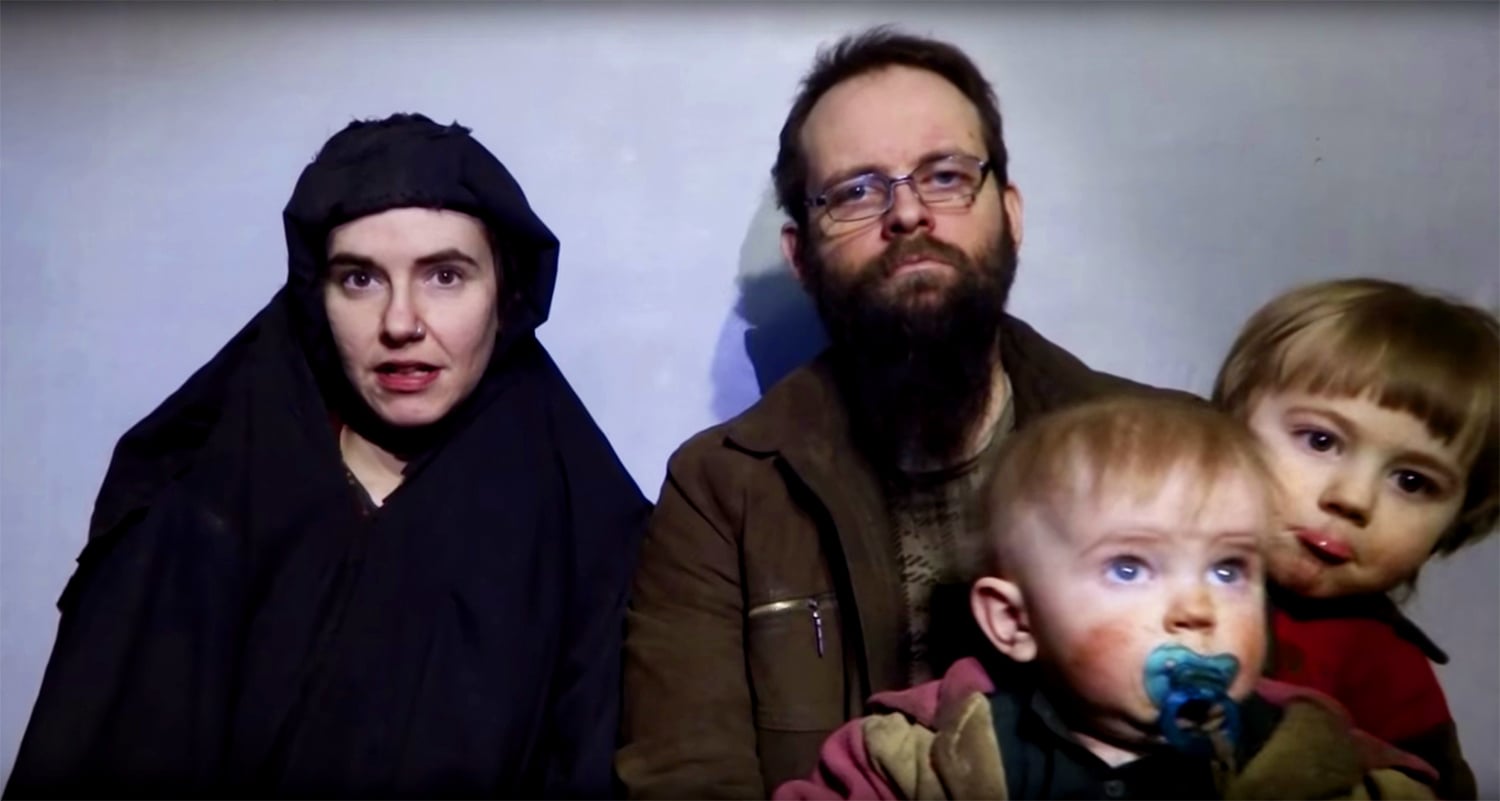 The couple, kidnapped backpacking in Afghanistan five years ago, were allegedly held hostage by the Haqqani network
Five years after they were seized by a terrorist network in the mountains of Afghanistan, an American woman, her Canadian husband and their children ─ all three born in captivity ─ are free after a dramatic rescue orchestrated by the Pakistani and United States (US) governments.
Caitlan Coleman, 31, and her husband Joshua Boyle, 33, had been in the captivity of terrorists since 2012.
The couple had been kidnapped while backpacking in Afghanistan as tourists in October 2012. The woman was pregnant when abducted.
They were allegedly held in Afghanistan by the Haqqani network before being 'shifted' across the border to Pakistan.
The rescue operation
The hostages were recovered by the Pakistan Army in an operation near Kohat on the basis of "actionable intelligence from US authorities", according to a statement from the army's media wing.
US officials did not confirm the details, but Inter-Services Public Relations said that "US intelligence agencies had been tracking them and shared their shifting across to Pakistan on Oct 11, 2017, through the Kurram Agency border."
The operation, which came after years of US pressure on Pakistan for assistance, unfolded quickly and ended with what some described a dangerous raid, a shootout and a captor's final, terrifying threat to "kill the hostage". Boyle suffered only a shrapnel wound, his family said.
Sources told Dawn that the hostages had been recovered from a settled area of Khyber Pakhtunkhwa (KP) and that buzzing unmanned air vehicles (UAVs) had been seen in the skies of the Federally Administered Tribal Areas and KP for the past 10 days.
The officials said that one of the kidnappers had been taken into custody while his two accomplices fled after an exchange of fire with the security forces.
They said the vehicle carrying the hostages was intercepted near Kohat amid surveillance of drones in the area.
"One of the hostage-takers was injured in the exchange of fire near the town of Kohat," said an official on condition of anonymity as he was not authorised to talk to the media.
Boyle and the high commissioner for Pakistan to Canada described a scene in which gunshots rang out as Boyle, his wife and their children were intercepted by security forces while being transported in the trunk of their captors' car.
Boyle told his parents there was a shootout in which some of his captors were killed and said the last words he'd heard from the kidnappers were, "kill the hostage", his father, Patrick told reporters after speaking with his son.
Joshua Boyle also told his father he'd been hit by shrapnel in the leg.
Three intelligence officials said the confrontation happened near a road crossing in the Nawa Kili area of Kohat.
Pakistan's High Commissioner to Canada Tariq Azim Khan said, "We know there was a shootout and Pakistani commandos carried out an attack and rescued the hostages."
The ISPR blamed a "terrorist outfit" for the kidnapping, but did not name it in its statement.
However, US intelligence officials believe that the Haqqani network was behind the abduction.
Residents in Kohat and adjacent tribal areas said drones had been seen flying over the areas for the past 10 days.
They were also flying over Hangu district and Kurram and North Waziristan agencies, according to locals.
This is reportedly the deepest ever activity of drones inside Pakistani territory.
Media reports that the drones had appeared in the sky over Kohat on Wednesday created panic among residents.
Following the movement of drones, Pakistan Air Force planes and helicopter gunships appeared to intercept 'foreign objects'.
According to the army, the family is "being repatriated to the country of their origin."
But as of Thursday evening, it was not known when they would return to North America.
They were together in a safe, undisclosed location in Pakistan, according to a US national security official, who wasn't authorised to discuss the case publicly and spoke on condition of anonymity.
Ties to Al Qaeda a 'horrible coincidence'
A US military official said a military hostage team had flown to Pakistan on Wednesday, prepared to fly the family out.
The team did a preliminary health assessment and had a transport plane ready to go.
But sometime after daybreak there, as the family members were walking to the plane, Boyle said he did not want to board.
Boyle's father said his son did not want to board the plane because it was headed to Bagram Air Base in Afghanistan, a site associated with accusations of prisoner abuse, and Boyle was philosophically opposed to going to there.
Another US official said Boyle was nervous about being in "custody" given his family ties.
He was once married to Zaynab Khadr, the older sister of former Guantanamo Bay detainee Omar Khadr and the daughter of a senior Al Qaeda financier.
Her father, the late Ahmed Said Khadr, and the family stayed with Osama bin Laden briefly when Omar Khadr was a boy.
The Canadian-born Omar Khadr was 15 when he was captured by US troops following a firefight and was taken to the US detention centre at Guantanamo Bay.
Officials had discounted any link between that background and Boyle's capture, with one official describing it in 2014 as a "horrible coincidence".
The US Justice Department said neither Boyle nor Coleman are wanted for any federal crime.
The couple told US officials and their families they wanted to fly commercially to Canada.
Boyle's father called the rescue a "miracle".
Coleman's parents, Jim and Lyn Coleman, meanwhile, posted a statement on the door of their Pennsylvania home expressing joy.
Lyn Coleman said "I am in a state of euphoria, stunned and overjoyed," in an interview with ABC News.
The developments came rapidly Wednesday afternoon nearly five years to the day after Coleman and Boyle lost touch with their families while travelling in a mountainous region near Kabul.
Who are Caitlan and Joshua?
She was a small-town American woman yearning to explore. He once married a Guantanamo inmate's sister.
Together they backpacked into war-ravaged Afghanistan, were taken hostage, and bore three children in captivity before their shock rescue.
Coleman and Boyle's ordeal has remained largely a mystery, and one of the strangest hostage dramas since the day they were abducted.
Five years after their capture, during which a 2016 hostage video showed Coleman pleading for an end to "the Kafkaesque nightmare in which we find ourselves," the family is free.
But little is known of the couple's reasons for striking out to Central Asia in the first place, with seemingly no endgame in focus.
Their adventures took them to Kyrgyzstan, Kazakhstan, and Tajikistan, where they befriended locals in the countryside and joined caravans with other travellers. They sent postcards home chronicling their adventures.
"Only God knows exactly where it will lead or what all can be accomplished, seen, experienced or learned while we travel," Caitlan wrote in an email in July 2012 on the eve of her departure, according to Caitlan's neighbour Holly Otterbein, who wrote an article for Philadelphia magazine last year. "So we put ourselves in His hands."
Coleman grew up in the tiny community of Stewartstown, Pennsylvania. She is described by friends as soft-spoken, individualistic, an all-American sweetheart.
In September 2012, one month before her capture, she wrote to friends to describe her joy in "getting to know some of the most unique, quirky people I have ever met, and learning from them. It really gives you a different perspective on the world".
Coleman was several months pregnant at the time the couple were kidnapped ─ "naive," but also "adventuresome" with a humanitarian bent, her father James told The Associated Press in 2012.
Boyle was raised in Ottawa. They met as teenagers online, shared a passion for science fiction and the Star Wars movies, and got married in 2011 during a trip to Central America, according to Canadian press reports.
"How did a self-described 'pacifist Mennonite hippy-child' from rural Canada end up as a prisoner of the most brutal terrorist group in Central Asia? Not even his family is sure," Boyle's friend Alex Edwards wrote in a blog post in 2015.
"He was a rebel, an iconoclast, a Robin Hood. I hope he still is."
Boyle was drawn to politics, extremist personalities, and justice issues surrounding the detentions in Guantanamo, according to Edwards.
Boyle's parents were given occasional glimpses of their son's and daughter-in-law's life in captivity, in correspondence delivered through intermediaries.
Coleman's parents last had a conversation with their son-in-law on Oct 8, 2012, via an email sent from an internet cafe he'd described as being in an "unsafe" part of Afghanistan.
From then on, there were only desperate, hostage videos released by their captors and hand-scrawled letters mailed home.
"I pray to hear from you again, to hear how everybody is doing," read one letter the parents shared with the online Circa News service in July 2016, in which Coleman revealed she'd given birth to a second child in captivity. It's unclear whether they knew she'd had a third.
Boyle's parents say their son told them in a letter that he and his wife pretended to the children that their signs of captivity were part of a game being played with guards.
Boyle recounted in one letter how he helped deliver his second son in the darkness, with a flashlight between his teeth.
"Ta-da!" he wrote to his parents, according to a September 2016 report in the Toronto Star.
"The astonished captors were good and brought all our post-partum needs, so he is now fat and healthy, praise God."
In two videos from last December and January that the hostages' families shared this year, the couple's two sons appear healthy but dishevelled.
US reaction: 'America being respected again'
US President Donald Trump hailed the couple's freedom, and suggested the rescue was the result of his tougher diplomatic stance against Pakistan, which Washington has been pressuring over its support for some militant groups.
"The Pakistani government's cooperation is a sign that it is honouring America's wish that it do more to provide security in the region," Trump told reporters.
"They worked very hard on this, and I believe they're starting to respect the United States again," he said, adding that "a lot" of other nations were also showing greater deference to the US.
The US has long criticised Pakistan for failing to aggressively go after the Haqqanis.
In recent remarks on his recent Afghanistan and South Asia policy, Trump claimed that billions were paid to Pakistan "at the same time they are housing the very terrorists that we are fighting. But that will have to change, and that will change immediately."
At a rally in Pennsylvania on Wednesday, Trump claimed: "America is being respected again."
"Something happened today where a country that totally disrespected us called with some very, very important news. And one of my generals came in, they said, you know, I have to tell you, a year ago they would have never done that. It was a great sign of respect. You'll probably be hearing about it over the next few days."
"Today they are free," Trump said of the hostages recovered from the terrorist group, crediting the US-Pakistani partnership for securing the release.
US officials call the Haqqani network, the group believed to be behind the kidnapping, a terrorist organisation and have targeted its leaders with drone strikes. But the group also operates like a criminal network.
Unlike the militant Islamic State group, it does not typically execute Western hostages, preferring to ransom them for cash.
The Haqqani network had previously demanded the release of Anas Haqqani, a son of the founder of the group, in exchange for turning over the American-Canadian family.
In one of the videos released by their captors, Boyle implored the Afghan government not to execute Taliban prisoners or he and his wife would be killed
Canadian Foreign Minister Chrystia Freeland said her country was "greatly relieved" the family was safe, and she thanked the US, Afghan and Pakistani governments for their efforts.
US officials claim that several other Americans are being held by militant groups in Afghanistan or Pakistan.
They include Kevin King, 60, a teacher at the American University of Afghanistan in Kabul who was abducted in August 2016, and Paul Overby, an author in his 70s who had travelled to the region several times but disappeared in eastern Afghanistan in mid-2014.