With quite a few options to choose from, which crossover fits your requirements and deserves your attention?
Once a tricky form factor to master, crossover cars have quickly risen from the sidelines to dominate the more conventional automotive forms.
To put their global commercial success into perspective, crossovers and SUVs combined outsold the once industry-leading hatchbacks and sedans by a fair margin of over 20,000 units in May 2017, according to numbers from the Wall Street Journal (WSJ).
Sales of crossovers are expected to swell by 9 per cent by the end of this year while passenger vehicle sales are set for a decline of 11pc, according to the market data available with the WSJ.
In Pakistan, it took crossovers just three years to penetrate the cartelised market and become a viable alternative to sedans.
Starting with the explosive success of the Japanese imported Honda Vezel, Pakistan now boasts over half a dozen Crossover Utility Vehicle (CUV) options across both the imported and locally produced automotive markets.
So what factors have fanned the craze for CUVs in our country?
Due to poor road conditions in Pakistan, crossovers are seen as a source of relief thanks to their higher-than-sedan ground clearance, shorter wheelbase and larger wheel size, allowing them to manoeuvre potholes and bumpy conditions with relative ease.
Additionally, the general inclination of consumers towards 'larger-looking' cars is another factor that has been responsible for driving sales of crossovers in Pakistan.
Below is a list of the six most popular crossover options currently available in Pakistan:
Nissan Juke ─ the epitome of automotive ugliness
Unique Selling Point: Relatively low starting price
Made In: Japan
Starting Price (used): Rs1.9 million
One of the founding members of the 'modern crossover movement', the Juke is sold predominantly as a Japanese import in Pakistan.
While many of the other crossover options could set you back over Rs3m, the Juke starts at around Rs1.9m as a pre-owned Japanese import with approximately 50,000 kilometres on the odometer.
Even though a host of power train options is available for the Juke worldwide, the 1.5-litre normally aspirated, producing just under a hundred horsepower, remains the most popular in the Pakistani market.
However, while looks are subjective, Nissan Juke is one of the few cars that have received popular backlash from motoring pundits for its awful design.
Richard Hammond — the veteran motoring journalist of Top Gear fame — when asked about the Juke, responded by saying: "I hate the Nissan Juke. I hate it with a physical passion. A twist that threatens my digestive tract and directs bile into my heart."
To its defence, Juke is a product of Nissan's 'courageous' decision to tap into the crossover form factor back in 2010, when the concept was yet to receive widespread commercial acceptance.
And, against all the odds, Juke was still able to receive over 10,000 orders in its opening month of sales in Japan, a ten-fold more than the 1,300 orders Nissan expected before its launch.
Now completing seven years of its production tenure, Juke is considered as an ageing nameplate, due for an overall makeover.
Honda BR-V — a multipurpose vehicle ambitiously advertised as an SUV.
Unique Selling Point: Ability to seat seven
Made In: Pakistan
Starting Price (new): Rs2.23m
Ever since Honda Atlas began advertising the BR-V, their adverts have had a keen focus on the non-existent off-roading capabilities of the BR-V. Based on the platform used by Honda's entry-level MPV Mobilio, deep down, the BR-V is predominantly an MPV with a crossover like ride height.
However, since crossovers are themselves hatchbacks with higher ground clearance, comparing the BR-V with the conventional crossovers of our market perhaps makes sense after all.
A bland interior and inconsistent body work on its exterior are perhaps the only two factors going against BR-V's way.
Starting around a reasonable Rs2.23m, the BR-V is the first locally-assembled crossover of Pakistan. Along with the capability to seat seven, the BR-V carries quite a punch for the price — especially when its only real competition in the crossover segment comes from the ageing and not so alluring Nissan Juke.
Crawling up to the heated segment of our pricing ladder — that is the Rs3.5m-Rs4.5m budget range — we have two Hondas (Vezel and HR-V) competing for each other in sales; a Suzuki, which is troubled by its brand perception; a stripped down BMW; a compact Audi; and an insanely priced Toyota.
Honda Vezel/HR-V ─ a pseudo-localised sub-Rs3.5m crossover.
Unique Selling Point: Hybrid drivetrain/availability of spare parts.
Made In: Japan
Starting Price Vezel (used): Rs2.8m
Starting Price HR-V (new): Rs3.62m
After receiving a formal introduction in late 2013, the Honda Vezel/HR-V continue to cement their position alongside Honda's global frontrunners; Civic, Accord and Fit.
Being one of the first crossovers to have ever come to Pakistan, unlike the Juke, the Vezel has allured customers due to its design and a hybrid drivetrain that helps it achieve respectable fuel economy figures while maintaining a crossover form factor.
In Pakistan, both the HR-V and Vezel are being sold in the form of a Japanese import, the only difference being the former's availability through 'official' Honda Atlas dealerships while the latter comes to Pakistan through third party importers.
The difference means that the HR-V benefits from Honda's nationwide after-sales service and carries an official warranty, while the Vezel partially suffers from the lack of a robust servicing structure.
The silver lining for the Honda Vezel, however, is that since it shares a majority of its components with the HR-V, spare parts minus its hybrid drivetrain are readily available through Honda Atlas.
In spite of receiving a formal launch by Honda Atlas last year, the HR-V falls short of making a mark as the Vezel continues to dominate the sub-Rs3.5m crossover segment due to its competitive pricing, more elaborate feature set and a hybrid power unit.
While Nissan Juke laid the groundwork, it wasn't until Honda pounced on to launch their entry into the segment that the world in general, and Pakistan in particular, started to take crossovers seriously.
Suzuki Vitara ─ an all-wheel drive crossover shackled by its brand perception and price.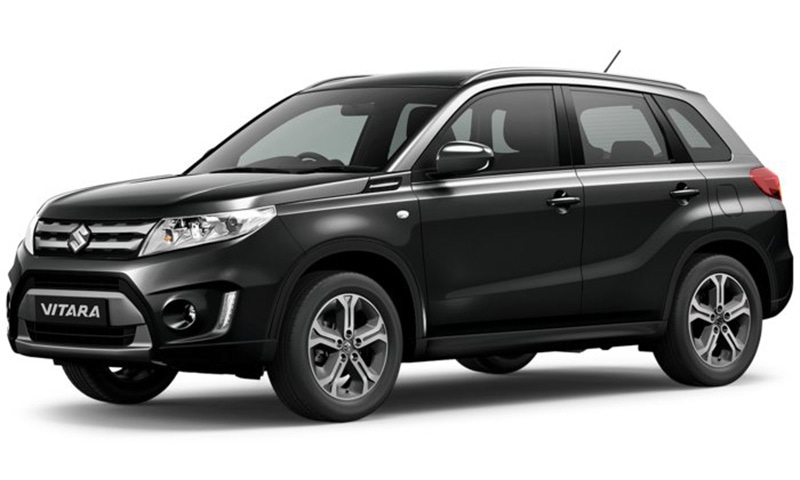 Unique Selling Point: All-wheel drive, all-terrain capability
Made In: Hungary
Starting Price: Rs3.49m
In a bid to jump on the crossover bandwagon, Suzuki updated their SUV flag carrier, Vitara, as a compact crossover, shying away from its decades-long heritage of being an SUV.
Pak Suzuki in December last year carried the trend forward by launching Vitara in Pakistan to compete in a red-hot crossover market.
While most of the other crossover options mentioned in this post are available worldwide with an optional all-wheel drive train, Vitara since its launch has been advertised as a four-wheel drive compact SUV even though deep down, away from all the marketing hype, it is quintessentially a crossover.
Further adding to its SUV-esque aura, the Suzuki All Grip System promises adaptive handling and traction on a vast variety of terrains ranging from snow to dirt, made possible through independent torque delivery to each one of the four tires.
While a robust all-wheel drive system helps differentiate Vitara from the crowd, the sparse interior, lean exterior and the fact that it's under the umbrella of the stereo-typically shackled Suzuki don't help much to justify a steep Rs3.49m starting price.
BMW X1 ─ a heavily stripped down German crossover
Unique Selling Point: SUV-esque footprint
Made In: Germany
Starting Price: Rs3.9m
Earlier this year, the first batch of BMW X1 units were delivered to customers across the country after bookings were opened in September last year. Breaking into the competitive crossover segment, BMW did put up a compelling starting price of just under Rs4m, which gave Dewan Motors a much-needed lift as they were able to reserve a sizeable amount of X1s.
However, what the spec sheet of BMW X1 revealed wasn't as compelling as its price. Despite carrying a German brand name, the X1, for its attractive base price, lacked even the most basic of features which were otherwise available in its competitors.
Switches are absent from the steering wheel and a six-speed manual transmission was the standard, even though automatic transmission is a norm when it comes to crossovers in our market.
Moreover, only non-metallic colours Alpine Black and White are offered for the base trim, and a metallic paint job would cost over Rs150,000 on top of the base price. Similarly, upgrading the transmission to a 6-speed Steptronic would set the buyer back over half a million rupees.
Under the hood, the X1 had a three-cylinder 1.5-liter turbocharged power unit capable of producing 136 horsepower, a whole 20 more than the Audi Q2 (see below). However, where it made up for the power deficiency, it lacked a snappy transmission. As far as fuel efficiency is concerned, BMW claims that the X1 can manage a combined fuel economy of 15km/l, keeping it in line with the Audi Q2.
Boasting an X5-esque exterior, to its credit, the X1 is by a fair margin the largest of all the crossovers that are available in our market at the moment.
Compromising on features for a lower price and a larger footprint is a formula that has seen its share of success in our market and the X1 looks to be no different.
Despite some production and delivery delays, it is well on its way to becoming the first German crossover to receive mainstream acceptance in Pakistan.
Audi Q2 ─ Audi's reply to the crossover question
Unique Selling Point: Compact form factor
Made In: Germany
Starting Price: Rs4.35m
The Audi Q2 is the newest entrant to both the global Audi line-up and Pakistan's crossover market. After being introduced to our market in June this year, at a starting price of Rs4.35m, Audi Pakistan looks keen to break the Japanese monopoly in the crossover segment.
In a bid to offer its customers an affordable crossover option, Q2 shares a lot with Audi's most reasonably priced sedan, the A3. Along with the same platform, for an extra Rs350,000 the Q2 trades legroom for headroom in the cabin; swaps a sedan form factor with a crossover, consequently improving ground clearance; reduces the engine displacement down to just 1.0-litre; and takes out the rear air conditioning vents, while keeping the rest consistent with the A3.
While a three-cylinder, 1.0-litre power unit inside a Rs4m Audi might ring bells, the apparent spec-sheet power shortfall is covered up by a snappy, dual-clutch S-Tronic 7-speed transmission.
Although features like autonomous parking and a panoramic roof are available as options, the standard variant is far from being short on equipment, as it retains Audi's signature matrix front LED headlamps and comes standard with a dual clutch transmission.
Perhaps the biggest bane of Audi Q2 is its overall footprint — a factor that holds much value in our market. Case in point, the Audi Q2, despite setting you back over Rs4m, is smaller on all fronts when compared to its rivals in the sub-Rs3m price point.
Toyota C-HR — a Rs4.5m crossover with little or no after sales service
Unique Selling Point: A well-built interior paired to a hybrid drivetrain
Made In: Japan
Starting Price: Rs4.5m
A bit late to the party, and falling into the footsteps of Honda and Nissan, Toyota launched their reply to the hugely successful Honda HR-V/Vezel in December last year.
After being on sale for only seven months, the C-HR is now being imported to Pakistan by third-party dealers and is being sold in major cities of the country, showing the immense demand for crossovers in our market.
Globally, the C-HR comes with an option of two naturally-aspirated engines; however, in Pakistan, the 1.8-litre gasoline engine aided by a hybrid motor proves to be the most popular one, as it slots the C-HR right up against the Honda Vezel.
Toyota Japan claims that the hybrid variant of the C-HR, which shares its platform with the fourth generation Prius, can — in ideal conditions — cover up to 30km on a single litre of fuel, putting it well above the current crossover status quo.
Another area where the C-HR outshines its Japanese rivals is the suspension. While the crossovers from Honda, Suzuki, and Nissan employ torsion beams as the rear suspension, the C-HR trades that approach with a multi-link independent suspension like the entry-level crossovers from the higher order: the BMW X1 and Audi Q2. This adds up to more responsive handling and softer overall ride quality.
While the rare styling of the C-HR looks to have drawn cues from the Honda Civic, the C-HR makes up for its share of criticism related to its exterior once we step inside. There, it tends to give its German rivals a run for their money with a cabin that is both well built and more spacious than the likes of the Honda HR-V, the Nissan Juke, the Suzuki Vitara and the Audi Q2.
Much like Vezel and every other independently-imported Japanese car, the C-HR lacks adequate after-sales service, and the availability of spare parts is a looming question mark.
Other than the lack of after-sales service, the greatest con of buying a C-HR is its price.
For a car that is quintessentially a Toyota branded Vezel with a more German-esque interior and a slightly more powerful engine, a Rs4.5m price tag is not worth paying to a third party importer.
Which crossover deserves your attention?
Once a crossover-less market in 2010, Pakistan now has seven crossovers up for grabs in an emerging price point between Rs2-4m. And as each one of the seven crossovers boasts their own set of USPs, choosing one that conforms to your needs is not as easy as it seems.
Naturally, your pick would revolve around the capital cost, standard equipment, fuel efficiency, brand perception, off-road capability and roominess of the cabin.
Starting off with the lower end of the pricing ladder, if seven seats are what you require or your wallet limits you to Rs2.5m, then the Honda BR-V with its MPV capabilities — and a design that belongs to the moment — is a reasonable choice to make over a rather cramped and ageing Nissan Juke.
If you are rooting for fuel efficiency, then the Toyota C-HR is the crossover to pick with a claimed 30km/l fuel economy. However, if that Rs4.5m price tag is a bit too much for your pocket to handle, then the Vezel with its hybrid drivetrain comes in a close second to with regards to fuel efficiency.
While crossovers can withstand some beating once a while when taken off-road, the only robust all terrain solution comes in the form of Vitara's All Drive. So if Suzuki's shady brand perception does not concern you, then the Vitara is a clear choice to make.
As far as the brand name goes, both the German nameplates are present at roughly the same price point, and your choice will be dictated by your preferences.
If you prefer standard equipment over footprint and roominess of the cabin, then the Audi Q2 is the crossover to go for; however, if you prefer a lower starting price and don't mind the lack of features, then the BMW X1 is the one for you.