His flourishing weapons business took a toll as Taliban came to Fata; now, Sher Akbar repairs radios to make ends meet.
Inside a small shop in the Yaka Ghand market of Mohmand Agency, 70-year-old Sher Akbar is busy repairing radios.
The shop itself presents the stark contrast between the man's past and present: one side has guns piled in a corner; the other has radios lined against the walls.
Recounting his tale, Sher Akbar says he entered the firearms business with his father as a grade 10 student some fifty years ago.
The art of gun manufacturing — which he would learn after school every day — earned Akbar's family thousands of rupees every month, making them one of the more prosperous families in the area.
Akbar reminisces about the time when militants from across the globe would buy weapons from their shop, back when Russia invaded Afghanistan in the 1980s.
Owing to his education, Akbar could speak a bit of English, which allowed him to communicate with his Chechen, Saudi, Libyan, and Sudanese clients. They, in turn, invited scores of people to Akbar's shop.
These militants would usually stop over to buy from Akbar as they made their way to Afghanistan, which was then the site of a 'holy war' against Russian invaders.
According to Akbar, Yaka Ghand used to be a major centre of weapons manufacturing then, just like Barra and Darra Adam Khel in Fata. He reveals that they manufactured weapons even on an emergency basis for clients in a hurry to get their hands on some firepower.
Sher Akbar remembers hundreds of shops selling Kalashnikovs, pistols and other weapons, which dotted markets in the Mohmand and Khyber agencies.
These shops ensured that there was food on hundreds of tables throughout the region.
"People thrived during that time," Akbar recalls with a sad smile.
He blames the Russian exodus from Afghanistan for the destruction of weapons manufacturing industry in Pakistan's tribal areas, but remembers how 9/11 was a turning point for the industry, helping it resurrect itself and flourish once more.
"However, business was not as good as it had been in Zia's era," Akbar states.
The emergence of the Taliban in Mohmand Agency in 2007 meant the government tightened its noose around not only the militants but also the people who were suspected of supplying them their weaponry.
After that, although shops continued to display arms, they would go unsold as the government raided customers' homes for unlicenced weapons.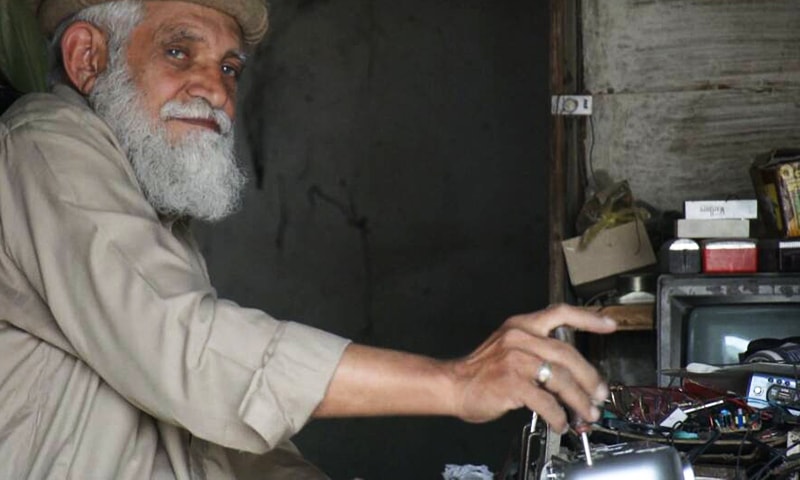 Akbar says that though the government urged people to get their weapons registered, deep-running mistrust meant buyers remained sceptical of whether their weapons would be returned after registration.
Dwelling on the Army-led operation in the area, Akbar says the industry was severely affected as old weapons remained unsold and new ones were not manufactured.
He claims the closure of weapons markets was the greatest cause of unemployment not only in Mohmand, but other areas of Fata as well, including Bara and Darra Adam Khel.
Recalling a particularly emotional experience from 2010 — his blue eyes welling up — Akbar reveals why he finally quit the business.
"It was the afternoon of July 9th. I heard a loud blast and found myself trapped under my shop's wreckage," Akbar recollected. He could hear the screams of others from inside, but could not figure out what had transpired.
"As I was pulled out from the debris of my shop by rescue teams, I found that the whole market had been blown up, killing over a hundred people."
Claiming to have borne losses worth hundreds of thousands as a result of the incident, Akbar recalls being concerned for his future. At the time, he had not possessed enough resources to return to the weapons manufacturing business.
"I decided to begin repairing radio sets, but did not possess the skills to do so," Akbar says about his entry into his new trade.
He then bought a few old radios and began learning the skill at home.
However, he has belatedly come to the realisation that the trade will only turn losses because of the arrival of new technology.