Can Suzuki Ciaz end the decade long dominance of Honda City and Toyota Corolla in Pakistan's entry-level sedan segment?
By offering a balance between decent cabin room and ample cargo space, sedans have been a go-to form factor for the vast majority of car buyers in Pakistan. Despite Suzuki Liana's cameo in the local auto market, Toyota Corolla and Honda City have served as the only two viable options for a person looking for a car under PKR 2.0 million, with four doors and a trunk at the back.
While crossovers have posed a threat to sedan dominance in the local market, they are still one of the most preferred form factors of the country. Such is the magnitude of customers in the entry-level sedan segment that in December alone, every seventh locally produced car sold in Pakistan was a Toyota Corolla.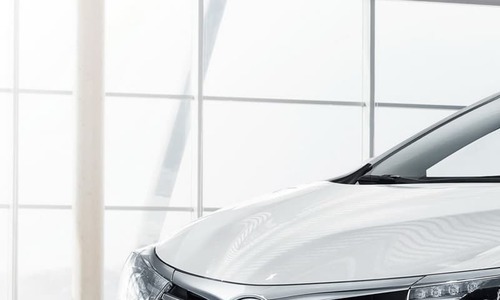 Looking back, 2016 will long be remembered as a year that helped the local automotive industry change direction from decades of monopolized grayscale product categories to a more vibrant market. While 2016 saw crossovers gaining traction with a total of five CUVs launching in the space of twelve months, (including two entirely new crossover entries), transition to 2017, and we finally see a much-needed launch in one of Pakistan's best-selling form factors, the entry-level sedan.
Currently being imported as a CBU (Completely Built Unit), Suzuki Ciaz will be launched at a price less than 1.8 Million, and is pitted against the likes of Honda City, and the base models of Toyota Corolla.
Global Reception of Suzuki Ciaz
What makes the Ciaz stand out from the crowd of Suzuki's past attempts with sedans, is its reception in global markets. While both Liana and Baleno were, by and large, commercial failures in and outside of Pakistan, Ciaz has been able to lure customers away from industry standards like Honda City and Toyota Corolla since its international launch in 2014.
In India, Maruti Suzuki silenced their critics when Suzuki Ciaz outsold Honda City for the sixth month straight in December 2016. The success of Suzuki Ciaz in a competitive auto market like India also shows that maybe Suzuki has finally solved the 'sedan equation' for themselves.
How Suzuki Ciaz fares with its competition in the entry level Sedan Market
The first noticeable factor is the overall footprint of the car - compare the Ciaz with Honda City, and you will be surprised to find that it beats the City on all corners by being 70mm longer and 35mm wider. Most importantly, Ciaz comes with a 2650mm wheelbase which essentially gives it a cabin that is about 100mm longer than that of Honda City. The principle selling points for sedans, as mentioned before, are a spacious passenger cabin and a roomy cargo compartment. Ciaz also takes its case forward here by offering a class leading boot capacity of up to 510-litres.
• Exterior
While the perception of a car's design is subjective, exterior characteristics of Suzuki Ciaz visually stand out.
One feature that sets Ciaz apart from its competition in Pakistan is the presence of projector headlamps, something often ignored by the automakers in our country. For instance, you would need to deal with the reflector halogen headlights from the twentieth century even if you climb the configuration ladder of a Toyota Corolla and get yourself an Altis Grande for PKR 2.39 million.
Same goes true for Ciaz's other competitor, Honda City, which like Corolla does not give customers the liberty to upgrade to projector headlamps at the moment.
While the front fascia of Ciaz draws visual influence from Suzuki's S-Cross, take a stroll to the back of the car, and you will instantly notice its uncanny resemblance with the Honda City. However, despite the backlash Suzuki received for design derivation of City when Ciaz debuted in 2014, this has also served as a factor in its success. A familiar rear design cashed in on consumer familiarity with the form factor's best seller and prevented Suzuki from over or under doing the design of Ciaz.
• Interior
The interior of Ciaz is probably one of the most understated elements of the car, an area which is usually the Achilles heel for almost every entry-level sedan.
Ciaz makes up for the visual sparsity with the help of a hundred millimeter longer wheelbase, giving it a noticeably roomier cabin than the one in Honda City. Moreover, power windows, central locking and keyless entry come standard on Ciaz, all of which are otherwise absent from Toyota Corolla's base-level 'XLI' trim.
However, a point of concern with Ciaz, like many other cars available in the country is that it is still not as well equipped in Pakistan as it is outside. For instance, in India, even the most basic trim of Ciaz comes with air-conditioning vents for rear occupants, a feature which despite being ideally suited to match our climate has been a recipient of Pak Suzuki's cost cuttings. Same can be established for the lack of an infotainment system in Ciaz, which would have helped in alleviating the otherwise sparsely equipped interior.
• Under the hood
Suzuki Ciaz comes equipped with a 1.4-liter naturally aspirated engine, which produces ninety-one horse powers that are sent to the wheels of Ciaz through either a five-speed manual or a four-speed automatic transmission. In spite of having a larger footprint, a lighter chassis enables Ciaz to tip the scales at 1010 kilograms, making it nearly a hundred kilograms lighter than Honda City and over one hundred and fifty kilograms lighter than the Toyota Corolla. What it means is that Suzuki Ciaz technically is on par with its competition in terms of power output per ton of weight. With power to weight ratio of about 90bhp/ton, it matches Honda City's 91 bhp/ton and brings to shame its other rival, Toyota Corolla XLI/GLI's 72bhp/ton.
• Safety
Despite their importance, safety features are often neglected by local automakers which is why once launched, it is an area where Suzuki Ciaz will lead with the most authority. Coming standard with ABS (Anti-lock Braking System) and EBD (Electronic Brake-force Distribution), both of which are absent in one of its competitor, Toyota Corolla XLI, Suzuki Ciaz ups the ante further by offering two airbags as standard, an industry-level first for Pakistan's "new car" auto-market in this price point.
A longer, broader and lighter footprint, a familiar design language and above par safety features are some of the many ingredients Suzuki got right with Ciaz internationally which would hopefully help it overcome the traditional stereotypes attached to Suzuki sedans in general.
However, it remains to be seen if Ciaz could break the decades'-long presence of Honda and Toyota's sedans which have for years gathered buyer's trust and have an established brand value in the sedan segment of Pakistan's auto market. While only time will spell the success of Suzuki Ciaz in Pakistan, its introduction to our market sure is a step in the right direction on the road to a competitive local motoring industry.
---
This content has been independently produced by the writer and Dawn.com. Pak Suzuki has paid for association with the content.