HBL Publishing Partner
As the second season of the PSL kicks off, EOS presents an insider's account of how the brand was built.
In December 2014, the Pakistan Cricket Board (PCB) constituted a committee to chart out a five-year strategic plan for the organisation.
The first session started with a simple thought: cricket transcends various boundaries in Pakistan. How can the PCB take it further?
Thirteen months later, as a jam-packed Dubai stadium witnessed a cliff-hanger between Peshawar Zalmi and Quetta Gladiators, I realised how the Pakistan Super League (PSL) embodied this sentiment.
Pakistan has very few products that we can proudly own and take pride in.
Cricket tends to be the exception to the rule — there is a glorious history of winning, a tradition of wildness and raw talent, and a legacy of icons who ruled the world.
But when it came to a global cricketing product, we were sorely lacking. This, in part, also explains Pakistan's steady decline in limited over formats.
We were far behind the world, and with no international cricket being played at home, we were expected to lag further behind.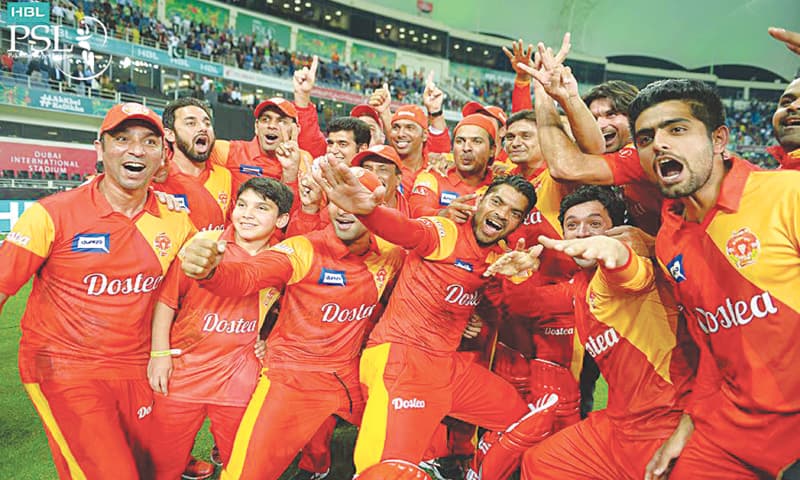 The answer, it turned out, was in constructing a global T20 cricket league. It took eight long years for the PCB to finally launch it, and when it happened, it began capturing everyone's imagination: schools, offices, restaurants and shops – everyone was talking about it everywhere.
Prime-time on television and social media conversations switched to cricket and a great degree of national pride was restored through cricket.
As more and more power players entered cricket, it was clear that the PSL was being seen as a cash cow that would reap handsome profits and more.
The PSL's success in Season One was so noticeable partly because no one really expected it to succeed.
This makes the task for the PSL management even tougher since this case of minimal expectations will not hold true for the second season.
Fans now expect better cricket, higher stadium attendances and more international stars.
This is also critical because a fair reassessment of PSL's commercial rights will only come through after the third edition, when the league renegotiates various rights.
That is also when a sixth team is scheduled to be added. All should be well if the league manages to showcase an upward trend on aspects such as attendances, TV ratings and media exposure.
But ahead of the second season, one thing is clear: the cash cow has already grown fatter.
The making of brand 'PSL'
Think of a brand — any brand — and recall how it was launched. In almost all cases, you'd be thinking of the hype created, the buzz generated, the on-ground activation exercises, the feel-good factor. In the case of the PSL, we had none of these — the first instalment of the PSL was organised amidst great doubt, immense criticism, little activation and most certainly, an atmosphere of dread.
Perhaps the scepticism had to do with the fact that the idea of launching a franchise-based cricket league was first floated in 2008. Twice the process was halted on the pretext of insufficient progress made. This is negative brand equity (the commercial value derived from consumer perception of the brand name) and was akin to the PCB shooting themselves in the only foot that they could walk on.
Among the first tasks of the PCB was therefore to shed off the negative brand equity that had been created for a product that had yet to launch.
Pakistan has very few products that we can proudly own and take pride in. Cricket tends to be the exception to the rule.
In March 2015, the PCB brought on board Repucom, a global sports management consultancy firm, for an initial round of talks about the PSL. Repucom was tasked with conducting a feasibility study to answer a key question: can the PCB pull off the tournament on its own?
This came on the back of growing calls within the PCB to sell management rights of the league.
That would have implied a third party buying these rights, running the tournament and ensuring a minimum guarantee for PCB. The numbers crunched by Repucom favoured a do-it-yourself model.
The next important step was to find a venue. Any sports league derives a major portion of its revenues from the sale of broadcast and sponsorship rights.
A league without foreign stars was only going to be a glorified version of the existing domestic T20 tournament and, hence, in a bid to attract star power, it was decided to host the tournament abroad.
While Qatar was the initial choice, logistical constraints in Doha — there was only one stadium and limited practice facilities — and successful negotiations with UAE officials forced a change of heart.
Now came the difficult part of bringing in sponsors, franchise owners and broadcasters. The franchises were sold for a collective 93 million US dollars for a period of 10 years. This became the single largest private-sector investment in Pakistan cricket.
For all intents and purposes, the PCB had less than six months to organise the first season.
Setting up the league required the recruitment of top players, the sale of sponsorships, broadcasting and franchise rights.
One of the main team sponsors came in only a few days before the tournament was to begin.
The final frontier was a giant logistical exercise including visa arrangements and airline, hotel and transport management for all five teams.
The task seemed too big and the scepticism around the league never really ended. At least not until the star-studded opening ceremony was underway.
Ahead of Season Two, things are far more settled and streamlined. The brand exists, it is recognisable and, above all, there is considerable commercial interest.
Valuing a franchise
In short, there is currently no way to put a value or a price on franchises. But if you were to believe the word of PSL supremo Najam Sethi, the franchises are exponentially rising in value.
"Unofficially, I have received offers for the proposed sixth team that will be auctioned later this year or next year," says Sethi. "The money being proposed is double the average price of a team that was received when the PSL was launched."
Back in late 2015, when the teams were sold, the average cost of a team was $18.6 million for 10 years.
But what exists in terms of gauging team popularity today is the number of eyeballs gathered by a franchise. These numbers rank in the millions.
Consider the case of Karachi Kings. They were bought by Salman Iqbal of the ARY media group which, in turn, utilised seven of their media channels to get as much media traction for the Kings as was possible.
Even anchors who had little to do with cricket found themselves as cheerleaders of the Kings and discussing the fortunes of their team.
Lahore Qalandars paired up with Geo and this served the same purpose, as the channel utilised its outreach and human resource to create brand equity for the Qalandars.
And yet, a key question that many media personalities often raise is the issue of losses incurred by franchises.
All franchise owners came in to the league knowing full well that they were going to bear losses for the first few years — that is the reality of every new business venture.
Even then, the PCB offset part of the franchises' losses by paying them extra in revenue than had been initially decided.
To imply that the PSL was a failure because franchises did not make enough money in the first year is a misrepresentation of facts.
How exactly does a franchise make money?
There are five key revenue streams for franchises.
Three of them — broadcast money, sponsorships and ticket sales — are interconnected since the PSL shares a certain percentage from its central pool with each franchise.
This amount, or reimbursement, totalled $2.2 million after season one of the PSL. The other two revenue sources are dependent entirely on a franchise — these are team sponsorships and merchandising.
Each franchise can sell sponsorship rights including apparel branding and a small percentage of in-stadia branding.
This year, the central pool numbers should nudge slightly upwards with a new set of secondary sponsors joining the central pool.
"Commercial interest is already doubling up from last year," suggests Sethi. "Sponsors are lining up to get a slice of the PSL action."
Even with the operational losses incurred by the franchises, the overall value of each team has gone up based on PSL's overall commercial success.
This rise in the value of the asset can be explained by the keen interest shown by different sponsors in partnering with all five teams this year.
How well the PSL sustains this interest depends on the commercial success of season two more than anything else right now.
Former Pakistan captain and TV commentator Ramiz Raja says the PSL management's job has only become more difficult."We have shown, as a country, that we have the capability to put up such a huge product," says Raja. "The key challenge for PSL now is to really continue to better itself."
When it came to ticket sales last year, season one was marred by low attendances in general, barring a few matches in Dubai and some in Sharjah.
This was no surprise.
First, the league was in its inaugural season and needed to build brand equity. Comparisons with a few sold-out IPL matches in the United Arab Emirates were never on the table given the IPL's success over a number of years.
Second, the PSL was somewhat affected by the rival Master's Champions League (MCL) in terms of market dilution. Despite a very stiff MCL challenge, PSL managed to rope in a much higher number of fans.
Third, a franchise league lives on city-based rivalry.
The day PSL comes back to Pakistan on a home-and-away basis will be the day one can truly measure the success of the league in terms of engaging fans at home.
We are all likely to get a taste of this when the PSL final takes place in Pakistan this year.
But ticket sales are likely to increase this year with a better presence, fan-following for the teams and slightly more breathing space in terms of scheduling.
Broadcasting and sponsorships
The state of sports broadcasting in Pakistan is in shambles.
And this became all too apparent when the PSL began talks with local broadcasters.
Local broadcasters had essentially lowballed the entire thing to an extent where the product would have collapsed before its launch.
That made no business sense.
How could the PSL sell its broadcast rights for peanuts in its primary local market and for much more in a secondary, global market?
Something needed to be done to avoid a hat-trick of PSL false starts.
The broadcast arrangement eventually engineered is an unprecedented one.
Usually, broadcasters pay good money to acquire broadcasting rights, a part of which, in turn, is handed to franchises for their development.
But in our context, the PSL was forced to buy airtime on three local channels and sell commercial airtime to a media-buying house.
This explains why the tournament was aired on all three sports channels in Pakistan — PTV Sports, Geo Super and Ten Sports.
While this arrangement was the best possible solution at the time, it places the PSL in a dangerous situation.
Understanding this broadcast ecosystem is essential when one compares the PSL with the IPL and the BBL.
The IPL brand was built primarily by Sony, the tournament's broadcaster, along with other key sponsors. BBL's development as a brand is also down largely to efforts of the tournament's broadcaster, Channel TEN, and their sponsors.
Given the fact that the PSL's broadcast arrangement was not similar to standard global industry practices, the burden to build the PSL brand fell largely on a cash-starved, bureaucratic PCB.
For a number of years, the PCB has sold its sponsorship rights to a sports advertising company which, in turn, sells it off to various brands. This explains why certain brands have been associated with Pakistan's bilateral cricket for a long time and were also visible in the inaugural season of the PSL. But a bigger platform piqued interest from more sponsors and new faces joined the old one.
In came brands such as Habib Bank Limited (HBL) and Oye Hoye.
Although HBL has its domestic cricket team, and that too of some repute, it had so far not invested in tournament title sponsorships.
In December 2015, HBL committed to the PSL's title sponsorship for a period of three years.
The HBL-PSL deal enticed other players to enter the game too; real estate powerhouse Bahria Town later became main sponsors for two franchises, Karachi Kings and Peshawar Zalmi and a new brand — Dostea — launched itself by becoming title partners of Islamabad United.
In the cases of Oye Hoye and Dostea, both brands were fairly new to the market.
They employed PSL's platform as a key marketing tool for their brand activation, awareness and interest.
Keeping in line with the global nature of the event, the sponsorship mix is also fairly global with brands such as Nestle and Qatar Airways associating themselves with the league.
One other crucial factor that saw brands initially operating on the conservative side was timing.
Back in 2016, the PSL was competing with three other tournaments for advertisement revenue and eyeballs: the MCL, IPL and the T20 World Cup.
This time round, all eyes will be on the PSL and we can safely expect more advertisers paying for a slice of airtime.
It is also important to examine the role of sports media in Pakistan. More than building a brand, their focus is on what they call "constructive criticism."
A leading sports channel once spent a major chunk of its primetime show discussing PSL's franchise names.
The names did not depict creativity, said the verdict. It was suggested that MCL's team names were more creative. MCL was a rival T20 league played by retired cricketers.
There was no city-based rivalry, no feeling of sub-nationalism, and little to write home about. But these gurus believed in MCL more than they believed in PSL.
Perhaps, this was because the channel had only been given rights to broadcast MCL matches and the PSL deal was still in the works.
This is not where the broadcasting problem ends. Except for the Middle East, the Caribbean, Bangladesh and the UK, the PSL was only shown on the internet in Season One.
How will international broadcasters express interest in acquiring these rights if the TV market is not developed in most cricket-playing countries?
This needs to be sorted out if the PSL is looking to accrue great financial value out of the sale of global broadcasting rights after Season Three.
A key strategic decision that the PSL took in year one was to keep control of broadcast production. Global leaders Sunset+Vine were roped in to work on a "PCB production."
The small, well thought-out production initiatives received a good response from the fans. Ramiz Raja says this was one of the better decisions taken by PSL.
"The decision to keep control of production was a great one," says Raja. "This allowed PSL to create a standard of broadcast that has never really been seen in Pakistan cricket before."
Merchandise
A key, unexploited revenue stream from Season One was merchandising.
This is partly due to the fact that teams did not have enough time back then, but it is also largely due to the fact that the merchandising landscape is underdeveloped in Pakistan.
This year, Islamabad United has entered into a retail partnership with Leisure Club while Karachi Kings has partnered with Cotton & Cotton.
"We are not looking at this as a major revenue stream in the short-run," says Shoaib Naveed, PSL's project manager in Season One who is now serving as Islamabad United's chief operating officer.
"We want to make sure that our merchandise is available to all fans in a very convenient manner. Our deal is really aimed at creating a landscape for merchandising in Pakistan."
Take the example of India (Nike), Australia (Asics) and England (Adidas) where one can walk into stores of apparel sponsors and buy replica jerseys and other fan apparel.
There is no major sports apparel manufacturer in Pakistan that can offer this kind of a retail network. Therefore, franchises must look at other clothing retailers.
As Shoaib points out, in the long-run, this might also help attract reputable sports apparel brands.
The fact that Pakistan does not factor into their strategic plans explains why you don't see a Nike or an Adidas or a New Balance sponsoring the Pakistan team or any PSL franchise for that matter.
Even if this works, a key battle for PSL and the franchises is to fight against counterfeit products.
Many of these fake manufacturers operate through digital platforms with a cash-on-delivery model.
Others work through small-scale shops. Tracking and closing them down becomes all the more difficult because of this.
Cricketing profits
Every time Pakistan's national team has performed poorly after PSL Season One, detractors have been quick to question the benefits — or lack thereof — of the PSL.
The results, however, are already out there. Players such as Sharjeel Khan and Mohammad Nawaz have shown exactly how PSL builds a young player's confidence.
"I have seen first-hand how IPL helped Indian cricket and PSL should do something similar for Pakistan," says Raja.
"The confidence that it gives to some of our younger players — remember some of them have never been exposed to such competitive dressing room environments before — is absolutely invaluable."
Just before the start of the tournament, I was in an elevator with three upcoming Pakistani cricketers: Mir Hamza, Saifullah Bangash and Usama Mir.
The three could barely contain their excitement. They were playing a franchise league. It was happening. Their dream was coming true.
The TV appearances, the razzmatazz, and the festivity — they were going to experience it all.
Usama Mir, the young leg-spinner who caught everyone's attention after a successful domestic T20 performance for Sialkot Stallions, says the first season of PSL "meant the world" to him.
"The best thing about the tournament for me was interacting with the foreign stars," says Mir.
"Ravi Bopara told me he thinks I'm a fantastic bowler and this gave me a lot of confidence. I've since kept in regular contact with Ravi."
Confidence aside, PSL immediately transformed the financial landscape for fringe players.
Whereas the national team is limited to around 30 players and domestic cricketers don't get paid too well, PSL provided financial security to a bigger pool of players.
Even the most inexperienced of these players were now earning 10,000 US dollars for a 20-day tournament.
But perhaps an aspect of PSL's success that is often ignored is how the development of each franchise eases out the PCB's burden of spending money on grassroots cricket.
Except for Islamabad United, each franchise has now organised at least one talent hunt program. The most visible of the four was Lahore's campaign with Mobilink.
The selected youngsters ended up touring Australia to play against development squads from BBL sides Sydney Thunder and Sydney Sixers.
One criticism levelled at Lahore's campaign was that these players were already part of the system and that Lahore did not unearth any new talent.
Assuming that this was true, the fact that these cricketers toured Australia is still a major contribution in developing local talent.
All five teams had extensive time to work on engaging with their fans for Season Two. Franchises literally had a little less than two months to set up shop in Season One.
Everything back then was done on an emergency-basis.
Despite this, each franchise managed to develop a local fan base with engagement events such as concerts and meet-and-greets.
To the credit of all franchises, they developed much-needed hype leveraging various media in a very limited period of time.
This year, not only has each franchise developed professional teams to run its affairs, they have also engaged in well thought-out campaigns to attract fans.
Going forward, it might not be a bad idea for PSL to organise a development squad tournament to be played by all five franchises.
Taking these matches to smaller towns might actually also help to serve as a marketing exercise for the league and the teams.
On the player front, the PSL has managed to do fairly well considering the many scheduling constraints that leagues other than IPL usually face.
In terms of money available to foreign players, PSL is at par —even better at times — with most T20 leagues except for the IPL.
The second key attraction for foreign players is payment terms: players get their money before the end of the tournament and they do not have to wait for months to get their dues cleared.
Ravi Bopara, the England all-rounder who plays for Karachi Kings, spoke about this critical factor at the second PSL draft held in Dubai.
Fans often wonder why many top cricketers don't take part in PSL. International cricket scheduling, domestic contracts and injuries combine to affect the player roster.
In the final analysis, while the long-run benefits of the PSL will become apparent over a longer time frame, there are positives that can probably never be quantified.
Think of young pacers Rumman Raees and Amaad Butt from Islamabad United, who now have the opportunity of training with the great Wasim Akram.
For cricketers, that is the equivalent of going to an Ivy League school for your undergraduate studies.
Or consider when Sarfraz Ahmed walked to a post-match presentation ceremony and shook hands with Sir Vivian Richards, and the legend replied: "Well done skipper!" What effect did this have on Sarfraz's confidence as a player and captain?
The answer is perhaps rooted in Pakistan's upturn in T20 fortunes.
Imran Ahmad Khan is a journalism student at the Columbia University, New York. Before this, he worked as Manager Marketing, Media & PR for the Pakistan Cricket Board and the Pakistan Super League. He tweets @imranahmadkh and you can read more from him at ballashalla.com
Photos by Nasir Abdullah and courtesy PSL.
Published in Dawn, Sunday Magazine February 5th, 2017
To view Dawn.com's coverage for Pakistan Super League 2017, click here