Find out what pundits in Pakistan predict for the coming year.
Images on Sunday asked pundits to go out on a limb and make three predictions each about what will happen in 2017... in politics, society, culture, media, science and technology, the economy, sports and entertainment.
Here is what they came up with.
Click on the tabs below to explore their predictions.
POLITICS
'Civil-mil tensions will fall'
Asma Jahangir, former chairperson Supreme Court Bar Association
1. More Panama Papers type revelations will come out
But nothing much will happen because of them since it remains technically legal to have off-shore companies. They will however create more media ruckus.
2. Nawaz Sharif will become more isolated
This is bound to happen if you turn your back on parliament, which is like your mother if you're an elected politician.
The opposition will increase and despite the fact that it is comprised of more leaders than followers, it will come together on specific issues.
The PPP needs to contest Imran Khan for leadership of the opposition and it will do so.
3. Civil-military tensions will fall
The civilian government will continue to be watched closely by the military – and this is something they have to reconcile with – but in general the level of distrust and hostility we witnessed this past year will abate.
I was actually quite impressed by the new army chief's speech in Balochistan – he did not talk down to the Baloch, he did not sound patronising – but one must remember that institutions are bigger than people, so optimism must always be cautious.
---
'PML-N govt will be stable'
Zahid Hussain, journalist
1. The Sharif government will be more stable
With the Panamagate inquiry hitting snags, the transition in the military leadership will provide the government some respite.
With no serious challenge from a fractious opposition, the prime minister appears to have ridden out the crisis that threatened to cut short his third term in office.
But this optimism could prove premature given the volatility of Pakistani politics.
2. Bilawal's efforts to resuscitate the PPP will stall
Bilawal's debut in the parliamentary politics may create some political waves but Asif Ali Zardari's move to return to the country's political centre-stage will push his son into the background.
3. PTI will lose some of its support base in the Punjab
Imran Khan will continue with his politics of perpetual agitation that may intensify pressure on the Sharif government periodically but that will not be able to force the government to resign and hold new elections.
There is little probability of PTI and the PPP coming together to challenge the PML-N government. Political parties will have to wait till 2018 to go to the polls.
Under the new chief, the army will take a back seat.
There is also a possibility of some main PTI leaders parting ways with the party.
---
'Modi compelled to talk with Pakistan'
Nasim Zehra, journalist
1. Narendra Modi will be compelled to have unconditional dialogue with Pakistan
With Chinese encouragement and himself having drawn a blank from both his virulently anti-Pakistan' policy and his policy of state terrorism in Indian-held Kashmir, he will have little choice.
Engagement will be on all outstanding issues including improving trade ties and including India in CPEC will make this engagement potentially advantageous for the entire region including the Kashmiris.
2. PPP will rise from the ashes
With Bilawal's aggressive presence on the streets and with active wheeling-dealing of Asif Ali Zardari, who many have viewed as a liability for the PPP, the party will be resurgent.
Meanwhile, there will be an early and significant closure in Panama Papers, forcing the parliament to streamline accountability mechanisms such as NAB.
3. Social media will force Pakistan's mainstream media to focus on real issues
Under pressure from the increasingly vocal and all pervasive social media, Pakistan's media will be forced to focus also on issues that affect the average citizen – ranging from clean drinking water and food fit for human consumption to the government's provision of social services to the people.
Caricatures by Feica.
Published in Dawn, Sunday Magazine, January 1st, 2017
Click on the tabs below to explore other predictions.
SOCIETY
'Govt will give in to clerics'
I.A. Rehman, human rights campaigner and former chairperson Human Rights Commission of Pakistan
1. Religio-political parties will become more strident in their demands for a theoretic dispensation
This means theocratic militants could increase their capacity to dictate terms to the government.
2. The Nawaz Sharif government will yield to clerics' pressure
The PML-N is likely to concentrate on refurbishing its populist image so as to improve its prospects in the 2018 general election and will benefit from the opposition parties' failure to cut into its vote bank.
It will also be helped by a decline in the military's interferences in administration though its freedom to order the foreign policy will remain limited.
3. The US establishment will tame Donald Trump
But Trump will encourage Israel to continue denying a reasonable compromise with the Palestinians.
Trump could help Putin to raise his stature and thus provoke Europe into thinking of living without the Nato umbrella.
---
'Terrorism will continue'
Adil Najam, Dean, Pardee School of Global Studies, Boston University. Former vice chancellor Lahore University of Management Sciences
1. Terrorism shall continue
One so very desperately hopes it will not be so, but in all probability the ugliness of heart-wrenching acts of terror will continue in 2017.
The world over, and in Pakistan. Innocents will die.
We will cry. Express solidarity. "Never again," we shall proclaim.
Until, of course, the next time.
Let us brace ourselves that it will be so. But let us never allow ourselves to get used to it.
2. Populism, authoritarianism and ultra-nationalism will rise globally
Most of the world's people and wealth will live under leaders who fit this mould.
Trump in USA was only the latest manifestation. Xi Jinping in China. Putin in Russia. Modi in India. Duterte in the Philippines. Erdogan in Turkey.
This is a global trend that will continue and grow in 2017.
3. Democracy in Pakistan will not fall
Democracy in Pakistan will continue to stumble. Will be messy. There will be blunders. It will seem to flounder. That is the way democracy works. But it will not fall.
If it does not, that will be a good thing.
Maybe the very best thing that could happen to Pakistan in 2017.
Caricatures by Feica.
Published in Dawn, Sunday Magazine, January 1st, 2017
Click on the tabs below to explore other predictions.
CULTURE AND MEDIA
'Terrorism will continue'
Wusatullah Khan, journalist
1. Television drama will regain its identity
As the fortunes of Pakistani cinema sway with the winds of an uncertain Indo-Pak relationship, the good thing is Pakistani television has returned home from across the border.
Having plagiarised and plundered Indian drama formats, producers took risks on controversial topics that paid off.
In the next year, there will be more drama serials on sensitive and taboo topics.
After all, how many well-dressed oppressed women and cruel, abusive husbands can the viewers see?
2. The ratings system will remain the same
Much like last year, news channels shall remain immune to reality.
Even if DTH services are introduced by the end of the year, it will have no impact on ratings this year.
Political tamashas of the one-plus-three variety shall remain in vogue on your screen in current affairs.
3. There will be a decline in terror-related violence
But this will prompt greater existential questions from the citizenry about religious extremism.
While debates on sensitive topics will still be difficult, the number of people raising their voices will rise.
But social media will remain mired in mediocre political tussles.
Since 2018 is an election year, the level of political discourse will be low.
After all, politicians need TRPs too.
---
''Big boon in Pakistani films'
Sultana Siddiqui, owner, Hum TV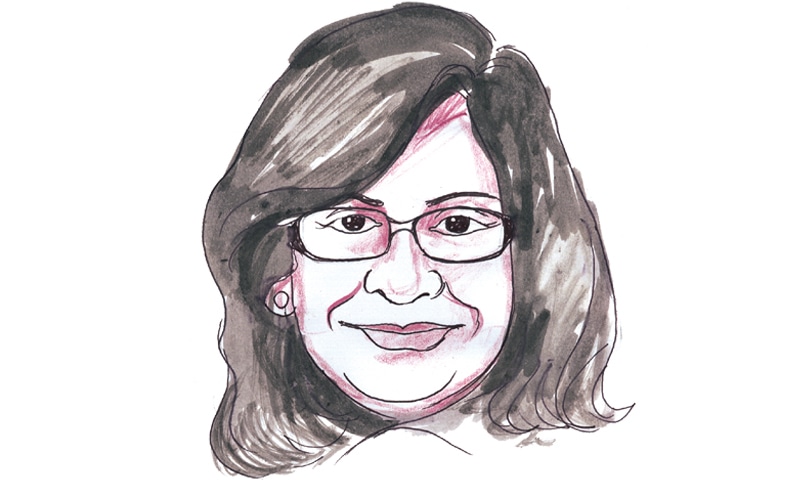 1. Music support infrastructure will be revived in Pakistan
Music has suffered over the past few years with the decline of live concerts and album releases.
But this will all change this year. In fact, things will improve so much that a new dedicated music channel may also come into being.
2. There will be a big boon in Pakistani films
People will forget the disaster of this past year and the Pakistani films in the pipeline will re-energise the industry. And Shah Rukh Khan's Raees will be released as well.
3. Direct-To-Home TV will not launch in Pakistan this year
Despite all the hype, DTH licensing will get snagged in red tape.
On the other hand, Netflix providing a platform to Pakistani dramas will allow Pakistani content to reach huge new audiences abroad and this might open options for a change of content as well.
Only thing that will not change is morning shows.
---
'Chinese names will become popular'
Nadeem F. Paracha, cultural critic
1. A majority of Pakistanis will name their new-born sons Taimur.
2. Sons who were named Osama by their parents in the early 2000s would become old enough in 2017 to ask their parents what they were smoking while they were naming them.
3. Chinese names for Pakistani new-borns will become more popular than Arabic names.

Caricatures by Feica.
Published in Dawn, Sunday Magazine, January 1st, 2017
Click on the tabs below to explore other predictions.
SPORTS
'Sarfaraz new ODI captain'
Zainab Abbas, journalist and TV host
1. Sarfraz will become ODI captain
Despite his double hundred against Australia, Azhar Ali has been struggling with his ODI captaincy.
I reckon we might see Sarfraz take over from Azhar in ODIs and Azhar become Test captain post Misbah.
2. Lahore Qalandar will win the PSL
The second edition of PSL begins in February and this time it aims to be bigger and better.
The inaugural winners, Islamabad United, go in with an almost unchanged team but I reckon 2017 is the year of a team that finished bottom of the league last year – Lahore Qalandars.
Qalandars were let down by their lack of bowling resources but they have unearthed some serious fast bowlers through their talent hunt.
They can all bowl at good pace, swing the ball and will be, in my opinion, the key emerging players from this tournament – hence I'm going with Lahore Qalandars to win the tournament.
3. Pakistan will beat India in the Champions Trophy
At the Champions Trophy later this year, Pakistan and India will lock horns on June 2, 2017 at Edgbaston.
With Amir back in the side and his ability to swing the new ball, he will be quite a force to reckon with.
When Pakistan met India the last time at the ICC Word T20 2016, he reduced them to 8-3 in 2.4 overs.
Pakistan also leads the Champions Trophy tally against India 2-1, so I'm going for a Pakistan win this summer!
---
'Chinese Super League will be big'
Hassan Cheema, journalist
1. Pakistan will hover near the top of the ICC Test Rankings
With Misbah certain to retire in 2017, and Younis Khan likely to, the expectation is for Pakistan to return to their pre-2010 selves and fight in the midtable of the Test rankings.
That appears unlikely though.
The ICC Test Rankings take into account the four years prior to the current date ─ which means that Pakistan's blip from 2013 will be taken out of their rankings record as 2017 progresses.
The ODI team on the other hand is unlikely to be as fortuitous.
2. The Chinese Super League will gain prominence
Over the past decade, the financial strength of the Premier League has chipped away at the depths of other European leagues, with only a handful of clubs able to compete with them anymore.
Except China. The capture of Chelsea's Oscar proves that with the rise of the Chinese Super League, players will have an easier payday than the Premier League.
Even if the strength of the Premier League remains intact, the strength of continental European leagues will continue to decline.
3. The 'Nerd Takeover' of sports will only accelerate
What began in the late 90s with baseball, with Oakland Athletics' Moneyball approach, has slowly seeped into other sports too.
The Analytics Revolution, with pushback from ex-pros and other jocks, will continue apace.
The ascension of RB Leipzig in Germany, the adoption of this thinking in basketball and the Brailsford method in minor sports will continue to change how we view, interact with and play sport.
In cricket, the rise of franchise T20 leagues will continue apace, and with it there will be an increase in professionalism and the presence of nerds in jock dressing rooms.
That will eventually lead to the sort of civil war that has been part of the American sports scene for two decades now.
Caricatures by Feica.
Published in Dawn, Sunday Magazine, January 1st, 2017
Click on the tabs below to explore other predictions.
ECONOMY
'External payments crisis'
Asad Sayeed, senior researcher, Collective for Social Science Research
1. By the end of 2017, Pakistan will be mired in an external payments crisis**
By December 2017, Pakistan will virtually be knocking at IMF's door for another reprieve.
Driven by the current account deficit increasing as a result of a ballooning trade deficit, there will be panic in the foreign exchange market as Ishaq Dar will remain adamant about protecting the value of the Rupee, which in turn will dissipate reserves fast.
2. Punjab will side with the smaller provinces rather than the Federal Government
This will be the surprising result of no new NFC Award by June. And it'll give vent to the rumour mills on a supposed tussle between the Brothers Sharifov.
3. Believe in predictions by economists at your own peril
We almost always get it wrong. On the off-chance we are right, it is always for the wrong reasons.
---
'Chinese investment will have high cost'
Khurram Hussain, journalist
1. The exchange rate will suffer
Growing deficit in the external sector will have serious ramifications for the exchange rate.
2. Real implications of growing Chinese investments will become apparent
People will realise that these investments do have their benefits but also have high costs.
3. Policy paralysis will set in
The government's disputes with provincial governments, the opposition, and its growing fiscal constraints will lead to further policy paralysis.
---
'Rupee depreciation'
Zubair Motiwalla, former president, Karachi Chamber of Commerce and Industry
1. Pakistan will lose the regional textile wars
Textiles is a high volume, low profit business.
Our direct rivals in the textile sector are India, Bangladesh, Sri Lanka, Cambodia and Vietnam.
India has just handed a fresh 5 per cent rebate incentive to its industry, which is apart from the 9pc that was already in place.
Similarly, it is at least 20pc costlier to do business in Pakistan than in Bangladesh.
But in Pakistan, government indecision in reducing the costs of manufacturing and doing business will return to haunt us.
2. The rupee will depreciate by 5-8pc
3. Exports will fall further
Our input costs are high, inflation is high too, and these make exports uncompetitive in the global market
Caricatures by Feica.
Published in Dawn, Sunday Magazine, January 1st, 2017
Click on the tabs below to explore other predictions.
SCI-TECH
'Most govt services will become digital'
Umair Saif, Vice Chancellor Information Technology University
1. We will be able to "engineer" genetic traits
Gene editing has finally become possible. With technologies like CRISPR, medical science will go through a radical transformation. We may be able to "engineer" genetic traits, disposition to illnesses and cures.
2. E-commerce and digital money will take off
In Pakistan: Thanks to a young, tech-savvy population and growth in mobile broadband internet, both e-commerce and digital money will take off.
Moreover, traditional service sectors such as banking, taxi services and hospitality services will continue to be disrupted by digital money and peer-to-peer market places such as Uber, Careem, AirBnB etc.
3. Most government services will become digital in the next year
---
'People replaced by tech'
Shakir Husain, entrepreneur
1. People will find themselves getting replaced by tech
With the actual deployment of Artificial Intelligence (AI) and Automation in 2017, technology will make humans redundant.
From self-driving cars/trucks to Amazon's people-less stores, the race is on.
2. Data security will become huge
With foreign governments impacting elections to mass data trawling, we'll witness individuals, corporations, governments paying more attention to how they can secure their data – thousands of companies are developing solutions in this space.
3. Fintech will become a buzz word
Financial technology players will give banks a serious run for their money globally.
Caricatures by Feica.
Published in Dawn, Sunday Magazine, January 1st, 2017
Click on the tabs below to explore other predictions.
ENTERTAINMENT
'Co-productions with the Chinese'
Atiqa Odho, actor
1. Local content production will see a boom
With the bans on Indian films and channels, local channels have realised that they need a lot more local content to sustain and grow. Our industry professionals should gear up for a lot of work coming their way.
2. There will be co-productions with the Chinese
Among the windfalls of the CPEC partnership with China shall be new partnerships in the entertainment sector. A co-branded film festival is already in the offing and will be hosted in both countries in 2017.
They have over 35,000 screens to offer us and joint film productions shall start because of this opportunity.
3. There will be a major shift in brand ambassador faces
All six sectors of the business — film, television, radio, theatre, digital and print — shall have many opportunities of opening up internationally. Expect brands to get new faces to represent them.
---
'Fawad will do a Pakistani film'
Humayun Saeed, actor, director and producer
1. Pakistani films will do over 100 crores of business at the box office.
This is irrespective of how things go with the release of Indian films. And this is a major leap ─ the most Pakistani films have done before is about 75 crores in 2015.
This year there are at least four major releases which are expected to do well and another four or five in the potential pipeline.
This will spur the establishment of more cinema screens which had stalled in recent months.
2. Fawad Khan will do a Pakistani film.
Finally.
3. Pakistani actors will again act in Indian films this year.
It will take perhaps another six to eight months but I think things will come back to normal and steam will be let out of the Indo-Pak cinematic hostility.
---
'Junoon reunion'
Bilal Maqsood, musician
1. Junoon will reunite for a concert tour
But it'll happen somewhere near the last quarter of 2017.
2. Ban on Indian content on television will continue
All the channels producing dramas and morning shows will start commissioning albums to local artists.
We will see and hear a lot of new and original songs on morning shows, dramas and other events hosted by these channels.
3. Musicians will keep on fighting for their royalties from radio and television.
Caricatures by Feica.
Published in Dawn, Sunday Magazine, January 1st, 2017
Click on the tabs below to explore other predictions.