The party was founded in 1967 by the iconic Zulfikar Ali Bhutto.
The renegade son
The seeding of an idea: In 1966 after being eased out from the Ayub Khan regime, Z.A. Bhutto came in contact with Marxist ideologue, J.A. Rahim (front right). Both began discussing the idea of forming a progressive political party.
Bhutto also exchanged ideas with poet, painter and intellectual, Hanif Ramay (right). Ramay was leading a scholarly group in Lahore and working on forming a hybrid ideology which fused socialism and Pakistani nationalism with the "egalitarian concepts of Islam". Ramay termed it Islamic Socialism.
Bhutto's earliest support came from leftist student groups. The picture is of a late 1966 function held at a college in Karachi where Bhutto was the chief guest. Miraj M. Khan (delivering a speech) was the fiery president of the National Students Federation (NSF); Rasheed Hassan (sitting with Bhutto) was also a leading member of the NSF. The students urged Bhutto to form a revolutionary socialist party.
Will to power
Formation: Bhutto launched his party, the Pakistan Peoples Party (PPP) on November 30, 1967 in Lahore. Its first convention was held at Dr Mubashir Hassan's house. The party was described as a platform for various shades of progressive politics. Its foundation papers demanded an independent/non-allied foreign policy, introduction of parliamentary democracy, socialist economic reforms, an enlightened and progressive society and an end to Ayub's 'crony capitalism.'
But some sections of the mainstream media were not impressed. Picture is of a newspaper report on the PPP's first convention. The report mocks the PPP as a party of 'ideological oddballs' and 'crypto-communists' who are not to be taken seriously.
A student-led protest in Karachi. The PPP was in the forefront of a widespread protest movement against the Ayub regime. The protest was kicked-off by leftist student groups and was soon joined by labour, trade and peasant groups and some other political parties. Ayub was forced to resign in early 1969.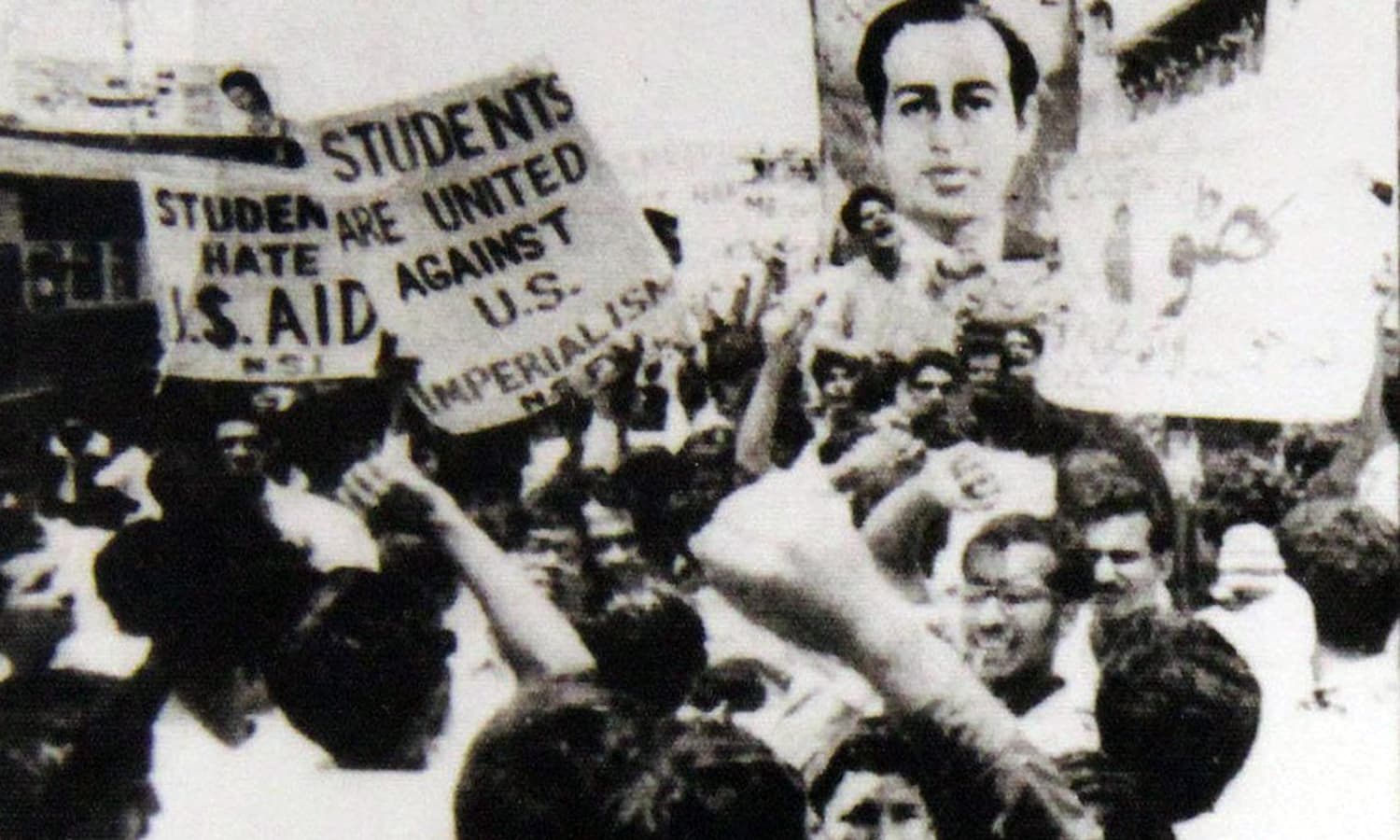 On the campaign trail: Bhutto leads a PPP procession in the Punjab just before the historic 1970 election. The election was to be the first in Pakistan based on adult franchise.
Bhutto speaking at an election rally in Karachi in 1970. The party's manifesto for the 1970 election was a detailed document jointly authored by Bhutto, J.A. Rahim, Dr Mubashir, Hanif Ramay and veteran trade unionist, S. Rashid. The manifesto promised to initiate widespread political, economic and land reforms to build a welfare state and an enlightened and progressive society. The manifesto stated that Islam was the party's faith, socialism was its economy and democracy was its policy.
A PPP candidate celebrates his win in the 1970 election. The PPP swept the election in two of West Pakistan's largest provinces (Punjab and Sindh). The left-wing NAP bagged the most seats in Balochistan and KP. The Bengali nationalist party, the Awami League, swept the polls in East Pakistan. Most religious parties badly lost the election.
Bhutto surrounded by foreign and local journalists at the Islamabad Airport in December 1971. Bhutto landed here after a group of disgruntled army officers forced General Yahya Khan to resign when Pakistan lost its eastern wing in a civil war there. The PPP had won the most seats in West Pakistan during the 1970 election and the officers invited Bhutto to form the new government.
General Yahya (right) handing over the government to Z.A. Bhutto (December 20, 1971).
A TV clip of Bhutto's first address to the nation as head of state and government. He spoke in English and promised to build a 'new Pakistan' which was democratic, progressive and proud.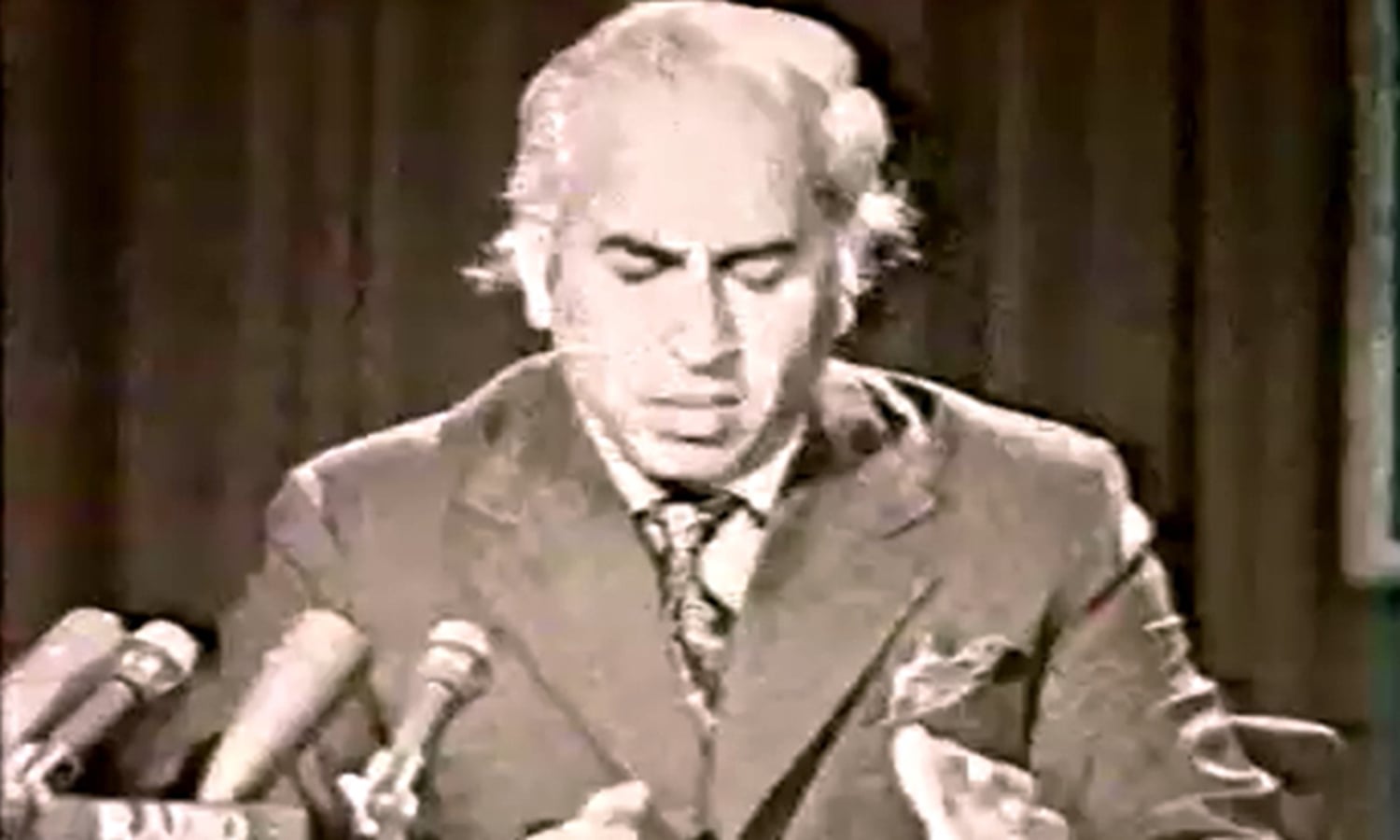 Bhutto meets some members of his cabinet.
A 1972 press ad eulogising the PPP government's nationalisation/socialist policies.
Bhutto strikes a defiant pose while talking to the media in Balochistan (1973). With him is Baloch politician, Akbar Bugti. The Bhutto regime dismissed the NAP-led provincial government in Balochistan after accusing it of facilitating a separatist Baloch insurgency in the province. He made Bugti the new governor of Balochistan.
Bugti shares drinks with Punjab CM (left) and the federal law minister (right) after being made governor of Balochistan.
Bhutto holding a rally after the passage of the 1973 Constitution. From President he became the constitutional Prime Minister.
Bhutto with his Minister of Labour and Vice President of the PPP, Miraj M. Khan. Khan had a falling out with Bhutto in 1973 and resigned from the ministry. Bhutto soon expelled him from the PPP. With this began Bhutto's purge against PPP's radical left ideologues.
Minister of Law and a leading left ideologue of the PPP, J.A. Rahim, meeting a guest at a reception in Islamabad (1974). Like Miraj, Rahim too had a falling out with Bhutto and was arrested, persecuted and ousted from the party (in 1975).
Bhutto consulting with the Minister of Religious Affairs Kausar Niazi during the 1974 anti-Ahmedi riots in Punjab. The religious parties were demanding the ouster of the Ahmedi community from the fold of Islam. Bhutto initially rejected the demand but then gave in and allowed an anti-Ahmedi bill to be tabled by opposition parties in the National Assembly. The bill introduced a constitutional amendment which declared the Ahmedis a non-Muslim minority.
Bhutto inspecting the storage room of a state-run factory in Karachi which was set up to make inexpensive ready-made roti. A pack of 5 such rotis cost Rs1.
Bhutto enjoying an evening in Karachi with three of his four children (1975). From left: Sanam, Murtaza and Benazir.
Bhutto's spouse Nusrat Bhutto (third from left) with some Pakistani artists and models at a cultural event in Karachi (1975).
Bhutto with Syrian President Hafizul Aasad and Libyan leader Col. Qadhafi during the 1974 Islamic Conference in Lahore. Leaders from over 35 Muslim countries attended the summit. It was during this summit that Bhutto first aired the idea of turning the Muslim countries into an economic bloc.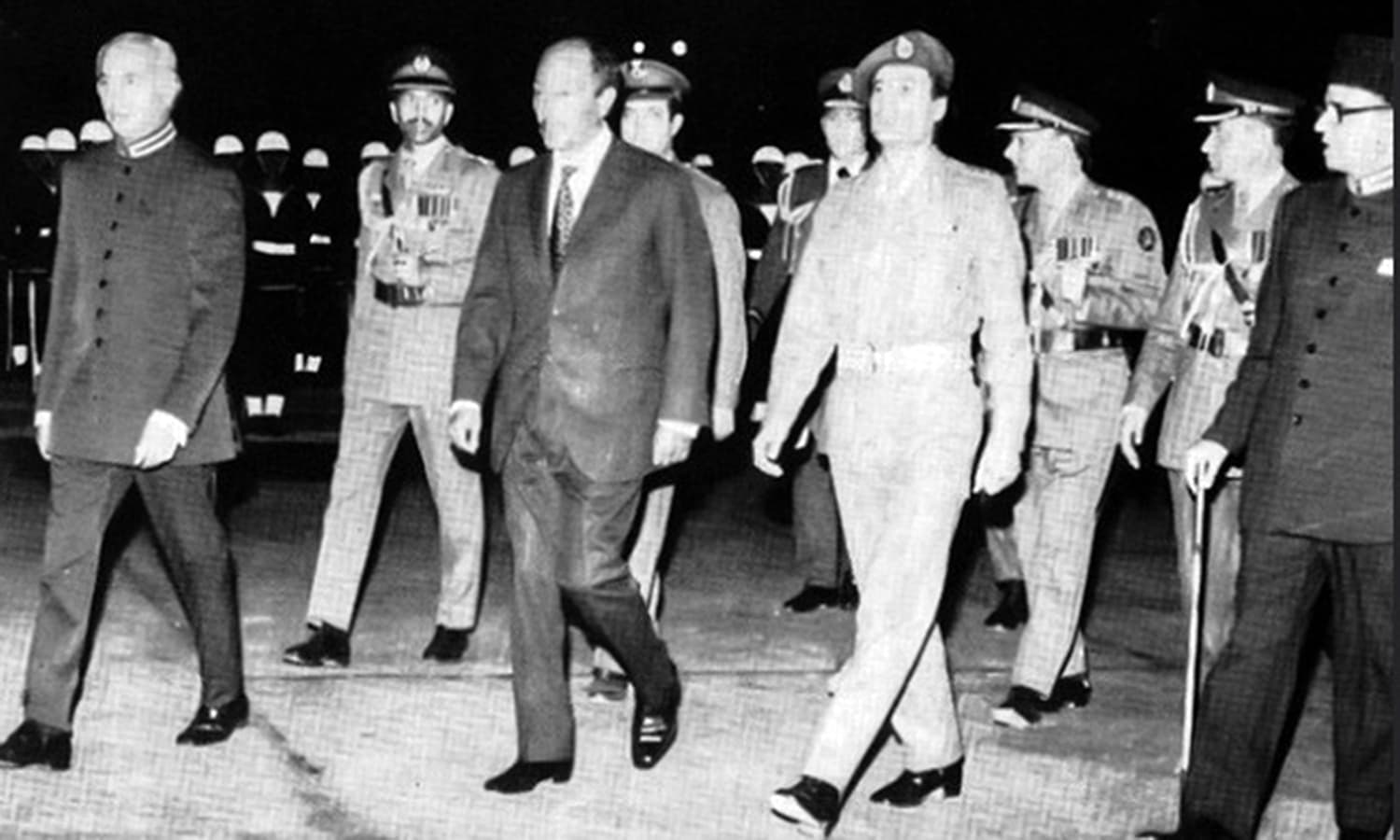 Bhutto addressing Pakistanis in Dubai. It was during his rule that large numbers of Pakistani labour and white-collar workers began to travel to oil-rich Arab countries.
Bhutto sharing a joke with friends and Gen Zia (third from left) in 1976. Bhutto personally selected Zia as the country's army chief.
The fall
Bhutto holding talks with members of the right-wing opposition alliance, the Pakistan National Alliance (PNA). The PNA launched a violent protest movement against the Bhutto regime in March 1977. It rejected the 1977 election result and called for a re-election and imposition of Shariah laws. To save his government, Bhutto agreed to most of the demands put forward by the group. The PPP had already decided to rollback its socialist rhetoric and nationalisation policies. Bhutto also agreed to impose a prohibition on alcohol (for Muslims), close down nightclubs and stop the building of a large casino in Karachi. Friday was made the official weekly holiday (instead of Sunday).
Bhutto skeptically hears out a journalist during a press conference after he was toppled in a military coup engineered by his own handpicked general (July 1977). Zia used the pretext of 'political chaos' to launch his coup. The coup was hailed by some members of the opposition.
Bhutto's sons, Shahnawaz (third from left) and Murtaza (fourth from right) lead a protest rally in London to denounce the Zia regime.
Last rites: In 1979, Bhutto was hanged through a sham trial by the Zia dictatorship. His body was secretly flown to his ancestral town (Larkana) in the middle of the night and quietly buried. The picture shows a handful of people saying funeral prayers over the body. Bhutto's wife and children were not allowed to attend.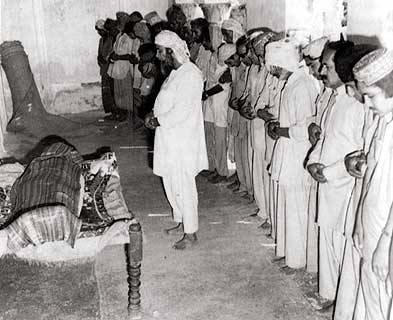 Turmoil
Bhutto's daughter, Benazir, attending a court hearing in 1980. She was kept in jail and then under house arrest after Bhutto's execution.
Benazir during the formation of the Movement for Restoration of Democracy (MRD) — the 9-party alliance against Zia. MRD was formed in 1981. Also seen in the picture is Miraj M. Khan who had reconciled his differences with the PPP after Zia's coup.
Famous revolutionary poet Habib Jalib at an anti-Zia rally in Lahore.
1984: Benazir laying flowers on her father's grave. By the early 1980s, the PPP had shifted again towards the radical left platform. This happened after the party's second and third tier leadership rose as its top leadership was in jail or exile. Benazir was in and out of jail till 1985 when she was exiled to France.
Shahnawaz and Murtaza Bhutto holding a press conference. In 1980, both formed a Marxist urban guerrilla outfit, the Al-Zulfikar to oust Zia. The move was denounced by Benazir, creating a rift between Murtaza and his sister.
Benazir visiting a court in France to hear a case around her brother Shanawaz's murder. Shahnawaz was poisoned to death in 1985. Benazir suspected that her brother's Afghan wife poisoned him on the behest of Zia's security agencies.
Benazir returned to Pakistan in 1986. Here she is talking to a rally in Karachi which was broken up by the police. Benazir was again placed under house arrest.
1987: Benazir strikes a defiant pose outside her home in Karachi as her supporters raise anti-Zia slogans.
Veteran politician, Nawabzada Nasrullah, with Benazir in 1987.
Return to power
Beanzir leads an election rally in Lahore in 1988. Zia died in a plane crash in August 1988 and elections were held later that year. The PPP won the most seats and formed the new government.
President Ghulam Ishaq Khan with the newly elected Prime Minister of Pakistan, Benazir Bhutto (December 1988). In August 1990, Ghulam Ishaq dismissed her government citing corruption charges and inability to manage Karachi's deteriorating law and order situation.
Benazir Bhutto moves through tear gas smoke during a protest rally against the first Nawaz Sharif government. The Sharif government too was dismissed (on corruption charges) by Ghulam Ishaq Khan in 1993. Then Ghulam Ishaq was forced (by the military) to resign.
Benazir takes oath as PM for the second time (October 1993). The PPP won a majority in the 1993 election. During her second term, Benazir clearly began to shift the PPP towards a more centrist platform, encouraging privatisation but retaining the party's populist demeanor.
Benazir signing autographs for excited children (1994).
Benazir with husband, Asif Zardari. Zardari was often the target of opposition parties who alleged that he had used his wife's government to make lucrative deals. None of the claims were ever substantiated in court.
Benazir with her mother at Murtaza Bhutto's funeral. Murtaza was killed in a controversial police encounter in Karachi in 1996. His murder was used as a pretext by President Farooq Laghari to dismiss Benazir's second government. Ironically, Laghari was a PPP man and was made president by Benazir.
Wilderness, triumphant return and tragedy
Nawaz and Benazir in London. The second Nawaz regime was toppled in a military coup in 1999. The new military leader Gen. Musharraf sent him into exile. Benazir was already in exile. In the early 2000s, the nemeses met in London to sign an agreement which proclaimed that both would not use or be used by the 'establishment' against each other (as had happened in the 1990s). Both also decided to open a joint front against the Musharraf regime. PML-N had badly lost the 2002 elections and the PPP had come second. Both leaders were not allowed by Musharraf to campaign in Pakistan.
In 2007, Benazir returned to Pakistan and was greeted by thousands of people in Karachi. As the Musharraf regime weakened due to growing incidents of terrorism and extremism, Nawaz too came back.
Benazir's homecoming rally in Karachi was attacked by suicide bombers. Dozens of PPP supporters were killed but Benazir survived the brutal attack.
Benazir and Nawaz in Islamabad, 2007. Both had become allies. When Musharraf announced that new elections would take place in 2008, some parties, including Nawaz's PML-N, decided to boycott them. But Benazir convinced Nawaz that this was exactly what the Musharraf regime wanted him to do. Nawaz then overturned his party's boycott and decided to take part in the election.
Benazir holding an election rally in Rawalpindi. She had by now begun to describe the party as a left-liberal outfit. This was to be her last public rally.
And then she was killed. Bodies of PPP supporters lie on the road where Benazir's vehicle was attacked — first by an assassin with a gun and then by a suicide bomber. Benazir was killed along with dozens of her supporters on December 27, 2007.
In the aftermath of Benazir's killing, riots erupted across Pakistan and raged on for over three days.
A TV clip of Nawaz shedding tears after being told that Benazir had passed away. He had rushed to the hospital where her body had been brought.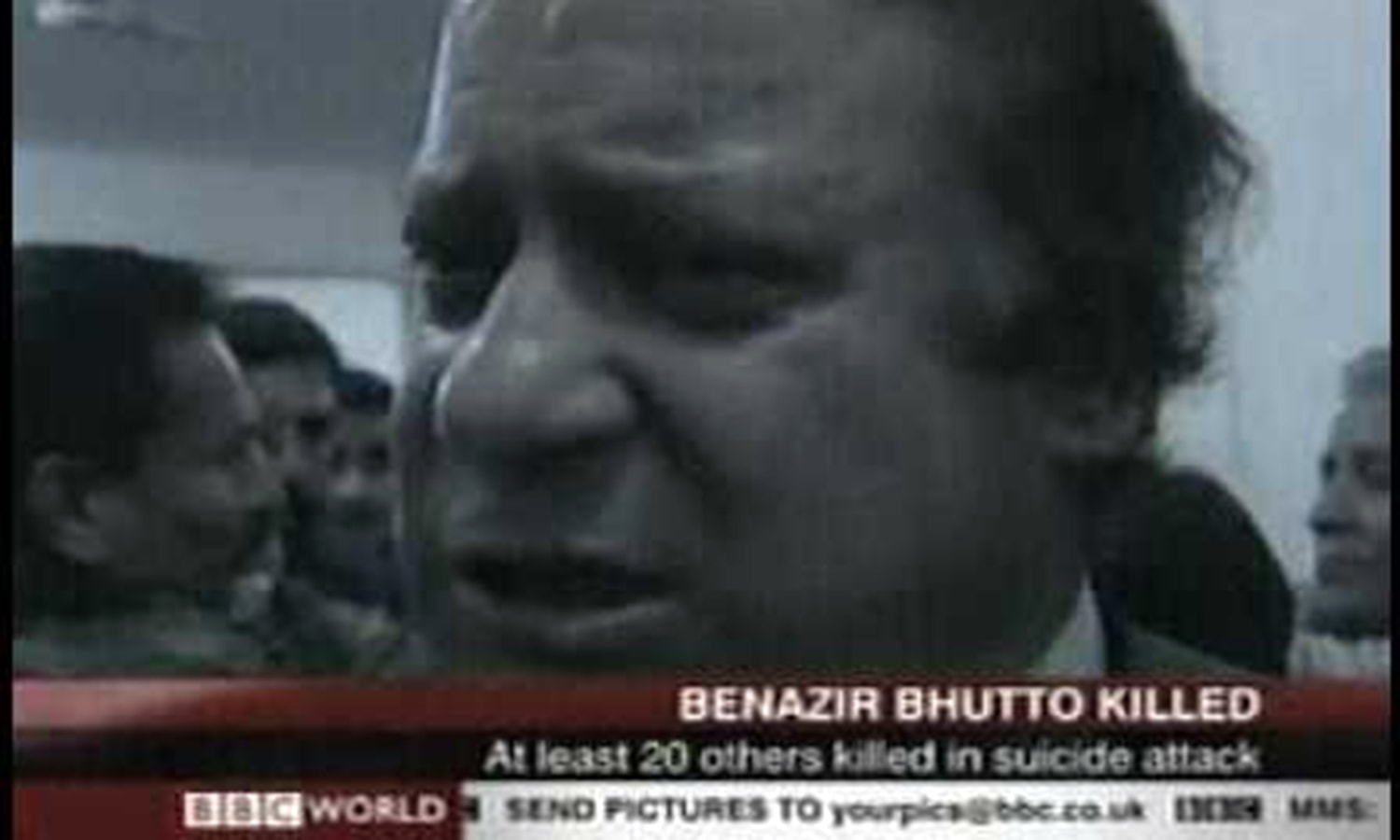 Back in power
A rickshaw in Lahore decorated in PPP colours. The party came first in the 2008 elections with the PML-N coming a close second. The PPP formed the new government. Yousaf Raza Gilani was nominated by PPP's new chairman, Asif Ali Zardari, as Prime Minister.
Asif Zardari became the country's President. But the PPP government faced a daunting task to address rising cases of extremism and terrorism, navigate through political intrigues, manage its troubles with the courts as well as work on the party's own incompetence. The economy nosedived and the crime rates sky-rocketed.
A 'New PPP?'
Zardari with son, Bilawal. A rift developed between father and son after the PPP badly lost the 2013 election. Bilawal wanted to bring in widespread changes in the party. Eventually, Zardari somewhat backed down.
Bilawal with sister Bakhtawar.
Bilawal with sister Asifa. Bilawal has brought in some changes in the party. He has promised a 'New PPP' which would uphold liberal and modern democratic values within the PPP's traditional populist context.