Tanveer is a family friend and says arranging for his sister's wedding was his duty.
TANVEER'S name has been resonating recently in a three-storeyed house reflecting traditional architecture in the Indian-administered Kashmir valley.
It's more than a century old and is amongst the very first built in Loswani village in Pulwama district, 25 kilometres south of Srinagar. A narrow, bumpy road leads to the village from the nearest macadamised road.
"Here comes my son [Tanveer]," says Ashok Kumar Raina's wife. "He managed everything here."
Raina's daughter Nisha tied the knot with Aashu Tikoo the previous day.
Tanveer is a family friend and says arranging for his sister's wedding was his duty.
Raina's Hindu (Pandit) family did not migrate from Kashmir in the early '90s when the majority of the fear-stricken community left.
As armed rebellion against Indian rule gained momentum, many civilians were shot dead, including from the Pandit community.
A government report says that armed rebels have killed over 16,000 unarmed civilians, 219 of them members of the Hindu community.
Chooni Devi, nearly 70 years old now, lives in the nearby Hawal village and is at the bride's house. "My heart didn't let me leave Kashmir," she says.
"We had very good relations with our Muslim brethren." She says she was fearful in the late '90s when seven Pandits and 36 Sikhs were massacred in the Sangrampora and Chittisinghpura areas. "We die only once, and I wanted to die at home," she muses.
Fifteen years later, "Pandits and Muslims live in the same house in my village even today."
Raina's Muslim neighbour Bilal Sahir, a teacher and writer, says relations with Pandit families are based on humanity, not religion. "There are always some hatemongers in society and that was the reason some families of this village left," he explains.
The ongoing uprising in Kashmir has relaxed only minutely, but festivity engulfs Loswani village. At least a thousand people — both Muslims and Sikhs — started arriving at the bride's house early on the wedding day.
"We did not invite anyone, they came on their own," says Nisha's aunt. "They stayed here for the whole day, but didn't eat anything."
The bride's sister Neha has many Muslim friends, both male and female, at her college in Pulwama town. "Each one of them worked very hard for the wedding," she says.
Her female friend smiles and hugs her. "She was wearing a sari, everyone thought she was a Pandit lady," says Neha.
Nisha's mother recalls her own wedding in 1990. "Pandits were fleeing Kashmir with truckloads of luggage and I was getting married," she says.
"But even then, many people came and we had a very good time." She speaks frankly about the monetary support that people offered for Nisha's wedding, some as much as Rs200,000: "They said she is our daughter as much as she is yours."
Young girls do the bride's make-up, men decorate the house and women — Muslims outnumbering the Pandits — perform wanwun, or traditional folk songs.
Meanwhile, in Tahab village, which is at a 30-minute drive from Loswani, the wedding party is ready to leave.
Almost half of them are Muslim, and the caravan arrives at Loswani before noon.
Neha is amongst the first to receive them. The men welcome the bridegroom with garlands of fresh flowers, Pandit women perform aarti (a form of prayer) and Muslim women perform wanwun.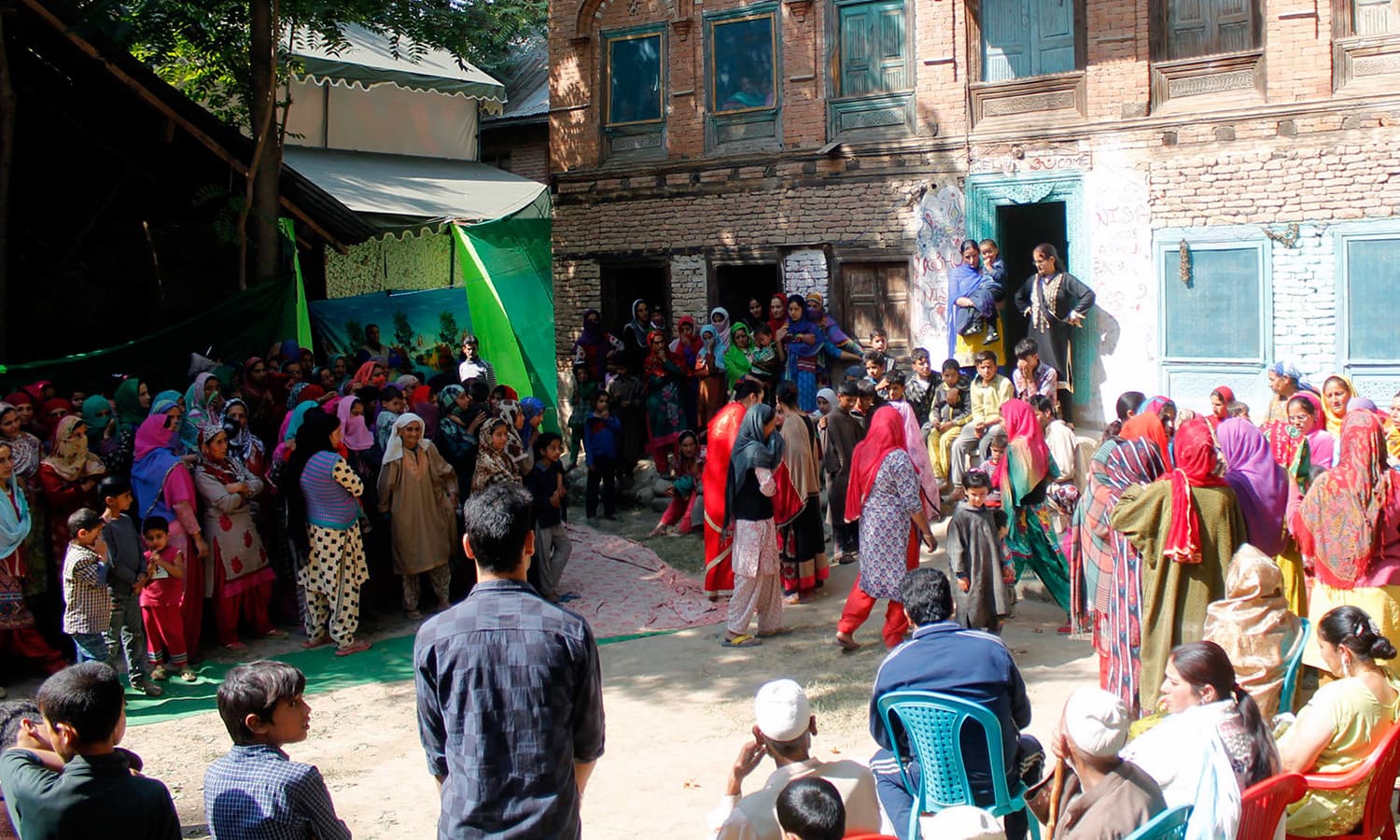 Later, Muslim women and children watch the wedding rituals.
The next day, the groom's family perform havan, a Hindu ritual, on a balcony next to a small lawn where Aashu's relatives and a young neighbour, Irfan, meander. "He's closer to us than our own children," says Aashu's uncle Makhan Lal.
"Our relationship with the Muslim neighbours is like that of two brothers," he says.
There are over 40 Muslim families and six Pandit families in the village. Manan, another Muslim neighbour, says: "These days baraatis travel in one or two cars only, but nine cars accompanied Aashu, with many young men to ensure his safety."
Kashmir's communal harmony was disturbed in the early '90s with the rise of armed rebellion. Many well-known migrant Pandits have since blamed the armed rebels of threatening them to leave or face death, while many well-known Muslim leaders in Kashmir accuse the then governor Jagmohan for conspiring in the exodus. Some migrants continue to live in uninhabitable migrant camps outside Kashmir.
Many attempts were made in the past three months to paint the anti-government uprising with the colour of communal hatred. But incidents that reflect communal harmony, like this wedding, are not rare.
People of all communities similarly join hands at marriage ceremonies or when calamity occurs. For instance, Muslim residents of south Kashmir's Bijbehara town defied curfew on July 13 to rescue a group of Hindu Amarnath pilgrims injured in a road accident.
Similarly, despite curfew on July 16, Muslim neighbours took part in the last rites of an elderly Hindu woman in Maharajgunj area in Srinagar.
---
The author is a Kashmir-based journalist and founder/editor of news and analysis website jandknow.com. He can be mailed at vijdan.kawoosa@gmail.com
---
Published in Dawn, October 18th, 2016