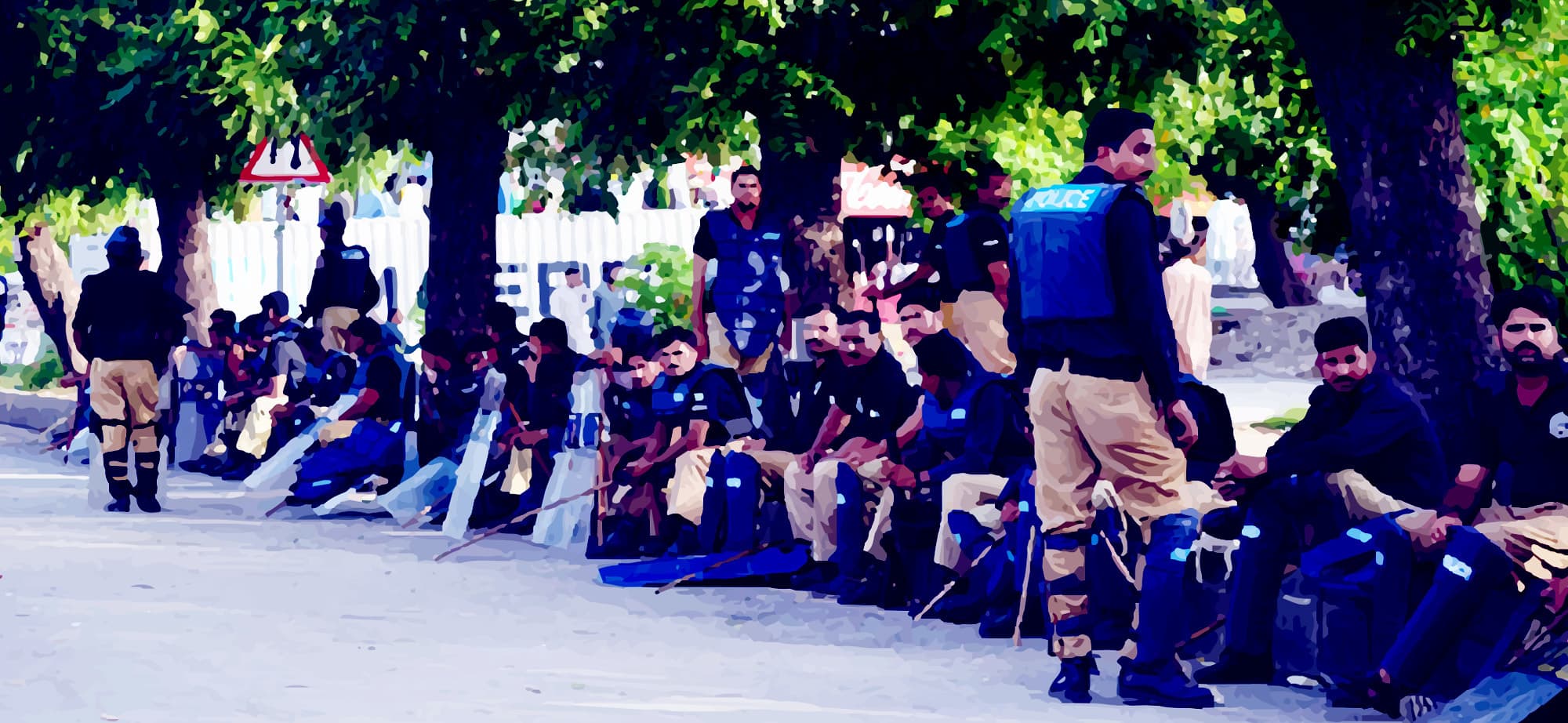 "This Crooked System" Police Abuse and Reform in Pakistan highlights atrocities, recommends reforms.
It is no secret that most Pakistanis are wary of the police. In an effort to change this public perception, Pakistan Police recently also launched a campaign titled "Police Awam – Saath Saath".
The popular opinion may have some merit however, a recent report by the Human Rights Watch (HRW) indicates.
The report, titled "This Crooked System" Police Abuse and Reform in Pakistan, states:
"Pakistan's police are widely regarded as among the most abusive, corrupt, and unaccountable institutions of the state."
The report brings forward worrying cases of arbitrary arrests, false claims, torture and ill treatment of suspects, and faked encounter killings.
Accounts of a few cases follow. The text has been extracted from the report.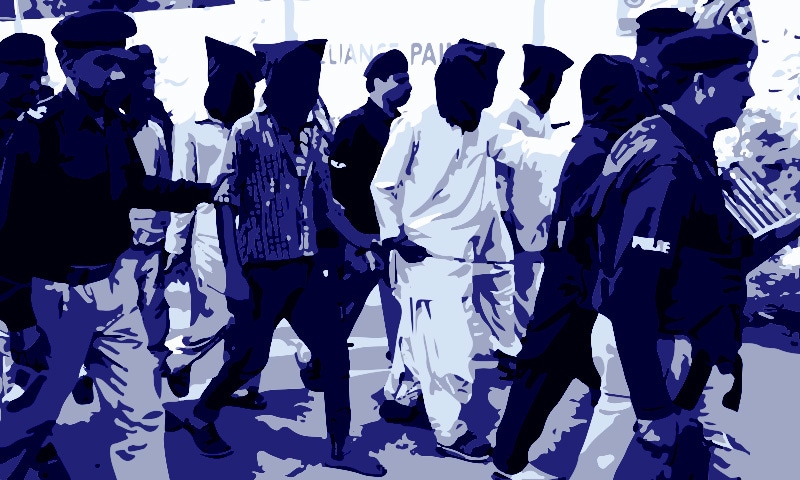 Killing of Sulaiman Lashari
May 8, 2014, Karachi
A quarrel over a car race turned deadly for Sulaiman Lashari. Sulaiman had gotten into a fight with the son of a superintendent of police.
The victim's father, Ghulam Mustafa Lashari, told the HRW that subsequently his 18-year-old son was killed in their Karachi home.
The murderer, according to Ghulam Mustafa, was the son of a superintendent of police who entered his house with five police constables and shot Sulaiman dead.
Instead of conducting an investigation into the matter, law enforcers have been harassing Ghulam Mustafa and his family, he alleges.
"Forensic evidence proved that the rifles used to shoot my son were government-issued police weapons. The government has tried to interfere and change the investigation officer. I am being followed by the police and my family is constantly being harassed."
Killing of Parween Rehman
March 13, 2013, Karachi
The report also revisits the high-profile murder case of renowned social activist Parween Rehman.
Rehman's sister, Aquila Ismail, told the researchers that the police were attempting to protect the perpetrator, who is a prominent political party member and land dealer.
"After Parween's murder, the cover-up by the police was intense and swift. When we returned from the funeral on March 14, we found out that the additional inspector general (AIG) had held a press conference and claimed that they had killed the culprit in a police shootout." Ismail told HRW.
She refused to buy into the inspector general's explanation that people involved in the illegal water hydrant business killed Rehman:
"This did not make sense since the last time that she had worked on illegal water trade was in 2009. She was most recently working on secure housing for low income residents living on the outskirts of Karachi, and her work had irked local developers involved in unlawful land grabs."
Not buying into the police's findings, Rehman's family filed a petition in the Supreme Court. The court ordered a judicial inquiry into the case and subsequently the case was reopened.
"But from that point onwards, whenever the police killed someone extra-judicially, they tried to claim that the person had been Parween's murderer." Ismail told HRW.
"They are afraid that if the real perpetrators were apprehended, the trail would eventually lead to them." she posited.
Rape of Kainat Soomro
January 2007, Mehar
Reporting cases of abuse in Pakistan is not only a taboo, law enforcers often act as a hindrance in getting the victims justice.
To illustrate this problem, the report details the case of a survivor, whose case received international attention.
Kainat Soomro was an eighth grader when she was abducted and gang-raped by men, who were allegedly under the protection of a local landowner.
The HRW reports that after escaping captivity, when Soomro tried to get a criminal case, the police initially refused.
"After persistent attempts to register their case, several members of her family were falsely accused and arrested for murder. Kainat Soomro told Human Rights Watch that her brother was murdered in 2010; she believes the police were complicit in his death."
"Instead of helping us, the police harassed us." she told the researchers.
She further alleged that the police summoned her brother under the pretext of recording his statement, "but instead headed him over to her rapists, who murdered him."
Years later Soomro is waiting for justice to be served. "My family and I have been struggling for justice for nine years and the police have always acted as a hindrance."
---
Harassment of Rehman*
2014, Quetta
Since the day he called off his daughter's wedding, Rehman, and his family, live in constant distress.
He told HRW that at a very young age his daughter was engaged to a man named Quddus.
With time Rehman realised that Quddus was not a "good man" and had the reputation of being a "local thug".
Wanting the best for his daughter, Rehman broke off the engagement.
This did not sit well with Quddus, who started to harass Rehman's family and threatened to kill his only son.
Scared, Rehman immediately went to the police station to launch a complaint.
"I should have known better." he told HRW.
"The station house officer (SHO) had close ties with Quddus and it was commonly known that they had engaged in several criminal activities together. I continue to live in fear."
*Pseudonym
Discrimination of bonded labourers
2015, Umerkot
Speaking of how vulnerable bonded labourers or are in Pakistan, the report shares a latest figure from the Global Slavery report:
Pakistan has the third-highest number of people in modern slavery in the world, and "debt bondage is the most prevalent form of modern slavery."
To detail how law enforcer ostracises these labourers, the report gives the example of a hari.
He told HRW that after the landowner's men attacked both him and his son, he attempted to file a FIR at a local police station.
When multiple police stations refused to lodge the FIR, claiming that the matter did not fall under their jurisdiction, the labourer went to the court.
After the court ordered the complaint be lodged, the landowner started using pressure tactics.
"…the landowner approached another police station and accused me of stealing his motorcycle. As he is a man of influence, the police registered his complaint despite the fact that I was lying injured in the hospital at the time."
The police continues to harass him and his family.
As for his own complaint: "Of course, there has been no progress..."
Police harassment of Hari Ram
May 2014, Thar
Hari Ram, a Hindu tenant farmer in Thar, also spoke out to the HRW about being harassed by the police at the behest of a local landowner.
"Basically, my neighbor, a big landowner, wants to take over my land and keeps harassing me so that I leave." he says.
Ram alleges that the police enable the landowner's tactics by registering false FIRs against him and his family members.
Ram has also been arrested. While in lockup "The police kept telling us to give in to the landowner's demand and relinquish our land. Thankfully, our family was able to secure our release. However, our troubles are far from over." he laments.
---
The report brings forward other similar harrowing incidents, and goes on to offer recommendations for reform.