If there any setbacks that come with intellectual disability, creativity is certainly not one of them.
Two unique projects are engaging designers with disabilities in productive activities and making a difference.
Flipping through a thick wad of sheets, Farrukh Sultan excitedly points at his block print designs which were featured in the collection for a brand solely run by people with disabilities.
If there any setbacks that come with disability, creativity is certainly not one of them as Farrukh's complex designs highlight. The 41-year-old broke the mould when he started creating his own designs, moving away from the very methodical but highly repetitive process of the block printing work assigned to him.
Farrukh is not the only star at the Karachi Vocational Training Centre (KVTC) — a non-governmental organisation. He is part of an equally diligent group, deeply immersed in cutting, stitching, weaving, printing, and painting for hours in a day.
For these exceptional individuals, each day is an accomplishment as they overcome their disabilities and prove their strengths in a competitive textile industry.
The 50-strong team has made an attempt to enter the women apparel and home accessories market with their own line of clothes that offers embroidery, zarri, screen print and block prints.
Their brand 'Jiddat', which translates to 'innovation', is the brainchild of KVTC, a non-governmental organisation that has been working to rehabilitate and employ people with disabilities since 1991.
Three years back, they envisioned establishing a place where people with cognitive disabilities could be taught different textile skills and could then be placed in leading fashion corporations around the country.
Today, a dedicated workforce plies away under the supervision of professional designers, breaking stereotypes associated with people with disabilities each day.
'Working like machines'
The block printing room seems to be taken over by hues of black and orange as the room buzzes with activity; directions are given across the room; the iron blows out steam as handbags are pressed and passed on for quality checks. A pumpkin smiles up menacingly from a bag that is lying around in the room — a reminder of the effort they put in to prepare 350 bags for a client for Halloween.
Jiddat has no official store or a permanent set-up but relies heavily on individual orders, social media and word-of-mouth publicity for most of their marketing and has held exhibitions at malls and art galleries
"All our products have been sold out during the exhibits; the response has always been good," says Hiba Zehra Kazmi, who is a professional fashion designer with her own brand but also works part-time for Jiddat.
Two clothing lines are designed every year and it takes roughly three months for the team to complete the entire collection. The process they follow is the same as any other textile brand, starting from market research, picking out a theme, selecting colours and then initiating the process of block printing, screen printing and finally stitching.
But the limitations they face are very different.
"At times, it takes five people to do the job that a karigar can manage single-handedly. Some are good at needle work, while other may be excellent at stitching moti; it is more time consuming but the output is never compromised," says Hiba.
The students are taught to concentrate, strengthen their grip and coordinate their hand and eye movements. The entire process is standardised and broken into steps so that every student can analyse goals and their personal achievements.
'Train and employ'
In each of the departments at Jiddat, the room is divided into two with the trainees and the hired employees, both old and young, sitting side-by-side. The aim is simple: teach and employ.
"This method works because it serves as a great motivation for those who are under training, to see their fellow classmates working hard and being hired. It orients them towards achieving the same goal," says Amir Shahab, academic manager at KVTC who has been working for the organisation for the past 21 years.
Only when they have become more independent and have mastered the skills are they hired at Jiddat; at times the learning process can take up to years. But once on board, those employed go on to become assistant teachers as well, completing a cycle of learning and teaching.
"It would be wrong to say that there aren't setbacks and occasional failures. We need to keep in mind their limitations, and at times even after being trained and employed, they do falter. We send them back to get training yet again, it's an ongoing process," says Amir.
All trainees are given an ID card that sets them apart from the rest of the students.
"They stop me in the corridor and ask me when they can get the same ID card; it gives them a new goal to achieve," says Hiba.
Other than the physical training that is imparted, the core purpose is still to build self-confidence and self-esteem among people with disabilities.
"The team is so punctual that they keep us teachers in check," shares Hiba proudly.
"I have worked with able workers and also disabled people and I can say without a doubt that they don't manipulate, lie and are completely down-to-earth."
When asked about the exceptional performers, Hiba feels their quality of work is directly linked to the support they get at home.
"If the family is not encouraging, the negative impact it has on the student becomes evident."
Unable to find jobs
Although the provincial government has passed the Sindh Differently-abled Persons (Employment, Rehabilitation and Welfare) Act 2014 that has fixed a 2 per cent quota for people with disabilities in workforce, it is unsurprising that this law is hardly implemented.
Take a look: Law to 'rehabilitate' the disabled not implemented in Sindh
"In our 24 years of experience in placing intellectually challenged people on jobs, we have found that corporations are more open to hiring them for technical positions or as receptionists rather than for the creative industry," says Farhan Akhtar, director KVTC.
To hire people who are differently-abled, organisations need to go an extra mile to provide a comfortable and conducive environment that many are not willing to do. In a highly competitive market where multi-skilled candidates are given preference, people with disabilities are long forgotten.
Even when hired, problems in adjustment and integration in society remains a hurdle.
A gift shop that Jiddat had opened in the past, which primarily sold items made by the team, was shut down due to budget constraints within a year. What they envision now is to have an in-house display for regular customers.
"Once people start coming in and interacting with the students, our purpose will be achieved," says Hiba.
What you can buy
Jiddat's tagline says it's for the 'socially conscious', which is apt for those looking to invest in quality and simultaneously wanting to contribute for a good cause. There is a lot to choose from — the team comes up with two seasonal clothing lines in a year, which offer a mixture of embroidery, block print and screen print.
The clothes are at par with the fashion standards and the price range same as any brand. But other than clothes, there are a variety of home décor products to choose from: laptop tables have been a hit in the past, cushions, lamps, customised jewellery boxes, colourful clay mugs, rustic mats, cards among other things.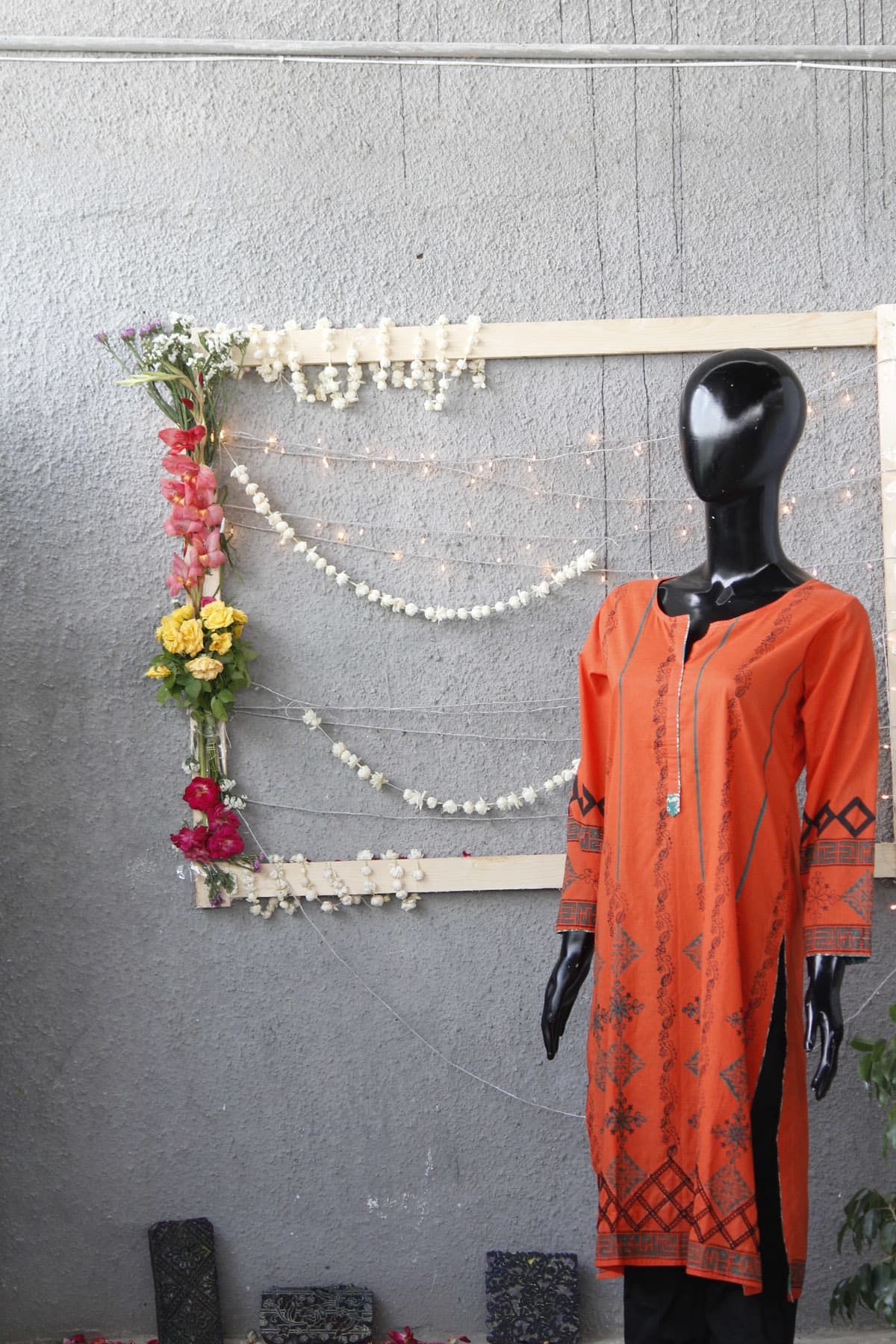 ---
HeArtwork: Saddar's hidden treasures
In the midst of Saddar's mobile market, hidden between a church and an automobile shop, is a bright green gate without any board. Passers-by do not give it a second glance, mistaking it for an oddly located bungalow in the middle of a commercial hub. But behind the seemingly uninteresting exterior is a centre that is brimming with creativity.
On the ground floor of the single-storey building, a team of eight weave through the colourful threads making an intricate pattern.
Speech and hearing-impaired 23-year-old Mohammad Waqas works on Photoshop, designing the next sketch for their hottest selling cushion covers; over his shoulder is 37-year-old Sakhawat instructing him on measurements. On a wheelchair next to them is 39-year-old Parvaiz Ahmed, polio stricken since childhood, weaving a pattern and cracking a joke or two with teammates using sign language for everybody's understanding.
This is the heARTwork studio, one of the projects of Network of Organisations Working with People with Disabilities, Pakistan (NOWPDP), that is also working towards training and employing people with disabilities in the textile industry.
"A lot of schools do teach them a skill set but they don't impart the necessary knowledge of what is in demand. We want to be able to make home textile products that are in line with the contemporary taste," says Tabinda Baig, Project Manager of heArtwork.
"Everybody is making ralli and patchwork, but there are variations that can be explored other than just ajrak designs," adds Tabinda, and shows a number of samples that were made by her team with bold colours, motive screen prints and artistic patterns.
On a wooden table outside, Asim works on the screen print, mixing a bright orange and red dye and spreads it on the screen with a squeegee, letting the paint sweep through the mesh onto the emulsion resulting in a glistening cushion cover.
Although the exposè for the design is outsourced, the team handles the design and customised orders for colour variation.
"Our end product tends to be a little more expensive because we have to buy all the raw materials separately, the cloth, exposè cost and pigments. The bigger brands manufacture these in-house so their manufacturing cost is lesser than ours," says Sakhawat, who oversees the production process.
Sakhawat takes out a stack of cartons filled with table runners, mats, lamps, rugs, bed sheets and cushions with dizzying varieties and colours to choose from. He then points to the chairs in the office, all of which were remodelled by them with their own designs.
"We get some corporate orders and others online from Facebook; it would be great if people could come in and visit and place their orders," adds Sakhawat with a warm smile.
---
— Photos by author
---