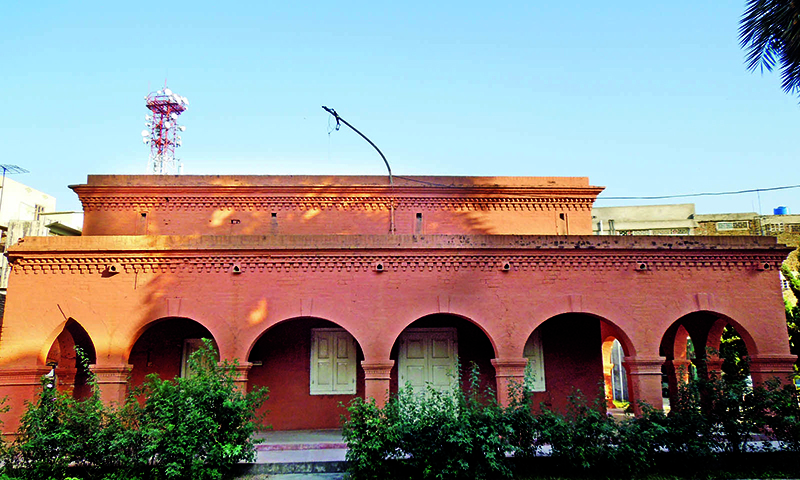 Before partition, Rawalpindi was a religiously diverse city, home to Zorastrian minority who came here in 1870s.
Rawalpindi is an ancient city with a number of historical sites often hidden away somewhere in the sprawl of an ever-growing metropolis. Often these sites are difficult to find in the clutter of modern buildings and it is fortunate if a site survives the stride of commercialisation.
A view of the graves in the cemetery, with the building in the background.
One of the many palm trees planted in the lush compound of the cemetery.
One such landmark is located on Murree road, tucked between the shops of the New Jewellery Market. No one would guess that between the ostentatious glittering shops, a marriage hall and the din of traffic there is an old Zorastrian cemetery. As one enters the compound, the serenity of the lush green grass and shady trees takes one by surprise. Rawalpindi's Parsi graveyard houses a number of graves and a colonial style red brick building with columns and arches.
The long verandah of the building, seen through an arch.
A notice in Urdu on the building, warning people against getting into transactions of this property which is awaiting litigation in court.
Before the partition of India, Rawalpindi was a religiously diverse city, home to a sizeable Zorastrian minority who came here in the 1870s.
According to historian Shiraz Haider, Parsis who were mainly merchants, began settling in Rawalpindi as the city was a major business centre, considered to be the gateway to the North.
A gardener tends to the plants surrounding the building.
One of the oldest tombstone in the cemetery, bearing dates of death according to the Zorastrian and the Christian calendars.
The Parsi graveyard was built in the 1890s. The marble plaque at the gate of the cemetery reads "This cemetery, together with the buildings and compound wall, was erected to perpetuate the memory of the late Seth Jahangiriji Framji Jussawala and Seth Jamasji Hormasji Bogha – both Rawalpindi Parsi merchants - by their respective grandsons, Seth Dorabji Cowasji Jussawala and Seth Nasarwanji Jehangiriji BoghaShahshai in the month of Tir 1367, January 1898."
Some of the marble tombstones reflect the Gujarat origins of Rawalpindi's Parsi community and have inscriptions in Gujrati script.
The marble plaque at the entrance of the cemetery in Gujrati and English, bearing the date of construction January 1898.
Today, there are still some Parsi families living in the twin cities of Rawalpindi and Islamabad and visit the cemetery to pay their respects to their ancestors.
Published in Dawn, January 11th, 2015
On a mobile phone? Get the Dawn Mobile App: Apple Store | Google Play