Having been in the city only two months, I went to the Karachi Food Festival for an indulgent cultural experience.
A view of the stalls at the Karachi Eat Food Festival.
Having been in Karachi only two months, I have since been on a mission to try as much desi food as possible. And so, when I heard about the two-day Karachi Eat Food Festival, I was delighted!
Accompanied by my friend KC, I arrived at the Frere Hall to an entrance ticket of an affordable Rs200; as a bonus, I discovered that the stalls inside too sold discounted food.
There were close to 50 stalls that had been set up across the lawn area outside the Frere Hall selling a spectrum of cuisines: Desi, Chinese, Western, Italian, and the list went on.
Upon entering, we did what anyone at a food fest does: make a beeline for the food! First on the list was beef nihari, only because my friend insisted it was his favourite of all desi cuisines. And rightly so, my gluttonous trail started with a bang.
A rich plate of beef nihari.
The dish had beef slices thickly coated in curry, topped off with ginger and green chili slices. I liked the spiciness that came in hints and the tenderness of the beef that was shredded to thin strips.
After trying the nihari with hot naans, I also dipped my dosa into it and found the softness of the dosa perfectly clothed by the thick curry of the nihari.
Hot dosas made on the spot!
It was an extremely tough call for KC and I to leave some room in our stomachs to try out other dishes. But one we finally made after a rough calculation of the varieties present before us.
As we walked on, an entire lane was filled with stalls of fried food being prepared right in front of us.
Samosas getting fried.
Cheese samosas ready to be eaten!
Chicken cutlets – different parts of the chicken cut up and served on a bed of crispy fried nothings.
When I looked behind these counters, I also found men preparing the batter, ready to smile for my camera.
Behind the scenes: The man responsible for really good, tender seekh kebabs.
After such a savoury meal, dessert seemed like a natural progression. We were spoilt for choice because there were sweet treats anywhere from pie in the sky, to the mad hatter's tea room, to the cakery, etc.
Chocolate covered strawberries for Rs30 at the pie in the sky stall.
Beautiful fudgey brownies on display from the Cakery.
But since I was here for a cultural experience, I decided to stick with some sweet chaat.
Not mixed enough.
I was a little disappointed, however, because the chaat lacked sweet chutney. The crispy paapri flaked on top gave it a good crunch but it would have been better if there were more sauces mixed in it.
While trying to walk off all the food we had ingested, we walked along rows of stalls that had fun art and craft activities.
Stick drawings.
A boy making mixed sand bottles.
There was also a station that combined both food and art – where I tried my hand at making cake pops with glitter and colours.
Girl at the station, holding the cake pop I had made!
It was delightful seeing families coming in together; watching people reunite over a good meal. Most of whom were agreeable to getting their photographs taken.
Happy baby at the Karachi Eat Food Festival.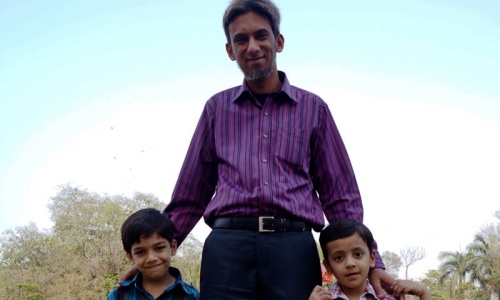 Kids flocked the festival with their parents.
Contrary to my desi food mission, one of the last meals I had at the festival, which in my opinion was also the best, was a burger!
The classic burger from the pantry.
Perhaps I had not tried enough desi food yet, or the burger just outdid all of it.
The stove at the pantry where the patties were grilled.
The classic burger stole the night for me. The meat was juicy, tender and well cooked.
The onions were sautéed well, then sandwiched together with cheese and a seemingly ordinary but still wonderful tomato-based sauce. I must also add that their sweet potato fries are known as a good pairing for it.
The food festival was not just a crazing eat-only sort of event but it also had lounging areas to relax and sit around with friends.
Catching up.
KC and I took a stroll around the park and watched the sunset amongst the thickening crowds. It was interesting how he said to me that it was rare to have an open, safe area to relax and hang out with friends and eat the way we had at the Karachi Eat Food Festival.
And that's when it dawned on me how much safety was compromised in usual situations in the city. The festival itself was a remarkable reminder of how 'life goes on' with people enjoying themselves apart from the very real dangers they are surrounded by.
As the day neared an end, I was glad to have experienced Karachi's attempt at highlighting small but significant ways of keeping its people happy.