Here's how water-stressed communities have found home-grown heroes to access safe and clean water for all with PepsiCo & WaterAid
Updated 25 Dec, 2022
Water is a fundamental human right, and access to clean and safe drinking water can change the lives of human beings for the better. However, in this era of global water scarcity and stress, getting clean drinking water at all is considered a blessing for most people, especially in Pakistan.
Pakistan once had plentiful water resources, but over the decades, the numbers have dwindled. What remains in terms of freshwater for human use is also often contaminated. The impact of human activities like agriculture and industrial output has deeply compromised availability of clean and safe drinking water for everyday use in most communities across the country, especially those that are underserved. Consuming water that is laced with contaminants keeps these underserved communities grappling with waterborne diseases, which significantly reduces the quality of life.
The alarmingly high number of contaminated drinking water sources highlights the urgent need for testing and verifying of all drinking water sources, followed by effective mitigation measures.
Historically, in the day-to-day lives of people, there are not many who choose to consider the issue at hand. According to UNICEF, an estimated 70 percent of households still drink bacterially contaminated water. Life's struggles keep most from trying to find permanent solutions on a larger scale. Boiling water is the most basic safety measure many end up adopting.
Still, there are some within certain communities who have decided to do more than just hoping the problem resolves on its own. These people, who deserve the title of 'homegrown heroes', are humble warriors in the quest for having their communities drink safe and clean water. Where many feared multiple challenges, they saw an opportunity. Through their work in their communities and activism for the rights of community members, they remained resilient and forthright. They stayed at the forefront of the struggle; when the project to access safe and clean water in their communities was initiated by PepsiCo Pakistan and WaterAid, these people were ready to adapt, change and champion the cause.
This is the heartwarming story of the heroes who never gave up on their commitment to get safe and clean water for their communities. Their dedication is especially for the children of their areas, who suffer the most when it comes to water-borne diseases.
In their stories, we find what happens when opportunity meets preparation.
A partnership for the people, for their future: Tangible social impact
The importance of water in every aspect of life is undeniable. The precious resource is critical to human dignity, health, and economic opportunity. As one of the world's largest food and beverage companies, PepsiCo has committed to putting sustainability at the heart of their business under their PepsiCo Positive, or 'pep+' agenda. One of the most important causes they are focusing on when it comes to sustainability is water.
Whether it is water usage in agriculture, clean water provision in communities they work in and with, or sustainable water use and replenishment in the industry, PepsiCo has made a global pledge to become 'net water positive' by 2030. Since 2006, the PepsiCo Foundation, the philanthropic arm of the company has helped more than 68 million people across the world to gain access to safe water through distribution, purification, and conservation programs, far surpassing the company's original target to help 25 million people by 2025. Their aim to replenish more water than they use in their operations makes the company one of the most water-efficient food and beverage manufacturers. The same commitment to sustainable water usage is reflected in PepsiCo's Pakistan business operations.
As a localised solution in the spirit of the global pledge to provide safe and equitable access to clean water, PepsiCo Pakistan formed an alliance with WaterAid with the aim to provide 'Access to Safe Water' in underserved urban communities in Pak Colony, Karachi, Humak, Islamabad, and in Sultanke and Gulberg in Lahore. The funding for this ambitious project was provided by PepsiCo Foundation, the philanthropic arm of the business.
The PepsiCo-WaterAid partnership in Pakistan focuses on providing safe water access in underserved communities and the schools within them to further ensure children are refreshed and hydrated to learn, uninterrupted by diseases. In this regard, PepsiCo Pakistan installed four community water filtration plants in Humak, Islamabad, and another one in Islamabad Model College for Girls, Humak. One plant was installed in the local government dispensary in Humak, while a seventh plant was rehabilitated and handed over to the community in Saidpur Village, Islamabad. In Lahore, four plants were rehabilitated and handed over to the relevant authorities and communities for their future operation and maintenance, whereas on the other side of the country, a mega plant in Pak Colony, Karachi is operational and being managed by the community.
A rural extension of the program was initiated in early 2022 in Dipalpur, district Okara in Punjab. The communities where this project is being implemented in its various forms were selected after thorough scouting, community linkages through local partners, field research and surveys.

The program design for these water filtration plants was rooted deep in community involvement and sensitisation for ultimate ownership by the people these plants served. For all management roles, the community worked together to choose members from within the community who were made responsible for the operational tasks of the water supply schemes and empowered to maintain the system that is now running in a robust manner.
For all land, electrical support and water required for these systems, a partnership with Capital Development Authority in Islamabad was achieved through the resilience of the PepsiCo and WaterAid team members actively involved in this effort. All physical and technical infrastructure for these schemes was put in place with the support of local implementation partners who served as links to the community.
Over the course of its implementation, the project has evolved significantly. With community insights and continuous needs assessment, the project now includes community empowerment, gender equity and dignity, inclusion, and health rights of children. An integral part of the program has been community sensitisation on hygiene, water safety and water conservation.
However, none of this would have been possible without homegrown heroes leading the charge for change in habits, consumption, and implementation of the project, and this is where we meet some of them.
MEET DR. HUMERA SALEEM – A WOMAN ON A NOBLE MISSION IN SMALL SUBURBAN TOWN HUMAK IN ISLAMABAD
Dr. Humera Saleem is a genial woman who exudes confidence, calm and resilience. A conscientious leader in her community, Dr. Humera's very presence brightens up any room she is in. She is the kind of person who has faced many struggles in life but they have only made her a more caring person who is sensitive to the needs of others.
As a trained homeopathic doctor, she is also a social activist who advocates for holistic healthcare solutions, one of which is use of clean water use. In the small town of Humak, Islamabad, she trains local women on infant care, does physiotherapy, and heads her own women empowerment NGO named Anjuman Falah-e-Khawateen apart from being a champion of the cause of safe water for all. Her door is always open for members of her community who seek out her advice on matters of healthcare and their lives, and by patiently engaging with all, Dr. Humera remains a natural leader and beacon of hope for her community. Her decades old work within her community has made one thing very clear for her: while change may be tough, it is needed to break age-old patterns and do better for future generations.
Therefore, with her experience, she was the right candidate to head the Women Water Users Committee that was formed with the consensus of the local community when a water filtration plant was set up in her area by PepsiCo and WaterAid, built by a local implementing partner named MOJAZ Foundation.
Before the water filtration plant was set up in her area, she would treat patients of all ages who suffered the effects of unsanitary water all the time. As a homeopathic doctor, she could see that the polluted water was the cause of much of the health woes of the residents of her area. From diarrhea to hepatitis, there was not an ailment they did not have to deal with. And children, specifically, were suffering the most.
With empathy and compassion, Dr. Humera shaped her vision to change the circumstances of the people around her. When PepsiCo and WaterAid started installing water filtration plants in the area, they included community leaders to ensure community awareness, integration, and ownership of the program. They found their greatest ally in Dr. Humera, who used her status as a community leader to bring people on the same page. Together, they came to a consensus about how the project would function in their community. This proved to be the perfect mix that had eluded the community in the past.
This is when change felt tangible, and inevitable.
REASONS TO HOPE
The people of Humak had struggled with schemes to improve their circumstances that didn't take off in the past. There had been several plans by various entities to alleviate water woes in the community, but none had succeeded in creating a smart model that would survive on its own. However, Dr. Humera persevered.
"When we had our first meeting, people would not believe this (the water plant) would be installed," Dr. Humera says, acknowledging the major trust deficit that existed within her community.
"They thought we would also pitch the project and disappear. But we called them for weekly meetings, and we briefed them that your participation for the project is essential. Because once our agreement is over […] the water filtration plant will need to be handled by you (the community). Then we formed a committee of all women, and I was the chairman of the committee."
Dr. Humera knew the only way forward would be through unity among the community. The plant now benefits around 2000 people daily and has the capacity of filtering 2000 liters of water per hour.
According to her plan, the committee will transparently collect funds from within the community to manage the operations to become self-sufficient in the years to come. This ingenious way of thinking and uniting the community has highlighted the fact that due to hard work and dedication of women like Dr. Humera and the women in her committee, the future of their communities can become brighter and more prosperous.
WHY WOMEN ARE LEADING THE CHARGE ON SAFE WATER ACCESS
Through PepsiCo's 'Access to Safe Water' program, there is an overwhelming majority of women spearheading the charge for safe water availability in their communities. This is because as men work in places away from their homes, it is the women who are the keepers of the community. They run their homes and are centered around their children's wellbeing and other household chores that keep life running.
Understanding the local dynamics and this routine, Dr. Humera knew she had to empower the women of the community to step out and help her build a plan where all women could run the water facility, expand the community's access to such a safe resource and take home enough water to run everyday operations smoothly.
While talking about the inception of the project, Dr. Humera candidly shared how she mobilised women of her locality to achieve this seemingly impossible task.
"We organized all women members on one platform," she proudly states. What became even more critical was the task of getting all women together under one platform, spreading awareness about use and importance of filtered water and sharing the knowledge of how contaminated water impacts health.
Dr. Humera added, "We explained to the community how we can keep disease at bay with use of safe and clean water and showed them how to safely transport water from the plant."
Dr. Humera's efforts indicated the power of teamwork and unwavering unity. As for inclusion, women, along with men, get equitable access to the clean water supply and their concerns are heard with compassion by community leaders who truly understand them. The women leaders hope their efforts would get all children of the community to lead safe and healthy lives, keeping deadly diseases at bay.
Seeing how the women's united front was creating a better life for the entire community, the men were convinced of the worth of this work and the value of the women's resilience and participation in it. A side-effect of change that was most welcome to all!
UNITY THROUGH DIVERSITY: HOW ONE INITIATIVE BECAME AN OPPORTUNITY FOR INCLUSION
Sufyan Saleem, the son of Dr. Humera, was born deaf and mute. Throughout his life, he has faced many challenges. An artist at heart who loves to paint, Sufyan's world without sound is rich with his creative flair. But Sufyan went through many struggles in his life because society does not know how to deal with people who are "different".
A naturally hardworking individual, he was financially exploited by employers on many occasions, but being the son of a path-breaking mother, Sufyan remained resilient and broke free from such commitments. When he saw his mother giving her all to a voluntary project that would change the lives of people of their community, he decided to help her, and their community.
Sufyan's inclusion in the monitoring of the newly installed water filtration plant showed the members of his community that someone who is "different" can still be a productive member of the society. Sufyan's commitment to ensuring the water filtration operates smoothly made him into a homegrown hero in the eyes of his community members. He is especially dedicated to ensuring children of his community have access to clean and safe drinking water.
His presence as a volunteer is a win for inclusion and equity in a community where otherwise children and people who are differently abled may have been overlooked. Now Sufyan's presence serves as a reminder for all that every member of a community is valuable when it comes to inspiring change.
THE FUTURE OF PAKISTAN'S CHILDREN IS INEXTRICABLY LINKED TO THE WATER QUALITY IN THEIR COMMUNITIES
Children in Pakistan face many challenges in their young lives, and one of the most important ones is surviving while consuming water that may be contaminated. In underserved communities, water is still the cause of dozens of different ailments that can severely deteriorate the quality of life, and in worst cases, can also prove to be life-threatening.
According to UNICEF, 53,000 Pakistani children under the age of five die annually from diarrhea due to poor water and sanitation. Children suffering from repeated episodes of diarrhea are likely to fall behind in school or drop out altogether. Furthermore, it can also cause stunting that currently affects almost 44 percent of children in Pakistan.
This incredibly high number of contaminated drinking water sources highlights the urgent need for testing and verifying of all drinking water sources, followed by effective mitigation measures. This was at the root of the project by PepsiCo and WaterAid when it was initiated in the communities.
AIMING FOR A BRIGHTER FUTURE: Meet the young students and skilled teachers at Islamabad Model College for Girls, Humak
Keeping the needs of the children at the forefront of the project, one of the most critical installations of a water filtration plant by PepsiCo and WaterAid in Humak was at the Islamabad Model College for Girls.
During a field assessment by WaterAid, the administration of Islamabad Model College for Girls reported to the social mobilisers of WaterAid that there was no proper source of clean and safe water on the campus. Girls attending school were at high risk of getting dehydrated or drinking poor quality water from potentially contaminated sources, both of which would affect their health in different ways.
The principal, Ms. Asiya Khan, mentioned that children had to bring their own bottled water which would soon finish. She realised it wasn't a practical solution in the long run. With the installation of the water filtration plant in their college premises that supplies clean and safe water to the school, there is a marked improvement in the health of the children and there is no need to purchase water anymore.
"The water coming from the community [before] was not safe, so they advised us not to use that, but it wasn't possible for us," reports Ms. Asiya. She says that all the children in her school needed safe water to drink, and the plant's installation resolved the issue. She added, "With the help of this project the impact is that at least the water that the teachers and students are drinking now is safe after coming from the filtration plant. The family that lives in the school, the maid who lives here…they can also use that water for domestic purposes whereas before they had to purchase water or go to other water plants."
14-year-old Arzish Tahir who attends the ninth grade in Islamabad Model College for Girls also had an impact story to report.
She said that her friends often fell sick due to consumption of contaminated water. Falling sick meant missing school, and falling behind in their studies. Some even had to drop out. While what Arzish reported was anecdotal, there are several national and international level research projects and policy briefs that state the importance of clean and safe drinking water and mention that access to WASH facilities on campuses may help children stay in school.
Keeping these on-ground facts at the forefront of the installation of this plant, the institution's community now has their own water filtration plant and access to safe water that directly serves more than 700 students in Arzish's school while also accommodating 60 students from a nearby public school.
Ms. Asiya went one step further to create awareness. She is involving parents through information sessions in the quarterly parent teacher meetings. The school also created a sense of responsibility and sensitization amongst the students as they now have a WASH club. Enthusiastic students serve as members and involve their fellow students in the movement for learning more about best practices in hygiene and the need for clean and safe water.
Considering how this empowers young students, the community is hopeful that the future of these children will be bright. With their health being made the priority through clean and safe drinking water, there is no stopping these change-makers of tomorrow!
TEACHERS GOING THE EXTRA MILE FOR THEIR STUDENTS
Farhat Aziz is her students' mentor. As a teacher of social sciences at the Islamabad Model College for Girls, Farhat Aziz has been a part of the institution for 16 years. Her presence at the place is reassuring for the hundreds of girls studying at the institution. A kind and attentive educator, Farhat understands the needs of her students and can easily pinpoint the reasons which stops the local children from attending school. One of these reasons is access to clean water and WASH facilities in her community.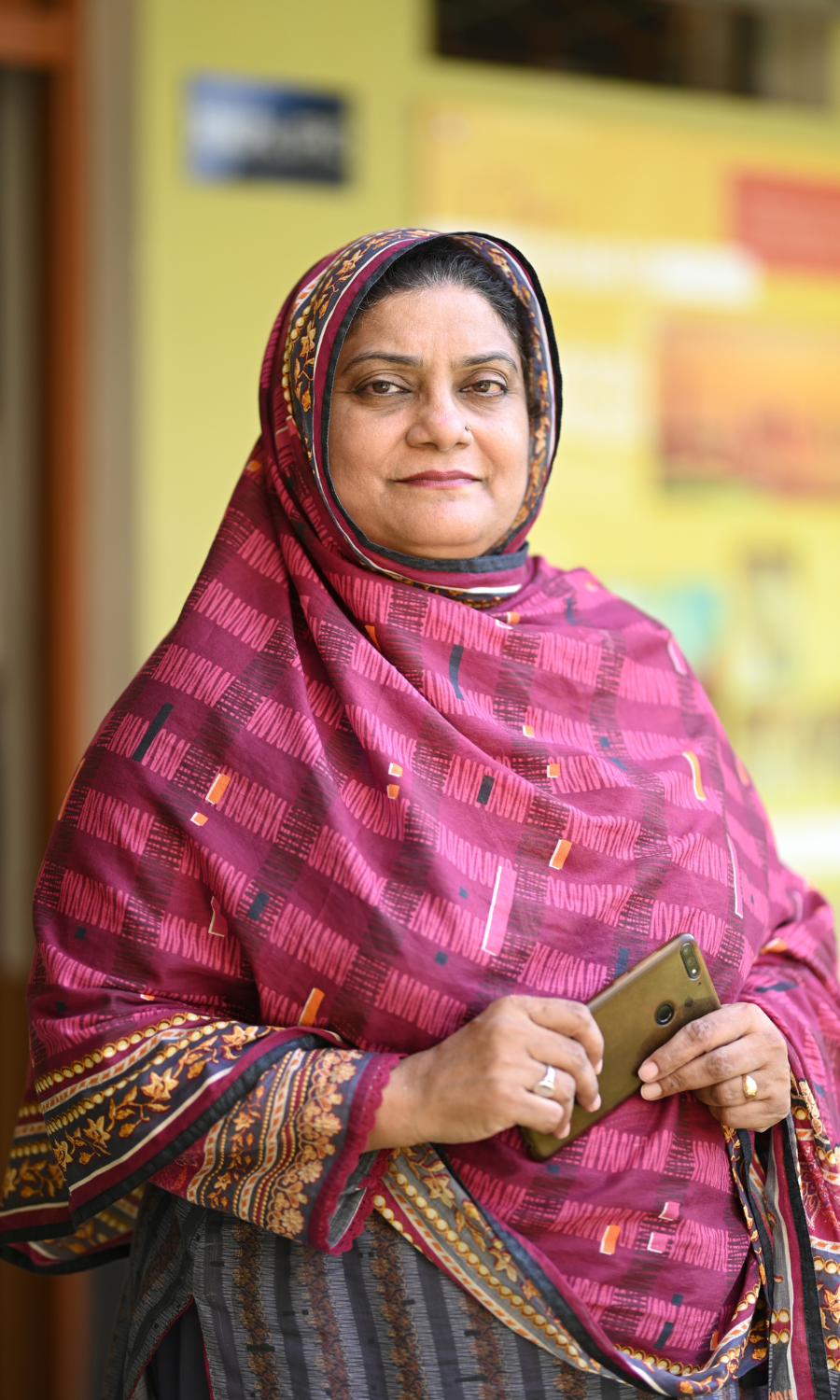 When PepsiCo and WaterAid first introduced their water filtration plant model to the administration of the school, Ms. Asiya, the principal of the institution, nominated Ms. Farhat, and another one of her colleagues Ms. Noureen, to get trained in running the plant's management system since the school had no male employees who could take up the task.
For someone who already advocated for children's access to safe water and WASH facilities, Ms. Farhat seemed right for the job. She explains how she was assigned the task that broke gender stereotypes. "Madam Noureen and I were selected for training (of the plant's management system) as the school had no male employees. We learned as much as we could according to our capability and handled the operations of the plant."
While Ms. Farhat is humble, the truth is that it was a complex task that she and Ms. Noureen have carried out with aplomb and resilience. The presence of the filtration plant has helped with the health of the students and attendance rates of children improved because they were not falling sick or getting dehydrated.
"Now this facility provides us with clean and fresh water on the daily," Ms. Farhat added. "Students and teachers both benefit from it."
For a teacher who loves her students, this is a victory worth celebrating.
COMMUNITY OWNERSHIP AND DIGITAL DATA MANAGEMENT: HOW SAFE WATER UPLIFTED AND MODERNIZED A COMMUNITY
With the help of PepsiCo Pakistan and WaterAid, the easy-to-manage and self-sustaining water filtration plants installed in four areas of Humak are running on an advanced tech-based system.
Innovative technology of remote telemonitoring through Supervisory Control and Data Acquisition (SCADA) system has been introduced as an added layer of functionality to ensure smooth operations of the plants. The monitoring is done by the community and local government stakeholders via a control room.
The technology provides multiple solutions to the community operators. Through SCADA, the quality of the water can be monitored and determined remotely without involving physical tests. The long and cumbersome exercise of testing the water and waiting for results has now been simplified and streamlined. Operational adjustments were also made possible through the control relays with the click of a button.
The local community leaders are now at ease as their plant keeps running smoothly and they are on top of the information in case the system requires their attention.
BIG IMPACT IN A SMALL TOWN: HOW HUMAK IS THRIVING
In Humak, there are four community water filtration plants, one in an educational institution and another in the Humak dispensary, which is run by the local government. These plants have changed the way the people of Humak live, and the experience has been entirely transformative for these communities in their own words.
PepsiCo and WaterAid have driven this people-centric program to prioritize the uplifting of entire communities, and the impact is visible in the way people consume this precious resource now, how they value it, and how they have taken ownership of the program.
Clean water can transform everything for people by fueling health, prosperity, and collective optimism and it is all visible in the community where the water filtration plants are operational. Children, women, and the elderly all benefit from a better, healthier and wholesome life, and the consensus is that this gift will keep bringing people closer together for change.
IN RURAL PUNJAB, A WORLD-CLASS OPPORTUNITY FOR UPLIFTING QUALITY OF LIFE
A few hundred kilometers away from Islamabad, Tehsil Dipalpur in Okara, Punjab, is a rural farming community. This is also known as the "potato growing belt", one of the places from where PepsiCo Pakistan sources sustainably grown potatoes for Lay's from its partner farmers. Most of the population is involved in farming practices and agricultural work from farm to markets. Being at the heart of Punjab's most fertile land, however, still does not mean access to clean and safe drinking water for all the residents of the area.
PepsiCo and WaterAid started 'Access to Safe Water' program for rural communities in the area in early 2022. The overall objective of this project was to ensure provision of safe drinking water and support hygiene behavior change for farmers and their families in 12 villages and 10 schools of Tehsil Dipalpur, Okara. For some of the hardest working people of the land, this proved to be a boon. The rural extension of the program is also funded by the PepsiCo Foundation and being implemented by a local partner, Doaba Foundation with technical support from WaterAid Pakistan.
UPLIFTING COMMUNITIES AND SCHOOLS THROUGH PEOPLE-CENTRIC INTERVENTIONS
For the community's needs, community based reverse osmosis (RO) water filtration units were installed in seven villages of district Okara while one plant was installed in the office of Deputy Commissioner Okara where approximately 3,000 people visit daily and need a clean drinking water source. A total of seven community level water schemes are now providing safe water to 23,300 individuals including men, women, children, and people with disabilities. In addition, five small-scale RO units are providing safe water to 4,940 school children.
To ensure ownership and future sustainability of WASH services provided under the project, the team formed and trained 12 WASH committees with 15 members in each committee. These committee members were trained on safe drinking water, water conservation, hand washing with soap at critical times, construction and use of household latrines and avoiding open defecation. Maintaining personal hygiene and running the operations and management of water supply schemes was also an important part of the training.
Under school WASH activities, 10 WASH Club with 120 members (boys & girls) were formed and given training and awareness on hygiene behavior change. The female social mobilisers working in the field also discovered a need to include instructions about menstrual hygiene for young girls based on needs analysis done with the support of female teachers at the schools in program area.
MAKING GIRLS' SCHOOLS SAFE HAVENS FOR STUDENTS
A critical aspect of this program was to support health and hygiene of young girl students of educational institutions of the area. To ensure the management of menstrual health and hygiene with safety, privacy, and dignity, social mobilisers and female teachers formulated a strategy so that girls do not have to drop out from school. Availability of safe and clean water in functional toilets plays a key role in this regard, along with good WASH practices.
Therefore, the rural 'Access to Safe Water' program in Okara district supported two elementary girls' schools in the project area for upgrading two existing toilets into 'Inclusive Girls Friendly Toilets'. This included provision of a side cupboard for storing sanitary pads/materials, a ramp for ensuring access of people with disability, provision of a privacy wall and a hand washing station. These toilets are benefitting 464 schoolgirls.
CLEANLINESS, THE ORDER OF THE DAY
Promoting hygiene behavior change is one of the key elements of the project as has been recognized by all community leaders like Dr. Humera. They realise that access to clean water cannot work without sensitization to good hygiene practices by all, so the project staff and village-level WASH committees mobilised local communities in 12 villages in Okara District to construct and use household latrines, hence restoring dignity and health to the lives of the residents of the area.
An additional innovation was added to the mix to ensure all the good work being done in the area would have a lasting impact on the community: a two-month-long extensive FM radio campaign was broadcasted on a local FM radio channel FM 105.4 which targeted 30,000 listeners with different sensitization messages about safe water consumption, hygiene practices and healthy attitude towards communal resources.
With the community engaged, there is no limit to the benefits that can be driven by the residents of these villages from these interventions.
The Other Side of the Country: Empowering Communities with Clean Water in Karachi's Pak Colony
Karachi is home to millions of residents. As a megacity that keeps expanding, the city needs critical amounts of natural resources, and water is where the true challenge lies. As a scarce resource, water has become a commodity and access to it is difficult for many communities that are underserved. One such community is Pak Colony.
The community is a densely populated and ethnically diverse. Like others in Karachi, Pak Colony's residents are hardworking individuals who struggle each day to earn an honest living. Their focus, ideally, should be on their work and on the education and wellbeing of their children. However, lack of water means people, including children, often had to walk or travel daily to get water from source points far away from their homes to fulfill their daily needs. For children of the community, this practice often forced them to miss school. With no guarantee of the quality of water they were bringing home, many health issues created by water-borne diseases ran rampant amongst the community residents, disproportionately affecting children.
Identifying the need of the area, PepsiCo Pakistan joined forces with WaterAid and installed a mega water filtration plant at Pak Colony. Pakistan Council for Research in Water Resources was selected as implementation partners while local government was key stakeholder.
The facility has high capacity and can filter 50,000 gallons of water every day. It is providing safe drinking water to over 100,000 residents of the area, including three educational institutions that have been linked to it. The filtration plant has become an integral part of the community and has brought together a diverse population.
The project brought people from various backgrounds together, and they now have easy access to different water dispensing points serving filtered water via the filtration plant. These have been established in central locations which give residents easy and quick access to filtered water to the residents. With no need to travel far to get water, the people of Pak Colony, including the children, can get on with living full lives.
UNINTERRUPTED LEARNING FOR FUTURE LEADERS: HOW STUDENTS AT PAK COLONY'S SCHOOLS NO LONGER HAVE TO WORRY ABOUT HYDRATION AS THEY LEARN
Three educational institutions in Pak Colony, Karachi, have been linked with the water filtration plant in the community. These schools are KMC Boys & Girls Secondary School Yasin Zubairi, Government Boys Secondary School Hasrat Mohani Campus, and Government Girls College.
The children enrolled in these institutions can access clean drinking water easily through the water dispensers installed on campus. Prior to this, the teachers at the school went out of their way to jointly buy water for the students. Students also brought their own water as water availability wasn't guaranteed. They had to ration their water supply to ensure they had sufficient water left in their bottles to survive the infamous Karachi heat.
Now children have plenty of clean and safe water to drink and their teachers no longer worry about students dropping out or getting sick, hence focusing on their one mission in life: to seek knowledge and achieve their dreams.
For Pak Colony, the installation of the water plant has provided security, surety, and support to the residents who no longer struggle to access clean water. Due to the project that works and delivers on its promise, community members are now inspired enough to step up and do their part in being agents of change.
WHAT THE FUTURE HOLDS: COMMITTED TO PEOPLE'S PROSPERITY
Keeping a sharp focus on water distribution, sanitation, and hygiene practices, PepsiCo has set a new global target to provide safe water to 100 million people by 2030. PepsiCo Pakistan aims to do their part in achieving this ambitious global goal in Pakistan. The 'Access to Safe Water' program is a part of this initiative, and they are taking it forward methodically to ensure long-term success.
When PepsiCo and WaterAid came together to support local communities with their water-related issues, they knew their approach must be entirely people-centric that offers radical solutions to make this a successful project that would last. PepsiCo is dedicated to ensuring that the 'Access to Safe Water' program empowers a network of homegrown change-makers ready to take on the future.
Beyond these project sites, PepsiCo Pakistan plans to expand the program to scale up the impact with the same approach in partnership with WaterAid. The company will continue with a focus on other locations in Karachi beyond Pak Colony since the water challenge the city faces is enormous. Through stakeholders and community leaders, they will continue to serve marginalized communities. Secondly, they have also pledged to continue to sustain the earlier interventions in Karachi so that they do not become redundant. The project within Karachi will be extended to more locations within the mega city.
'In, With and For Pakistan'
It is always intriguing to chronicle how global companies find ways to engage in community uplift work that provides actual relief. Through the stories of resilient communities stepping up to own the change, the work that PepsiCo Pakistan is doing sheds a light on how businesses are not run in isolation. Communities matter, beyond the metrics and numbers. For PepsiCo Pakistan, their work is inextricably linked with the history, development, and prosperity of the country. They have had a six-decade long commitment to ensuring they empower communities they work with and in, and tangible results can be seen in areas where they have initiated programs like 'Access to Safe Water'.
What makes this different from any other development project?
The drive and the passion for change, and the belief that through united effort across stakeholders, work that uplifts people and the planet is possible. By supporting homegrown heroes, PepsiCo and WaterAid are empowering change-makers who can take on the task of uplifting their communities from within.
With winds of change already spreading across the current program sites, PepsiCo further aims to expand the program into Khyber Pakhtunkhwa and Balochistan. The plan is to install water filtration schemes in Peshawar and Quetta.
WaterAid Country Director Arif Jabbar Khan is hopeful about the future of these targeted interventions and says "In partnership with PepsiCo, WaterAid delivers programs that are designed with, owned, and maintained by the local communities. Such an approach has helped thousands of families in poor communities and children studying in public schools not only have access to clean drinking water, but they also know how to run and maintain these systems".
These communities and their homegrown heroes are proving that there is no challenge too big for a group of people united to make change happen, especially if they have partners like PepsiCo Pakistan and WaterAid to match their stride.
The passion and resilience prove that where there is water, there is life, and while there is life, there is hope.
This project is produced in paid partnership with PepsiCo Pakistan.