If Team Pakistan appear different in World Cup 2021, it's because they've shunned some bad habits and embraced some good ones.
There is nothing usual about the Pakistan cricket team thrashing India in a World Cup match, starting a major tournament with five straight wins and generally appear invincible.
Surely, something must have been done differently this time that's a departure from the team's established practices. Some bad habits have likely been shed and some new ones have been adopted.
Below, we analyse why the Pakistan of today is a bit different from the Pakistan of yesterday:
1- The two best batsmen come up top
At times in Pakistan cricket there was this habit of saving your best batsmen for later. The great Inzamamul Haq, for instance, came to bat at number five for quite some time. 
In this current Pakistan side, though, the team's best two batters are sent right up the order. They don't want to hide and the team does not want them hidden. No wool is wrapped around them for later usage and so the philosophy that the team would need a heroic saving by its very best has been shunned.
Babar Azam and Mohammad Rizwan, clearly our two top batters, open the innings and more often than not they provide the platform upon which the latter batsmen only have to capitalise and build. The door on superhero acts has been closed greatly.
2- Better execution of plans
Perhaps, this has been due to the influence of Saqlain Mushtaq and Matthew Hayden but the plans have certainly been executed way better than before. There has been a clarity of thought that wasn't there before.
If the plan against Scotland was to see off the new ball without taking risk and then accelerate in the second half, then that is exactly what was done. The bowlers, too, have been sticking to the advice given, without trying too hard to impress. 
3- Consistent run in the team
Pakistan have deployed the same unit in each of their five World Cup 2021 matches. Even if Fakhar Zaman is clearly struggling for form and Hasan Ali has leaked runs like a sieve, the team has not betrayed them, and is still giving them chances to prove themselves. 
"The way Fakhar is playing, he has been given all the confidence," said Babar in a virtual presser ahead of the Thursday's semi-final. "On his day he can change the game on his own and I have full confidence he will do it in the coming games."
You can also call this a continued backing of a failure but hey Asif Ali was deemed a serial failure and look what he did against New Zealand and Afghanistan. And Haris Rauf had his critics too but look at what he's been doing this entire tournament. Not having to worry about your place in the side does make it easier for some players to break out of a dry patch.
4- Leaving butter hands back home
We never thought we'd say this in our lifetime, but Pakistan's fielding this world cup has been pretty decent. After five games, we cannot recall too many, or any, instances of there being fumbles or dropped catches.
Perhaps, Shaheen Afridi dropped one but just one in five is absolutely nothing from the traditional Pakistani fielding standards.
5- Not been fazed by pressure
It appears as if this current crop of Pakistan players, after so many years of big moment meltdowns, has learnt how to numb itself and block out the noise. In the India game, they did it, and then escaped pressure situations in both of their next two games.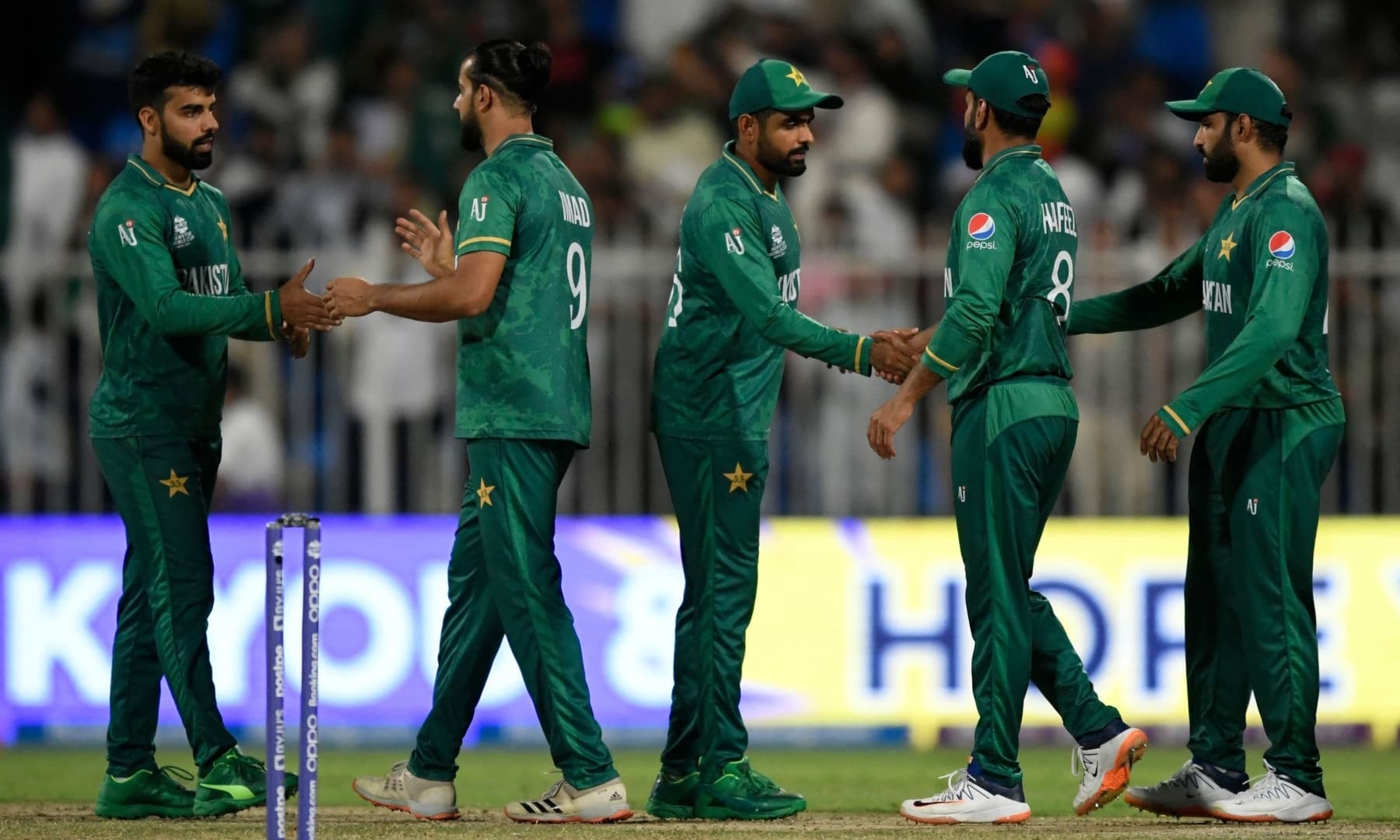 Even when the army of armchair critics, keyboard warriors and bloodthirsty pundits berate the team's selections (read Asif Ali) and strategies, the team has stuck to what it believes in and knows. Not caving to public pressure is something new this team has picked up.
---
Header image: Pakistan's cricketers celebrate after the dismissal of Namibia's Michael van Lingen (not pictured) during the ICC men's Twenty20 World Cup cricket match between Namibia and Pakistan at the Sheikh Zayed Cricket Stadium in Abu Dhabi on November 2. — AFP
---
The author is a sports writer based in the UAE.