ECP evokes entrepreneurial knowledge in students with an aim to change young people's mindsets from job seekers to job creators.
Young people in Pakistan face numerous hurdles and challenges to set foot into the world of business.
The first of them is the lack of knowledge, avenues and tools for the next generation of entrepreneurs to learn, discover and experiment with their ideas.
Schools, teachers and parents also often lack the necessary means to empower young minds for the future.
However, as businesses and work operations transform across the globe, it's important to educate young people and prepare them for future employment opportunities; instead of focusing on traditional professions.
Enterprise Challenge Pakistan is doing just that through a national competition, held each year to inspire and instill entrepreneurial and business understanding amongst young students between the ages of 14 and 18 years.
An initiative of Prince's Trust International in partnership with SEED Ventures, Enterprise Challenge Pakistan hosts a business simulation game, allows business industry experts to mentor students on business concepts and coaches them on developing and presenting business pitches. At the end of the programme, students compete to win seed money to upstart their enterprise ideas.
Over the last 4 years, the program has expanded to 30+ cities across Pakistan, including 80+ schools.
In 2020, Enterprise Challenge Pakistan was supported by COSARAF Charitable Foundation, Jubilee Life Insurance, Sana Safinaz and Engro Foundation to bring an exciting, online format of the competition to students across Pakistan during the pandemic.
Fatima's startup is boosting rural women's inclusion in the economy
Young people are not just building profitable businesses but social enterprises aimed at empowering entire communities.
Fatima and her peers from Hunza did not simply develop a business model that would cater to a gap in the market, the demand-supply inconsistency of Hunzai products, but also promoted women's emancipation by giving them a trustworthy channel to sell their products and become financially independent.
By taking part in Enterprise Challenge Pakistan, Fatima has not only strengthened her own entrepreneurial skills but she has also won £3,000 in start-up funding to set up a business that will help thousands of other women entrepreneurs in her local area to boost their earnings.
Aliza's startup tackles stigmas around young people's mental health
Actively empowering Gen-Z's activism around breaking the age-old stereotype of mental health is Aliza's big idea for her startup.
Aliza and her team from Karachi have created a sustainable business model with the help and guidance of her mentors from Enterprise Challenge Pakistan to cater to youth who are facing various forms of mental health concerns like anxiety and depression.
Aliza's team finished as the runner-up in this year's National Finals, winning a start-up grant of £2,000 to help them get their idea off the ground.
Building more than just businesses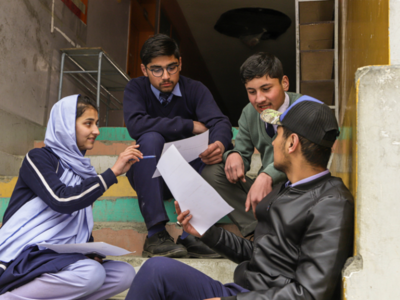 When the world came to a standstill in 2020 at the hands of the pandemic, flaws in the existing work and education environment became evident.
In the same year, Enterprise Challenge Pakistan conducted its program online by engaging 260 young people from over 8 cities and 40 mentors and 19 schools across Pakistan.
Going online allowed Enterprise Challenge Pakistan to become more accessible and reach different parts of the country with ease. This also allowed students to interact with mentors from other cities, an opportunity they may not have had access to otherwise.
Entrepreneurship is an important way to overcome unemployment as well as empower young people with skills and knowledge to run successful enterprises.
Since there is a key focus on equity and diversity, the program has reached people in all corners of the country.
Enterprise Challenge Pakistan has touched the lives of minorities, rural communities, underprivileged students and people and women which has landed them a special mention in Forbes Five Leading Global Programs Supporting The Next Generation Of Entrepreneurs.
Most businesses encompass at least one Sustainable Development Goal, for instance, startups are aimed at eliminating hunger, poverty, gender inequality and global warming, which is how these social enterprises are contributing to a better tomorrow.
Follow Enterprise Challenge Pakistan an initiative of Prince's Trust International in partnership with Seed Ventures for more information on their programs.
---
This content is produced in paid partnership with Enterprise Challenge Pakistan and is not associated with or necessarily reflective of the views of Dawn.com or its editorial staff.