The company is partnering with local startups and CDAs to build a 1km road in Islamabad with recycled plastic.
In 2020, The Coca-Cola Foundation and partner WWF conducted Pakistan's first scoping study across ten cities to understand the lifecycle of a PET bottle in Pakistan.
The study revealed that Pakistan generates over 30 million tonnes of solid waste annually, of which over 10% is plastic.
While our country has growing concerns over plastic pollution, it is a paradox that Pakistan remains the second-biggest producer of plastic in South Asia with an annual growth rate of 15%.
Although many environmentalists see this as a grave concern, recyclers, startup companies and innovation hubs view it as a billion-dollar untapped industry, similar to ones of South Africa, the USA and Europe.
There is a global waste management crisis at the moment to address. Coca-Cola along with its partners is working towards a solution to reduce, reuse and recycle packing waste under its bold and ambitious goal, World Without Waste; recycling all plastic bottles and cans by 2030.
Tackling plastic waste collaboratively
After conducting the insightful Plastic Scoping Study, Coca-Cola has carefully designed a sustainable solution to recycle plastic bottle waste.
The Coca-Cola Export Corporation Pakistan has partnered with Capital Development Authority (CDA) and TeamUp/National Incubation Center (NIC) to re-carpet a 1 kilometer stretch of road in Pakistan's capital, Islamabad, with over 10 tonnes of recycled plastic, including plastic/PET bottles.
The pilot project was launched on Tuesday, September 21, 2021, with an MoU signing ceremony between Coca-Cola, TeamUp/NIC and Capital Development Authority, Islamabad.
The ceremony was attended by key stakeholders and partners like CCI, UNDP, WWF, CoRe Packaging Alliance Members, CDA and dignitaries from media, academia, civil and private sector.
Amer Ali Ahmed, Chairman Capital Development Authority (CDA) was the Chief Guest at the MoU signing ceremony.
The project falls under Coca-Cola's vision of World Without Waste to achieve zero packaging footprint.
This innovative concept of re-carpeted roads with recycled plastic waste has been practised globally across 70 countries; however, this will be tested in Pakistan for the first time with a road mixture recipe that suits Pakistan's local environmental conditions.
Speaking at the ceremony, Fahad Ashraf, VP and General Manager of Coca-Cola Pakistan & Afghanistan said, "This idea provides a breakthrough solution to bring back plastic waste into the productive economy. The plan is to focus on building a community around the idea and the innovation itself. For any concept to be applied and adopted, the people must first believe it, for which the project needs to make a social and commercial sense."
This is where TeamUp and NIC come in, working towards expanding the innovative idea nationwide via hackathons, conferences, white papers, policy changes, and a coalition of partners.
Parvez Abbasi and Zouhair Khaliq representing the strategic leadership of the TeamUp/NIC added, "When Coca-Cola came to us with the willingness to be part of the solution, we were keen to lead this because most of the startups and projects here are guided by the Sustainable Development Goals."
This partnership was finalised and announced at the MoU signing ceremony, followed by a panel session with guests Dr Imran Khalid from WWF, Arish Naseem from UNDP, Rana Shakeel Asghar, Member Environment CDA, Zeeshan Shahid from TeamUp and Fahad Ashraf from TCCEC Afghanistan and Pakistan.
The panel was moderated by Aisha Sarwari, Director Public Affairs, Communications & Sustainability, to discuss the project and future of plastic waste recycling in Pakistan.
Moving towards a sustainable, waste-free world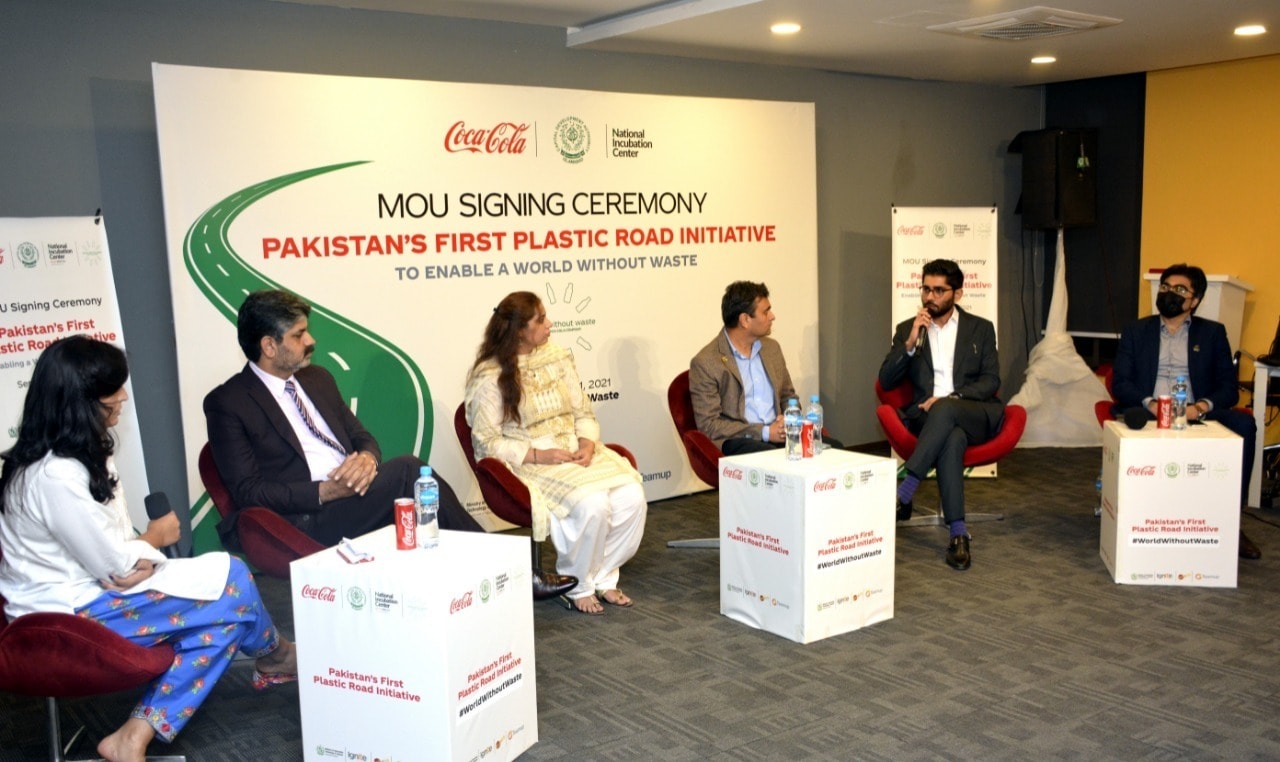 This project by Coca-Cola Pakistan embarks on the vision of sustainable innovation with almost 10 tonnes of recycled plastic being used only to re-carpet a one-kilometre patch of road.
The project also allows use of recycled PET waste to be part of a circular plastic economy which is expected to have a considerable positive impact on the environment.
Roads re-carpeted with plastic last almost twice as long and are 51 per cent stronger than standard roads.
Pakistan has a road network of over 270,000 km which is expanding by the day. This solution can provide an effective way to not only end plastic waste but also to ensure our road repair costs are kept to a minimum.
This can create huge demand for recycled plastic, tackling a major waste management problem since the inception of plastic packaging.
These results are achieved by adding recycled plastic to bitumen (a low-grade crude oil, consisting of complex heavy hydrocarbons) in appropriate proportions, and using plastic – asphalt mix to increase the strength and longevity of roads.
Once tested, the mixture can be used on roads across the nation, helping Pakistan achieve SDG goals. Moreover, the roads are resistant to wear and tear which can promote infrastructural development in the country.
The technology, research and its application are all developed by highly skilled and passionate Pakistanis who wish to build a sustainable future.
Coca-Cola Pakistan has spent over 10 million USD in the last 8 years alone to expand and develop its sustainability portfolio with a focus on relief efforts, water stewardship, environmental development, education, women empowerment and recycling packaging waste under the World Without Waste vision.
Chairman Capital Development Authority (CDA) Amer Ali Ahmed, an instrumental partner in making the project a reality, said, "We believe in a clean and green Pakistan, but we also believe in working with each other to create results expansively".
To know more about Coca-Cola World Without Waste, visit their official website.
Learn more about TeamUp/NIC and CDA. Read the technical paper here.
---
This content is produced in paid partnership with Coca-Cola and is not associated with or necessarily reflective of the views of Dawn.com or its editorial staff.