Incidents of violence and hostile behaviour at hospitals are tolerated and even brushed aside as part and parcel of the job.
Dr Qalb-e-Hussain is no stranger to intimidation or violence. Over the course of his career as a doctor in the emergency ward, many an attendant has barged in and demanded that a dead relative be brought back to life.
Dr Hussain, who is currently serving as the chief medical officer at the Dr Ruth Pfau Civil Hospital, recalls one such incident that is etched on his mind. "It was an angry, aggressive mob that broke into the ward, wheeling in a body with them. They surrounded me shouting 'make him alive!' when I told them the patient had passed away," he reminisces.
During his 11-year-long his career, he has been a witness to, and has experienced first-hand, countless such incidents. In fact, they have now become a norm for him, he says.
According to the World Health Organisation (WHO), anywhere between 8 to 38 per cent of healthcare workers suffer physical violence at some point in their careers.
A dire situation
But Naveed Ahmed Rind, who is vice-president of the Young Nurses Association and works at the Dr Ruth Pfau Civil Hospital, believes that the incidence of violence against healthcare workers is much higher in Pakistan. Citing his own example, the 31-year-old shares how he has been nominated in three FIRs "by influential people" for stopping "them from attacking the nursing staff".
"It's not surprising at all," he says nonchalantly. "They were influential people but we are here to serve everyone. We cannot prioritise patients based on their strong political or financial backgrounds. People beat us just because we don't attend to their patients without considering that we are busy attending another patient in a much more critical condition than theirs," he adds.
As per a 2015 study conducted by the International Committee of the Red Cross across Karachi's hospitals, almost two-thirds of the healthcare providers (65.6%) reported having experienced some form of violence. Of those incidents, more than half took place in emergency wards as a consequence of emotional reactions from attendants to patients' critical conditions, the study found. 
"I have witnessed varying degrees of violence almost regularly," says 59-year-old Daisy Nasreen, who has been working as a senior nurse at the Jinnah Postgraduate Medical Centre (JPMC) for the past 34 years. The "scariest" incident she witnessed was in 2009 when two political parties engaged in crossfire inside the emergency ward.
Terming it "distrust" on part of the patients' attendants, she says: "People think public sector hospitals are the best place to vent their anger. Every attendant wants us to treat their patient first; [they think] that it is their right to misbehave with us since they never tire of reminding us that our salaries come from their pockets."
Dr Seemin Jamali, who heads the JPMC — Karachi's largest public healthcare facility — has had similar experiences during her career of 30 years.
"I have faced gun attacks and even a bomb blast inside the emergency ward," she says, stressing for the adoption of a no-tolerance policy towards violence.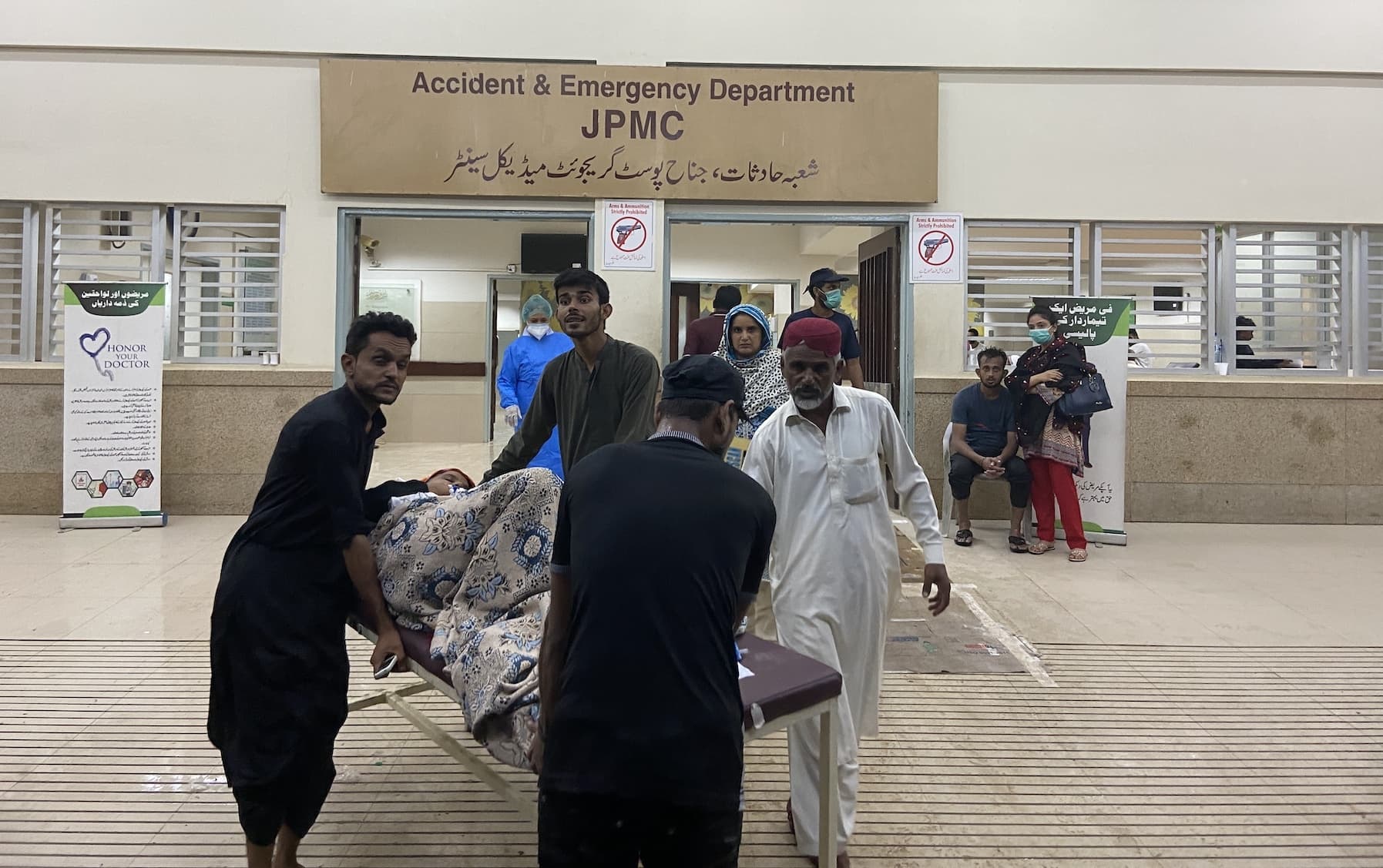 Growing concern
Concerned over the increase in attacks on doctors during the coronavirus pandemic, Amnesty International wrote a letter in July to the now former aide to the PM on health, Dr Zafar Mirza. The letter came in the wake of an incident in May when an angry mob ransacked the Dr Ruth Pfau Civil Hospital after its administration did not let them take away the body of their patient without the completion of pandemic-related standard operating procedures, which CMO Dr Hussain says, was for their own safety.
Dr Hussain, who was present at the hospital when the incident took place, says the attendants accused doctors of deliberately and wrongfully declaring the death to be due to Covid-19 in exchange for money.
For his part, Station House Officer Arshad Afridi of Saddar Police Station, in whose jurisdiction the JPMC falls, says "routine clashes" take place at hospitals "despite the presence of police officials and security guards at all major healthcare centres".
SHO Afridi also praises hospital staff for dealing with these situations in an appropriate manner, which he says has resulted in a decline of such occurrences. However, a surge in such incidents was observed following the outbreak of Covid-19 across the country, he says. 
Emotional toll
Over the years, incidents of violence and hostile behaviour at hospitals have been tolerated and even brushed aside as part and parcel of the job. So routine have such incidents become that nurses and doctors fail to recognise their impact on their self-esteem and performance, and not to forget, patient safety.
Moreover, the consequences of these acts of violence against doctors, nurses, and other paramedical staff also include negative behavioural manifestations. Violence can lead to burnout among medical staff in emergency wards, resulting in the damage to physical and emotional faculties, and eventually, negative behaviour directed towards oneself and others.   
Saba Jaffar Syed, 44, who has been working as a nurse at the Dr Ruth Pfau Civil Hospital for the past 27 years, attributes attendants' violent behaviour to her emotional stress and turmoil.
"We are used to this kind of violence and abuses," says Syed, adding: "The more we experience them, the better we get at dealing with the emotional and mental stress this leads to," she says. She also felt there was no other way out of the situation. "Experience them and learn to deal with them," she advises the newer lot of doctors and nurses.
Security woes
Dr Hussain, however, has a slightly different take and does not hold the public to be solely responsible for the violent behaviour meted out to healthcare workers. "It is also a result of poor management at public hospitals," he said. "At most [private] hospitals, there are proper reception desks that direct patients and attendants to relevant wards. But in government hospitals, people have direct access to emergency wards," where, he laments, security was not sufficient.
According to Dr Hussain, eight security guards have been deployed at the Dr Ruth Pfau Civil Hospital's emergency ward, of whom only two are present at any given time. "The rest are engaged in serving as personal security guards of higher officials," he deplores. 
This lack of security was apparent in a recent incident when Dr Fahad of the National Institute of Cardio-Vascular Diseases survived a gunshot wound when he was attacked by a patient.
Following this, the Young Doctors Association (YDA) organised a protest and was later assured by the government that it would legislate on the issue and frame policies in this regard.
Speaking about the incident, YDA president Dr Omer Sultan decries what he terms as inadequate security measures put in place in emergency wards. "One-patient-one-attendant policy was implemented and Rangers personnel, previously stationed only at JPMC, were deployed at other hospitals too but only after the YDA protested the attack on a doctor at NICVD," he says.
According to Dr Sultan, the Advisor to the Sindh Chief Minister on Law, Barrister Murtaza Wahab, had assured them that their demands would be met, including that of deployment of Rangers and formulating laws on attacks against doctors, but no progress appears to have been made on this front yet.
The YDA's general secretary, Dr Mehboob Noorani, echoes similar concerns, saying the Sindh government does not seem serious about living up to its promise.
"Dr Fahad has still not returned to work," he says, adding that his case was highlighted because it happened at a renowned hospital in Karachi. "But these cases are a common occurrence at facilities in rural Sindh and never get reported," the doctor laments. 
Sticks and stones
Back at the JPMC, the situation isn't much better. "How can we perform well and save lives when we don't feel safe ourselves?" asks Nasreen.
Asked about the presence of security guards at the emergency ward, she nods and says, "They (the gate keepers) don't have guns but sticks. How can they stop people from being violent? The attendants don't even let the guards check their handbags. Have you ever noticed in shopping malls that women feel it is disrespectful for their bags to be searched?"
For Dr Jamali, one of the biggest concerns is the inaction of the Sindh Health Care Commission, which according to her is responsible for safeguarding the rights of healthcare workers. The latter can complain to the commission if their complaint to the respective hospital administration goes unheeded.
"Given this scenario, when people file cases against us, our access to defence lawyers is not facilitated," she laments, adding that healthcare workers are not even provided health insurance.
"Anyone can do anything to health workers," she says, adding that "concrete rules and regulations need to be put in place" to deal with this issue.
Asked about the situation, Sindh Health Secretary Dr Kazim Hussain Jatoi said that "the protection of healthcare workers is of paramount importance to make the healthcare system efficient."
He added that the Sindh Assembly had recently passed legislation to address the issue, "but these procedures take some time to execute." That much is true, given the Sindh Healthcare Commission Act, passed by the provincial assembly in 2014, provides for the security of healthcare staff on duty, but has had no effect on the growing incidents of violence.
"After the implementation of this "Protection Act", this Offence (violent attacks against doctors) will become a non-bailable offence," he said.
Multiple attempts were made to contact Sindh Health Minister Dr Azra Pechuho for her take on the issue, but she remained unavailable for comment.