A US drone strike killed top Iranian military commander, leading to missile strikes by Iran on US bases in Iraq.
While tensions between the US and Iran date back to the early 1950s, the two countries find themselves on the brink of a war that could have longstanding geopolitical implications in the volatile region. The precursors to the latest threat, while not the first of its kind in recent years, can be traced back to the events that unfolded in the last week of December, 2019.
Here, Dawn.com looks back at some of the major events leading up to the assassination of Iranian General Qasem Soleimani — the architect of Iran's drive to extend its influence across the region and a national hero among many Iranians — and the war drums that have been beating since.
Dec 27: US Defence contractor killed in Iraq
A rocket attack on an Iraqi military compound near Kirkuk, Iraq, left a US defence contractor dead and at least four US military personnel injured.
While the US Department of Defence did not officially name who was responsible for the attack, US media reported officials as saying that the attack was orchestrated by Kataib Hezbollah — an Iran-backed militia group. The latter denied any involvement in the attack.
Dec 29: US strikes kill 25 members of Kataeb Hezbollah
The US retaliated with airstrikes on five bases of Kataeb Hezbollah, terming them a retaliation for the attack on the US military base.
The Pentagon said it targeted three locations of the Iranian-backed militia gro­up in Iraq and two in Syria. The locations inclu­ded wea­p­ons storage facilities and command and control locations the group had used to plan and execute attacks on coalition forces, it said.
The Iraqi government expressed outrage about the attack, calling it a "flagrant violation" of its sovereignty, according to AP.
Dec 30: Iraqi PM expresses outrage
Iraqi Prime Minister Adel Abdul-Mahdi told cabinet members that he had tried to stop the US operation "but there was insistence" from American officials.
Dec 31: Protesters storm US embassy compound in Baghdad
After a funeral for the militiamen killed in the US airstrikes, protesters broke into the US embassy compound in Baghdad, smashing a main door and setting fire to a reception area.
Though no US personnel were injured, the incident drew widespread condemnation from US officials, with US President Donald Trump taking to Twitter to condemn the incident.
"Iran killed an American contractor, wounding many. We strongly responded, and always will. Now Iran is orchestrating an attack on the US Embassy in Iraq. They will be held fully responsible. In addition, we expect Iraq to use its forces to protect the Embassy, and so notified!" Trump tweeted.
Jan 2:Pro-Iran protesters leave US embassy in Baghdad
Pro-Iran demonstrators left the besieged US embassy in Baghdad after the Hashed al-Shaabi paramilitary force ordered them to withdraw a day after their dramatic incursion.
Thousands of Iraqi supporters of the largely Iranian-trained Hashed had encircled and vandalised the embassy compound, outraged by US air strikes that killed 25 Hashed fighters over the weekend.
Jan 3: General Qasem Soleimani killed in drone strike
A precision drone strike at the Baghdad international airport killed Iranian Commander General Qasem Soleimani on January 3.
The general, who spearheaded Iranian military operations in the Middle East as head of Iran's elite Quds Force, was travelling in a convoy belonging to the Hashed al-Shaabi, an Iraqi paramilitary force with close ties to Iran. The group's deputy chief, Abu Mahdi al-Muhandis, was also killed in the strike.
The Pentagon said US President Donald Trump ordered Soleimani's "killing", after a pro-Iran mob laid siege to the US embassy. President Donald Trump said Soleimani should have been killed long before.
Iranian Supreme Leader Ayatollah Ali Khamenei vowed to exact "severe revenge" for Soleimani's death. He declared three days of public mourning and appointed Maj Gen Esmail Ghaani, Soleimani's deputy, to replace him as head of the Quds Force.
Read: 'World more dangerous': Reactions pour in as Iran's top general killed in US air strike
Taking to Twitter, US Secretary of State Mike Pompeo shared that he had reached out to officials from multiple countries, including Chief of Army Staff General (COAS) Qamar Javed, German Minister for Foreign Affairs Heiko Maas, French Foreign Minister Jean-Yves Le Drian, and Afghan President Ashraf Ghani.
Gen Bajwa in a call with Pompeo emphasised "need for maximum restraint and constructive engagement".
The Foreign Office via a statement expressed "deep concern" over the tensions, urging all sides to exercise restraint.
Jan 4: Rocket attack near US air base
A day after the deadly American strike, two mortar rounds hit the Iraqi capital's Green Zone on Saturday and two rockets slammed into an airbase housing US troops, security sources said.
President Trump threatened to hit 52 Iranian sites "very hard" if Iran attacks Americans or US assets as tens of thousands of people marched in Iraq to mourn the deaths of Soleimani and an Iraqi militia leader.
Iran, Trump wrote, "is talking very boldly about targeting certain USA assets" in revenge for Soleimani's death.
Trump said the United States has "targeted 52 Iranian sites" and that some were "at a very high level & important to Iran & the Iranian culture, and those targets, and Iran itself, WILL BE HIT VERY FAST AND VERY HARD."
Jan 5: Pakistan will not allow its soil to be used against anyone
Ceremonies to honour Soleimani began in Ahvaz, where his remains arrived from Iraq.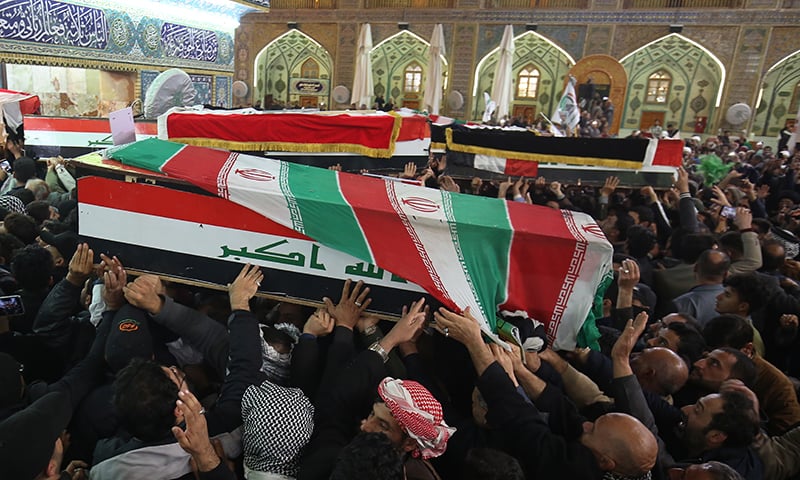 Meanwhile, Iran said it would no longer abide by any of the limits of its unravelling 2015 nuclear deal with world powers following the US killing of General Soleimani in Baghdad, ending an accord that blocked Tehran from having enough material to build an atomic weapon.
On the domestic front, army spokesman Maj Gen Asif Ghafoor said that Pakistan would not allow its soil to be used against anyone and will play its role to secure peace in the region.
Maj Gen Ghafoor said the aforementioned sentiments had been expressed by both the Prime Minister Imran Khan and Gen Bajwa.
"Pakistan will not be party to anyone or anything but will be a partner of peace and peace alone," he said, quoting Prime Minister Imran.
Jan 6: Thousands turn up for prayers led by Khameini
Weeping amid wails from a crowd of hundreds of thousands of mourners, Iran's supreme leader prayed over the remains of General Soleimani. The prayers were attended by Soleimani's successor, Esmail Ghaani, Iranian President Hassan Rouhani and other top leaders in the Islamic Republic.
Meanwhile, the Pentagon distanced itself from Trump's assertions that he would bomb Iranian cultural sites despite international prohibitions on such attacks.
The same day, Foreign Minister Shah Mahmood Qureshi briefed the Senate on tensions in the Middle East that arose after the killing of Soleimani, making it clear that Pakistan will not become party to the regional conflict.
Jan 7: US denies Zarif visa
Iran's Foreign Minister Mohammad Javad Zarif said the US declined to issue him a visa to attend a United Nations meetings in New York amid the soaring tensions sparked by the American drone strike that killed Iran's top commander.
Speaking in Tehran, Zarif said: "They fear that someone comes to the US and reveals realities."
Jan 8: Iran launches missile attacks on US-led forces in Iraq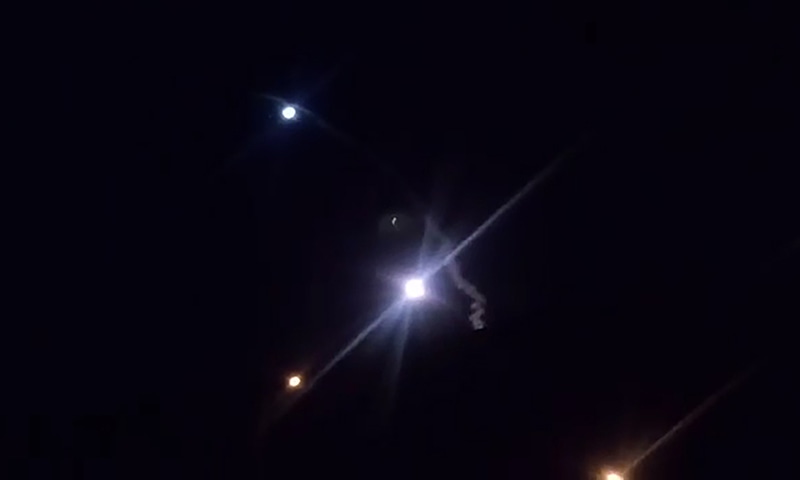 Iran launched missile attacks on United States-led forces in Iraq in the early hours of Wednesday in retaliation for the US drone strike on Iranian commander Qassem Soleimani whose killing has raised fears of a wider war in the Middle East.
Tehran fired more than a dozen ballistic missiles from Iranian territory against at least two Iraqi military bases hosting US-led coalition personnel at about 1:30am local time, the US military said.
Iranian President Hassan Rouhani and President Trump are both expected to give addresses following today's events.
---
Header photo: Iranian demonstrators chant slogans during a protest against the killing of the Iranian Major-General Qasem Soleimani, head of the elite Quds Force, and Iraqi militia commander Abu Mahdi al-Muhandis, who were killed in an air strike at Baghdad airport, in front of United Nations office in Tehran, Iran on January 3. — WANA via Reuters