The historical charm, however, is threatened by rising population, commercialism, and state neglect.
The streets of Rawalpindi's Banni Chowk sight a chaos at one o'clock in the afternoon.
The area once identified for enticing edifices and captivating designs is now tarnished with unfettered traffic and illegal encroachment. Dingy streets and scruffy construction makes it tricky for outsiders to locate a place.
Setting course from Kartarpura market in downtown Rawalpindi, and passing through the flower and spice market, it took us half an hour to map out Saidpuri gate and get directions for Haveli Sujan Singh.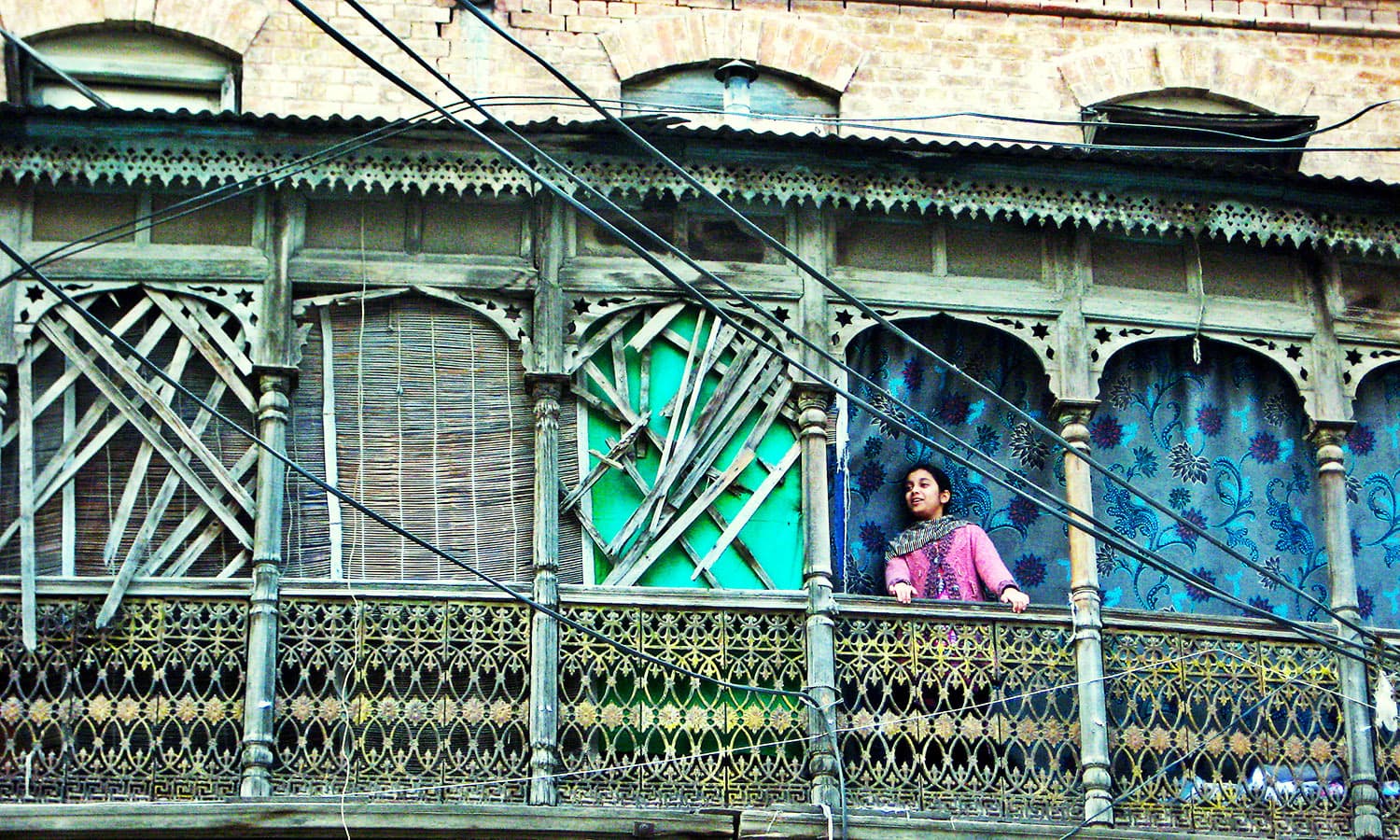 Rawalpindi once had gates but they have perished with time. However, Saidpuri gate remains a memento. A bustling, small bazaar at start, the historic sheshon wali masjid bordering the striking-red haveli with colonial-style balconies gives a riveting glimpse of the monumental past.
Once inside the gate, arrangement of narrow streets leads to early 19th century houses. Skillfully crafted wooden doors and corridors leading to enclosed yards, most of these British-era houses are two and three-storied with delicate interior, painted tiles and ceilings.
While one is awestruck by this architectural splendour, a narrow turn leads to a fairly spacious courtyard. There, one witnesses the enchanting façade of the Haveli Sujan Singh, a mesmerising structure of its time.
Once an astounding haveli, interior intricately adorned with gold, ivory and fine wood work, the wreck still accounts the alluring past, power, and prestige. Built in 1893 by Rai Bahadur Sujan Singh, a wealthy businessman and uncle to the famous Indian writer Khushwant Singh, it is a key pull for history and architecture enthusiasts.
With every step in the alley, ravished old houses unearth their beauty like a marvel in the sunshine.
We are finally in Bhabra Bazaar, the architecturally charismatic, and the wealthiest neighbourhoods of its time.
The locality now comprises of more than 18,000 people living in numerous havelis and houses.
Other attractions include the centuries-old imambargah Shah Chan Charagh and the Sarafa Bazaar, where one still observes the traditional practices of engraving and casting.
The word 'Bhabra' derives from Sanskrit, indicating a merchant community belonging to Jain religion.
Bhabras were traders and goldsmiths working in today's Sarafa Bazaar and Moti Bazaar. The affluence is replicated in their havelis and temples. The jharokhas (an overhanging enclosed balcony), carved balconies and decorated façades are its remnants.
Partition wreaked havoc to millions. Like Sikhs and Hindus of Rawalpindi, Bhabras had to leave their settlements in no time. However, like various neighbourhoods, the name endured after the migration of the community.
They were replaced by refugees from Ludhiana, Delhi, and Ferozepur who brought along their own culture. Today, Bhabra Bazaar can be termed as Little Ludhiana because of the large community of settlers from Ludhiana.
While roaming the streets of the old mohallah, one easily notices the Om symbols and the Jain greeting Jai Jinendra on many of the buildings.
Local resident Abdul Sattar, whose parents are from Ambala, recently furnished his old house.
To his surprise, he found out that Jai Jinendra was embossed right on the top of the gate. "I think that it's our heritage and we should protect it," he tells me.
He says that Sikh and Hindu families who migrated to India still visit the mohallah. "We sit in our house and cherish the times of our elders. They tell us about Ludhiana, Ambala and Delhi, and we show them the place their ancestors grew up in."
Architecture is not the only attraction here. Bhabra Bazaar is also a place where one finds some of the most authentic South Asian cuisines in the city.
The Amritsari and Kashmiri kulchay, chaat that will give you a taste of Old Delhi, the kheer and mithai of Ambala, and the soft halwa puri and kachori – the food here can beat the best of Lahore.
Just the fresh dahi bhallay and chana chaat with sweet yogurt and chatni from Lajawab Dahi Ballay Centre for RS 80 is good enough a reason to visit the bazaar.

 The areas adjacent to Bhabra Bazaar are no less steeped in history. The streets exhibit architectural richness and ooze traditions that still endure.
All old buildings have tharas (floor raised above the ground for sitting) for residents to sit and talk. The thara culture adds to the vibrancy of the neighbourhoods.
The historical charm, however, is threatened by rising population, commercialism, and state neglect. Some of the old houses have been demolished to make way for new construction.
Jaun Elia's verse comes to mind:
Shehre-dil mein ajab mohallay thay
Un mein aksar naheen rahay abad 

---
All photos by the author.
---
Have you visited any lesser-known heritage sites across Pakistan? Share your experience with us at blog@dawn.com.