The five-member larger bench is headed by Justice Asif Saeed Khosa.
A five-member bench of the Supreme Court on Friday disqualified prime minister Nawaz Sharif from being a member of parliament over concealment of assets and being dishonest, in one of the most historic SC cases in recent history that could chart the political future of the country.
On April 20, the same bench had issued a split 3-2 judgement, with two dissenting notes in the verdict by Justice Khosa and Justice Gulzar Ahmed.
Here we take a look at profiles of the honourable judges who formed the bench.
Justice Asif Saeed Khan Khosa
Elevated to the Supreme Court in 2010, Justice Khosa headed the bench tasked with adjudicating the Panama Leaks case. Hailing from DG Khan, he has decided about 50,000 cases over a period of more than 18 years.
Justice Khosa was one of the two judges who ruled against PM Nawaz Sharif.
---
Justice Gulzar Ahmed
Justice Ahmed began as an advocate of the High Court and SC, before being elected as honorary secretary of the Sindh High Court Bar Association. In 2002, Justice Ahmed was elevated to judge of High Court of Sindh and was subsequently promoted to senior puisne judge of the High Court of Sindh in Feb 2011. He became a SC judge in November 2011.
Justice Ahmed was the other dissenting judge.
---
Justice Ejaz Afzal Khan
Graduating from the Khyber Law College in 1977, Justice Khan enrolled as an advocate of the SC in 1991. Having served as a judge of the Peshawar High Court for nine years, he was appointed as chief justice in 2009 and elevated to judge of the SC in 2011.
Justice Ejaz Afzal authored the 540-page Panama Papers verdict.
---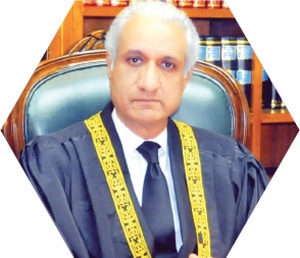 Justice Ijaz ul Ahsan
After completing his LLB from Punjab University Law College, Justice Ahsan completed his postgraduate studies from Cornell University, New York. He was elevated to the bench in 2009 and was confirmed as a judge of the Lahore High Court in 2011. Justice Ahsan has served as inspection judge for Kasur, Gujranwala and Lahore Districts. In 2015, he was appointed as the chief justice of Lahore High Court and elevated to the SC in June 2016.
---
Justice Sheikh Azmat Saeed
Justice Saeed was first enrolled as an advocate of the High Court of Lahore in 1980 and was promoted to advocate of the Supreme Court of Pakistan in the subsequent year. Justice Saeed has also served as special prosecutor by the Ehtesab Bureau in 1997 and has been a member of the legal team prosecuting many high profile cases at the Lahore High Court.
He has previously served as special prosecutor NAB in 2001. Justice Saeed was appointed as an Additional Judge of the High Court of Lahore in 2004. In 2012, he was elevated as Judge of the Supreme Court of Pakistan.