Misbah has gone on to become his country's most successful Test captain with an iconic stature.
Misbah was never in the league of those spontaneous cricketing talents, who burst onto the international scene at a very young age, exhibiting an early promise to become one of the game's best.
He was not a Mushtaq Mohammad, a Javed Miandad, a Wasim Akram, a Waqar Younus, a Shahid Afridi, or a Mohammad Amir. Unlike these folks, Misbah was nowhere close to playing international cricket as a teenager.
There was nothing 'natural' about his talent and skill when he finally broke into the Pakistan Test side in 2001 at the age of 27.
One can suggest that like former Pakistan captain and all-rounder Imran Khan, Misbah, too, evolved and painstakingly worked his way to that elusive level of being considered a great. However, Khan made his debut when he was just 18.
Nevertheless, in the last six years, Misbah has not only become one of the most proficient middle-order batsmen in the Pakistan side, but also Pakistan's most successful Test captain.
Take a look: Misbah becomes oldest Test centurion in 82 years
But there are so many factors (some rather unique) related to Misbah's gradual rise as batsman and captain, which make his story quite special.
A tale of spectacular rise
Misbah's story is not just about a quiet, reflective and empathetic man who, through sheer hard work and a finely measured amount of diplomacy, unhurriedly rose to become a cricketing icon.
Nor is it only about how, over and over again, as he resolutely battled the sporting equivalent of 'old age,' and years of constant criticism by his more impulsive contemporaries, and verbose talking heads on local sports channels, he continued to score heavily and that too, when it mattered the most.
Indeed all this contributed to his gradual and measured rise to become a Pakistan cricket icon, placed right there with greats such as Hanif Mohammad, Fazal Mahmood, Majid Khan, Asif Iqbal, Mushtaq Mohammad, Imran Khan, Javed Miandad, Abdul Qadir, Inzamam-ul-Haq, et al.
But the thing in his story which truly sets him apart — not only from his illustrious contemporaries in Pakistan, but also from the greats produced by other cricket-playing nations — is the fact that his (late) blooming as a batsman, and, more so, as a captain, all took place during a period when Pakistan cricket was in shambles; torn to shreds by spot-fixing scandals and vicious infighting.
It was trying to overcome an unprecedented and awkward slice of reality in which (after 2009), no country was willing to tour Pakistan.
Even more striking is the fact that Misbah was captaining a side of a cricket-crazy country which was fighting a chaotic and lingering existentialist battle with itself; a mêlée riddled with frequent terrorist attacks and bomb blasts which — between 2004 and 2014 — left over 60,000 innocent civilians, soldiers, cops and politicians dead.
The 'war time' captain
This was all happening when Misbah was leading Pakistan, with his team forced to play most of its games abroad (mainly in the UAE).
The UAE — with a sizeable Pakistani expat population — has become a kind of a 'home ground' for Pakistan cricket.
Fair enough, but this is what Misbah told me after I was done conducting a long interview with him in Dubai in January 2014:
'Playing in the UAE is nothing like playing at home. We come here as tourists, and each one of us requires a visa. I have no control here over how a pitch is to be prepared. It's just like two foreign teams playing on a neutral ground. We have no homes here to go back to. We are constantly in hotels and our families are not always with us. We come here as a touring side, just like our opponents…'
He also lamented the fact that he has never led Pakistan in a Test at home; or on grounds and in front of crowds the players were more familiar with.
See: Misbah silences critics, scores remarkable century at Lord's
Yet, he has gone on to become the country's most successful Test captain, winning all his games on foreign soil, a feat unmatched by even the game's greatest captains.
He simply smirks and slowly shakes his head when told that Pakistan have a 'home advantage' when they play in the UAE: 'Home is where the home is,' he had told me, still smiling. 'Not where there are only hotels to go to; half-empty stadiums, and pitches one is never quite sure about …'
So Misbah's remarkable and somewhat unique story is about a batsman who began playing his cricket late; was picked when he was already 27; dropped, and then not selected for another five long years.
He was then suddenly inducted into the country's T20 squad (at age 33) during the format's first World Cup; batted brilliantly and almost won the final for Pakistan; went on to establish himself in the Test side; but got dropped again and almost forgotten about, until suddenly earning a recall and made captain in 2010, at age 36. Quite a roller coaster ride, this.
The remarkable comeback
But this is when his story takes the kind of turns which make it so unique.
In 2014 (in Dubai), former Pakistan captain and wicketkeeper-batsman, Moin Khan (who was then the manager of the team), told a rather interesting story.
He said Misbah was first rescued from obscurity and recalled back into the side by the volatile Shoaib Malik.
In 2007, Malik was made captain, replacing Inzamam-ul-Haq, whose team had a rather disastrous World Cup in the West Indies. Inzamam retired and the young, talented, and somewhat confrontational, Malik was elevated and made the team's new captain.
When the team was being selected for the first T20 World Cup in South Africa, Malik insisted on the inclusion of the then 33-year-old Misbah; and that too at the expense of the stylish veteran, Mohammad Yousuf.
Yousuf's exclusion created a storm among fans and the media. The selectors weren't quite sure why Malik would want to include Misbah, a batsman who had been discarded in 2002 and largely forgotten about — even though he had continued to play in domestic tournaments.
Moin told me that Malik had kept an eye on Misbah and was impressed by 'his innovative stroke play and tenacity.'
This is true because when Shoaib Malik, who had been dropped from the Test side in late 2009, but began to perform well in ODIs and T20 games, Misbah recalled him to play in the 2015 Test series against England.
When asked why he had done that, Misbah explained that apart from the fact that Malik was in great batting form (in limited overs cricket), he (Malik) was the one who had fought with the board and the critics to include him (Misbah) in that 2007 T20 team.
Moin informed me that Misbah never harbours a grudge, but, at the same time, never forgets an act of empathy: 'He simply withdraws into himself if he believes he has been slighted or unjustly criticised. But he would go out of the way to appreciate a generous or humane act…'
So exactly how did a quiet, private man, making his third comeback (in 2010), go on to mold a team of overbearing egos, in-fighting and scandals, into becoming a solid, settled Test side, who today is enjoying a place in the upper reaches of world rankings?
Misbah has often mentioned another veteran and mainstay of the team, Younis Khan, as the kind of empathetic soul who helped Misbah to grow back into the squad both as batsman and, more so, as a captain.
Khan has often praised Misbah as being an extremely hard-working and 'pleasant' man. But then so is Younis.
Examine: A captain in exile
But unlike Misbah, Younis has often gotten into spats with the cricket board, media, and fellow players; and, in fact, when he was captain, he faced a acrimonious players' rebellion, allegedly led by Shahid Afridi.
Misbah clearly depends a lot on Younis and seems to have discovered an apt way to handle him and win his respect.
A media manager of the PCB, Nadeem Sarwar, who had facilitated my interview with Misbah in Dubai, told me that two reasons have helped Misbah the most in surviving so well as a captain of a volatile team:
'His batting temperament and the way he stays on the crease, while everyone else was falling apart…this has gained a lot of respect for him from the players; especially the youngsters.
Respect like no other
Secondly, his man-management is excellent. He strives and makes an extra effort to understand the personality of each and every player and deals with them accordingly, man-to-man, person-to-person. He hears them out.'
Another interesting aspect of Misbah's captaincy according to Sarwar was/is that he makes it plain through his own example that the seniors will have to earn their respect from the juniors and could not take it for granted.
'Once upon a time, the seniors would act like pharos, keeping the younger players at an arm's length and expecting them to do petty chores for the seniors,' Sarwar explained.
'Misbah changed all that. He and Younus are so approachable and they treat the youngsters like their little brothers. Players like Azhar Ali, Asad Shafique, Shan Masood and all the other youngsters treat him (Misbah) like a father figure,' he had added.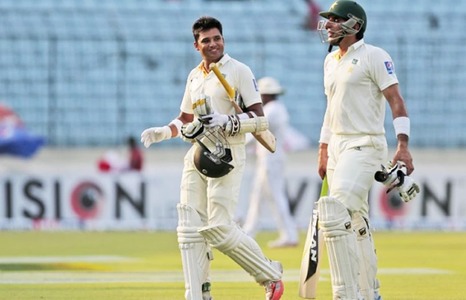 A sober, reflective, resolute elder statesman is how Misbah comes across to most.
Yet, as Moin told me, there is a side to him very few know. In fact, in the interview, Misbah did allow himself to let me record that side when he said that as a person he wasn't as serious as everybody thinks he is.
A young PCB official (his name, unfortunately has slipped my mind), who had sprinted out of the Pakistan dressing room during the second Test in Dubai in the Pakistan-Sri Lanka series (in 2014), to hand me my press pass, told me that the players loved Misbah's sense of humour.
'He is actually very witty,' he said. 'His houmour is like Anwar Maqsood's (!)…he quietly slips in a witty remark which is extremely funny and yet, never offensive.'
He said Misbah is very close to Saeed Ajmal and both often exchange witty and hilarious remarks. Hafeez is another good friend and so is Shoab Malik. Azhar, Shaan and Asad admire him as an elder brother.
He said though both Younus and Misbah have a tremendous amount of respect for one another, they are not buddies, as such.
What about Afridi?
'They just have a functional relationship…that's all,' he answered. This was told to me in 2014. Recently, however, Afridi has been very vocal about Misbah being 'a very decent man.'
Coming back to Misbah's now well-known man-management skills, I have always wondered how volatile and eruptive players such as Shoaib Akhtar would have fared had they played under Misbah.
Most experts of the game and even Akhtar himself believe that he (Akhtar) was badly handled by Inzimam who seemed have had no clue how to manage a character like him.
Pakistani captains, such as Mushtaq Muhammad and Imran Khan, are known to have successfully handled erratic and impulsive men in the most intelligent and effective manner. Eccentrics such as Sarfraz Nawaz and WasimRaja were empathetically handled by Mushtaq. He succeeded where others had completely failed.
Imran too was effective in handling men like Nawaz and the moody Abdul Qadir, though one can say not so much with Raja.
Akhtar, in his biography, wished he had had been captained by Imran.
So how would Akhtar have fared in Misbah's team? Early last year I posed this question to a former medium-pace bowler who had played for Pakistan in the 1980s*.
He said: I don't think Misbah would have tolerated a character like Shoaib, like Inzi did. But, who knows, with the way Misbah is, Shoaib would have been empathised with and made to calm down…'
Akhtar has often been critical of Misbah, and so has Mohammad Yousuf. But whereas Afridi would strike back and lash out at critical ex-cricketers (sometimes quite justifiably), not even once has Misbah responded directly to barbs pointed at him.
As he told me in the interview, he let his performance do the talking but he does often fall into despair when some unjustified remarks against him depress his wife and mother.
To Misbah, his family is everything. He is married to a cousin of his, Uzma, who, compared him, is a lot more expressive, extroverted and animated. She has also been extremely supportive of him.
Often seen in the stands (with their young children) at the stadiums Misbah is playing in, she jumps with joy, claps as loudly as possible, and at times even lets out a whistle or two, every time her husband crosses a cricketing milestone.
Her joy, in this respect, runs deeper than merely expressing happiness at what is taking place in the middle at that very moment. Because she has seen him sulk for years after he was first dropped in 2002. She saw him return (in 2007), but once again discarded a few years later.
Misbah had told me that though he rarely reads or hears what is being written or said about him, his wife and mother can't help ignoring it. He added he is less pained by unjustified and malicious criticism than he is by how it brings down the spirits of his wife and mother.
At the end of the third Test match during the 2014 Pakistan-Sri Lanka series in which Misbah and Azhar Ali helped the team chase down over 350 runs in less than 60 overs to square the series, a TV channel immediately interviewed Misbah's mother in his hometown in Mianwali.
This is what she said: 'I knew that by the grace of Almighty, my son's hard work will pay off. He is a stubborn person. He was stubborn even as a child. He never gives up. Yet, he is a loving person who is a good human being.'
Then she could not help it and launched into his critics: 'I have never understood why some people are so critical of him. What do they have to say now?'
But why was a batsman, who has continued to score big constantly in the last six years, left out of the team for five years, or when he was a lot younger?
Over the years, newspaper reports, articles and even some books authored by insiders have all alluded that due to the fact that he was well-educated and someone who keeps his faith to be an extremely private matter, he was unacceptable to Inzamam-ul-Haq, who encouraged the players to wear their faith on their sleeves.
However, Misbah has always refused to believe this, some say purely due to his diplomatic nature. To me, he said that no captain would like to keep out a good player. And that teams are picked by captains on how they judge the skills of the players and not on the captain's personal likes or dislikes.
So he wasn't skillful enough between 2002 and 2007?
This he explained by suggesting that at the time the Pakistan middle-order was packed with some very good batsmen and this is what kept him out.
Ironically, Inzimam today is the chief selector and he gave Misbah exactly the team he asked for (for the England tour). Even though according to a newspaper report, whereas Inzi wanted Misbah to play Azhar Ali as an opener, Misbah dismissed the idea, suggesting that since the team had a third opener (Sami Aslam), he'd rather play him. 'Why take him to England then?' he asked.
Two years after Misbah's mother lambasted his critics, Misbah has gone on to become his country's most successful Test captain with a very healthy batting average and an iconic stature.
Indeed this stature which he has worked so hard for to achieve after years of languishing in obscurity has a lot to do with him performing so consistently; and succeeding in molding a formidable and united Test squad from the debris of discontent and turmoil which he was handed in 2010.
Yet, it is also about when he did this. That is, at a time when his country was facing perhaps its gravest existential crisis; there was unprecedented violence and bloodshed, and Pakistan had begun to be treated as a pariah state, or even a failed state.
Heroes had vanished, or couldn't last beyond those figurative 15 minutes of fame. In the last two years especially, Misbah began to emerge, and be perceived as a genuine hero in a country who desperately needed one.
A friend recently made an interesting comment after watching the thousands of tweets which greeted Misbah when he smashed a brilliant century in his very first Test in England.
The friend said: 'Misbah began to be perceived a hero on a much larger scale from early 2014. This is when General Raheel Sharif cut the slack and persuaded everyone to launch an extensive operation against the terrorists. As the operation gained momentum, so did Misbah's status. He is to Pakistan cricket, what Raheel Sharif is to Pakistan army. God bless him.'
In chronological order: The rise, fall, rise, fall and rise of Misbah
1980s: Fluctuating between playing proper and 'tape-tennis' cricket. Parents more interested in him getting a good education.
1990s: Joins University as an MBA student. Plays irregular club cricket before making his first-class debut in 1998 at age 24.
2001: Makes Test and ODI debut for Pakistan. Shows promise.
2002: Is dropped due to lack of form.
2002: Misbah in his last game before he was dropped and not given a chance for the next five years.
2003-2007: Kept out of the team. Continues to play domestic cricket. Planning to call it quits in late 2006.
2007-2008: Makes a dramatic comeback at age 33. Performs brilliantly in T20 World Cup and series against India. Is made Pakistan's Vice-Captain.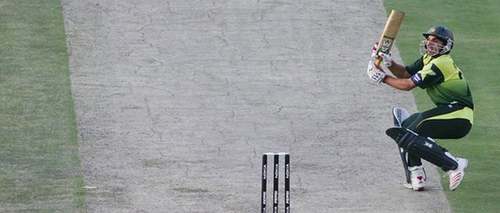 2009: Begins to lose form again. Dropped again.
2010: Is unexpectedly recalled to the side and made captain.
2011-2013: Becomes one of the most consistent batsmen in the side. Achieves the feat of being the only Pakistan captain to defeat England in a series, 3-0. Faces constant criticism for being 'too defensive'. Resigns as T20 captain. Retains Test and ODI captaincy.
2014-2016: Batting consistency continues. Dubbed as 'man of crisis.' Helps chase a record total against Sri Lanka in a Test in Sharjah. Batting average shoots up. Retires form ODI cricket in 2015. Becomes Pakistan's most successful Test captain (20 wins). Announces retirement. Is requested by board to prolong career till 2016 England, West Indian and Australian series. Notches a century in his very first Test match in England, aged 42.
The name has been withheld on request.