Students at NUST will this year for the first time send a team to the annual RoboCup.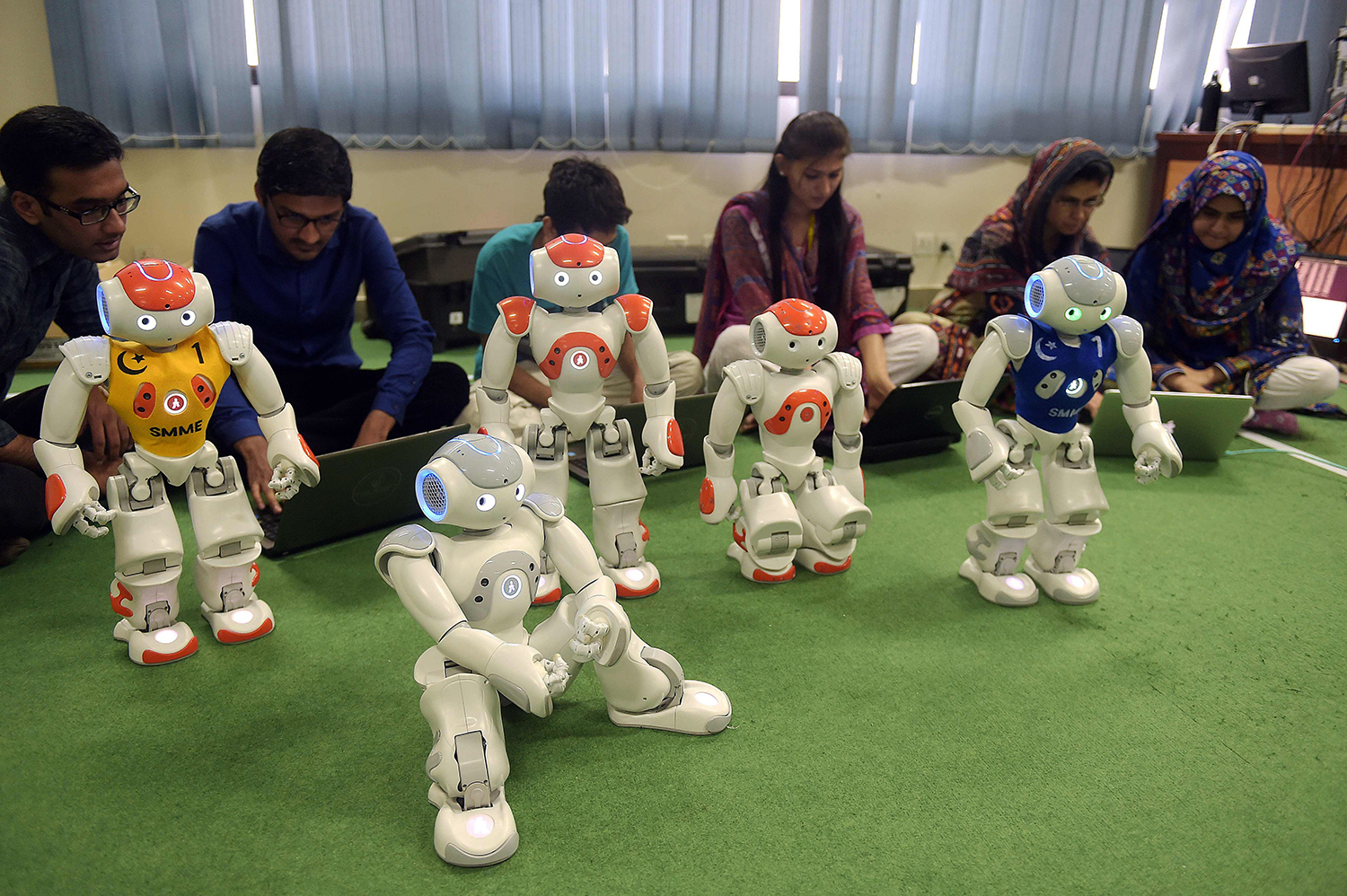 ISLAMABAD: The little striker wearing a crescent moon and star jersey lines up his penalty and kicks right, netting his goal as the keeper dives the wrong way and hits the ground yelping in pain.
Both players are teammates practising to represent Pakistan in a major world football tournament.
Unlike their low-ranked flesh-and-blood counterparts, however, these are advanced robots whose programmers are set to compete against students from the world's top universities as they look to showcase what their country can do in the world of Artificial Intelligence.
Students at National University of Science and Technology (NUST) will this year for the first time send a team to the annual RoboCup, an event featuring 32 universities that will be held in Leipzig, Germany from June 27 to July 4.
The six machines are NAO humanoid robots purchased from France's Aldebaran Robotics at a cost of roughly $17,000.
It is in fact the third year that NUST, one of the country's premier engineering institute, has qualified for the prestigious cup.
But a lack of travel funds has meant their dream of representing their country on the world stage had to be placed on hold – until now.
"Our dream came true this year when the university managed to allocate 1.5 million rupees for the team's travel to Germany," Dr Yasar Ayaz, head of the department of Robotics and Artificial Intelligence, said.
The amount is enough only for three students instead of all 10 involved in the project to travel to Germany and participate in the event, and the university is still hoping to close the gap with funding from sponsors.
"We are not disheartened ... something is better than nothing," Ayaz said.
Beating humans
The first robot football league was started in 1993 by a group of Japanese researchers and named the Robot J-League, after the Japanese professional league.
Following a surge of outside interest, the initiative was extended into a international project and the Robot World Cup Initiative, or "RoboCup", was conceived.
The first edition was held in Osaka in 1996.
Its stated aims: "By the middle of the 21st century, a team of fully autonomous humanoid robot football players shall win a football game, complying with the official rules of FIFA, against the winner of the most recent World Cup."
For the time being, however, that goal appears a long way off.
Students tap away at their laptops in their university lab, programming their code.
Zain Murtaza, who leads the ten-member team, sets up the cute robots on their nine-by-six feet pitch, and the action begins.
Each robot has two cameras on their faces guiding their movements.
"The cameras take pictures and feed them to the computers installed inside, which help them decide about their movements and recognise movements of the other players," Ayaz explains.
They walk around the field with short staccato movements, pulling their legs back like a golfer lifts his club before unleashing an ungainly kick that sends the plastic orange ball rolling along the floor.
Mishaps and tumbles are frequent, and the process makes for awkward viewing.
Humans are allowed to make minor interventions, but the robots' movements are entirely their own, with results hinging on how cleverly the machines are programmed to carry out their roles.
The work is a labour of love for the Pakistan team.
"This is a whole new world ... I want to teach robotics to students and to tell them how interesting it is to interact with the robots," says Murtaza, who has completed his Masters in the subject and has plans to complete a doctorate.
"These are my babies," he adds.
Autonomous future?
Pakistan's progress in the field of AI mirrors its advancement in the IT sector, where the South Asian giant of 200 million people is considered a mid-tier player – particularly for software outsourcing.
Cheap labour, a relatively well-educated middle-class that speaks English and has access to markets in North America helped exports grow to $2.2 billion in the fiscal year 2014.
According to Ayaz, advancements in AI could also prove valuable to Pakistan's small manufacturing base, in addition to being the next major area of scientific research.
Earlier this month, Internet giant Google announced it was setting up a dedicated AI research group to focus on machine learning – a field of computer science that gives computers the ability to learn without being explicitly programmed.
Elsewhere, automakers like Honda are devoting resources to develop autonomous driving technologies. Computing is also a field where increasing numbers of Pakistani women, who have traditionally steered clear of science and technology jobs, see a future for themselves.
"There are a lot of prospects for us to excel in the field of robotics as we pursue higher studies in this subject," Asma Ashfaq, one of four female members of the ten-strong team, said.