Compelled to live below the poverty line generation after generation, their lives come cheap.
What is that one accessory which completes the desi ensemble for the South Asian woman?
Indeed, it is the glittery, shimmery chooriyaan!
Growing up in Hyderabad, I remember taking long walks on chaand raat through the Choori Bazaar, searching for the perfect bangles to complement my vibrant Eid dresses.
On my recent visit to the city, I decided to take a stroll down the Choori Bazaar, only this time, I was looking for the artisans who create this beloved women' accessory.
Hyderabad has the perfect weather for bangle production, making it the hub for the bangle craft in the country. Approximately, 32 glass-bangle manufacturing units are situated across the city, with an average investment of Rs 5-6 million per unit.
According to estimates, 350,000 people are associated with the manufacturing, trading, packaging and transportation of this industry, including men, women and children in equal numbers.
Walking through the sunlit streets of the Choori Bazaar on a Saturday morning, I found myself face-to-face with the people who are involved in this industry.
As simple as it may appear, the procedure of making a bangle is grueling. There are several stages involved in this process, each taking place under a different roof and completed by a different pair of hands. Each phase involves skilled labour — a majority of which is provided by women and children.
This skill has been their livelihood for generations, however, it is just enough to help them survive.
The women artisans I met treated me with heartwarming hospitality. One of them offered to take me around for a tour and explained the various stages of bangle-production.
The first step is the collection of glass. As I spoke with these glass-pickers, mostly women from Thar, they revealed that most of them had been working for over 15 years.
While factory owners, dealers and retailers make the bulk of the profits, these women earn a meagre wage of Rs 300 every 15 days for their hard work.
After the glass-picking, comes the second step known as sadai. This is when the glass is melted at a temperature of 1,400 degrees Fahrenheit, creating very thin streaks of viscous.
This mixture is then passed onto a roller machine which changes the liquid into rolls of bangles, which are later separated.
Once these rings are separated, the bangles are then put in a high temperature furnace to add glossiness and sheen. To my surprise, a lot of children were involved in this particular stage.
Entire families are part of the bangle industry. One of the women accompanying me explained in her thick Sindhi accent how it was like a 'poverty hole' which sucked in every member of the family – men, women and children alike.
I was deeply perturbed by their wretched working conditions and the fact that even after years of hard work, these people were compelled to put their lives at risk every single day just to put food on the table.
The woman who was showing me around, stopped in front of a shed and animatedly began to explain the third step in the manufacturing process called jurai; this one undertaken by women only.
Jurai, as its name suggests, involves joining the two opposite ends of a choori using a high flame.
I had only just sat down to watch these women at work and was already drenched in sweat. Jurai is tedious work, owing to the absence of basic cooling facilities.
The equipment used in sadai and jurai is ancient and completely devoid of safety mechanisms. The women involved in these stages do not wear helmets, gloves or goggles and are exposed to various hazards, including very high temperatures and open flames.
Sadly, in case of an accident, no compensation payment or medical facility is provided to them.
The fourth and final step is known as meena kaari. It includes all the other elements that give us the final product, like adding gold, glitter and crystals of various colours onto the bangles.
Some of the meena kars (workmen) in the Bazaar have been in this profession for over 30 years, working tirelessly on makeshift workstations on roadsides. This is where the finished product is sent off for packaging and handed over to the retailers.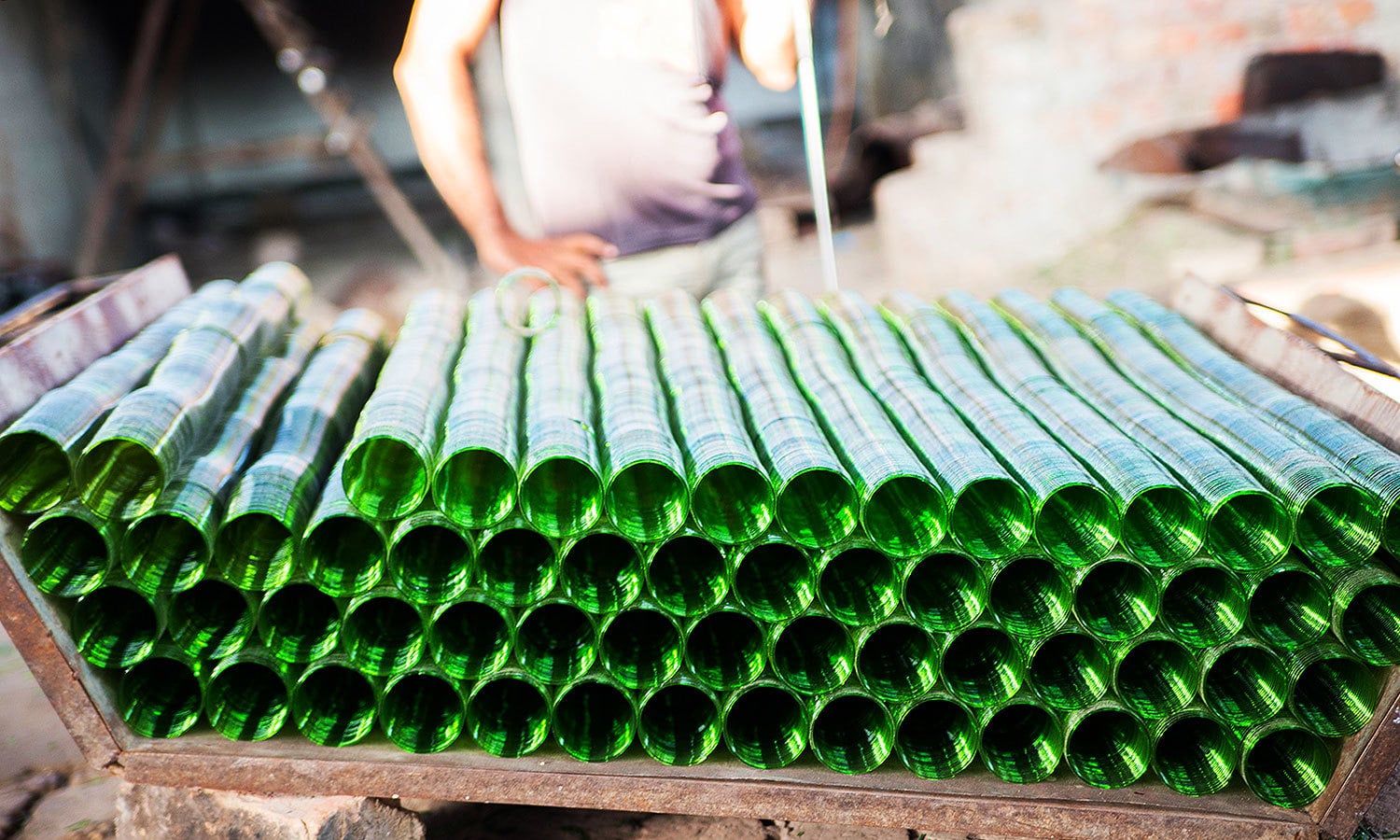 Walking out of the Choori Bazaar, I saw the bangles stacked behind elaborately-decorated glass windows in brightly lit shops, and all I could see were the faces of the women and men behind them, who could not afford to light up their homes with basic necessities, like access to clean drinking water, education or health facilities.
Compelled to live below the poverty line, generation after generation, their lives come cheap.
In a country where 50 per cent of the population is deprived of these facilities, the struggle against poverty is long and tedious.
But, is the implementation of labour rights that ensure safety and fair remuneration equally difficult?
Who, if any, is there to safeguard the rights of those behind this fine craft?
—All photos by Umaima Mustafa.