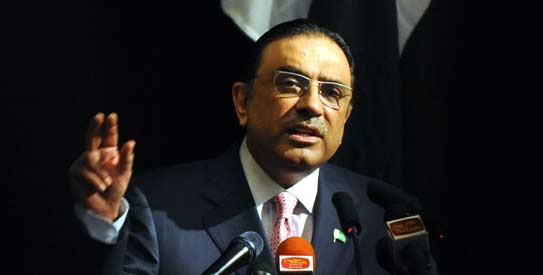 KARACHI: President Asif Ali Zardari on Tuesday urged for action against criminals in areas other than Lyari as well, and said that the president himself as well as the chief minister of Sindh should be informed in case of any political pressure faced in this regards, DawnNews reported.
The co-chairman of the Pakistan Peoples Party expressed his sorrow over the killing of a local PPP leader in Lyari.
IG Police Sindh Mushtaq Shah apprised the president of the difficulties being faced during the operation.
During the briefing the IGP Sindh told President Zardari that the terrorists have latest and sophisticated weaponry where as the Sindh Police employs weapons purchased in the 1980's.
Shah added that if the police pursue the terrorist on aMobilethen criminals take advantage of the narrow alleys and that the police has only three armoured vehicles where as the rest have been rendered inoperative.
The IG Sindh said that the operation was not conducted against the whole of Lyari rather against criminal elements only.
The president then questioned that if the action is taken against criminal elements only, then how come whole of Lyari is affected by it, he further asked if criminals existed in Lyari only and urged for action to be taken in other areas as well.