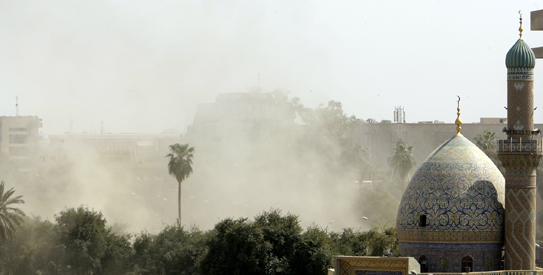 BAGHDAD: A blast rocked central Baghdad near the Iranian embassy on the outskirts of the Iraqi capital's heavily-fortified Green Zone as a landmark Arab summit opened Thursday, an AFP journalist said.
"It was a mortar round that landed near the (Iranian) embassy. There are no casualties," though some of the windows of the embassy were broken, a police official said.
The blast was heard at around 1:40 pm and took place in the Salhiyeh neighbourhood of central Baghdad.
As smoke billowed into the sky, security forces members, military vehicles and fire-fighters were seen heading to the site of the blast.
The Honein jihadist forum has included several recent messages from users threatening attacks on the Arab summit, particularly using mortar rounds as well as with suicide bombers.
Deputy National Security Adviser Safa Hussein told AFP before the summit that the most likely form of attack during the summit was "indirect fire," referring to mortars or rockets.
The blast came despite strict security measures by the Iraqi government, which had 100,000 security forces members on alert in Baghdad, and effectively locked down the city, closing swathes of roads, shutting down air space and cutting mobile phone networks.