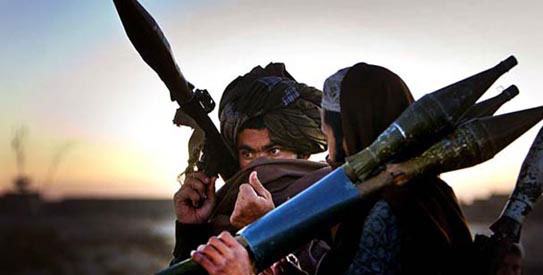 PESHAWAR: The number two commander in Pakistan's nebulous, umbrella Taliban movement has been sacked as deputy chief but will remain within the organisation, a spokesman said Monday.
Maulvi Faqir Mohammad is the Taliban's commander in Bajaur, one of Pakistan's seven districts in the tribal belt on the Afghan border and one that has seen a recent lull in fighting between the Taliban and Pakistani soldiers.
He was sacked on Sunday at a meeting presided over by Tehreek-e-Taliban Pakistan (TTP) chief Hakimullah Mehsud at a secret location in Pakistan's northwestern tribal belt, spokesman Ehsanullah Ehsan told AFP by telephone.
"A shura (council) meeting was held on Sunday and it decided to remove Maulvi Faqir Mohammad from the position of deputy chief of TTP," he said, adding that Mohammad would continue to serve the group as an ordinary member.
Ehsan gave no reason for the removal. Neither was a successor announced.
The TTP is a loose confederation of militant commanders founded and run by Baitullah Mehsud until his death in a US drone strike in August 2009. His killing sparked a bitter succession battle won by Hakimullah Mehsud.
A source close to the Taliban told AFP on condition of anonymity that the Bajaur commander fell out of favour with Mehsud over his alleged support for peace talks with the Pakistani government.
Mohammad also had sympathies with Mehsud's biggest rival within the TTP, Wali-ur Rehman, the source added.
Northwestern Pakistan, particularly the main city of Peshawar, has seen a recent increase in suicide and gun attacks blamed on Taliban.
Mullah Omar, the supreme leader of the Afghan Taliban, reportedly asked his Pakistani counterparts to stop attacks within Pakistan, considered vital in any peace process in Afghanistan.
The only TTP commander who refused to comply was Mehsud, an Afghan Taliban member recently told AFP. Young and impetuous, the TTP leader has reputedly said there will be no end to attacks until Washington stops drone strikes.