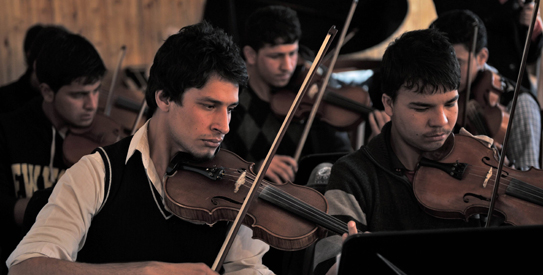 KABUL: Sayed Elham sits at the piano lost in Chopin as he dreams of becoming Afghanistan's first famous concert pianist and one of the original graduates of the country's only musical academy.
Inspired by his singer father, the 14-year-old hopeful practices for five hours each day to emulate his musical heroes: from famed 1970s Afghan singer Ahmad Zahir, to American heavy metal band System Of A Down.
"I like Chopin -- because it has a lot of feeling," he says, swinging his red school rucksack onto the floor as he takes to the ivories again to play a typical Afghan folk song filled with bittersweet emotion.
The Afghanistan National Institute of Music, revived with the fall of the Taliban who banned the playing of instruments under their strict interpretation of Islamic law, has operated for two years at its current site in west Kabul.
Filled with talented youngsters from among the country's tiny elite, it also takes children working on the streets of the capital to provide them with an education and create a lasting beacon of hope in the war-torn land.
Elham's dreams are modest: "I want to be very kind and very good teacher... and play in a big concert."
The school operates under the education ministry with large contributions from Britain, Germany and Denmark. Teachers from Russia and the United States encourage the city's precocious talent.
"We had a Russian pianist here who left behind her music and within three months Elham had learned to play what usually takes three years," said the school's director Ahmad Sarmast, who said the country's fledgling film industry and music scene could offer job opportunities for the most talented.
Speculation of a Taliban return amid ongoing efforts to end a decade of war have not deterred Sarmast and the young students -- girls and boys alike -- whose music wafts along the academy's refurbished corridors.
The school, which also teaches the children a standard curriculum of English and sciences, encourages personal expression never allowed under Islamist rule.
All 140 students fill a room for orchestra practice, performing a "Prayer for Peace" -- the brass, woodwind, voice, strings, percussion and traditional Afghan music sections chiming together with a harmonious message of hope.
Sarmast, who trained in Moscow and spent time in Australia before returning to Afghanistan in 2008, is ignoring talk of a Taliban return and working on two ambitious projects.
He wants to take the youth orchestra to perform at New York's Carnegie Hall and Washington's Kennedy Center next year, and to build a symphony orchestra from scratch to international standards.
"It's going to send a clear message to the international community that there have been a lot of changes and hopes for this nation," said Sarmast.
"Hope has not died in Afghanistan and the inspiration is there, dedication is there and people are working. This is a positive change in the 10 years."
One of the institute's success stories is 14-year-old Fakria, who like many Afghans goes by just one name and is among the one third of students at the school who are girls -- a quota set to redress the plight of Afghan women who still struggle for an education in the largely conservative Muslim nation.
Discovered living in a shelter for street children two years ago, she left behind a life selling chewing gum and polishing boots for a new home and education, and the chance to learn her favourite instrument: the cello.
Now the schools gives her a stipend of $25 per month for her family, along with a full scholarship for clothes, food, and her beloved instrument.
Staring intensely at the score, she exhibits a tough beauty born from her difficult start in life as she plays.
"I love the cello and I hope that I become a really successful player and work for my country," she said.
"If I do well I can go to other countries and play something and learn something and share some music."