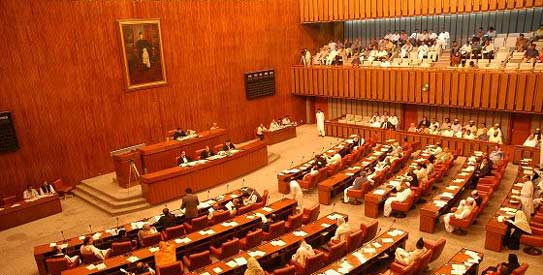 ISLAMABAD: The 20th Constitutional Amendment bill was deferred by the Senate on Friday due to discrepancy between the government and the opposition, DawnNews reported.
The opposition and the governments' allies were of view that the Election Commission of Pakistan (ECP) should not be given powers to setup caretaker government.
The special session had a one-point agenda of passing the 20th Amendment Bill that was adopted unanimously by the National Assembly on Tuesday.
A new phase of negotiations between government and opposition will be held on Monday, said Leader of the House Nayyar Bukhari.
Earlier, Senate Chairman Farooq H. Naek had to direct Interior Minister Rehman Malik and four women senators to leave the floor because of unserious behaviour adopted by them.
Senator from Awami National Party (ANP), Haji Adeel demanded an explanation regarding issuance of warrant against one of his party colleague and along with other members of the party staged a walkout.
Subsequently, the chairman ordered a report from the interior minister within three days.
The interior minister clarified that the Interpol has not been contacted for arrest of any senator from ANP nor any senator from Khyber Pakhtunkhwa was been included in the Exit Control List (ECL).
The ANP senators ended their walkout after assurances from the interior minister.