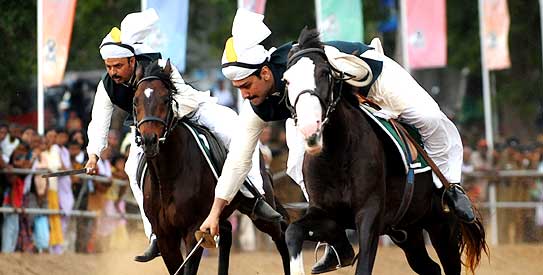 IMAGES FROM THE SOUTH ASIAN BEACH GAMES
KARACHI: Pakistan maintained their impressive run at the inaugural South Asian Beach Games which are taking place in Hambantota, Sri Lanka and took their medals tally up to a total of eleven.
Pakistan have a total of five gold medals, two silver and four bronze medals.
Pakistan bagged the gold in beach kabaddi, windsurfing -heavyweight, windsurfing-lightweight, beach handball and equestrian-lance and sword pairs.
The two silver medals were won in the equestrian event while the netball and life saving teams clinched three bronze medals and the fourth one was won by the equestrian team.
Regional giants India lead the standings with a total of 27 medals; 11 gold, nine silver and seven bronze medals followed by hosts Sri Lanka who have a total of 28 medals; nine gold, ten silver and nine bronze medals.
Meanwhile, it was announced by the South Asian Olympic Council (SAOC) that Maldives will be hosting the second South Asian Beach Games in 2013.
The South Asian Beach games began on October 8 and end on October 14 with some 359 athletes from Afghanistan, Bangladesh, India, Maldives, Nepal, Bhutan, Pakistan and Sri Lanka participating in the event.